(Scroll down for the latest updates)
We've been on a great stretch of golf. Last week's Bryson mania over Data Pond at Bay Hill. Jordan Spieth contending nearly every week. Now golf fans will be treated to one of the sport's most iconic venues, TPC Sawgrass, which has hosted The Players since 1982 when Pete Dye's treacherous, ruthless design opened.
Live updates from The Players (all times eastern):
6:34 p.m.: The horn has now blown at TPC Sawgrass, so players will have the option to finish the hole they're on as darkness quickly moves in at Ponte Vedra Beach. Jason Day has wrapped up his opening-round 2-under 70, a stellar start from the 2016 Players champion.
In the same group as Day, Jason Kokrak has also carded an opening 2-under 70, leaving a 13-footer for birdie short at the home hole. Kokrak continues his really strong play of late.
Maverick McNealy adds two more balls into the water before play wraps up, carding a triple-bogey 6 in the darkness. He's in the same group as Will Zalatoris, who missed his 13-footer for birdie, so he'll have one more hole to go in his opening round tomorrow when play resumes. Zalatoris, the talented 24-year-old, is 3-under, four back of the lead.
6:30 p.m.: One of the most impressive happenings late at TPC Sawgrass has been the charge of Charley Hoffman. Hoffman was 3-over through 12 holes but he's played his last five holes in five-under to get back to 2-under. That's a huge move from Hoffman, when seemingly no one will notice since the TV broadcast has ended.
6:16 p.m.: After a little tree trouble and finding the intimidating moguls to the right of the 18th hole, Shane Lowry fails to get it up and down, ending with a 4-under 68, one of the best rounds of the afternoon wave, only beaten this far by Brian Harman (-5).
It doesn't appear like every group will finish their opening rounds as darkness falls on TPC Sawgrass. Will Zalatoris, who had it to 4-under after four birdies in a five-hole stretch, just bogeyed the 15th to move back to 3-under. Now Zalatoris missed his birdie at the 16th, so that'll be a disappointing par.
6:08 p.m.: Bryson DeChambeau two-putts for his par at the 18th hole, ending Day 1 at 3-under after birdies at 16 and 17 to make his dinner (protein shakes and steaks, we'd suspect) taste even better tonight.
Collin Morikawa also two-putts to get in the clubhouse at 1-under, and his dinner (probably not protein shakes and steaks) won't taste as good, after rinsing his second shot at 16 and dropping a shot at 17. Still, an under-par round on a really difficult scoring day at ultra-tough TPC Sawgrass.
5:56 p.m.: Jordan Spieth two-putts for par at the 18th hole to card an opening-round 70 (-2), so he sits five back of Sergio Garcia's lead.
Bones Mackay followed Spieth all day for the Golf Channel broadcast, and he just said Spieth drove the ball "as well as I've seen him hit it" in all the rounds he's seen him upclose, which is a lot, including many peak-Spieth rounds in 2014-2017. Spieth hit 12 of 14 fairways and gained more than two strokes off the tee, which leads the field. That's a great sign for Spieth heading into the weekend.
This stat also puts his driving day in context:
This marked Spieth's best single-round off-the-tee performance in his past 94 measured rounds, going back to the 2019 Open, per our friends at Fantasy National.
5:53 p.m.: Bryson DeChambeau has entered the arena—after all the talk about what he would do at TPC Sawgrass' 18th hole. Of course, he's not permitted to hit onto the ninth fairway, which he had teased, then the tour enforced an internal OB to negate that possibility. Bryson instead pulls an iron and hits a rope of a draw down the fairway to wrap up what has been a really strong finish to his Day 1 at Sawgrass.
5:51 p.m.: Oh man, Jordan Spieth's drive at 18 JUST clears the water. No doubt he was holding his breath over that one. Wow, that was fortunate ... Spieth has 153 yards in and finds the right edge of the green.
5:47 p.m.: Two birdies in a row for Bryson DeChambeau (16 and 17) now has the Mad Scientist to 3-under, four back of the lead. An impressive day without his best stuff on Thursday.
Another hole, another missed putt for Collin Morikawa. The four-time tour winner played his chip shot to eight feet but misses the putt, his second bogey in a row, putting him at 1-under now. As Roger Maltbie said on NBC on the 16th tee, he felt Morikawa's round could easily be three shots better than it was. And that was when he was at 3-under. This is a disappointing finish.
5:46 p.m.: Shane Lowry's got the best round of the afternoon, but it was almost even better. The Northern Irishman missed a little five-footer for birdie at the par-5 16th but it just slid by. That's a disappointing par, but he's just three back of Sergio, and still in great shape.
5:41 p.m.: Oh man, Morikawa is having an absolute adventure around the stadium home holes. His tee shot at the peninsula 17th was long and left, and somehow ended up in the tiny sliver of rough on the walkway . . . he'll have the Matt Kuchar backward shot upcoming we suspect.
OK, Morikawa actually had a stance, with his heels hanging over the water as he stood on the railroad ties.
5:36 p.m.: Jordan Spieth got a great teach at 17 from Jon Rahm (who holed his birdie putt to go three in a row to get to 1-under), but Spieth's birdie try just slides by. The three-time major champion will head to the 18th hole at 2-under.
5:34 p.m.: Bryson misses the 13-footer for eagle at the 16th, settling for a birdie that pushes him to 2-under. He's outdid by Dustin Johnson, though, who just rolled in a 10-footer for his eagle, moving back to even par for the day for DJ.
Morikawa hit a fantastic shot after his drop to 5 feet for a chance to save par at 16, but he misses the par bid—giving him a bad bogey at 16. Especially being in the fairway, that's a really disappointing result. But he's still at 2-under through his round.
5:27 p.m.: Ohhhh boy, Collin Morikawa just hit his worst swing of the day at the par-5 16th—rinsing his fairway wood way in the lake. He had just gotten it to 3-under with the birdie at 15, but he's in danger of dropping one here.
In the same group about 60 yards ahead of Morikawa, DeChambeau went driver/9-iron at the par-5 16th, and he's set up with an 11-foot chance for eagle. Of course, Bryson said: "driver-9" loud enough for the mics to pick up. He's clearly proud of himself there. Morikawa used a fairway wood for his approach, by the way.
5:23 p.m.: Jordan Spieth was in good shape after his second shot at 16, his ball sitting in the shaved area right of the green. Spieth couldn't convert the 11-footer for birdie, giving him a disappointing par.
5:12 p.m.: Collin Morikawa cashes in on another stellar approach shot, holing his 11-footer for birdie at the 13th hole to move to 3-under, four back of Sergio. He got a bit of a read from his playing partner, Bryson DeChambeau's whose birdie putt somehow stayed right on the edge. That would've moved Bryson to 2-under, as he has put together a nice round despite a couple big misses.
5:08 p.m.: Jordan Spieth finds the fairway at the par-5 16th hole, continuing an absolute driving clinic on Thursday at TPC Sawgrass. The Texan has missed just two fairways all day, pretty remarkable through these intimidating driving corridors at the Dye design.
Spieth's less-than-stellar record at the Players Championship was oft-talked about leading up to this week, but Spieth has proven that he's playing too well right now—he'll contend at any course.
5:05 p.m.: Brian Harman remains dry at the par-3 17th hole but misses an opportunity for yet another birdie, coming up just shy from 16 feet, meaning he'll head to 18 at 5-under, two back of Sergio Garcia's lead.
5:02 p.m.: Jordan Spieth may have blamed a grain of sand for his latest missed putt, an eight-footer for birdie at the 15th hole. As the putt rimmed out, Spieth picked up a tiny speck of sand in his line, indicating it might've sent it somewhat off line. Tough break for the Texan, who has been playing remarkably consistent.
4:51 p.m.: Brian Harman continues his absolute tear—adding another birdie at the par-5 16th, his sixth birdie in his last eight holes—to catapult up to 5-under for his round.
4:40 p.m.: Shane Lowry and Collin Morikawa each drop a shot—Morikawa bricking a 3-footer at the 13th for par to drop back to 2-under. And Lowry was wayward with his tee shot at the short par-4 12th hole, leading to a bogey 5. Lowry's back to 4-under now, still matching Brian Harman for the best round of the afternoon.
Let's get back to the carnage at the 17th hole ... Matthew NeSmith just hit the 31st ball in the water today. Of course, Kevin Na and Ben An really contributed to that total. But this really firm putting surface—which was re-grassed over the summer—is not holding any shots that land near hole high with this back hole location. Not fun for the players, but it has provided some entertainment for us this afternoon.
4:32 p.m.: Jordan Spieth makes his first bogey of the day after three-putting the par-3 14th green. Spieth's tee shot came up 88 feet short to this back hole location, and a below average approach putt left him with 13 feet to go, which he missed.
Meanwhile, Collin Morikawa continues to stripe his iron shots—he leads the field, gaining 3.67 strokes on his approach shots so far, per our friend Rick Gehman's RickRunGood.com's live strokes-gained leaderboard. But Morikawa has missed a handful of short-ish birdie opportunities.
4:28 p.m.: Shane Lowry adds another birdie to his impressive scorecard, rolling in a shortie at the par-5 11th hole to get to 5-under, just two back now of Sergio Garcia's lead. We weren't sure if anyone would touch the Spaniard's round from the morning, but his fellow European is giving it a run.
4:25 p.m.: Though TPC Sawgrass has showed its teeth today with some really high scores, there are some solid rounds on the course this afternoon. Brian Harman, the diminutive Georgian, just rolled in a 7-footer at 15 to get to 4-under, matching Shane Lowry for the low round on the course in the afternoon wave.
PGA Tour rules official Ken Tackett informed viewers on Golf Channel about the situation: Hovland had moved his ball out of the way of a competitor at 15 and failed to replace it—which means two strokes will be added to his score. The Norweigan had signed for a 2-under 70, so that'll be reduced to a 72, leaving him seven off the pace of Sergio Garcia.
4:10 p.m.: Spieth birdies the par-5 11th to move to -3. That might make things interesting this weekend.
4:05 p.m.: The wind has picked up and course is drying out. Don't think anyone is touching Sergio's 65 in the afternoon wave.
3:55 p.m.: Shane Lowry makes the turn at -4. It's been tough sledding over the past year for the Open champ; he's made just one top 10 since his breakthrough at Royal Portrush. Let's see if he can keep cooking on the back nine.
3:32 p.m.: DJ fails to birdie the ninth, making the turn at even. A Bryson bogey at the ninth gives him the same score. Reigning PGA champ Morikawa makes a nifty chip for birdie to round out the group, giving him 34 on the front.
3:17 p.m.: The par-5 ninth is the third-easiest hole of the day, but Bryson finds the water off the tee, putting him behind the proverbial 8-ball. Ahead, Spieth converts a test putt for bird, moving Jordan to two under as he makes the turn.
3:00 p.m.: Rory Sabbatini is -3 thru four, while Bryson makes a nice two-putt save after a poor drive at the seventh to stay at -1.
2:45 p.m.: There have been so many water balls at 17 we've lost count. It's glorious.
2:30 p.m.: Listen being a broadcaster is extremely, extremely tough. But "Bryson is known for his strength but he's also a good putter" is getting dangerously close to "A good player in his own right" overuse.
2:23 p.m.: Na update -- official reason for WD is a back injury.
2:12 p.m.: An update on some of the bigger names on the course: Dustin Johnson, Jordan Spieth, Collin Morikawa and Patrick Reed are -1 thru 4, Jon Rahm is +2 thru 4, Bryson DeChambeau is even thru 4. Lot of players have played four holes, is what we're getting at.
2:02 p.m.: Good to see Gary Woodland (70) on the board. The former U.S. Open champ entered with just one top-40 finish in 10 starts this year as he's battled back injuries. Certainly a guy who knows how to get going when the going gets tough.
1:52 p.m.: The final damage for An at the last is a double. Meaning the poor guy finished 11-6. After playing the first 16 holes in one over, An finishes with 83.
1:40 p.m: Oh boy. Ben An makes an 11 at the 17th, the second-highest score in tournament history. And things on getting much better at the 18th, with a ball on the water there as well. The course, she is angry my friends.
1:28 p.m.: Am I the only one who wishes they'd sell seats to a canoe off the 17th green? ... Sorry I'm on my fifth coffee of the day.
1:26 p.m.: Jordan Spieth gets his round off to a prosperous start with a birdie at the 2nd. After leading this event in 2014 thru 54 holes Spieth has struggled at Sawgrass. With the three-time major winner back in form, would be great to see him in the mix this weekend
1:20 p.m.: Update -- According to our Daniel Rapaport, Na is expected to WD. At least that's the way to go out.
1:04 p.m.: Kevin Na hits three in the water on 17, then chips in for eight. Golf!
12:53 p.m.: And we have some new golfers... Patrick Reed, Jon Rahm and Jordan Spieth tee off with Bryson DeChambeau, Collin Morikawa and Dustin Johnson in the group right behind them.
12:45 p.m.: Sergio! Although most of the field has been struggling at TPC Sawgrass, Garcia has been otherworldly on Thursday, especially when putting. The 2008 Players champ will finish the day with a 7-under 65 including eagles on both Nos. 16 and 9. He's the sole first round leader now. Have yourself a day, Sergio.
12:35 p.m.: Let's do a refresher now that we're seeing some big groupings call it a day. Matthew Fitzpatrick and Sergio Garcia are atop the leader board at 5-under with Sebastian Muñoz in solo third. Phil Mickelson finished his day at 1-under as did Justin Thomas after a tough start. Henrik Stenson ... not as good of a Thursday at TPC Sawgrass.
12:27 p.m.: Patrick Cantlay will finish his Thursday with a birdie-birdie finish to get to 2-over. Certainly not a good start, but he does just enough to linger heading into Day 2. Viktor Hovland will barely miss an eagle putt on the 9th hole and then closes out with a birdie to get to 2-under. JT will also finish the day with a birdie at 1-under. A back-nine of three-under was certainly much needed for Thomas and he's in T-10 even with a mediocre start to the day.
12:16 p.m.: After a solid shot on the par-3 8th hole, Rory McIlroy stops to practice his swing with his caddie. He's now 6-under through 16, coming off of a 76 at Bay Hill. Around the same time, Sergio Garcia becomes co-leader at 5-under after another birdie putt. He's on fire right now and at the top of the leader board with Fitzpatrick. Garcia won the Players 13 years ago and finds himself in the mix once again.
11:55 a.m.: There are currently only 19 players at 1-under or better so far today after Simpson's stellar birdie putt. It's been quite the test so far as evidenced by McIlroy and Xander Schauffele at 6-under and Tony Finau at 7-under.
11:45 a.m.: After barely missing the penalty area, McIlroy gets it to the green on the par-4 6th. Webb Simpson follows that up with a shot that spins a bit away from the hole on the same green. He then hits a long birdie shot to get to 1-under. The wind's really going now, earlier than expected on this Day 1 at TPC Sawgrass.
11:33 a.m.: TPC Sawgrass still playing tough and the wind only seems to be picking up. Only 10 of the 76 golfers on the course right now are at two under or better. Even Matthew Fitzpatrick has finally hit a speed bump. After reaching the par-5 11th in two, he three-putted to remain at five under before picking up his first bogey on No. 12. He's now tied for the lead at four under with Harry Higgs.
11:21 a.m.: So much for that McIlroy momentum. After back-to-back birdies on 1 and 2, he makes back-to-back bogeys on 3 and 4, thanks to a pair of short misses. The 2019 Players champ falls back to seven over par on the day through 13 holes. He's not the only big/surprising name at that number, though. Xander Schauffele is also +7 through his first 10 holes. Yikes.
11:15 a.m.: Harry Higgs has emerged as an early contender at four under through eight holes, and let's just say there wouldn't be too many more popular picks to hoist the gold trophy on Sunday than this guy. Our Chris Powers wrote a great piece on the affable Higgs, who happens to be a former teammate of Bryson DeChambeau during their SMU days. You know, before Bryson started driking protein shakes like water. Higgs? he takes a slightly different approach, and, well, just read Chris' post about him.
11:01 a.m.: After a brutal start, defending Players champ Rory McIlroy is finally showing some signs of life at TPC Sawgrass. An ugly 43 on his front nine behind him, McIlroy birdied Nos. 1 and 2 to get back to five over, then hit a spectacular bunker shot from a buried lie on the par-3 third. But. . . he missed the ensuing five-footer. So much for the momentum. He's currently 11 shots off the lead of Matthew Fitzpatrick, who just added another birdie on No. 10 to move to five under.
10:48 a.m.: Sergio Garcia narrowly misses making a second eagle of his first round, but he taps in for birdie on the par-5 second. That moves the 2008 (Can you believe it's been that long since he won here?) Players champ to three under, just one shot behind Matthew Fitzpatrick's lead. According to Twitter Official World Ranking guru Nosferatu, Garcia would move ahead of Tiger Woods in terms of total world ranking points gained at the PGA Tour's flagship event with another high finish.
10:35 a.m.: The British are coming! The British are coming! Just days after nearly winning at Bay Hill, Lee Westwood is right back near the top of a Florida leader board at three under. But he just got passed for the moment by fellow countryman Matthew Fitzpatrick. With an eagle on the par-5 9th, Fitzpatrick jumps to four under and makes the turn in 32. It always seems like he's at his best when scoring is tough, so watch out.
10:19 a.m.: For added context to Rory's woes, only Kyle Stanley is preventing McIlroy from DFL status at the moment. Ahead, Viktor Hovland makes a testy seven footer to stay at one under for his round.
10:12 a.m.: Sergio makes the turn -3 under after a sensible lag at the 18th, maintaining a share of the lead. Facing a seven-footer for 7, Rory misses to the left. That is a quadruple-bogey 8 for McIlroy. Seven over on his first nine.
10:03 a.m.: We have a situation developing. Rory dumped his drive into the lake on the 18th, then proceeded to find the drink with his third. Going to need to scramble hard to save double.
9:53 a.m.: Some of the early movers: Sergio Garcia is -3 heading to the 18th (his ninth), with Tom Hoge also at -3 (thru 11). Gary Woodland, Paul Casey, Matthew Fitzpatrick, Billy Horschel and Keegan Bradley are at -2. After his birdie-birdie start, Phil Mickelson has dropped to even.
9:35 a.m.: We have a WD. Justin Rose, who withdrew mid-round at last week's Arnold Palmer Invitational with a back injury, has dropped out of the Players.
9:30 a.m.: Lot of carnage early. Kyle Stanley makes the turn at 43 then makes bogey at his 10th. Henrik Stenson is +7 thru eigh, Tony Finau +6. Rory McIlroy is +3. Rarely do we say this ... but so glad we're watching instead of playing.
9:13 a.m.: Patrick Cantlay just showed the beauty (or should we say beast) of Sawgrass. Just off the green on the 15th, his chip looks good ... but it's a tad too cute and proceeds to roll back toward him. Cantlay then has to play it safe and can't convert the remaining 15 feet for bogey. The water and sand get all the love, but miss the green and you're dead.
9:07 a.m.: One of the best rounds of the morning early on comes from Lee Westwood, who has hit every green through eight holes—and other than a three-putt bogey at the short par-4 fourth hole, has played very solid golf thus far.
The 47-year-old Englishman came so close to his biggest victory in the United States last week at Bay Hill. Maybe this is the week for Westy's Last Stand. (WLS, anybody?)
8:55 a.m.: We still have a co-lead here at TPC Sawgrass, but Phil Mickelson's no longer in it. Matthew Fitzpatrick has birdies at the first and third holes, putting him at 2-under through 3, joining Sebastian Munoz at the top. Phil failed to get up and down after a poor tee shot at the seventh hole, so he drops back to one off the lead.
Phil remains seven up on his fellow competitor Tony Finau, who just added his fourth bogey of the day—to go with an opening double bogey. Finau's keeping pace with Kyle Stanley for DFL right now ... impressive!
Rory McIlroy takes a trip to three-jack city at the par-3 13th hole, after he had a 24-footer for birdie—he misses a four-footer for par and walks away with a bogey. The Northern Irishman is now 3-over through his first four holes.
Munoz had been playing great at the end of last season, culminating in a T-17 finish at the Masters in his first appearance. But the 2020 Sanderson Farms winner hasn't had a top-20 finish in a full-field event since the Masters. He's off to a hot start thus far in his first appearance at TPC Sawgrass (not counting last year).
8:37 a.m.: We jinxed Phil saying he had hit every green up to this point, as his approach from the fairway at 6 came up just short. But Phil makes the chip look routine, nearly holing it for an easy par to remain in the lead by himself at 2-under.
Elsewhere, Viktor Hovland has gotten one back after that unusual situation with a ruling at No. 11 leading to a double. The young Norweigan birdies the short par-4 12th hole to get back to 1-over.
In the group behind, Rory McIlroy also had a chance to make up for his early double bogey with a birdie at the 12th, but his birdie putt from 12 feet never really scared the hole. Rory remains at 2-over, now through three.
At least Rory has this going for him:
8:24 a.m.: Phil Mickelson remains in the (very early) outright lead with a par at the fourth hole. He's now up by seven shots over Tony Finau, who has had a nightmare start with three bogeys and an opening double. Even Charles Howell III, the third player in the group, is 1-under and six up on Big Tone...
Mickelson, who won the 2007 Players, hasn't seen the weekend at TPC Sawgrass since 2012, so it might be a surprise he's playing so well early. He's hit every green in regulation thus far and missed only one fairway. Who is this guy?
Rory McIlroy remains 2-over, failing to birdie the par-5 11th hole after his opening double bogey. And Patrick Cantlay, a popular pick of some, is 1-over after two holes and has had a case of the rights off the tee so far.
There are some notable names under par thus far: Paul Casey birdied the par-4 10th hole; Matthew Fitzpatrick, Max Homa and Carlos Ortiz started their rounds with birdies at No. 1. And Keegan Bradley, who contended last week at Bay Hill, birdied the par-5 second hole to move to 1-under early. He has two top-15 finishes in his past two starts at TPC Sawgrass.
8:10 a.m.: We have a little delay as Viktor Hovland's second shot at the par-5 11th hole went into the water hazard. The PGA Tour Live video clearly showed his ball hitting the grass just in front of the water before hopping back into the hazard. Hovland's playing competitor, Patrick Cantlay, suggest he get a ruling—and the rules official actually suggested that Hovland should go back to drop in front of the water hazard. Thankfully folks on the grounds informed the rules official that the video clearly showed Hovland's ball covering the hazard. A very odd scene to start the day for this group.
Hovland's adventure led to a double bogey anyway, as his fourth shot after the drop went over the green, and he couldn't make a comebacker for bogey. Hopefully the young 23-year-old will be able to shake off that unfortunate start.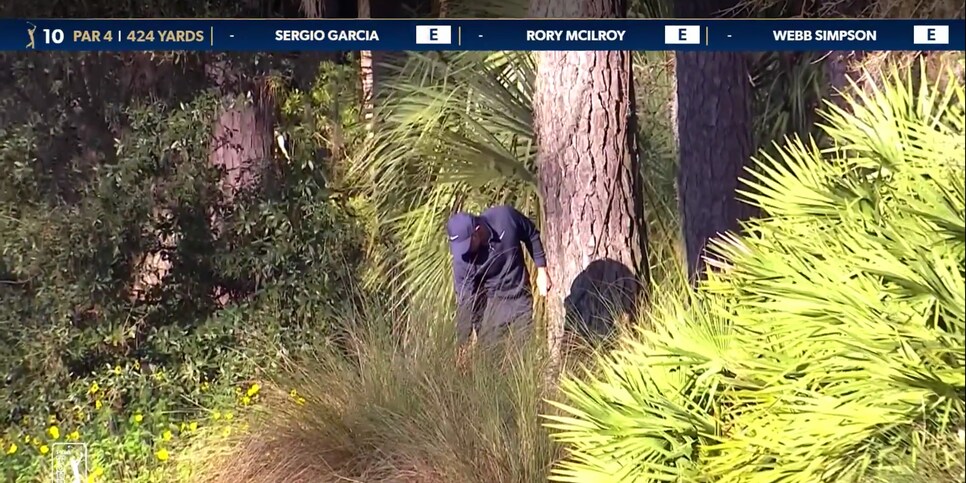 7:58 a.m.: It has been an eventful morning early at TPC Sawgrass! We have a 50-year-old in the early lead, as Phil Mickelson has birdied his first two holes. In his same group, Tony Finau, who has been one of the best players in the world, opened with double bogey-bogey, so Phil is up five shots early on his playing partner.

Rory McIlroy's opening tee shot at the 10th hole with a fairway wood went way right, forcing him to take an unplayable with his ball up against a tree (he hit a provisional but ended up finding it). He'd have to punch out and ended up making an early double bogey.
And Ian Poulter also went on an adventure early on at No. 10, too, making an early double bogey: