Golf & COVID-19
Players 2021: Commissioner says PGA Tour will advocate for vaccines, but not require players to get them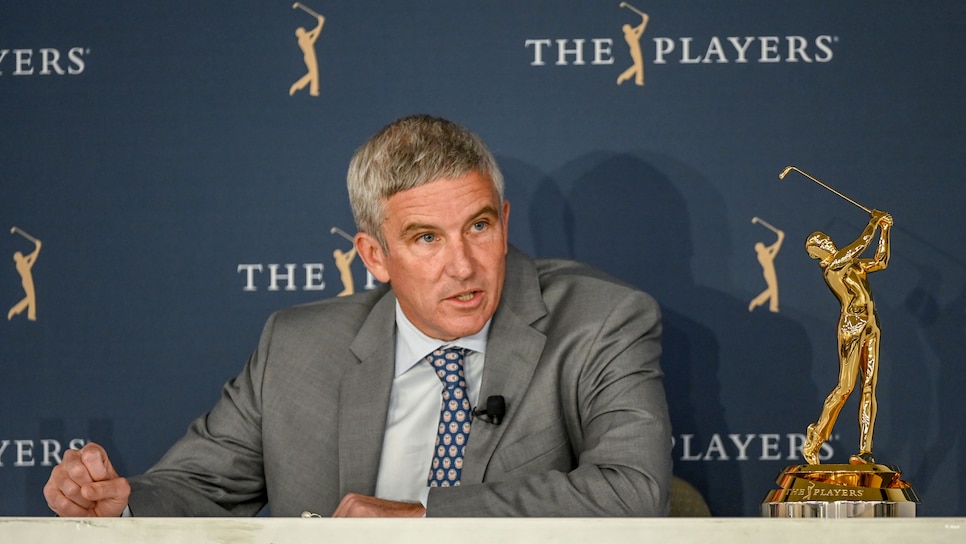 PGA TOUR Commissioner Jay Monahan speaks with the media during his annual State of the PGA Tour press conference prior to the Players Championship.
Chris Condon
PONTE VEDRA BEACH, Fla. — In December, PGA Tour Commissioner Jay Monahan said he was pleased with developments on the COVID-19 vaccination front but notably said he would not require players to receive a vaccine to play tour events.
Speaking on Tuesday ahead of the Players Championship, Monahan expressed hope that everyone in the PGA Tour ecosystem would indeed get vaccinated and pledged his organization's support for pro-vaccine marketing campaigns. Again, however, he stopped short of committing to any sort of mandate.
"We're partnering with the National Ad Council, alongside many other leagues, in an upcoming campaign around vaccination," Monahan said. "We're going to do everything we can to educate all of our players on the facts behind vaccinations.
"I think the most important thing right now is education, and then we're going to do everything we can to support vaccination for our players when it's appropriate to do so."
Fourteen of the 16 questions Monahan fielded during his 45-minute press conference were related to the pandemic, a stark reminder of how much the virus continues to dominate discourse a full 12 months after he stood at a different podium at TPC Sawgrass and announced the suspension of the PGA Tour season.
One year later, as Monahan suggested, there seems to be some room for optimism. With the FDA's approval of the Johnson & Johnson vaccine, there are now three vaccines available to the public and a growing number of Americans are receiving their shots. Monahan suggested a potential future scenario for scaling back the COVID protocols that have been in place since the tour restarted play after its three-month break at the Charles Schwab Challenge in June.
Players continue to be tested before arriving on-site, masks are required in all indoor areas, and this week marks just the fifth time that spectators have been allowed on the property. Attendance will be limited to 20 percent of normal capacity, or roughly 8,000 fans daily.
"I think as players become vaccinated, as our constituents become vaccinated, we're hopeful that everybody will, but we will continue to provide testing for the foreseeable future," Monahan said. "And hopefully, as we get to a high percentage of our players that have been vaccinated, we can start to pull back from the program that we know as of today.
"It's hard to determine when that will be, but clearly we see light at the end of the tunnel, and I think we'll get to … the conversations we're having with players and with everybody in our ecosystem have been very positive. I think players are eager to get vaccinated and are certainly studying this."
Monahan was then asked whether he might consider requiring fans, if not players, to be vaccinated to attend events, seeing as that might allow crowds to return back to near-full capacity.
"I think that hopefully we're getting to a point sooner rather than later where that's not a scenario we need to mandate. That's the reality with the way people have responded to the opportunity to be vaccinated."