Bryson Being Bryson
Players 2021: Wait until you hear how Bryson DeChambeau might play one of TPC Sawgrass' most famous holes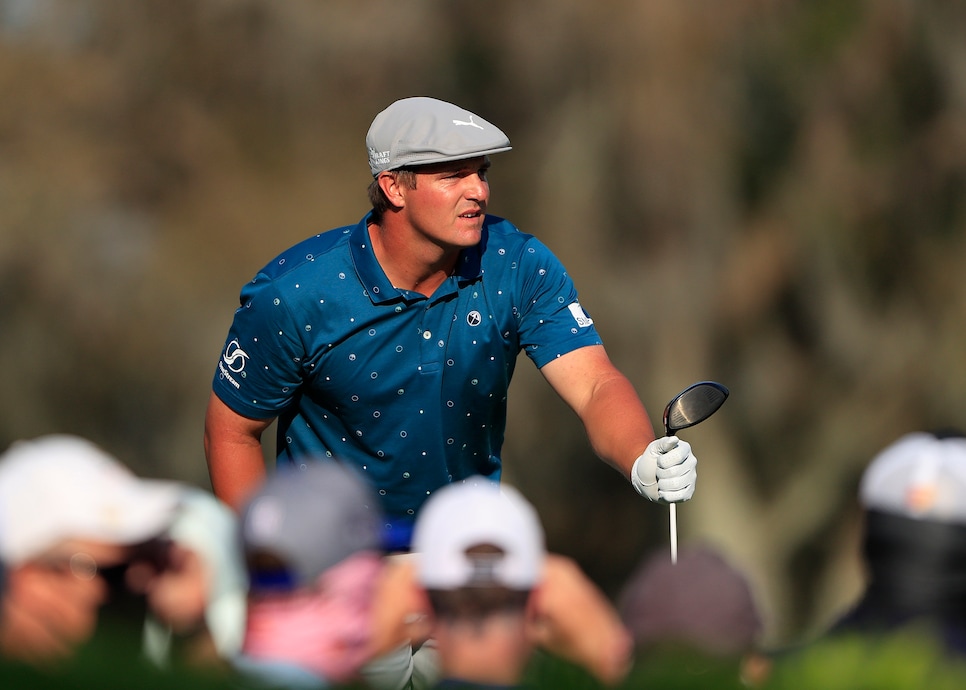 Bryson DeChambeau's daring strategy to try to drive the green on Bay Hill's par-5 sixth hole last week captivated the golf world and paid off with a pair of birdies that helped him capture the Arnold Palmer Invitational. What he has potentially planned for this week, though, is even crazier.
Following his latest—and perhaps, most entertaining—PGA Tour victory, DeChambeau was asked if he had any similar tricks up his sleeve at the 2021 Players Championship. And his response concerning how he could attack TPC Sawgrass' closing hole didn't disappoint.
"I have thought about sometimes on 18 going left into 9," DeChambeau said. "But we'll see, with the stands and everything, if it's even worth it. But that's really the only one that I could see being unique and a little different as of right now. There's really not another hole."
When pressed why he would take such an unusual route on the difficult par 4 by going over the pond and playing down the neighboring par-5 ninth, here's what DeChambeau said:
"It just gives you a better shot into the green, I think, personally, where you can just hit it a little long and you're always going to be OK," the eight-time PGA Tour winner added. "Considering if you try and hit the fairway out to the right—it's probably not worth it. I mean, the cover's like 310 [yards over the water to the ninth hole], but we'll see. I just, I look at all options and hopefully there's an advantage there. But if not, I'll just hit 4-iron down the fairway and hopefully an 8-iron or 7-iron into the green."
The 462-yard home hole with water all the way down the left played as the Pete Dye course's third-most-difficult hole at the last Players in 2019. However, it ranked as the track's toughest hole from 2015-2017.
And actually, there is some precedence for this type of game plan.
Again, just a wild move—especially by a teenager. DeChambeau is probably tracking that dude down to get more details as we speak.
Anyway, as if you needed another reason to watch golf's unofficial fifth major this week, you've got it in the form of this possible unorthodox game plan.
UPDATE, 3:25 p.m. Tuesday: DeChambeau's sneaky plan to overpower TPC Sawgrass' 18th hole has been foiled by the Players Championship rules committee, which announced that left of the lake on the home hole will be deemed internal out of bounds this week. The decision was made for safety procautions. The committee cited similar decisions make at the 2017 Open Championship, Sony Open in January and last week's Arnold Palmer Invitational.