Local Knowledge
Our latest podcast explores the advanced metrics that made a great round historic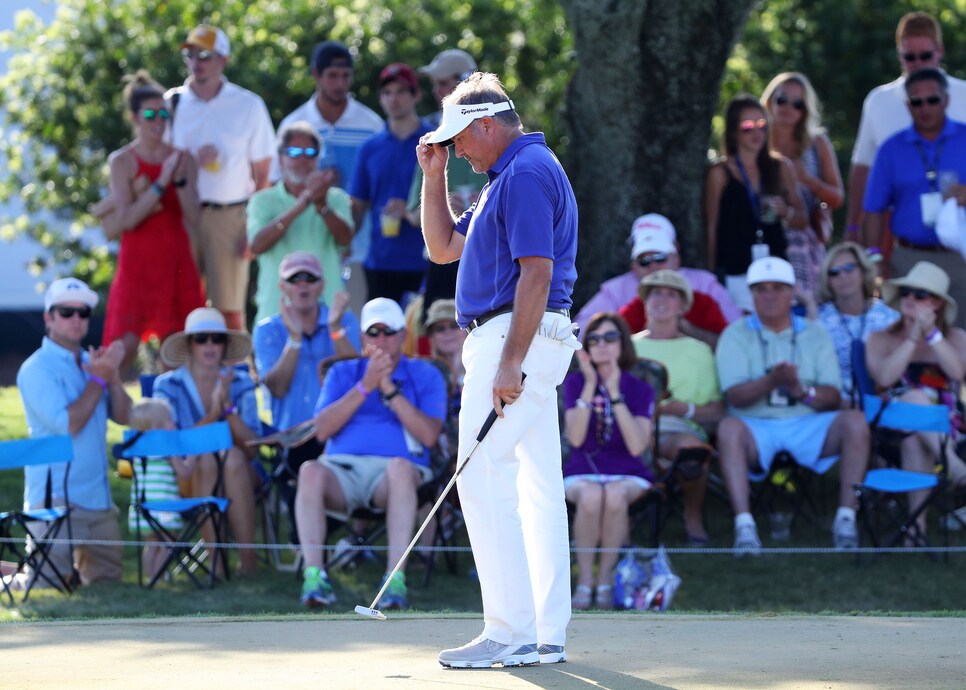 If you watch golf on TV, it would be hard not to have noticed the flurry of Players Championship "Defining Moments" commercials leading up to the PGA Tour's flagship event. But while these ads feature guys like Tiger and Rickie and even K.J. Choi, you won't see the guy who—at least, statistically—shot the best round in tournament history.
That player is Ken Duke. Yep, Ken Duke. And the journeyman pulled off the feat during the difficult third round of the 2016 Players Championship when he fired a 65 to move up 54 spots on a stacked leader board.
"If you can win, they'll show you," Duke said with a laugh five years later. "But if you don't, they don't remember those guys."
But don't worry, Ken, we remember. And thanks to modern analytics, we can fully appreciate what Duke did during that magical week at the 2016 Players Championship. Or, rather, that magical day.
In the latest episode of Golf Digest's Local Knowledge podcast, we take a deep dive into Duke's performance and what made it so good. To do that, we talk to Duke, his playing partner that day, James Hahn, and Columbia Business School professor Mark Broadie.
It's Broadie who created the strokes gained statistics—beginning with putting and expanding to all other facets of the game—that have allowed us to better evaluate the best players in the world. That includes Duke, who wasn't just better than most at TPC Sawgrass that day, but better than all. Ever.
We also look into how these newer metrics—with the help of the PGA Tour's ShotLink—have changed how tour pros approach course strategy and even their own practice. From Bryson DeChambeau to Justin Rose, with whom Broadie has consulted, more and more of today's top golfers are looking to advanced stats to try to find an edge on the competition.
"I believe in the value of analytics in golf and analytics in sports, so when I see these analytics success stories, I love it," Broadie tells Golf Digest. "Changing people's mind slowly but surely from this old-style thinking to new ways. And people say, 'Don't you think that detracts from the game?' And I say, 'No, no, I think it's more fun and interesting to see people learning stuff and taking the game in directions that maybe weren't thought possible a few years ago."
We hope you find this look into strokes gained—and one of golf's most underappreciated rounds—to be fun and interesting as well: