News
Tour officials make late rules change to keep players from getting too sneaky off the 18th tee at Waialae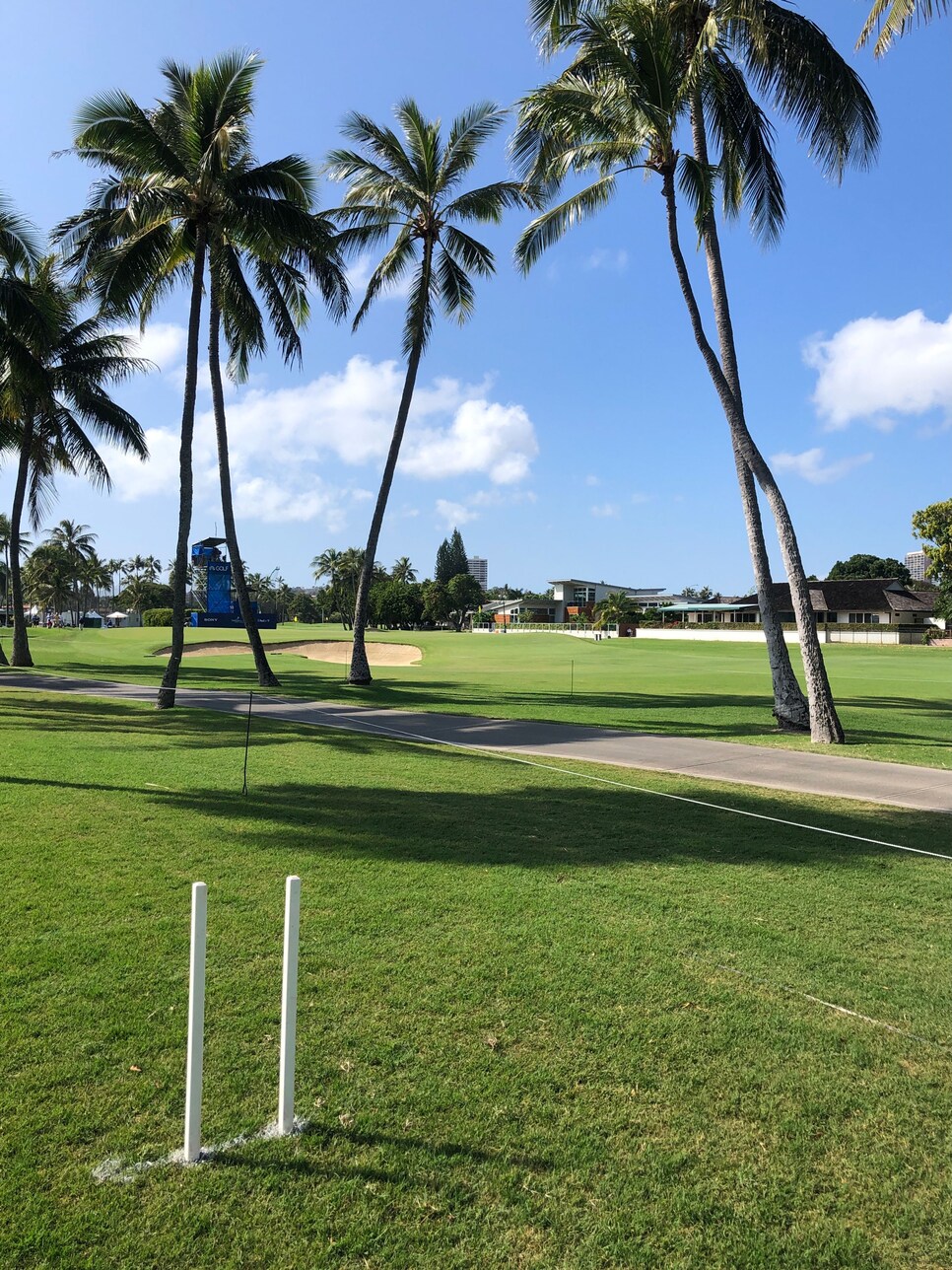 Internal out-of-bounds stakes were added before the first round of the Sony Open down the left side of the 18th at Waialae Country Club to prevent players from playing the par-5 home hole by playing off the tee down the adajcent 10th fairway. (Photo: Brian Wacker)
HONOLULU — There have been a lot of changes to the PGA Tour because of the COVID-19 pandemic, most notably no fans. And with no fans, there's no need for grandstands.
That's led to an interesting local rule at this week's Sony Open in Hawaii.
With no grandstand surrounding the 18th green at Waialae Country Club, internal out of bounds stakes have been placed to the left of the dogleg par-5 finishing hole to prevent players from hitting their tee shots into the adjacent 10th fairway. Doing so would leave a nearly unobstructed shot with a short iron into the green.
"I think it's a great idea," said defending champion Cameron Smith, who said he was alerted to the decision by the tour via text on Wednesday night. "Too many guys hitting it down there, anyway."
The out-of-bounds stakes run from adjacent the 10th green all the way back up the hole to within 30 yards of the 18th green. Someone must have forgotten to tell Rory Sabbatini, though—or he simply hit a bad tee shot—because he ended up going out of bounds and made bogey on the hole.
A year ago, Brendan Steele was clinging to a one-shot lead on the final hole when he over-hooked his approach and his ball landed on the 10th. He got a free drop because the grandstand was in his line of play but could only make par. When Smith birdied the hole, it forced a playoff, with Smith taking the title on the first extra hole.
After seeing the stakes on Thursday, Steele believes his ball still would have been in bounds, although he thinks the stakes will be an appropriate deterrent.
"But if you know it's out-of-bounds, you probably don't hit it over there, either," Steele said.
"Yeah, it would have been different, that's for sure," Smith, who opened with a three-under 67 Thursday, said of last year's wild finish.
That's not the only difference this week, though. Without grandstands, some holes are also playing differently.
"I think 17 and 18 are the biggest ones," Smith said. "With how firm [17] green gets, sometimes you can use that grandstand as a bit of a backboard to a back pin. So I think it makes the hole tougher definitely for sure."