Amateur
Can an amateur win again on the PGA Tour?
It's been 32 years since Phil Mickelson won his first PGA Tour title at the Northern Telecom Open—and became the last amateur to win a tour event. Will it ever happen again?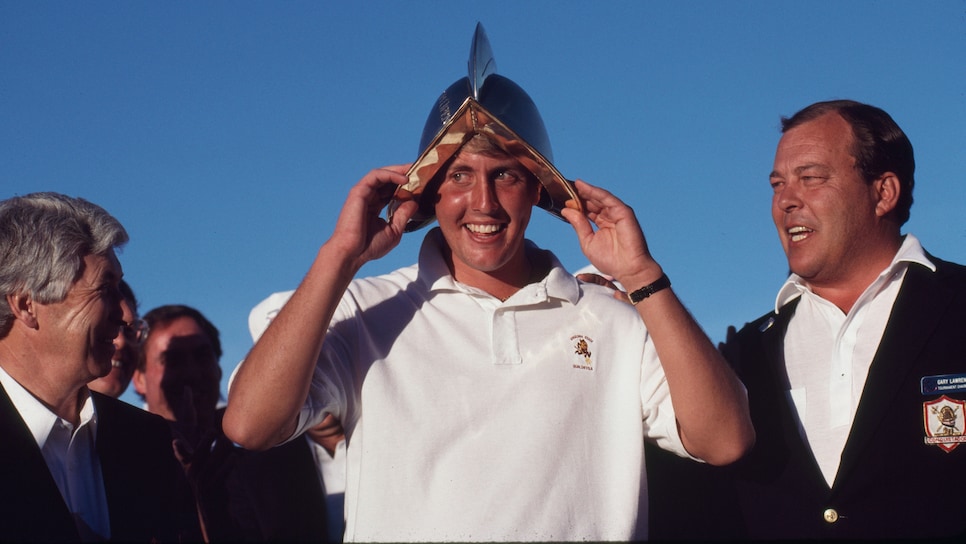 Photo By: PGA TOUR Archive
EDITOR'S NOTE—A version of this story first ran on Jan. 13, 2021, 30 years to the day that Phil Mickelson became the last amateur to win a PGA Tour event.
Matthew Wolff's first tournament as a professional was the 2019 Travelers Championship. Though he tied for 80th in the event, victory wasn't far off. Just two weeks later, the then 20-year-old who'd grabbed the NCAA title a month earlier, won the 3M Open.
Collin Morikawa and Viktor Hovland, both of whom turned pro the same June as Wolff, weren't far behind, either. A few weeks after Wolff's triumph, Morikawa captured the Barracuda Championship and has since added four more titles, including two major championships. Hovland, Wolff's Oklahoma State teammate in college, won in Puerto Rico in February 2020 and has claimed two more wins on the PGA Tour.
Still, for as talented as the three were coming out of school, none was able to accomplish what only seven golfers have done since 1940: win a PGA Tour event as an amateur.
The last of those seven was Phil Mickelson, who did it 32 years ago this week, taking the 1991 Northern Telecom Open title as 20-year-old junior at Arizona State to claim the first of his 45 career PGA Tour wins.
How Mickelson, who has since moved on to the LIV Golf circuit, became just the second amateur since Doug Sanders won the Canadian Open in 1956 to win a tour event (Scott Verplank in the 1985 Western Open was the other) is a preposterous story in itself and one that bears repeating.
Through the first three rounds in Tucson, Mickelson had staked himself to a two-stroke lead in part thanks to a flop shot out of the sand, over his head and backwards onto the green for a spectacular if not unbelievable par save. But late in the final round, Mickelson triple-bogeyed the uphill par-5 14th at Tucson National to drop from one up to three behind and in a tie for fifth, with veterans Tom Purtzer and Bob Tway seemingly left to duel for the title.
Purtzer double-bogeyed the 18th, Tway bogeyed the 17th and Mickelson birdied two of his final three holes, including 18, where he stuck his approach to eight feet and coolly knocked in the putt for the win.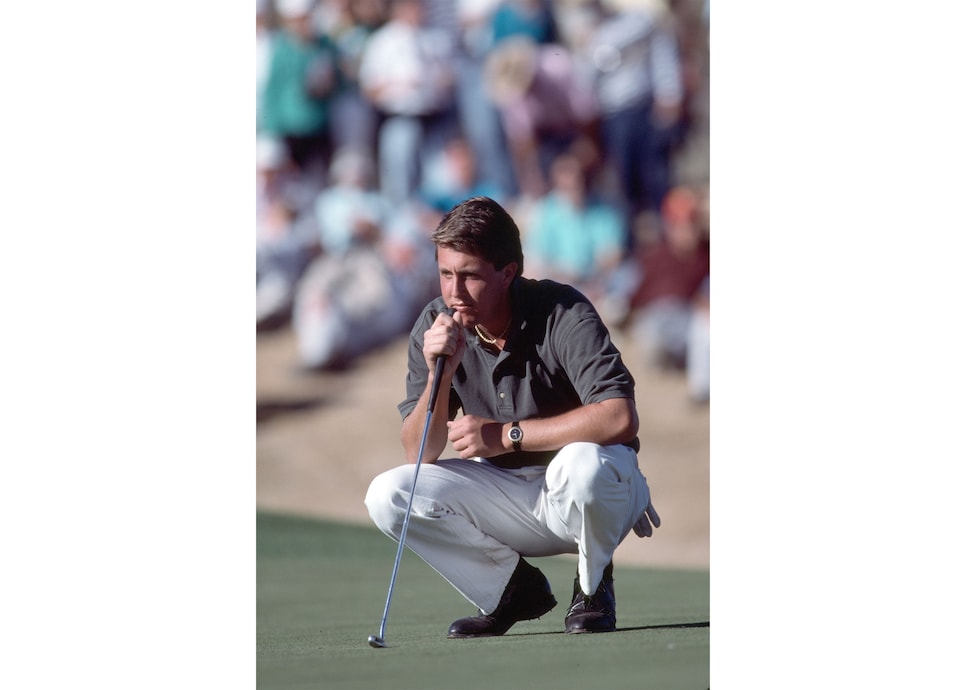 Mickelson was a highly decorated amateur at the time of his win in Tucson, having claimed U.S. Amateur and NCAA titles the previous year.
"I went from having the biggest knot in my stomach to the greatest joy in a half hour," Mickelson said.
His finish astounded others, too. "I never thought I'd see anyone come back from something like that," Corey Pavin said of Mickelson, who had already matched Jack Nicklaus as the only player at the time to win the U.S. Amateur and the NCAA Championship in the same year. After the victory in the desert, Mickelson returned to school to finish his degree in psychology before turning pro the following spring.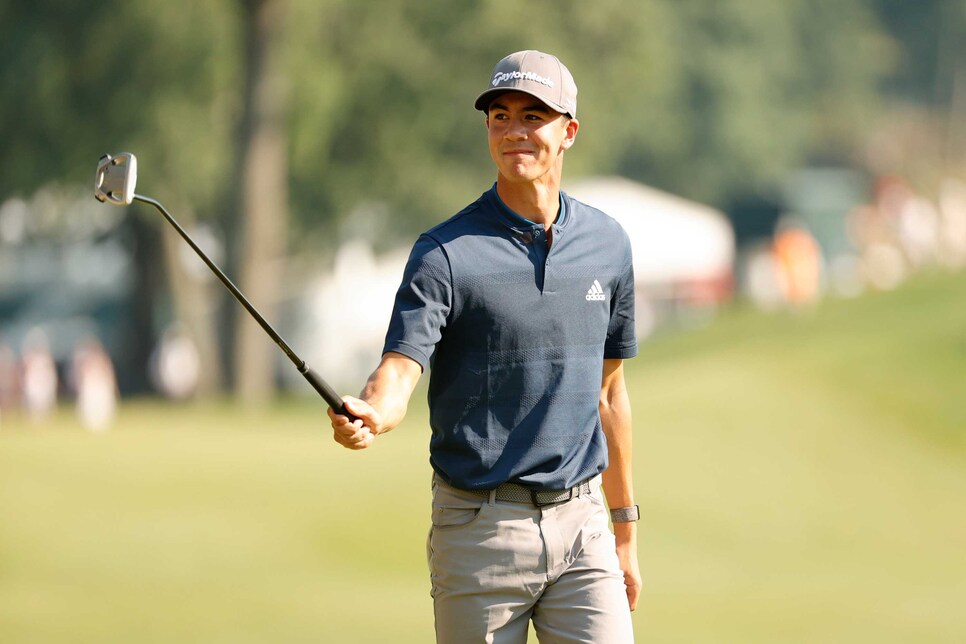 Michael Thorbjornsen finished fourth at the 2022 Travelers Championship, the best finish ever by an amateur in a PGA Tour event since 2016.
Tim Nwachukwu
In 2016, Jared du Toit entered the final round of the RBC Canadian Open just a stroke off the lead. But du Toit—who was also trying to become the first Canadian in more than 50 years to win his national Open—shot one-under 71 at Glen Abbey to fade to T-9.
Earlier that same year, Lee McCoy tied for the lowest round of the Valspar Championship with a five-under 66 in the third round. But a final-round 69 at Innisbrook Resort left him three strokes out of a playoff and in fourth place.
And in 2015, Irish amateur Paul Dunne shared the lead going into the last day of the Open Championship at St. Andrews before struggling with a final-round 78 to finish T-30.
Then there were the amateurs who have won—just not on the PGA Tour. In 2011, Harris English captured the Nationwide Tour's Nationwide Children's Hospital Invitational after graduating from the University of Georgia and before he turned pro that year. He was the third amateur to win on the developmental circuit, joining Daniel Summerhays (2007) and Russell Henley (2011). Likewise, Shane Lowry was the last amateur to win on the European Tour, taking home the 2009 Irish Open.
So why hasn't an amateur won on the PGA Tour in three-plus decades?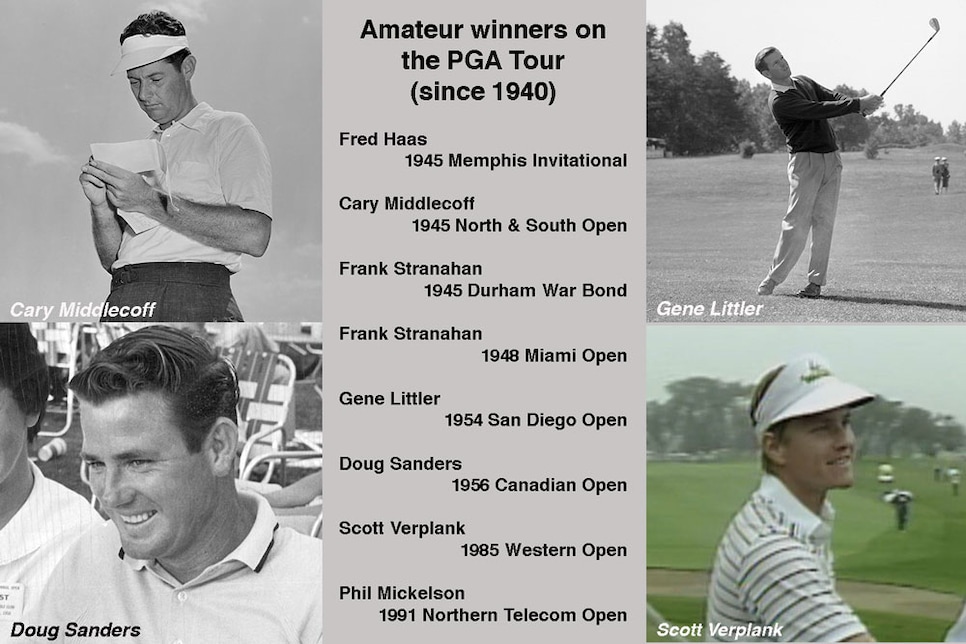 "What's the difference; it's just a word," said Adam Scott, who also performed well in professional tournaments as an amateur, tying for sixth in the 2000 Moroccan Open on the European Tour and tying for fifth at the Benson and Hedges International a few weeks later. "But you gain an incredible amount of experience in those first few months as a pro. You're like a sponge, soaking it all up, absorbing things and learning. Your improvement is rapid. Amateurs don't have that exposure."
Or, put even more simply, the opportunities.
"On the PGA Tour we can play any week we want to," Morikawa said. "Guys that are amateurs, it's not like they can pick a schedule and they can go play 15 events, 20 events a year. Most likely they are going to have one or two starts where they have got to show what they got. For a lot of them, it's going to be their first time on the PGA Tour and first time seeing a bunch of guys that they have kind of idolized, and that's the same thing we all go through."
There are other reasons, too. Chief among them: It's getting harder to win, period.
"The younger players out here are better than they used to be," Scott said. "But you don't see four guys dominating the tour with five or six wins each, or real domination like Tiger [Woods] or Vijay [Singh] winning nine or 10 times in a year." With so many people winning, says Scott, there are so many more players an amateur would have to beat.
Can an amateur on today's PGA Tour do what Mickelson did all those years ago?
"They could," Morikawa said. "I can't see why not. When I was a senior in college, I could have come out here and won.
"Whatever level, at the end of the day, it's just golf. Who is going to play the best golf for four days? I can see it happening. It's not easy. It's not easy at all. That's the simple answer right there."