PGA Tour
Amateur Michael Thorbjornsen's reaction to finishing fourth at the Travelers was pretty amazing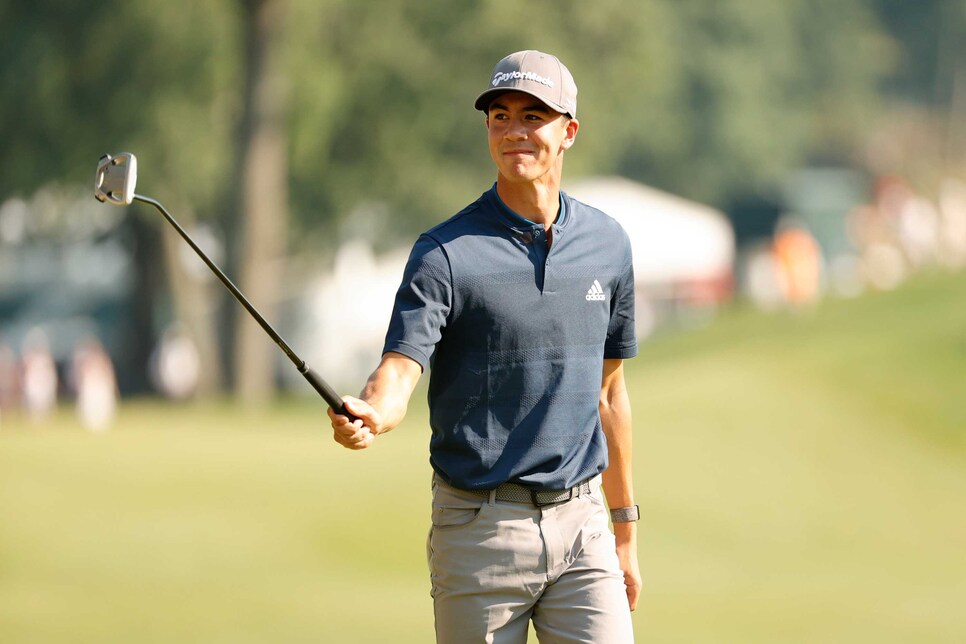 Amateur Michael Thorbjornsen reacts after his round on the 18th green during the final round of Travelers Championship.
Tim Nwachukwu
Stanford All-American Michael Thorbjorsen promised to be a nice side story on Sunday at the Travelers Championship, no matter how he finished. The 20-year-old from Wellesley, Mass., had local ties to the tournament, having grown up 90 minutes away from TPC River Highlands in Cromwell, Conn. He was playing on a sponsor's exemption, continuing the tournament's tradition of inviting young up-and-comers to take some early swings on tour. And he started the day six strokes off the lead, close enough to keep the dream of becoming the first amateur winner on the PGA Tour in 31 years alive.
That dream looked a lot more real through 11 holes of the final round, when Thorbjorsen, who'll be a junior in the fall, made his fourth birdie of the day (along with an eagle) to rise to 16 under for the tournament and sit just one stroke back of leader Xander Schauffele.
Only five times in 70 years has an amateur won a PGA Tour event, the last coming with Phil Mickelson's victory at the Northern Telecom Open in 1991. The best an amateur had ever finished in the Travelers was back in 1966, when Jim Grant finished T-6.
"I felt pretty comfortable out there," said Thorbjorsen, a former U.S. Junior Amateur who missed the cut two weeks ago at the U.S. Open at The Country Club after qualifying for the championship. "Maybe a little too comfortable."
Indeed, his torrid stretch cooled when he made bogey on the par-4 12th. Then on the par-5 13th hole, Thorbjorsen hit into the water off the tee, a poor swing he insisted rather than pressure mounting. The ball submerged, he impressively got it out to the fairway, only to hit his third shot into the water guarding the green. He walked off with a bogey.
To his credit, he would make pars on his final five holes, scrambling at times but still posting a four-under 66 final round and a 15-under 265. He'd wind up four back of Schauffele in solo fourth, having to forego what would have been a $406,700 payday.
"It was surreal. It was crazy," Thorbjorsen said of the best finish by an amateur in a PGA Tour event since Lee McCoy's solo fourth at the 2016 Valspar Championship. "I think it was louder here compared to last week at the U.S. Open. It felt like home. It was pretty cool."
Next up for Thorbjorsen: A flight to London to play in an Open Championship qualifier, followed by a trip to Switzerland to play for the U.S. in the Palmer Cup. He'll be bringing a lot of positive energy with him.
"It gives me some confidence. I think the thing is that I played well, I felt like I played well, but I didn't feel like I played like incredible out there," Thorbjornsen said. "Definitely left a couple shots out there, had some miscues, mental errors throughout the week. But it feels good. I played solid and finished in fourth, I think."