U.S. Open 2022
U.S. Open 2022: This local amateur hopes to ride Francis Ouimet vibes at The Country Club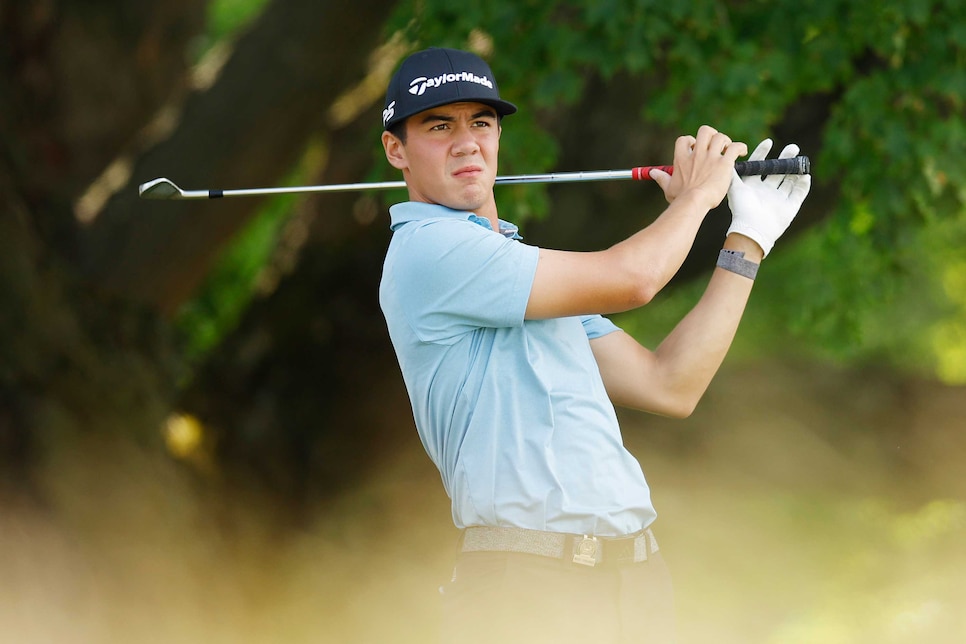 Michael Thorbjornsen plays his shot from the sixth tee during a practice round prior to the 2022 U.S. Open at The Country Club.
Cliff Hawkins
BROOKLINE, Mass. — Michael Thorbjornsen didn't grow up across the street from The Country Club, but his family home is 15 minutes away in the town of Wellesley. And the 20-year-old amateur isn't using a 10-year-old caddie this week at the U.S. Open, but he will have a childhood friend, Drew Cohen, on his bag.
Indeed, the parallels between Thorbjornsen and Francis Ouimet, the famed winner of the first U.S. Open played at The Country Club in 1913, are loose but they're not so loose as to keep the Stanford sophomore from hoping the ghost of Ouimet might shine on him.
"My caddie and I, we went to the merchandise tent on Thursday or so, and we bought matching T-shirts," Thorbjornsen said of a shirt that has 1913 written across the front and a silhouette of Ouimet and his caddie, Eddie Lowery. "Definitely trying to channel that energy this week."
Truth is, Thorbjornsen, the reigning Massachusetts Amateur champion (like Ouimet in 1913), has been eyeing the USGA's visit to The Country Club since it was announced half a dozen years ago. While having only played the course once growing up, the chance to compete in front of friends and family was too big a dream to wish would come true.
Playing in a major championship, even with a partisan crowd, could seemingly be a daunting task for Thorbjornsen. But he's spoiled by the fact this isn't his first U.S. Open start. By winning the 2018 U.S. Junior Amateur, he competed in the 2019 U.S. Open at Pebble Beach, and made the cut, only to shoot 84-76 on the weekend to finish 79th.
"I guess I didn't really know what was going on then. I'm looking back at it now thinking, how did I get through that week?" Thorbjornsen said. "Yeah, I've definitely learned a lot. My game has definitely gotten a lot better. I'm just excited to go out and play on Thursday."
Thorbjornsen had a solid summer of amateur golf in 2021, winning the Western Amateur and advancing to the second round of the U.S. Amateur at Oakmont. During the 2021-22 college season, the Stanford sophomore continued to excel with a 70.66 stroke average and six top-10 finishes. He played Final Qualifying in Purchase, N.Y., getting in after surviving an eight-player-for-three-spots playoff with a birdie on the second extra hole.
After the U.S. Open, Thorbjornsen will play on a sponsor's exemption in the PGA Tour's Travelers Championship next week before flying over to Europe to try to qualify for the Open Championship. He'll then compete in the Palmer Cup.
Amazingly, playing in the U.S. Open—where he'll hit the championship's opening tee ball on Thursday—might only be the second most excited thing Thorbjornsen will have happened to him recently. Late last week, Michael got to see his father, Ted, who works for a company in Abu Dhabi, for the first time since 2019 because of the pandemic and other factors.
"It was great to get to see him again," Thorbjornsen said. "We do the best that we can being a couple thousand miles apart."
That goes for golf too. Ted has been Michael's golf coach since he took up the game in his youth. Despite being thousands of miles apart, the two have continued to work together as player and instructor.
"He basically gets somebody to video record and he sends the video to me, and I put in the lines and the analysis we've been doing since he was 6 years old, so we know what we've been looking for," Ted said on Monday at The Country Club. "He gets confirmation and sees if there is something to work on. I write the report and I send it to him to go through it. I hope he goes through it. And when I get the video the next time I can see if he's worked on it or not. Usually he's very good at picking it up. You can see improvement."
The videos usually come a couple times a month, with a flurry hitting Ted's inbox earlier this spring.
"It's exciting to get to see him play in person," Ted said. "Exciting and a little nervous."
The same for Michael. But hopefully the ghost of Ouimet will help him make his way around The Country Club.