Ask any golfer who has ever won a PGA Tour event and they'll tell you that to ring that bell, you almost always need a little bit of luck. Sometimes you need a lot. What they don't tell you is that sometimes, you need bad luck to lose.
On a normal Sunday, Schauffele's first individual PGA Tour win in more than three years (in the interim, he won the Zurich Classic paired with Patrick Cantlay, and the Olympic gold medal) would be the story of the day. However, when the final putt fell at the Travelers Championship, there was no question that the most memorable moment belonged not to the winner, but to Sahith Theegala, who finished in a tie for second.
After draining an impressive 10-foot birdie putt on 17 to take a one-shot lead on Schauffele, Theegala, a 24-year-old former college player of the year at Pepperdine turned tour rookie, hit a drive on 18 at TPC River Highlands that didn't cut the way he wanted, and got the worst possible break when the ball ran through a bunker to the very front edge. He had a decision to make; rather than play passively, risk bogey and watch his dream of a first tour win evaporate with a Schauffele birdie, he judged that he had enough room to clear the lip and keep the pressure on his opponent behind him.
So, with Schauffele looking on from the tee, Theegala took a crack at the most difficult option, and when the cloud of sand had cleared … the ball was almost right where he left it.
Theegala played it safer then, and hit a solid pitch to 12 feet to give himself a bogey look. Then, as if the sand fiasco wasn't enough heartbreak for one hole, this happened:
Schauffele had already striped his drive 338 yards down the right side of the fairway, and with that double bogey from Theegala, it was all over—he simply had to reach the green from 105 yards away and two-putt. He did better, making birdie to reach 19 under and win by the deceptive margin of two shots.
The pain is doubly acute for Theegala because of how well he played the rest of the round. Coming off a 64 on Saturday, he played bogey free through 17 holes, holing two long putts on the front nine to go out in 33, and dialing in his best play for the closing stretch by making a tap-in birdie on the par-5 13th, driving the green on the par-4 15th, and then burying the clutch 10-footer on 17 that seemed to give him the edge he'd need to win. Everything seemed to be building to a Sunday tour de force for a guy who had every right to feel nervous, and then it all blew up.
"Never in a million years did I think I would allow myself to blade it," Theegala said afterward. "All I had to do was chunk it. We even said, like, this is a 50/50 ball in terms of I got to try and just basically hit it just a hair behind it. Somehow my body just, I just straight bladed it. I had room there. I don't know how it looked, but I had room there. Just didn't think I would let myself blade it. But I guess the moment was...and then from there it's, like, got to try and make 5 now. Had a little more room. And I did the same thought process. I nearly bladed it again."
On social media, where Theegala had generated a good deal of buzz Sunday, there were rampant questions about the choice to use driver (same with the CBS broadcast booth), the aggression in the sand, and the general mindset on 18. Theegala, however, stood by his play when asked what he might do differently if given a second chance.
"Nothing," he said. "I did everything I thought I had to do, and it just happened to be everything bad culminated on one hole."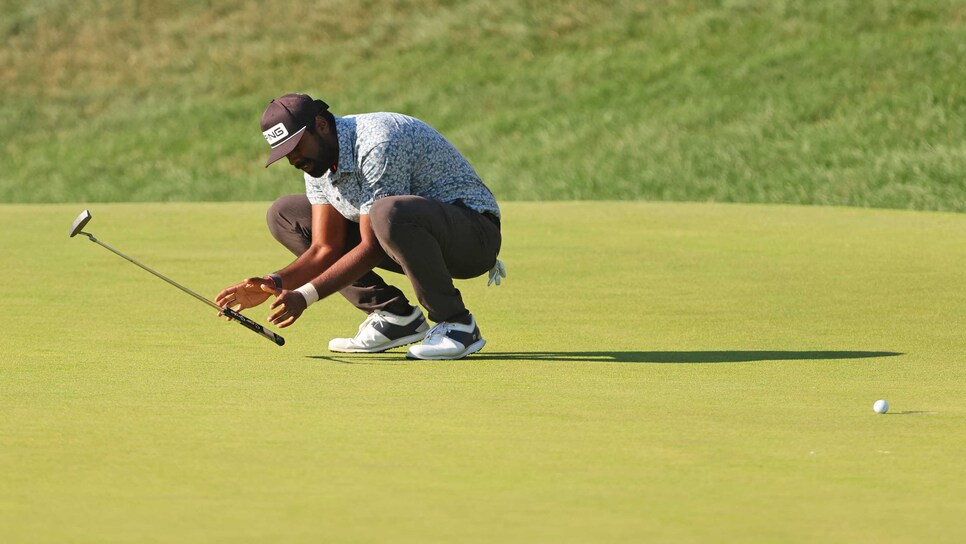 Sahith Theegala reacts to a missed bogey putt on the 18th green during the final round at TPC River Highlands.
Michael Reaves
Schauffele, the 54-hole leader, was playing with Cantlay, his friend and partner from both the Ryder Cup and the Zurich Classic. Cantlay's day quickly developed into a nightmare, with three birdies in his first four holes, and it never got much better. After starting one off the lead, he finished with a 76, the second-worst score on the course Sunday, but it didn't seem to faze Schauffele. He was steady, if unspectacular, atoning for a bogey on 2 with a 15-foot birdie on 4 and a 10-footer on 6. It was mostly pars from there on out, and the final birdie on 18 gave him a two-under 68 on the day.
It's an important win for Schauffele, who has been a top-15 player in the world for years now (his highest ranking was fourth, though he has slipped over the past year), but who, despite winning that gold medal in Tokyo and his pairs successes, had begun to develop a reputation for coming up short on Sundays (he was 0-for-4 in his career previously when trying to convert a 54-hole lead into a W). When a moderator joked with him in the post-round interview about how long it had been since his last win, he responded, "don't remind me."
"It feels really good," he said of his long-awaited triumph. "Everyone talks about how hard it is, and I only had the Olympics to sort of fall back on having a [54-hole] lead and kind of closing it. I've never done it on the PGA Tour. ... I mean to do it in Japan and then sort of have that experience, I really tapped into that today."
He spoke about staying in the moment, and how that hasn't always been his best skill.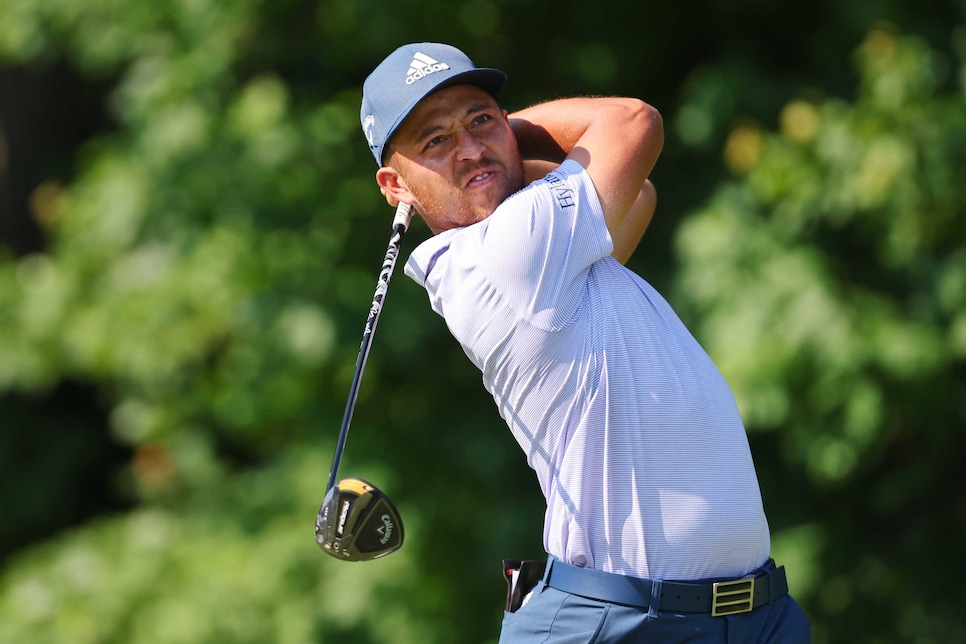 Schauffele didn't need any reminding that he hadn't won an individual title on the PGA Tour since the 2019 Sentry Tournament of Champions.
Michael Reaves
"I think it's probably something that's been more developed," he said. "I haven't really had a hard time focusing growing up. My wife tells me I'm the worst multi-tasker on the planet, so that usually bodes well if you can only focus on one thing. I think in the past when I had 54-hole leads or close to the lead, my Sundays feel really fast. And I'd be kind of sitting back in the hotel or at a house on Sunday sort of thinking, 'what happened today?'"
Schuaffele adjusted this week by attempting what so many professional golfers strive for and fail to achieve, which is the simple task of staying present and bringing full attention to every shot. He told his caddie Austin Kaiser to hold him accountable, and together they dialed in early and did enough to win.
Nearly lost in the late drama was the incredible performance of the 20-year-old amateur Michael Thorbjornsen, the 2019 U.S. Junior Amateur winner and rising junior at Stanford who made the field on a sponsor's exemption after playing in the U.S. Open last week. He was the 2021 Massachusetts Amateur champion and playing in front of a home New England crowd in Cromwell, Conn. Not only did he make the cut (after an MC at The Country Club), but came closer than most predicted from winning the whole thing. A front-nine 31 on Sunday had him crawling up the leaderboard, and he followed that with two straight birdies on 10 and 11 to move just one back of Schuaffele. He finally cooled off, making bogey on 12 and 13 before five straight pars to end his round, but the final result was 15 under and solo fourth. That's the highest finish for an amateur at the Travelers Championship.
"It was incredible," he said. "It was surreal. ... It's better than how I dreamt about it. It's so loud. It was very welcoming. I can't wait to come back next year and the following years."
Rory McIlroy, who co-led after a first-round 62, which ended up being tied with J.T. Poston for the best score of the week, followed two days of fading with a Sunday 67 to finish T-19. Poston fared better, closing with a 64 to tie Theegala for second. It's Poston's best finish on tour since a solo second at the 2021 Barbasol Championship.
The lingering image for this year's Travelers, though, will be Theegala's shot out of the sand on 18, and though he'll do his best to put it behind him—he seems to have very few regrets, which is a good start—he did let the armor down for a moment when a journalist asked if he was still in shock.
"I don't know what ... yeah," he said. "I don't know what you want. Do you want me to say no to that? Yes, I am. Thank you."
When the bad luck hits, and it's this expensive, it's hard to figure out how to be anything but dazed.