Amateurs
This has to be among the most dominant performances in amateur golf history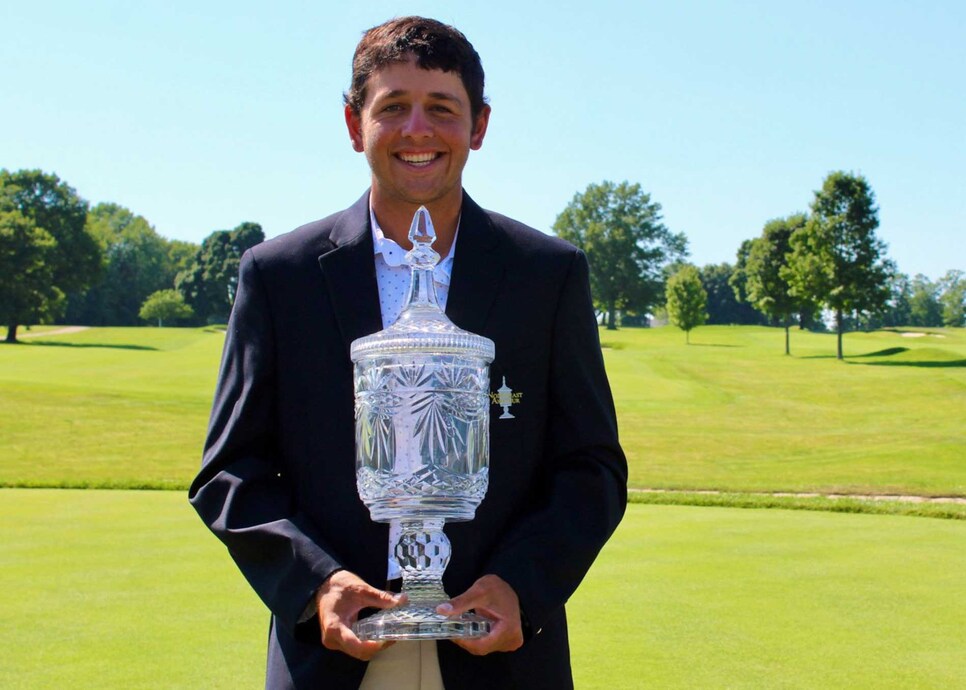 Dylan Menante defended his title at the Northeast Amateur and did it by breaking nearly every scoring record in the tournament's 60-year history. (Photo courtesy of Northeast Amateur)
There is no such thing as perfect golf. But what Dylan Menante did this past week in one of the most prestigious amateur tournaments in the country, amounts to a level of play that's hard to describe.
The 21-year-old from Carlsbad, Calif., won the 60th anniversary of Northeast Amateur with a 19-under 257 at Wannamoisett Country Club in Rumford, R.I. That score is four shots clear of the previous tournament record shared by 2011 winner Peter Uihlein and 2018 winner Justin Suh. In second place after Saturday's final round was Karl Vilips, who finished a distant nine shots back.
Posting rounds of 62-64-64-67 on the Donald Ross par-69 layout, Menante walked away with the tournament records for margin of victory (tied with John Cook in 1979), low score after 36, 54 and 72 holes.
"This week was all about grit and determination," Menante said. "I don't hit it as solid as a lot of the players here, but my short game made up for it. My putter was far better than any other club in my bag."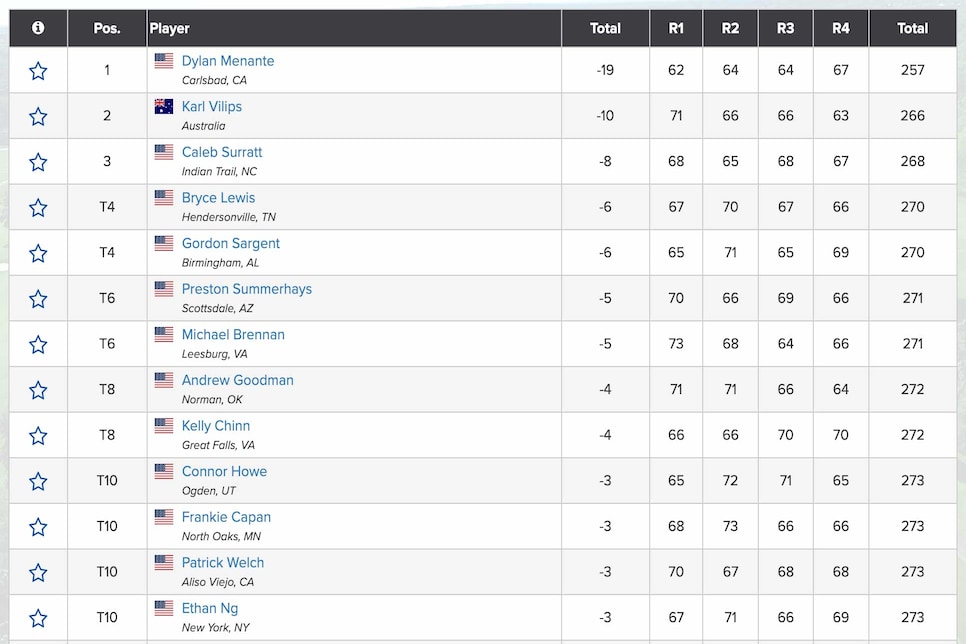 Menante, ranked 11th in the World Amateur Golf Ranking, said he entered the tournament lacking confidence after some spotty play to end his college season. Menante played the last two years at Pepperdine, helping contributed to the team's NCAA title in 2021, but announced he's transferring to North Carolina and will play for the Tar Heels in the fall.
Menante also was defending his title from 2021. A year ago he shot a nine under and won by two strokes. He thus became the fifth repeat winner of the event, but the last since Luke Donald accomplished the feat in 2000 and 2001.
Only four winners have ever shot four sub-par rounds en route to the title; Menante has now done that twice. This week there were a total of seven rounds of five-under 64 or lower, and he claimed three of them.
Most impressive perhaps is the fact that carrying over from last year's tournament, Menante went 66 straight holes without a bogey, including the first 42 of this year's event He made just four bogeys this week, and had 23 birdies. Next closest competitor made 18.
Menante's next start will be in a team competition, where he'll play for the United States in the Palmer Cup in Switzerland, July 1-3.