Players Championship
Players 2021: After an anxious start Thursday, Sergio Garcia did what he does best—tame TPC Sawgrass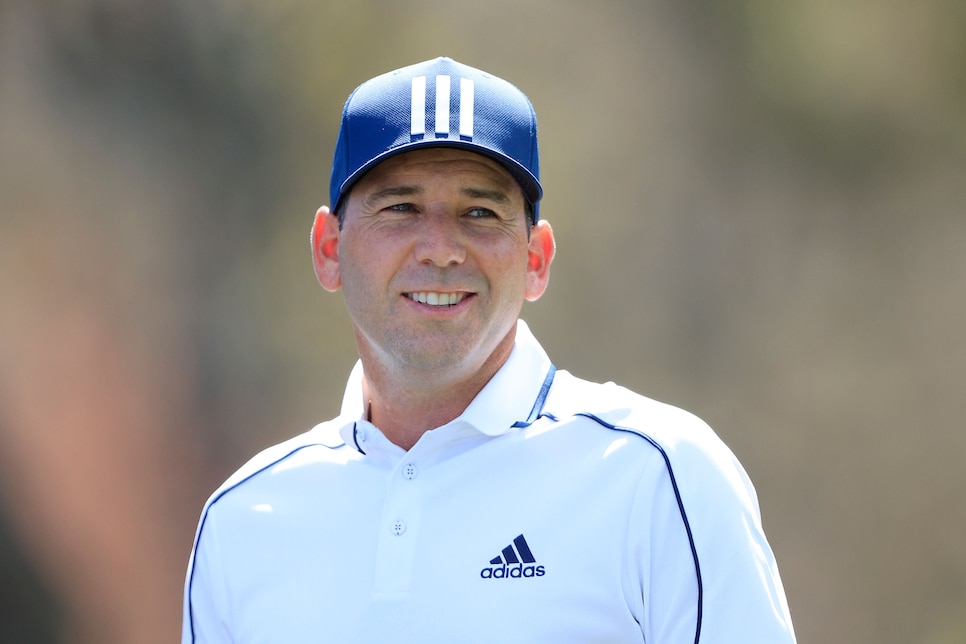 Sergio Garcia closed out a seven-under 65 Thursday at TPC Sawgrass to take the morning lead at the Players Championship.
Sam Greenwood
PONTE VEDRA BEACH — All the sudden Sergio Garcia was late. Or, at least, cutting it close. He had left the practice area at 7:35 a.m., a solid five minutes before his tee time. But the 10th tee is a bit of a hike from the range, and he got a glimpse of a clock that read somewhere between 7:38 and 7:39. So the man formerly (still?) known as El Niño, 41 years of age, broke out into a jog.
"I thought I had plenty of time," he said. "I don't know if the clock on the range was behind or something?"
He did indeed make it to the tee in time to his first tee shot of the day, a 3-wood right down the center. He'd need just 64 more swings after that, posting a seven-under 65 that included two eagles and had him sitting atop the Players Championship leader board through the morning wave.
It was the Spaniard's 25th score in the 60s at TPC Sawgrass, most of anyone all-time. He won here, in 2008, finished runner-up the year before that and again in 2014, and has two other top-five finishes. He's also made the cut in the event for 16 straight years.
"I just love it," Garcia said. It loves him back, clearly. "I've always said it, Valderrama and this course are some of my top favorite ones and for some reason … it just kind of fits my eye.
"You have to drive the ball well. Fairways are not massive. Greens are not very big, so you have to be accurate with your irons. It feels like if you are hitting greens you are having birdie chances; you're not, like, struggling from 50, 60, 70 feet like some of the other courses we play where the greens are just huge. So that obviously kind of suits the way I like to play, and today I was able to do that."
Despite winning the Sanderson Farms Championship in walk-off fashion last fall, Garcia came into this event with odds in the 80-1 range. In his nine starts overall since that victory he has just one top-10 finish, and that came in the European Tour's Omega Dubai Desert Classic. Since returning to the U.S. in February he has played two events: a missed cut at the Genesis Invitational and a T-32 at the WGC-Workday Championship.
Still, TPC Sawgrass has a way of taking current form in throwing it in the garbage. Precision is king at this angly Pete Dye masterpiece, and Garcia has long been one of the better pure ball-strikers in the world. He ranks second in strokes gained/off the tee this season and 17th in strokes gained/tee to green, and picked up more than three shots with his approach play on Thursday.
The most impressive of those approaches came at his last hole of the day, the par-5 ninth. After a perfect drive, Garcia had 264 yards to the hole.
"Wind was right-to-left, a little bit down, and I was able to hit a beautiful hold up 5-wood just right of the hole. Landed in a perfect spot to be able to hold the green, which is never easy there, and left myself a really nice uphill putt [from 18 feet], pretty much straight, maybe left edge. And I was fortunate enough to roll it in [for eagle]"
This is the first major—small "m"—event for Garcia since the U.S. Open in September, as he was forced to withdraw from the Masters last November after testing positive for COVID. His wife had worse symptoms than he did, but he said he'll be extra cautious as far as scheduling goes leading up to the upcoming Masters.
"I'm not playing the week before, we have fans back, so you know that at any time you might get it from any one of them … not that they're trying to give it to you or anything like that, but it might happen."
Back in Northeast Florida, Garcia's opening round sets up the potential for a fun next few days. Garcia's scoring average in the second round of the Players the last 10 years: 69.3.