Players Championship
Players 2021: Harry Higgs, in rare form as always, perfectly summed up why he's become a fan favorite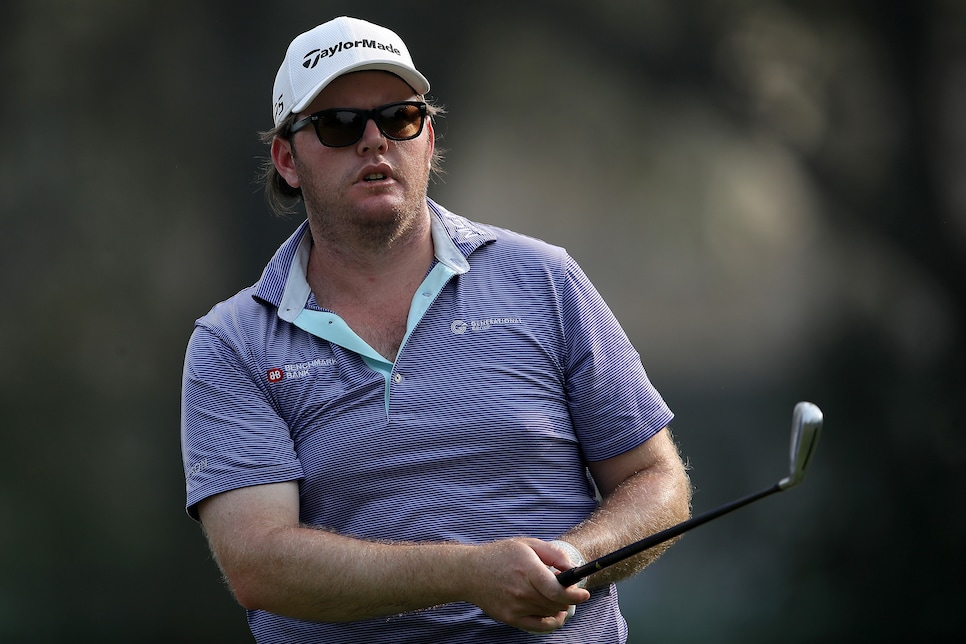 PONTE VEDRA BEACH — It's Wednesday morning at the Players Championship, annually a morning reserved for the event's first-timers. There are 17 of them in 2021, and they're all made available to the media in 30-minute increments. Not surprisingly, Will Zalatoris, the PGA Tour's clear rising star, received the bulk of the attention.
The star of the show, however, was Harry Higgs, who rolled in with his three-buttons down, just-happy-to-be-here look. This was evident in the way he held court, first answering a number of pop-quiz questions for a GOLFTV segment, then happily fielding questions from media members. Not once did he look to a tour official looking to pull the plug, as if he was prepared to kick back and hang all day. All that was missing was the standup mic.
This comedy routine of sorts is precisely the reason Higgs has become such a huge fan favorite. This, despite the fact he has never truly contended in an event with a lot of eyeballs on it. He does have a pair of runner-up finishes on tour in the last year, but one came in an opposite-field event (the 2020 Bermuda Championship) and the other came in this past fall's Safeway Open, which didn't break any television ratings records going up against the NFL and college football.
Still, Higgs has become the apple of Golf Twitter's eye, not only because of his obvious, laid-back vibe, but because of how hard he leans into it. The people dig Higgs, and Higgs digs the people, mostly because they are one in the same, as he puts it.
"It's partly because I look more like them [the fans]," said Higgs on why he's become a fan favorite. "I don't feel like I act much different than any other PGA Tour player. But I do, I guess, struggle in a way to say no to media, or just going and meeting people. I've always been good at that. So, I guess for a confluence of reasons, but I'd say mainly because I look like them and I look different than others."
Higgs, a teammate of Bryson DeChambeau's at SMU, is right. He could not look any less like the world's best, DeChambeau included. He doesn't act like them either, and he doesn't apologize for it. In a video that no longer lives on the Internet, Higgs teaches a class on how to make his signature drink: Tito's and water (it's a very easy class). The screenshots still exist, and the one of Higgs guzzling out of his styrofoam cup and saying "it's good" is one of the many reasons he's so beloved.
The 29-year-old Texan has starred in a number of other viral videos, too, most notably the "Dreams Challenge," which featured Higgs lip-syncing Fleetwood Mac's "Dreams" while swigging from a bottle of Ocean Spray cranberry juice. It was viewed more than 820,000 times. To put that in perspective, that's nearly 200,000 more views than DeChambeau's winning putt at Bay Hill received on Twitter last Sunday.
As for on-course highlights, Higgs has those too. During the second round of the Safeway Open in September, Higgs holed out for an albatross on his final hole of the day, the par-5 ninth, punctuating a career-low 10-under 62. Somehow, his "Gladiator"-inspired reaction was even better than the shot itself.
Higgs' goal is to make those moments the norm, and to make them happen on a much bigger stage. Outside of the majors, there is no bigger stage than the Players Championship. It's not out of the realm of possibility that Higgs goes "mainstream" this week, something he'd welcome with open arms.
"You hear that with first-time major winners, or even first-time tour winners. And the push and the pull, this interview, that interview," said Higgs. "I admire the top players in the world. ... All I had to do this week was this on Wednesday, right? My Monday and Tuesday were clear. This is in the morning, and I can go out and do all my work Wednesday. They have something to do every day that's about an hour of their time and they plan around that. I'm a horrible planner, so I'm guessing when I win a big event it is going to be a little bit more difficult and I struggle to say no, just because I like to talk and I like to make fun of myself.
"You want to get to the point where you have to manage your time a little better and you have to still prepare while taking care of your obligations. I want to get to that point. ... I mean, if I win this week and people want to talk to me at the Honda next week? Sure, that's fine, because if I win this week I probably won't show up until the Pro-Am on Wednesday anyway."
The fans, who are already out in full force this week, would love to see Higgs get to that point, too. As good as the George Costanza impressions and the TikTok challenge are, the true way into the golf fan's heart would be to put on a show on the weekend at TPC Sawgrass. It's been a while since a player has had the "People's golfer" nickname bestowed upon them. For Higgs, that title is there for the taking.