PGA Tour
Players 2021: Viktor Hovland involved in not one but TWO messy rules imbroglios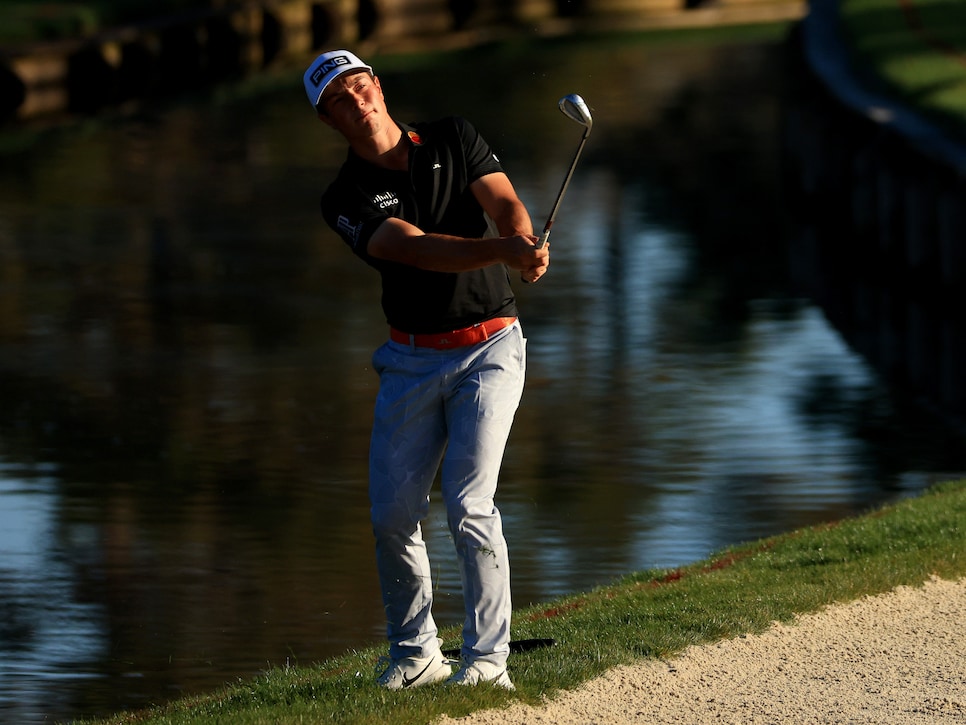 Viktor Hovland plays his fourth shot on the par-4 11th hole after a long discussion about if his ball crossed the hazard line.
Mike Ehrmann
PONTE VEDRA BEACH — Viktor Hovland is an aggressively upbeat human, to the point where it's frustrating for those of us who are irked by the slightest inconveniences. But for Hovland, there's no bad break he won't laugh off, no bogey he can't bounce back from. It's a trait that takes some pros years to develop, yet Hovland has seemingly perfected it at the age of 23.
This has been increasingly evident during the PGA Tour's Florida swing, which commenced with the WGC-Workday at The Concession. That week provided the best example of Hovland's all-world attitude, as he responded to a closing, quadruple-bogey 8 on Friday by nearly winning the tournament with a 66-67 weekend (he would have won by one shot if he had just made par instead of a snowman in his second round).
Even during a poor stretch of golf last weekend at the Arnold Palmer Invitational, the young Norwegian never appeared dejected, instead chalking it up to the difficult conditions. "You can't beat yourself up too poorly," Hovland said.
But even the most positive pros are not immune to the well-earned rage a rules imbroglio can conjure up, especially one that's completely out of your hands. This was the situation presented to the former U.S. Amateur winner on the second hole of his opening round at the Players Championship, the par-5 11th.
Hovland found the fairway at the 11th, leaving himself with 258 yards to the pin. He then proceeded to hit "a thin little heel shot" into the water right of the green. That's when things got a bit messy.
Neither Hovland nor his playing partners, Justin Thomas and Patrick Cantlay, knew for certain if the ball crossed the hazard before going in the water. If it didn't, Hovland would have to drop back in front of the water and hit a full iron. If it did, he'd have a short wedge shot. That's when a rules official stepped in and, according to Hovland, told him that he heard on his radio that it looked like the ball hit one of the wood planks surrounding the penalty area, and therefore did not cross. Hovland didn't agree, but since no one was absolutely sure, including Thomas, they had to go with that ruling.
"Yeah, it was something where I didn't know where his ball landed," said Thomas, who shot a one-under 71. "That's just, unfortunately, how golf is, to where if you don't know, if you're uncertain, you have to take the worst situation for yourself, and I think that's what they wanted because they were very confident and certain that it was landed left of the line, which we all would have been fine with, but we just didn't know."
Not surprisingly, Hovland accepted the worst situation possible without only a minor fight. Turns out, he didn't need one, as someone with "PGA Tour Live" got the attention of the official stating they had video evidence of Hovland's ball hitting the grass and crossing the hazard. Case solved.
"Once we were able to see it on TV to have some kind of confirmation, then everyone was OK with it," Thomas said. "I don't feel comfortable just saying, Yeah, you're good, just to say it, you know what I mean? We all want to protect the field out here, and everyone's going to do the right thing, and Viktor would definitely do the right thing. But I didn't see enough to be able to say yes it did or didn't."
Funnily enough, solving the problem didn't exactly help Hovland's scorecard, as he went on to make double bogey on the hole anyway. Of course, Hovland was still able to put an optimistic spin on it.
"I ended up hitting it over the green. Terrible," he said. "But right there and then, it probably saves me half a shot in the long run. So it was a pretty big deal, going from hitting a full wedge or full iron shot into that back pin and if I was able to drop there, which I was, I could just kind of roll something up there. So it was a much easier shot, yeah."
Hovland quickly bounced back like he so often does, making birdie at the next hole and then picking up birdies at 16 and 18 to turn in one-under 35. After eight straight pars on the back nine, he birdied his final hole of the day, the par-5 ninth, to shoot a two-under 70, which put him just four shots off the lead of Sergio Garcia.
UPDATE, 4:30 p.m.—As it turns out, Hovland's run-ins with rules officials weren't over after the 11th hole. On the par-4 15th, Hovland marked his ball on the green and moved it a putter-head length to get out of the line of one of his playing partners. When he went to move his mark back to the proper spot, however, Hovland mistaken moved it in the same direction rather than replacing the ball in its original spot. He thus violated Rule 14.7 for playing a ball from the wrong place, and was assessed a two-stroke penalty after his round. The rules violation was announced by the PGA Tour several hours after the conclusion of Hovland's round. Thus Hovland officially finished the day with an even-par 72.