Bad Days At The Office
Players 2021: Kevin Na has total meltdown on No. 17, promptly WDs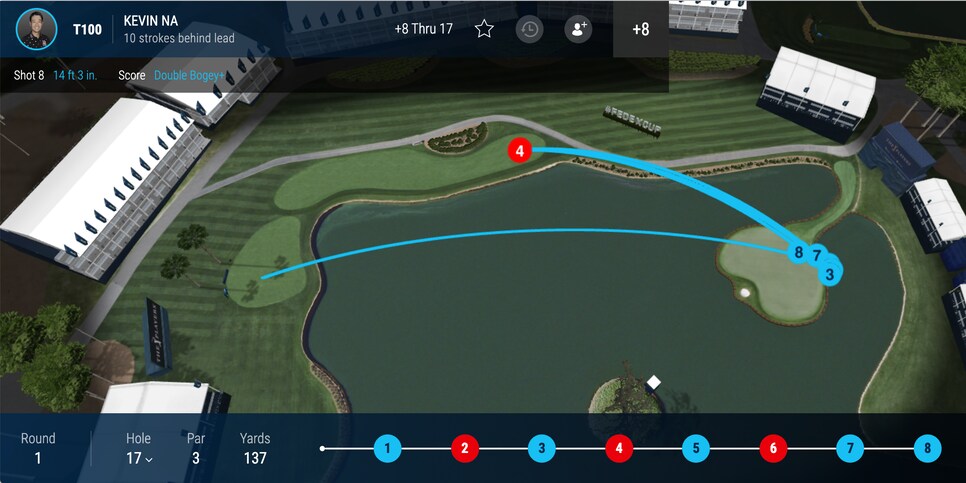 Earlier this week, our Shane Ryan worked with statistician Mark Broadie to compile a list of the worst 17th-hole collapses in Players Championship history. The ranking was based on how much a golfer's win probability was affected by a bad score on the treacherous par 3, so considering Kevin Na was already three over during his first round when he put up another big number there, he wouldn't have made it on there. But if the duo ever comes up with a way to evaluate the most entertaining meltdowns on the hole, then Na should factor prominently.
On Thursday, as you can see from the graphic above, Na recorded a quintuple-bogey 8 when his first three attempts at hitting the infamous island green found the water. And if you look at that seventh shot from the drop area, Na narrowly avoided losing more than a sleeve of golf balls.
To the five-time PGA Tour winner's credit, however, Na capped off the nightmare hole by holing a chip shot. Again, for an ocho. Have a look:
That's some impressive battling right there. But shortly after, Na decided he had had enough of TPC Sawgrass for one week.
Following another wet tee shot on 18 and a closing bogey, Na withdrew from the tournament. The official reason given for the WD was a bad back, but opening with 81 probably didn't make the decision too difficult.
Incredibly, Na's 8 was eclipsed minutes later when Byeong Hun An recorded an 11 on the hole. Even more incredibly? That still didn't match the record for the highest score in the hole's history—which belongs to Bob Tway, who made 12 during the third round in 2005.
Na has quite a history of his own at the Players. He has as many missed cuts and WDs as he does made cuts in 14 starts, but he also has three top-10s. One of those, though, a T-7 in 2012, involved him publicly battling some serious swing demons when he was heckled by fans for having trouble taking the club back.
Na also had a much more pleasant experience on TPC Sawgrass' 17th hole in 2019. During that year's third round, he and Tiger Woods exchanged walk-in birdie putts on the par 3. Unfortunately, on Friday, he went viral for a different reason.