The Grind
Phil Mickelson's historic win, Brooks Koepka's eye-roll seen 'round the world, and Tiger's uplifting message to a young fan
Welcome to another edition of The Grind, where we've never been so proud to be a golf fan. In what other sport could a 50-year-old win one of the biggest events? And in what other sport could this legend be upstaged by a single eye-roll from another player? Greatest game on earth. Can't convince me otherwise. And this week was particularly good, so let's jump right in to talking about it before we say something to piss off Brooks Koepka.
Phil Mickelson: Holy crap, he actually did it. Eight years after winning his last major, nine years after being inducted into the World Golf Hall of Fame, and during a PGA Tour season in which he hadn't even recorded a single top-20 finish, Philip Alfred Mickelson won his sixth career major. Unbelievable. What a legend.
Oh yeah, at 50 years, 11 months and seven days, he also became the oldest major champion in golf history. And with pre-tournament odds ranging from 200-to-1 to 300-to-1, Phil became the biggest underdog to win a major since Todd Hamilton won as a 500-to-1 longshot at the 2004 Open Championship. Again, unbelievable. He's also believed to be the first golfer to win a major wearing aviators. What a trailblazer!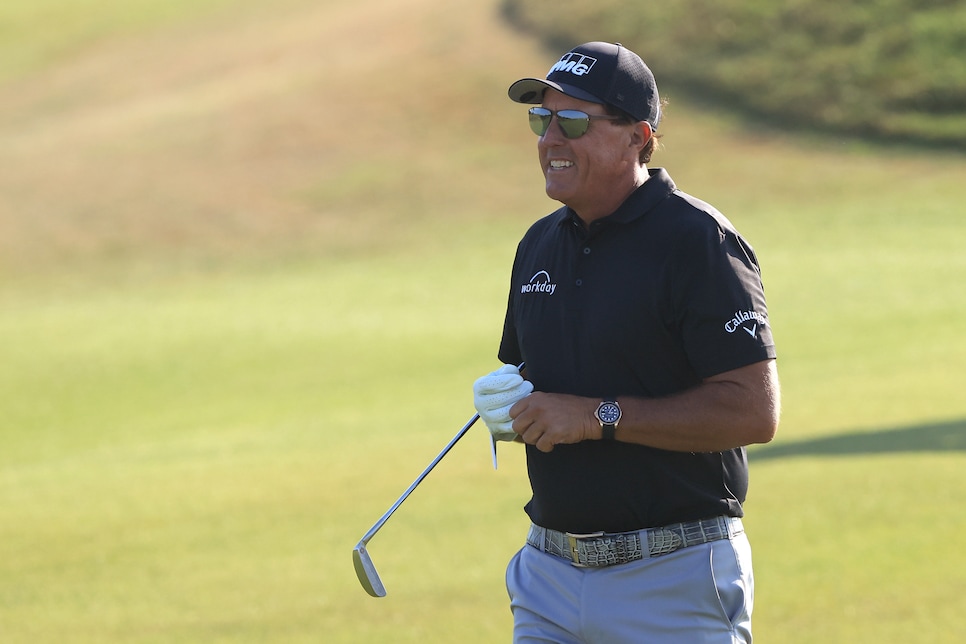 Even with his game slipping in recent years, Mickelson has remained the game's greatest entertainer. But those "BOMBS" he always talks about are no joke. Just ask Brooks Koepka on that 16th hole on Sunday. Phil is in the best shape of his life as he approaches his 51st birthday and good thing because that Wanamaker Trophy is a beast. We love this win because it's a story that transcends sports, but we're also happy for a man whose legendary career has been somewhat overshadowed by playing in the Tiger Woods Era. But now, he has a moment that rivals anyone. Well done, Phil. OK, now excuse me while I go do some calf raises . . .
The Mickelson family: Phil isn't the only star of the family. Obviously, Tim got a lot of credit for caddying his big brother to his sixth major. And then there are the ladies. Sister Tina has now provided fans with two of the most viral Phil moments. It was her who posted that photo of Phil's surprising beach bod and following his latest win, she shared this incredible text exchange between her and mom:
Mrs. Mickelson, a standout "Phireside Chat" guest herself, needs her own social accounts, pronto. We dubbed Phil the PGA Tour's Content King a couple years back, but put the Mickelsons together and you have a Content Royal Family.
The Ocean Course: The views. The sandy areas. And yes, the wind. What a venue this place (KiaWIND) has proved to be. Our Brendan Porath made a persuasive pitch to make this a more permanent part of a PGA Championship rota. Pete Dye's Ocean Course has taken three swings at a big-time event and given us the "War by the Shore," the "Ror(s) by the Shore," and now, golf's version of "The Old Man and the Sea." Pretty tough to beat.
The Video: OK, we've waited long enough to discuss the leaked clip that has everyone talking. It's unclear if Bryson DeChambeau said anything in the moment, but it's crystal clear that Brooks Koepka looked absolutely disgusted by his fellow golfer. Play the tape!
Oh, man. This was watched more than 5 million times in the first 12 hours and I may have accounted for one million of those views. It's just so delicious. Look at that eye-roll!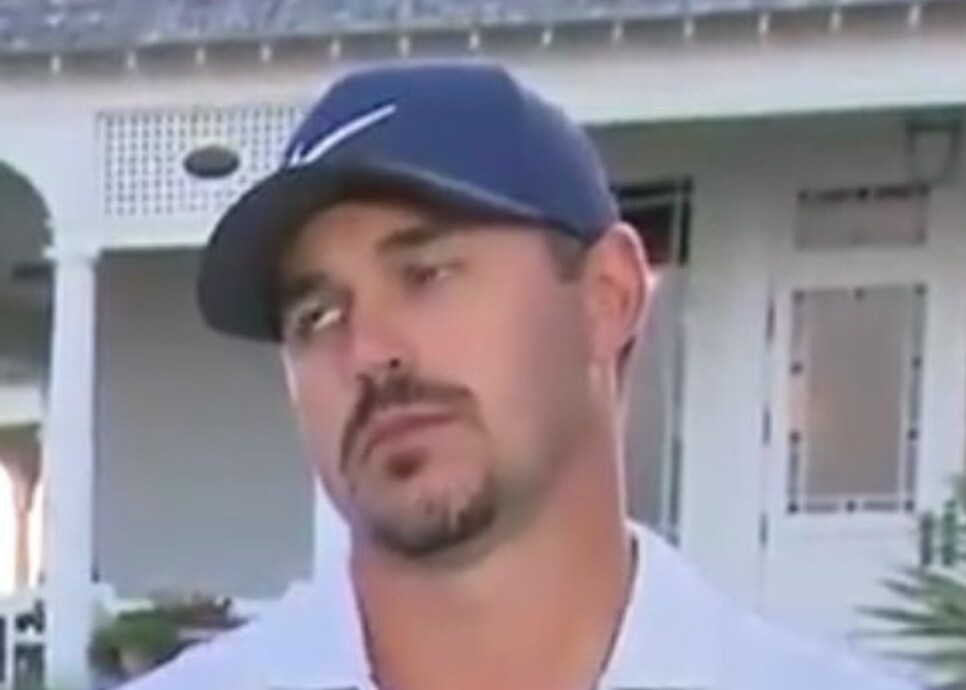 I truly hope this isn't some elaborate scheme to help these guys' PIP scores, but I doubt it is. Unless Brooks was born with Christian Bale's acting talent, you just can't fake that level of disdain. And as someone in the #Content game, I'd like to send whoever leaked this a gift basket. Seriously, thank you.
Dustin Johnson: Suddenly, Johnson is the latest big name to officially be mired in a slump. DJ became the first World No. 1 to miss consecutive cuts in major championships since Greg Norman in 1997. Yikes. And considering I bet on him in both, double yikes. But he couldn't have been the most disappointed superstar of the week. . .
Rory McIlroy: At least Johnson has won a major within the past seven months—McIlroy's major drought is now approaching seven years. During his absolute prime. The odds you could have gotten on that happening at the end of 2014 would have dwarfed the odds of Phil Mickelson winning this week.
After finishing T-49 at a place where he won by eight shots previously, McIlroy was done with his final round so early that he had time to fly home to watch the leaders play the back nine. And once again, it was a disastrous opening round that proved to be the main culprit. Maybe Rory needs some of Mickelson's coffee mix to ease those first-round jitters.
The crowd control: There's no denying how incredible a scene this was, especially considering how long we just went with there being no spectators at sporting events:
That being said, things got a little dicey there. Phil Mickelson was grabbed by the shoulder by some dope taking a selfie, and Brooks Koepka was NOT happy to be bumped around in a crowd with his banged-up knee. The PGA has already apologized for the situation and I'm guessing we'll see beefed up security going forward. That being said, I think Brooks was being a bit dramatic when he hinted someone intentionally went for his leg as if we had another Jeff Gillooly-Nancy Kerrigan situation. Although, if this feud with Bryson really heats up, who knows?
The PGA Tour heads to Fort Worth for the Charles Schwab Challenge, AKA The Colonial, AKA that one where golf—and sports—returned last year in June amid COVID-19. We thought of that as some historic moment and that the winner would be the answer to trivia questions for decades to come. But it hasn't quite been remembered as well. So. . . do you even remember who won?
Random tournament fact: Daniel Berger. That's who won last year. A fine player and a nice win—although, Collin Morikawa certainly helped with back-to-back brutal missed putts to finish—but an accomplishment that's been largely forgotten with five major championships being (thankfully) contested since. But in case you're ever in a trivia contest and that comes up, well, you'll be prepared.
RANDOM PROP BETS OF THE WEEK
—Brooks will be sending Bryson a Christmas card: 1 MILLION-to-1 odds
—Phil Mickelson will win the U.S. Open next month: 50-to-1 odds (actual odds)
—Phil Mickelson will move a lot of coffee before then: LOCK
This image of Phil Mickelson hoisting the Wanamker Trophy in front of a setting sun taken by Maddie Meyer is just spectacular: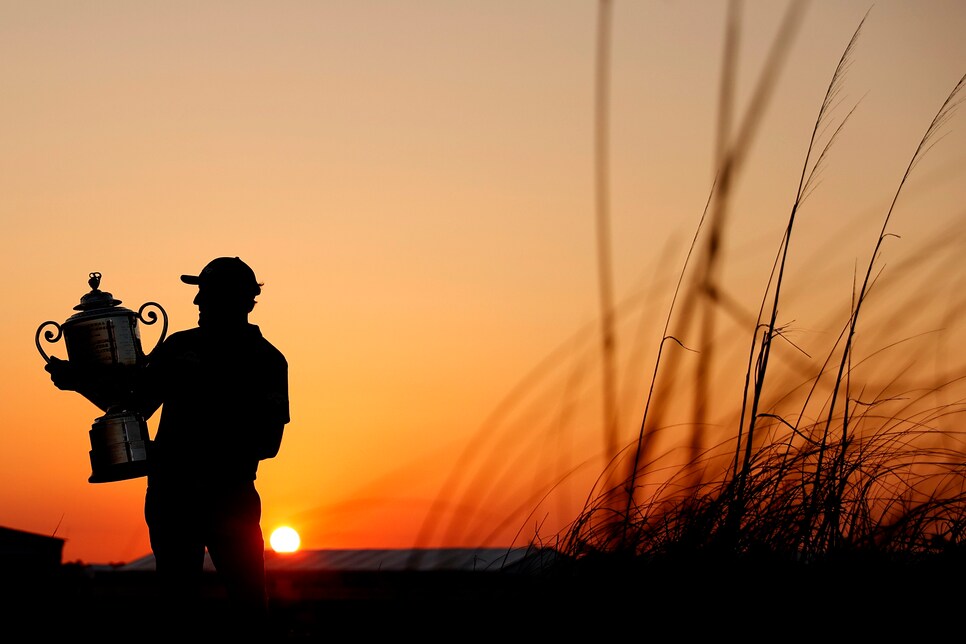 Maddie Meyer/PGA of America
But I actually might like this shot from Darren Carroll of Phil confidently pondering a recovery shot on the 16th hole during the third round: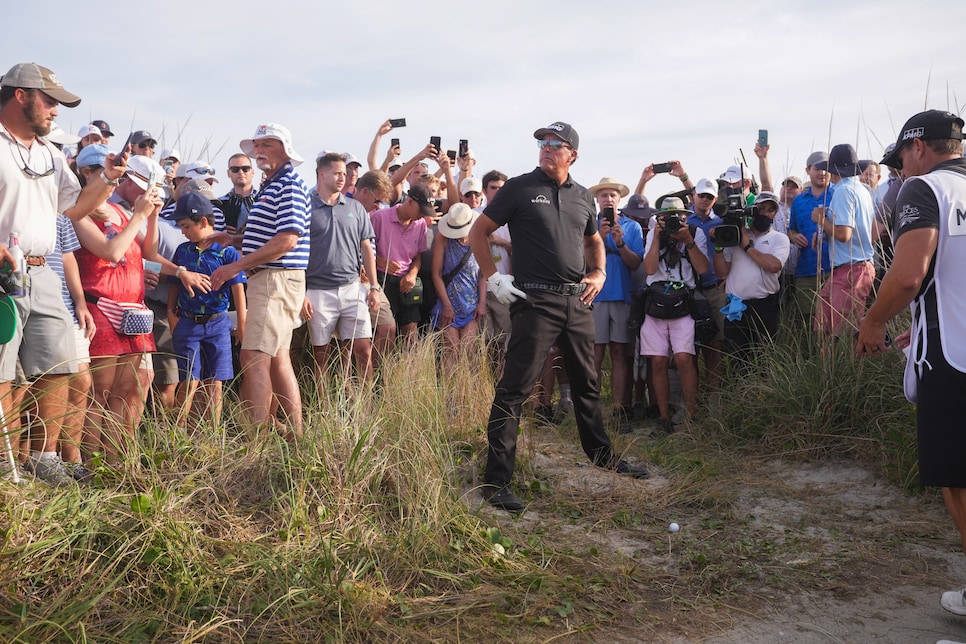 Darren Carroll/PGA of America
Put both of those in a museum.
VIRAL VIDEO OF THE WEEK (NON-BROOKS-BRYSON DIVISION)
Before the eye-roll seen 'round the world, Brooks was involved in another video gone viral. This time, he and Rory McIlroy were more in sync walking around a putting green than a synchronized swim team:
Seriously, that's wild. And probably the effect of growing up watching a lot of Tiger Woods stalking putts.
VIRAL VIDEO OF THE WEEK (CLUB PRO DIVISION)
This pre-round stretching routine by Brad Marek is something else:
Hey, whatever works. The dude made the cut.
INSTANT CLASSIC HIGHLIGHT OF THE WEEK
Two legends still on top of their game.
THIS WEEK IN PUBLIC DISPLAYS OF AFFECTION
Brooks didn't win a fifth career major, but fiancée Jena Sims reminded him of a special fourth anniversary: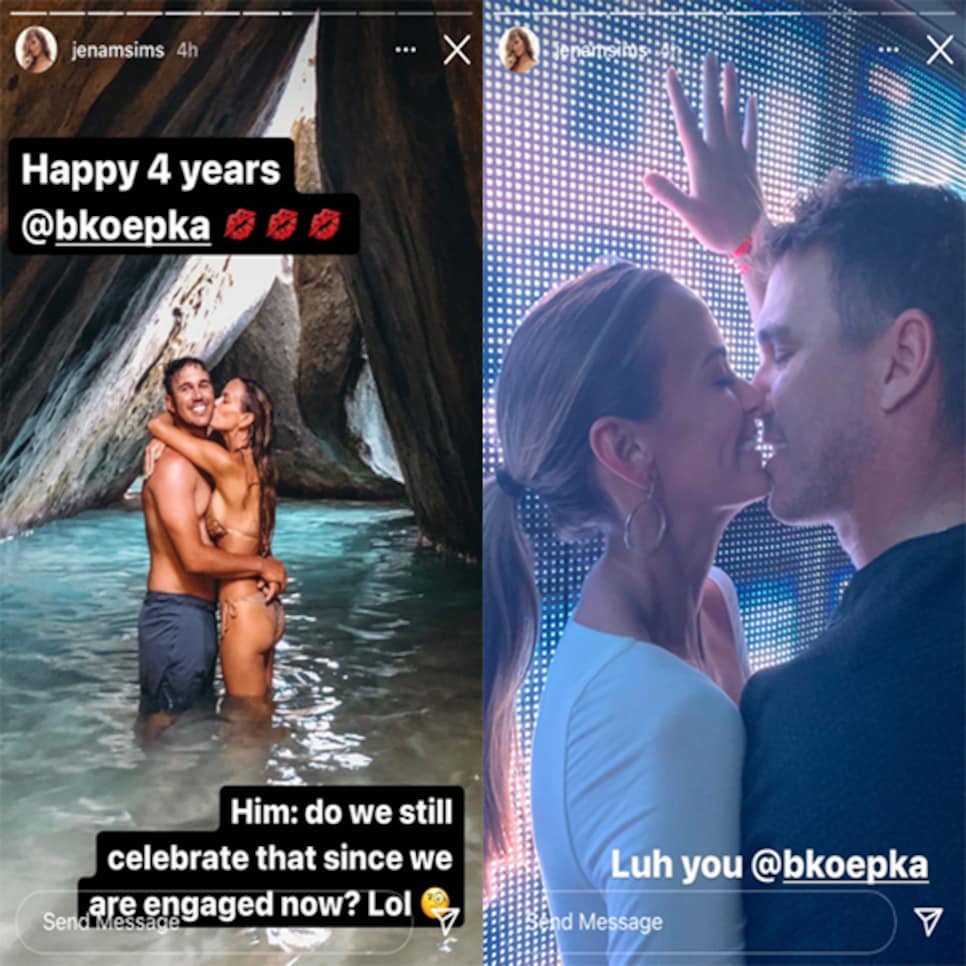 Aww. And don't worry, Brooks. Once you get married, that becomes the only anniversary you have to celebrate. Also, if you get married on Valentine's Day, that's even one less thing to worry about. You're welcome.
THIS WEEK IN PHIL BEING PHIL TIGER BEING TIGER
That's awesome. You got this, Luna! (And Tiger.)
"So it's very possible that this is the last tournament I ever win. Like if I'm being realistic. But it's also very possible that I may have had a little bit of a breakthrough in some of my focus and maybe I go on a little bit of a run, I don't know. But the point is that there's no reason why I or anybody else can't do it at a later age. It just takes a little bit more work." —Phil Mickelson. What a quote. "Go on a little bit of a run." Love it. And would love to see it.
Congrats to Wei-Ling Hsu for picking up her first LPGA Tour title. Wait, there was another golf tournament last week?! . . . Congrats to the lucky(?) gambler who turned a $1,000 bet on Phil at DraftKings into 300 GRAND. Must be nice. . . . Congrats to CBS on their most-watched Sunday of golf in three years as final-round coverage for the PGA Championship was up 27 percent over last year. Not that we needed more evidence that Phil Mickelson still moves the needle. . . . And finally, this is my annual appreciation photo for whomever planted these lovely azaleas in my backyard: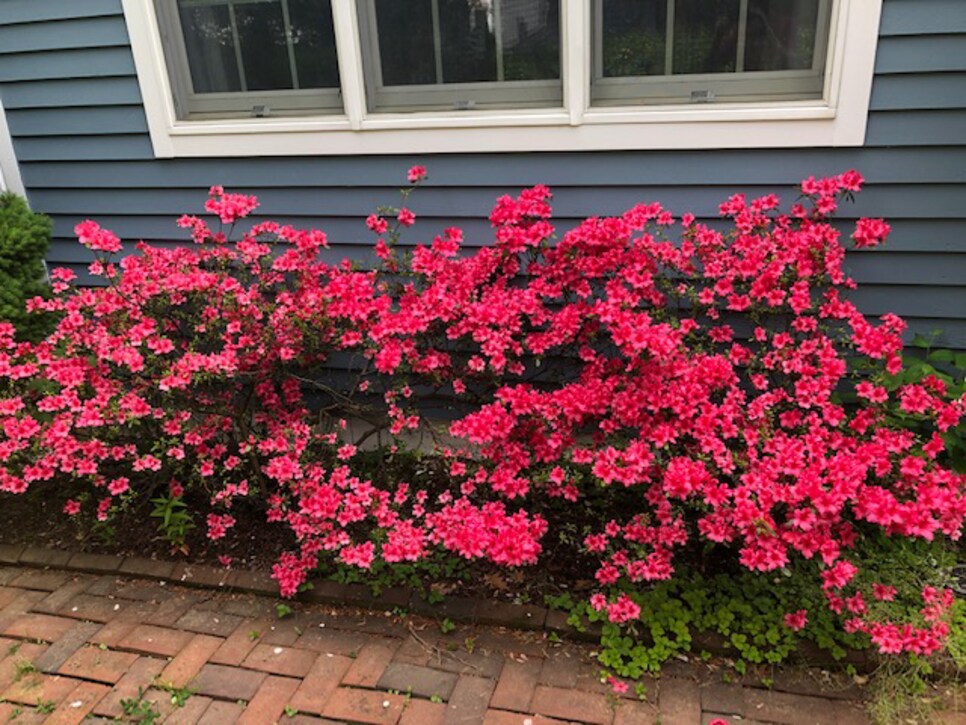 I don't put any effort into my backyard and yet these babies bloom every May. In related news, the rest of my backyard (including those weeds under them) looks like crap.
RANDOM QUESTIONS TO PONDER
What did Bryson say in that viral video with Brooks?
Why don't more golfers have their brothers as caddies?
What in the world will Phil do next?