Betting Analysis
PGA Championship picks 2023: Fade our red-hot expert at your own risk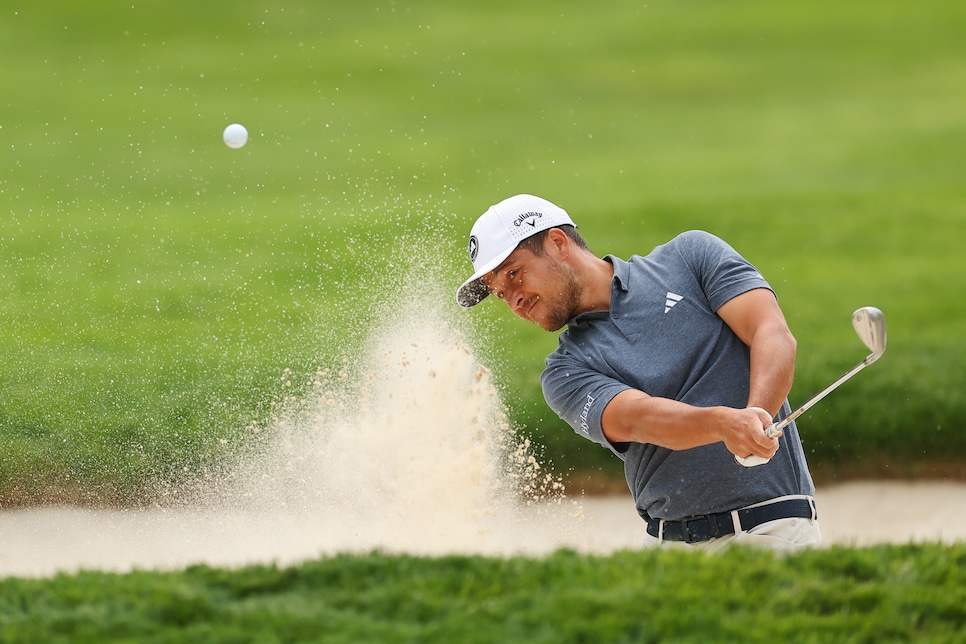 Let's go ahead and address the elephant in the room now—we're hotter than a two-dollar pistol. Let's address the second elephant in the room—it's mainly Brandon Gdula.
But hey, while golf might not be a team sport, we consider ourselves a squad here in this column. If one of us has success, we all do, and Gdula is having a ton of a success this season, having picked his fifth winner in Jason Day at 17-1 at the AT&T Byron Nelson. That was also his second straight win. And collectively, we've nailed the past four winners in a row in this column. Fade us at your own risk.
This week, Gdula likes an all-around player to win the PGA Championship at Oak Hill, which should be an all-around test. As for the rest of us, we're all going in very different directions. Let's enjoy this one, folks. Nothing like a major week.
Scroll down to see our picks and analysis for the 2023 PGA Championship.
PGA Championship picks 2023: Our Experts' Outright Predictions
Anonymous Caddie Picker of the week: Patrick Cantlay (19-1, FanDuel) — I really think the change in caddie could be perfect for Patrick. LaCava is one of the nicest guys in golf, but he also knows how to win. His style should match Cantlay's perfectly. It's important to speak simpatico on these weeks, and LaCava will be that reassuring voice for Patrick. But more than that, this guy isn't getting the credit he deserves for how well he has played this year because of all the crying on social media about his pace of play. It'd be nice for Patrick to put that all behind him with the crowning victory of his career.
Pat Mayo, DraftKings/Fantasy National, Mayo Media Network analyst: Cameron Smith (35-1, DraftKings) — Priced down since the Masters, the reigning Open Champion may have the perfect game for the 2023 version of Oak Hill. He sprays it off the tee, this we know, and the course seems far more forgiving this time around. And once Smith is off the tee, he's still one of the best players on the planet. Since his poor start to LIV 2023, he's piled up three top-six finishes in the three events since Augusta and has the required touch green side and from the sand to avoid bleeding strokes to the field. If you believe he's still a top-five talent in the world, this is a gift of a price point on DraftKings.
Brandon Gdula, FanDuel/numberFire managing editor: Xander Schauffele (17-1, FanDuel) — Schauffele enters with four straight top-15 finishes at majors, and while his game has never been made up of any singular elite element, he leads the field in SG/approach over the past 50 rounds right now. An all-around game is elite for this setup, and Xander has it.
Rick Gehman, data scientist and RickRunGood.com founder: Scottie Scheffler (+750, Bet365) — The key to unlocking Oak Hill will be with the driver—especially those capable of hitting it long and straight. That's great news for Scheffler who is inside the top 25 on tour in both driving distance and accuracy. After that, he turns into a top-10 approach player who has every short-game shot in his bag. He's the best player in the field from tee-to-green over the last 36 rounds, gaining 2.61 strokes per round, according to the RickRunGood.com golf database. He's the only golfer gaining over two strokes per round in that span.
Stephen Hennessey, Golf Digest dep. managing editor: Dustin Johnson (30-1, DraftKings) — I'm with Gdula on Xander, but the number's really dropping sharply—it's tough for me to recommend 17-1 on a guy who has trouble closing. DJ has two majors and so many final rounds in the thick of it. He just edged Cam Smith in a playoff on LIV last weekend. He has the overall game needed here at Oak Hill ... and this number is really inviting.
Christopher Powers, Golf Digest staff writer: Cameron Young (35-1, DraftKings) — I thought Michael Breed made some excellent points on this week's episode of The Loop podcast about Cam being in a bit of a sophomore slump after his Rookie of the Year campaign. That said, this so-called slump has still included top 20s at Riviera and Bay Hill, a runner-up at the Match Play and a T-7 at the Masters. It's the other weeks where the results have been meh. The big-boy weeks like this one he still rises to the occasion for, just like he did a year ago with a T-3 in the PGA at Southern Hills and a runner-up at St. Andrews. He's a big-game hunter in every sense of the phrase and I don't see that changing this week in his home state.
Andy Lack, RickRunGood.com and Inside Golf podcast: Rory McIlroy (14-1, DraftKings) — What better venue for Rory McIlroy to break his nine-year major drought than where he is an honorary member, in the city where his wife is from? While that would certainly be a nice story, it has nothing to do with the reason why I believe he's going to win. McIlroy will win because Oak Hill was built for him, and my numbers suggest that there is not a player in this field that fits this course better. He's still one of the most dominant drivers of the ball in the field, ranking first in distance, 10th in recent off-the-tee form, and first off-the-tee on long golf courses. He also ranks top 10 in long-iron play, top 25 in overall bunker and around the green play, top 10 in Bentgrass putting, second in difficult scoring conditions, and second ball-striking on long golf courses with narrow fairways. I love that the industry and betting markets are more down on him than usual this week, as it will make victory taste so much sweeter.
Past results: We're officially on fire. Four straight winners and five of the last six for this panel with Brandon Gdula's latest tout of Jason Day to win the AT&T Byron Nelson at 17-1. That's five outright hits for Gdula on the year, and his second in a row (Wyndham Clark 75-1 at Wells Fargo). Hopefully, you've been tailing us, and by us we mean Brandon. Let's keep it ROLLING at Oak Hill.
PGA Championship picks 2023: Sleepers/Dark Horses Who Could Win
Caddie: Shane Lowry (90-1, BetMGM) — Another player with a new caddie who should reinvigorate Shane's game. He's a complete player who won a major not too long ago. He loves tough courses and grinding out pars. Just close your eyes on the four-to-eight footers and hope they drop.
Mayo: Sam Burns (55-1, DraftKings) — Burns is one of the few players in the field who doesn't need a nuclear week with his irons to contend; the driving, chipping and putting can be so elite it more than makes up for lagging approaching numbers. He's just one of three players in the field top 25 in driving distance and scrambling (Clark and Walker are the two others), and sits top five in the field in putting for the past 36 rounds. Since he has a tendency to look truly awful every few weeks, it's never going to feel comfortable backing him, and that's fine. Just remember, Burns has won five times in the past 24 months, and the PGA Championship is the only Major where he's actually performed well in his career. Two appearances: two top-30 finishes.
Gdula: Rickie Fowler (55-1, FanDuel) — Fowler ranks 11th in iron play over his past 50 rounds and is a slight positive in both driving distance and accuracy in that span, too. The putter is good, and there's nothing we can nitpick with Rickie at 55-1.
Gehman: Gary Woodland (90-1, DraftKings) — Woodland thrives on demanding ball-striking courses thanks to his consistent gains in those categories. He's gained strokes off-the-tee in 13 straight events, per the RickRunGood.com golf database. He's gained multiple strokes on approach in each of his last four starts and has a penchant for PGA Championship setups. He's made the cut six straight years in this tournament with two top-eight finishes during that stretch.
Hennessey, Golf Digest: Max Homa (45-1, PointsBet) — You'll be able to find a 50-1 on Homa before the action starts Thursday, which is absurd. We're talking about a winner at a plethora of comparable, hard golf courses—Torrey Pines, Riviera, Quail Hollow ... what more do you want him to do? His off-the-tee game returned at the Wells Fargo, gaining more than three strokes en route to a T-8. We know Homa hasn't sniffed the lead in a major before, but this setup should be conducive to putting him near the lead into the weekend.
Powers, Golf Digest: Sahith Theegala (110-1, PointsBet) — From everything you see and hear, players can be long and a little wild off the tee this week and make up for it around the greens with elite chipping and putting. Sounds like a Sahith Theegala track to me. Theegala is top 50 on tour in both SG/putting and SG/around-the-green, and he hits it plenty far off the tee. Is he ready to win a major already? Probably not, but his top-10 at the Masters this year, plus a fourth at Torrey Pines and top 10s at Riviera and Harbour Town tells me he thrives against the best at the most challenging courses. This week checks both those boxes.
Lack: Shane Lowry (90-1, DraftKings) — I always love Shane Lowry on long, difficult golf courses in cold conditions. Public sentiment on the 2019 Open Championship winner is low right now due to a faulty putter, but Oak Hill will be a complete tee-to-green test that should really accentuate Lowry's premier ball-striking. The Irishman hits the ball far, is a top-seven long-iron player in this field, and has an impressive resume on long, tough, Bentgrass tracks such as Firestone, Oakmont and Bethpage. I expect him to surprise this week in Rochester.
PGA Championship picks 2023: Players We're Fading
Caddie: Rory McIlroy (14-1, DraftKings) — It does seem like Rory's walking around this week with a more business-like approach. I like to see that after all the distractions he's faced over the last year. I don't quite know if the current state of his game allows him to separate himself from the field … I'd rather some of these other elites who have shown me more recently.
Mayo: Tony Finau (22-1, DraftKings) — Will he have a good week? Probably. Is he going to win? Doubtful. Maybe this is the week Finau levels up, but it's somewhat telling, looking at his victories, the types of field he can dominate. This ain't it.
Gdula: Dustin Johnson (24-1, FanDuel) — A win in Tulsa has played part in Johnson's odds shortening, but his overall downward trend is continuing into 2023 even with that win. While he could contend if the game is on, the odds are just too short for the amount of unknowns.
Gehman: Cameron Smith (35-1, DraftKings) — Smith has found so much success in golf, doing it his own way. He won the Open Championship and Players Championship by having elite short-game weeks – something that is rare for most winners of big-time events. Oak Hill will be difficult to beat through this route and will cause Smith all types of headaches off-the-tee. The fairways are already narrow but the bunker trouble will come into play right around the distance Smith drives it. He'll be at a disadvantage on nearly every tee shot on the property, which will add up quickly this week.
Hennessey, Golf Digest: Scottie Scheffler (+650, Caesars Sportsbook) — It's so tough for me to throw out any of the names near the top, but Scheffler at sub-7-1 is absurd to me. The ball-striking is ultra elite right now—but the putting is not. He really struggled at the Byron Nelson putting, which are also bentgrass greens, and I ultimately think that could be the reason he doesn't win.
Powers, Golf Digest: Rory McIlroy (14-1, DraftKings) — McIlroy could very well add another yellow box to his Wikipedia page this week, but I cannot bet on him to add a green one at these odds given what we've seen over the last decade in the majors from him,
Lack: Brooks Koepka (21-1, FanDuel) — The pendulum has swung way too far in the other direction with Brooks Koepka. The odds adjustment from three good rounds at Augusta is incredibly irresponsible. At the end of the day, we are still talking about a player that has played three good rounds of relevant, competitive golf in the last two years, and has a final round scoring average of 74 the last four times he's been in the hunt at the major. Since nearly giving the PGA at Bethpage away in 2019, he has been an abject disaster on Sunday at Harding Park, Kiawah Island, and Augusta this year. I'm not sure I understand the separation between Koepka and fellow LIV golfer Dustin Johnson on the odds board, who is a far better bet in my eyes.
PGA Championship picks 2023: Matchups
Caddie: Brendan Steele (+100) over J.J. Spaun (DraftKings) — The oddsmakers are wrong on this one. Steele's off-the-tee game gives him a significant edge over Spaun, who isn't short but is also pretty inaccurate. You'll have to look away if Steele misses greens, but let's hope those 7- and 8-irons over Spaun's 5- and 6-irons are the difference in this one.
Mayo: Gary Woodland (+100) over Corey Conners (DraftKings) — Conners has the better track record over the past two years, but lead-in form (and distance) favors Woodland by a large margin. We know neither can chip or putt, so ride with the better driver and long-iron player.
Gdula: Sungjae Im (-118) over Tyrrell Hatton (FanDuel) — While a tough setup could suit Hatton well, Im profiles to stay out of trouble more than most with accuracy off-the-tee and good iron play. He's also got top-five around-the-green play over the past 50 rounds, which is sure to be important this week.
Gehman: Sungjae Im (+100) over Matt Fitzpatrick (Bet365) — Im is fresh off a win on the KPGA and has been piling up top-10 finishes on the PGA Tour. He possesses the elite driving ability to battle Oak Hill and has one of the most well-rounded games on tour. His floor is higher than many of his peers, making him an excellent matchup option for this week.
Hennessey, Golf Digest: Dustin Johnson (+110) over Collin Morikawa (Circa) — I just can't emphasize enough how big of an advantage Dustin Johnson's distance is here over Collin. These fairways are really narrow, and even accurate drivers like Collin will find the rough off the tee. He will find himself in trouble around the greens, and his short game is objectively not elite. Dustin Johnson has it all—the distance to take some of the trouble out of play, and a much better short game over Morikawa.
Powers, Golf Digest: Keegan Bradley (+100) over Shane Lowry (DraftKings) — Lowry has become a legitimate threat every time he tees it up in a major, and it feels like he's coming in quite under the radar which scares me. But Keegan at even money here is too good to pass up. He lives for an arena like this one and Oak Hill should suit his elite ball-striking ability. Any week where par is a good score is a week you want to be in Keegan's corner.
Lack: Joaquin Niemann (-120) over Sahith Theegala (DraftKings) — I'm a huge fan of Joaquin Niemann as an under-the-radar pick this week. While I don't really know what to do with middling-to-solid LIV results, he ranked top five in SG/off-the-tee at the Masters. The young Chilean's elite driving ability will be accentuated even moreso at Oak Hill, and Bentgrass remains his preferred putting surface. On the contrary, Sahith Theegala's squirminess off the tee and often erratic iron play has me feeling more bearish on his chances this week. While I am still very high on Theegala's talent, Niemann remains a far more proven player, and this price is too cheap.
Matchup Results from the AT&T Byron Nelson: Gehman: 1 for 1 (Bezuidenhout (-110) over Stallings); Mayo: 1 for 1 (Jaeger (-110) over Montgomery); Powers: 1 for 1 (Kuchar (+100) over K.H. Lee); Caddie: PUSH (Hatton (+190) over Scheffler); Gdula: 0 for 1; Hennessey: 0 for 1; Lack: 0 for 1
Matchup Results from this season (Wins-Losses-Pushes): Gehman: 18-8-2 (up 8.66 units); Hennessey: 17-10-1 (up 5.71 units); Lack: 11-7-0 (up 2.82 units); Caddie: 14-12-2 (up 1.27 units); Powers: 14-13-1 (up 0.58 units); Gdula: 12-15-1 (down 4.87 units); Mayo: 10-15-0 (down 5.55 units)
Watch our hole-by-hole analysis with drone footage of Oak Hill's renovated East Course:
PGA Championship picks 2023: Top 10s
Caddie: Wyndham Clark (+600, FanDuel) — His distance is elite, and so is his short game—so it shouldn't surprise anyone if the Wells Fargo winner sneaks inside the top 10 at the end of the week.
Mayo: Justin Thomas (+260, DraftKings) — It's hard to overlook the two time and reigning PGA champion Justin Thomas, but he hasn't won in a year. So that's problematic. But when you take a scan through what he has done tee-to-green over the past four months has been out of this world. Good. What has been the problem? He just can't putt enough to win, but that can change on a dime when it comes to Justin Thomas. We know that he is not the world's greatest putter, however, when he gets it going, he can fill it up with the best of 'em. You just have to hope it's that magic week and even if it's not that magic week and he's just around field average or slightly above, the rest of his game is so in tune at the moment that he could still potentially win, and he comes in at a very good discount price for a player of his caliber at the PGA championship this week.
Gdula: Collin Morikawa (+280, FanDuel) — Morikawa's accuracy and irons could lead to a field-best number of greens in regulation at a course with small greens. The putting is still pretty rough, and the underlying numbers aren't great there, but the ball-striking seems ripe for Morikawa to finish top 10.
Gehman: Tony Finau (+210, DraftKings) — When everything is clicking, no golfer has the upside of Tony Finau. Of the 10 best strokes-gained performances by any golfer since the start of the 2022 season, Finau owns five of them. He's gained at least 17.48 strokes to the field five different times with no other golfer in the world doing it more than once. His skill-set should be rewarded around Oak Hill and he will enter with more confidence than ever thanks to his four wins since the last time he played a PGA Championship.
Hennessey, Golf Digest: Tommy Fleetwood (+500, FanDuel) — Fairway Jesus plays his best golf on tough golf courses like we'll see at Oak Hill. I love the fact he was in the Northeast all last week (shout out Hudson National) to prep for Oak Hill. He can scramble with the best of them, and his form is very strong coming into this week.
Powers, Golf Digest: Bryson DeChambeau (+900, DraftKings) — I mean … why the hell not? All those Winged Foot comparisons are impossible to ignore, even if he is a slimmed-down version of his U.S. Open-winning self. He still hits it a mile and finally showed some life last week on LIV, which makes extra-surprising that he's still in triple-digit territory outright odds wise and 9-1 just to top 10. I'm going to have plenty of action on this guy this week.
Lack: Harris English (+1200, DraftKings) — Harris English is one of my favorite longshots this week, and I'll gladly take my chances that he finds his way onto the first page of the leaderboard by Sunday afternoon in Rochester. English has a sneaky strong resume on long, difficult, major championship style tests, with top-fives at both the 2020 U.S. Open at Winged Foot and the 2021 U.S. Open at Torrey Pines. Top-fives at both Bay Hill and Quail Hollow this year are similarly encouraging, and the approach play came back for him in full force two weeks ago down in Charlotte. At one point one of the best ball-striker's on tour, English is quietly trending back up in the right direction.
Top-10 results from the AT&T Byron Nelson: Hennessey: 1 for 1 (Vincent Norrman +1100); Everybody else: 0 for 1
Top-10 results from this season: Hennessey: 7 for 28 (up 14.95 units); Gdula: 9 for 28 (up 14.2 units); Gehman: 8 for 28 (up 8.6 units); Mayo: 6 for 25 (up 3.1 units); Lack: 6 for 18 (up 3.9 units); Caddie: 7 for 28 (up 1.4 units); Powers: 2 for 28 (down 19.9 units)
PGA Championship picks 2023: One and Done
Gehman: Xander Schauffele — Schauffele is a top-15 machine in major championships. That's a feat that he has accomplished in four straight and in 12 of his 23 major starts. And it makes sense, he's so well-rounded that his game is able to translate to nearly every golf course on the planet. And the more difficult the conditions become, the better he can separate himself from the field. He enters the week in ideal form, runner-up in Charlotte, T-4 in New Orleans, fourth in Hilton Head and T-10 at Augusta.
Previous weeks: Fortinet Championship: Emiliano Grillo. Sanderson Farms Championship: Sam Burns. Shriners: Taylor Montgomery. Zozo: Sungjae Im. CJ Cup: Matt Fitzpatrick. Bermuda: Denny McCarthy. Mayakoba: Viktor Hovland. Houston Open: Aaron Wise. RSM Classic: Brian Harman. Sentry TOC: Cameron Young. Sony Open: Hideki Matsuyama. American Express: Brian Harman. Farmers: Jason Day. AT&T Pebble Beach: Maverick McNealy. WMPO: Scottie Scheffler. Genesis: Justin Thomas. Honda: Sungjae Im. API: Rory McIlroy. Players: Jon Rahm. Valspar: Justin Rose. WGC-Match Play: Cameron Young. Valero: Rickie Fowler. Masters: Jordan Spieth. RBC Heritage: Collin Morikawa. Zurich: Kurt Kitayama. Mexico Open: Ben Martin. Wells Fargo: Viktor Hovland. Byron Nelson: K.H. Lee.
Hennessey: Jon Rahm — Most of your league-mates have probably used Rahm, and if you haven't, I think it's a good week to roll him out at lower ownership.
Previous weeks: Fortinet Championship: Cam Davis. Sanderson Farms Championship: Denny McCarthy. Shriners: Emiliano Grillo. Zozo: Hideki Matsuyama. CJ Cup: Sungjae Im. Bermuda: Mark Hubbard. Mayakoba: Viktor Hovland. Houston Open: Jason Day. RSM Classic: Brendon Todd. Sentry TOC: Patrick Cantlay. Sony Open: Matt Kuchar. American Express: Brian Harman. Farmers: Will Zalatoris. AT&T Pebble Beach: Seamus Power. WMPO: Collin Morikawa. Genesis: Justin Thomas. Honda: Chris Kirk. API: Keith Mitchell. Players: Rory McIlroy. Valspar: Adam Hadwin. WGC-Match Play: Tyrrell Hatton. Valero: Nick Taylor. Masters: Scottie Scheffler. RBC Heritage: Jordan Spieth. Zurich: Sahith Theegala. Mexico Open: Gary Woodland. Wells Fargo: Xander Schauffele. Byron Nelson: Tyrrell Hatton.
Powers: Brooks Koepka — It's the perfect time to use him coming off the Masters run.
Previous weeks: Fortinet Championship: Sahith Theegala. Sanderson Farms Championship: J.T. Poston. Shriners: Sungjae Im. Zozo: Hideki Matsuyama. CJ Cup: Tyrrell Hatton. Bermuda: Russell Knox. Mayakoba: Thomas Detry. Houston Open: Sepp Straka. RSM Classic: Davis Riley. Sentry TOC: Xander Schauffele. Sony Open: Gary Woodland. American Express: Cameron Young. Farmers: Taylor Montgomery. AT&T Pebble Beach: Maverick McNealy. WMPO: Sungjae Im. Genesis: Collin Morikawa. Honda: Chris Kirk. API: Will Zalatoris. Players: Patrick Cantlay. Valspar: Justin Suh. WGC-Match Play: Tom Kim. Valero: Matt Kuchar. Masters: Tony Finau. RBC Heritage: Rickie Fowler. Zurich: Robby Shelton. Mexico Open: Luke List. Wells Fargo: Viktor Hovland. Byron Nelson: Tom Hoge.
Pat Mayo is an award-winning video host and producer of long and short-form content, and the host of The Pat Mayo Experience daily talk show. Mayo helped create the golf stats and research website Fantasy National along with the Race for the Mayo Cup One and Done contest. Mayo won the 2022 Fantasy Sports Writing Association Daily Fantasy Writer of the Year and is a finalist for three FSWA Awards in 2023 (Best Podcast, Daily Fantasy Writer of the Year, Golf Writer of the Year). His 27 FSWA nominations lead all writers this decade and are second-most all-time. Follow him on Twitter: @ThePME.
Brandon Gdula, managing editor and analyst for NumberFire, a FanDuel daily-fantasy analysis company, recently won the 2018 FSWA Golf Writer of the Year. Gdula also co-hosts the DFS Heat Check podcast. Follow him on Twitter: @gdula13.
Rick Gehman is the founder of RickRunGood.com and the RickRunGood YouTube Channel, is one of the industry's leading experts on golf DFS and gambling. Gehman is co-host of the First Cut Podcast and appears regularly on the Pat Mayo Experience golf podcasts. Follow him on Twitter: @RickRunGood.
Andy Lack is a PGA Tour writer and podcaster from New York City who now resides in Los Angeles. He hosts Inside Golf, a twice weekly podcast focused on the PGA Tour, betting, daily fantasy, golf course architecture, and interviews, as part of the BlueWire podcast network. As well as contributing to Golf Digest, Andy is also a data analyst and writer for RickRunGood.com, where he covers PGA Tour betting and daily fantasy. He came to Golf Digest's betting panel after previously writing for Golf.com, the Score and GolfWRX. In his free time, Andy can likely be found on a golf course. Follow him on Twitter: @adplacksports