Fantasy Advice
PGA Championship DFS picks 2023: The Brooks Koepka debate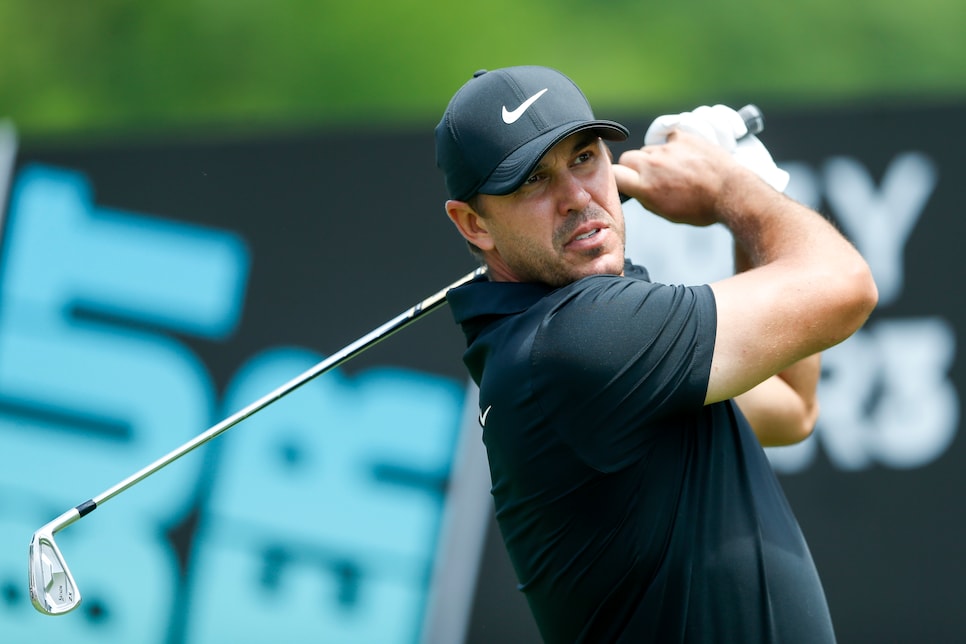 Oak Hill Country Club will host the second major of 2023, and an early look at the setup indicates it will be a complete examination of your game—especially off the tee.
Oak Hill will demand that you hit it far and straight with your driver, and you'll be punished if you fail that test. Many of the fairways are as narrow as 25 yards with deep fairway bunkers and thick rough waiting for your ball if you miss the short grass.
When you look at other major venues, it reminds me of Bethpage Black and Winged Foot—two classic Northeast layouts where distance and power were a premium.
Here are the players who have my interest—and those who certainly don't—this week at the 2023 PGA Championship.
Golfers I'm Definitely Playing
Scottie Scheffler ($11,200 DraftKings | $12,000 FanDuel)
There's just nothing else that Scheffler can do to impress me anymore. He's routinely been the best player in the world for 18 months, and he does it in such a sustainable way. He's the best player in the field from tee-to-green over the past 36 rounds, per the RickRunGood.com golf database. His ability to make par from seemingly anywhere will be critical this week, and there's no reason to think he won't be in the mix come Sunday afternoon. He's finished inside the top 10 in six of his past eight major starts.
Sungjae Im ($9,000 DraftKings | $10,200 FanDuel)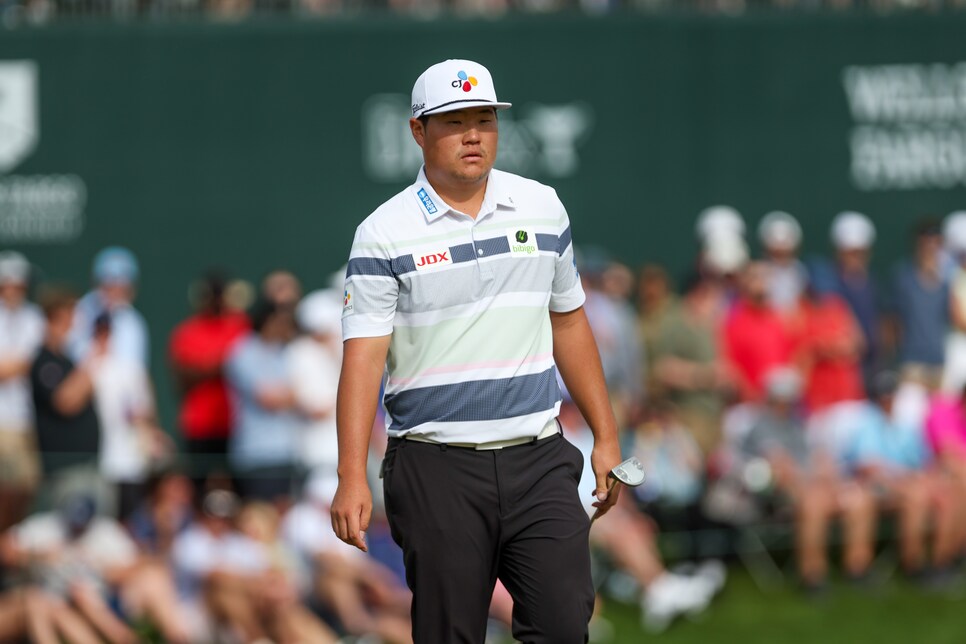 Im enters on a streak of seven straight top-25 finishes, including four top 10s. He's one of the better players in the world off-the-tee, ranking ninth in strokes gained/off-the-tee over the past 36 rounds. He possesses the well-rounded, high upside game that should translate to any difficult venue, including Oak Hill.
Tommy Fleetwood ($8,000 DraftKings | $9,400 FanDuel)
Fleetwood has quietly had an excellent season—finishing T-3 at the Valspar, T-15 at the RBC Heritage and T-5 at the Wells Fargo, all within his past five starts. His most recent finish in Charlotte was the most impressive. He gained 7.74 strokes ball-striking in a stacked field, and he has the short game to scramble for pars, which will be a crucial ability this week.
Gary Woodland ($7,100 DraftKings | $8,900 FanDuel)
With putter in hand, Woodland is a disaster. Outside of that, he's doing splendid work from tee to green. He's gained 22 strokes in that category in his past two events combined, per the RickRunGood.com golf database. Oak Hill will demand strong ball-striking, which is Woodland's strength. He's made six straight cuts at the PGA Championship with two top-eight finishes.
Yannik Paul ($6,800 DraftKings | $7,300 FanDuel)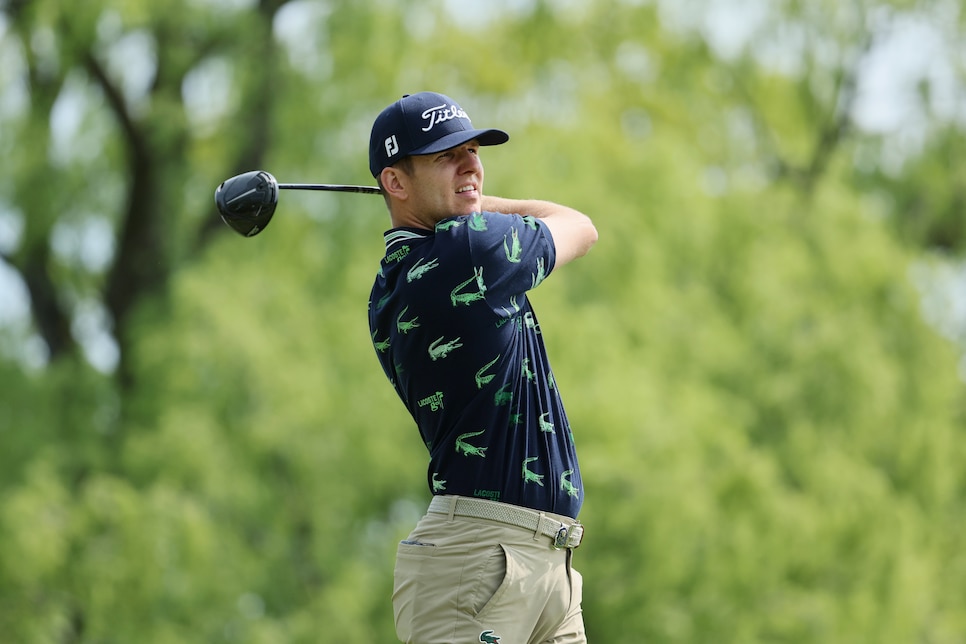 Paul's ascension has been impressive—he was ranked outside the top 1,800 in the world at the start of 2021, and now he's the 104th-ranked golfer in the world. He's been dangerous on the DP World Tour, earning three top-six finishes in his past five starts. He's flashed elite tee-to-green play during that run as he heads into his PGA Championship debut.
Brooks Koepka ($10,100 DraftKings | $11,700 FanDuel)
The decision to play Koepka or not will likely come down to how popular he will be in contests this week. Odds are, he'll garner decent ownership after his success at the Masters. I believe this setup at Oak Hill will reward power, distance and discipline—all strengths of Koepka when he's healthy and excelling in majors. His form is top notch, earning three top-five finishes in his past four LIV starts, plus his T-2 at the Masters. And the comparisons to Bethpage Black only help build a stronger case for playing the four-time major champion.
Tony Finau ($9,500 DraftKings | $10,900 FanDuel)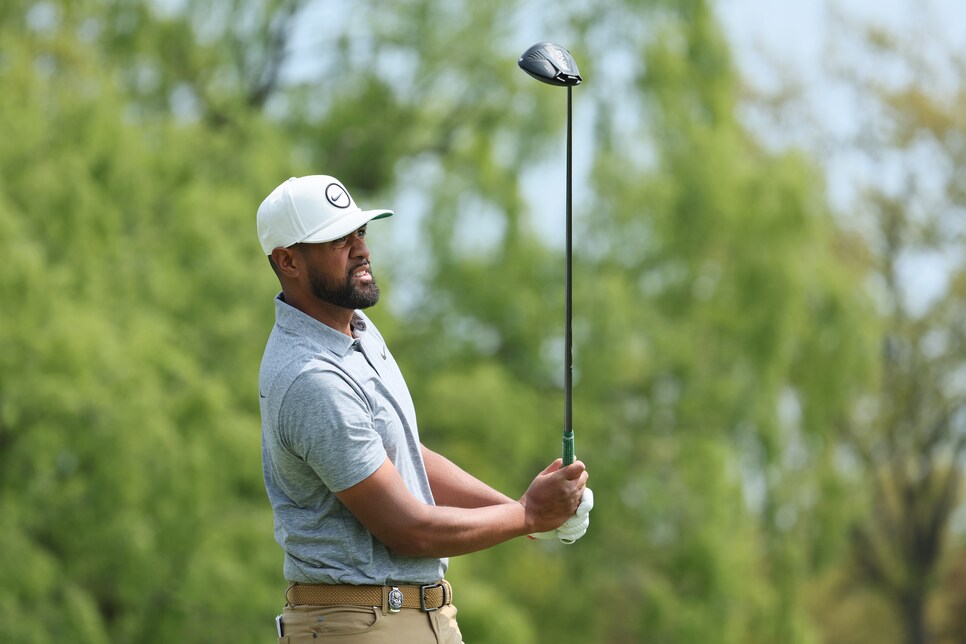 Finau's unlimited power will be an attribute that separates himself from the rest of the field this week, however, that's one of many great aspects to Finau's game. He's been an elite iron player, ranking fifth in SG/approach over the past 36 rounds, per the RickRunGood.com golf database. He then sprinkles in an above average short game, which will make him quite dangerous around Oak Hill.
Sam Burns ($8,200 DraftKings | $9,900 FanDuel)
Burns hasn't had the success at majors that we would expect, but his 20th-place finish at last year's PGA Championship is indeed his best finish. His game, on paper, should be well-suited for Oak Hill. His driver is a weapon, his irons are above average, and he's one of the better putters on tour. He's proven that he can compete on demanding golf courses, so it seems like just a matter of time before he has a breakthrough.
Bryson DeChambeau ($7,400 DraftKings | $9,100 FanDuel)
Hear me out: At major championships, we have to make a lot of assumptions about golf courses before a single shot has been hit. With boots on the ground this week at Oak Hill, I see very narrow fairways and thick rough without an increasing penalty for a shot that is increasingly wide. That sounds a lot like Winged Foot. When everyone plays from the rough, the longest hitters prevail. We've hit rock bottom with DeChambeau's game—but also with his price and expectation. This would be a decent spot to try and "be early" on him again.
David Micheluzzi ($6,000 DraftKings | $7,000 FanDuel)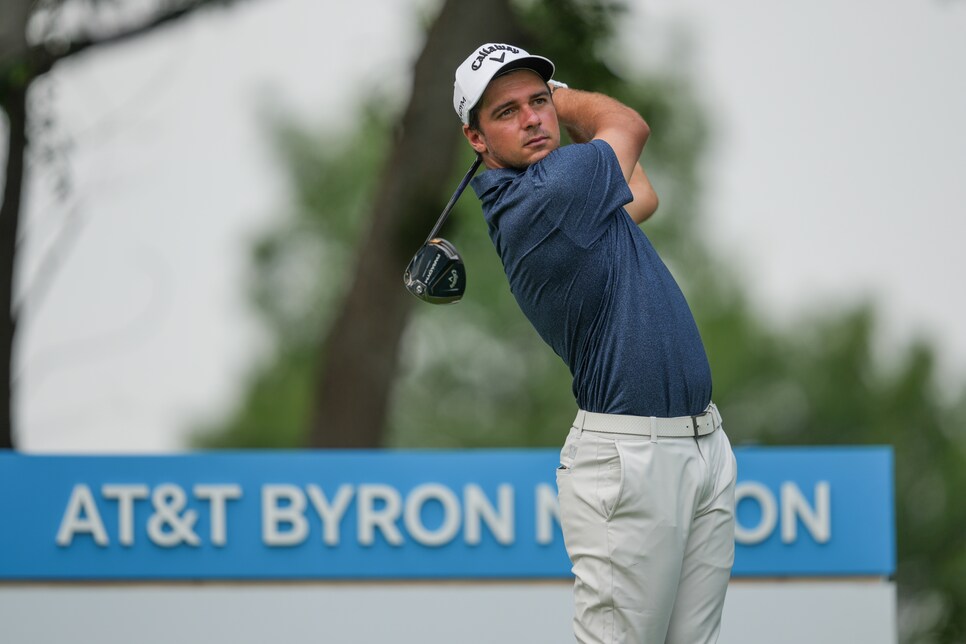 Micheluzzi has been playing well on a handful of global tours, and he just made the cut at the Byron Nelson. He gained 3.45 strokes on approach for the week, which was slightly better than Scottie Scheffler. On top of all that, he's the minimum price on DraftKings, which would allow you to create some significantly deep lineups with high-end players.
Collin Morikawa ($10,300 DraftKings | $10,800 FanDuel)
The state of Morikawa's game is highly questionable at the moment. He missed the cut at the Wells Fargo Championship and has had one of the more volatile years among high-end players. Statistically, his driving accuracy will be valuable, but he lacks the distance to make a dent in Oak Hill. He's also been struggling with his short game and putting, which tends to punish you more at majors when par is a good score. Combine that with top-tier pricing, and it's hard to make the investment into Morikawa.
Cameron Smith ($9,300 DraftKings | $10,100 FanDuel)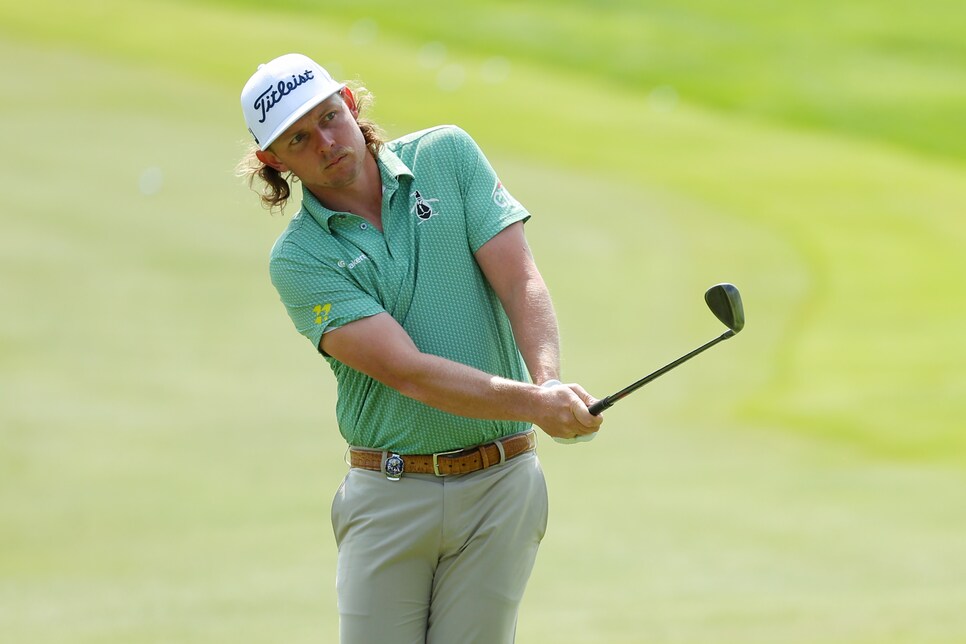 The path to great finishes for Smith has been solely reliant on his putter. That fact alone really narrows his path to the top of the leaderboard. We've seen him struggle off the tee at times, and his driving distance is going to bring in more trouble than his peers. He doesn't hit it far enough to avoid the hazards, and he doesn't hit it straight enough to stay in the fairway. It might be an uphill battle all week.
Tom Kim ($8,000 DraftKings | $9,800 FanDuel)
If distance is a prerequisite for success then Tom Kim is about to be exposed by Oak Hill. Similar to other shorter hitters, every fairway bunker on the course will be in play for him this week, and many are deep enough to warrant a simple pitch-out. His inconsistent play at the Byron Nelson also doesn't provide much momentum into his third PGA Championship—missing the cut in 2022 and 2020.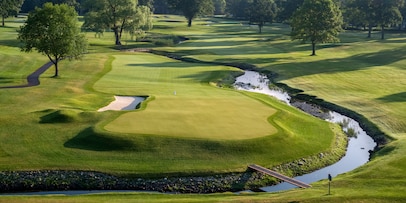 Back in 1979, George Fazio and nephew Tom were roundly criticized by Donald Ross fans for removing a classic Ross par 4 on Oak Hill East and replacing it with two new holes, including the bowl-shaped par-3 sixth, which would later become the scene of four aces in two hours during the second round of the 1989 U.S. Open. They also built a pond on another par 3 and relocated the green on the par-4 18th. The club hired golf architect Andrew Green to remodel those holes to bring them more in line with Donald Ross' original style. In addition to putting the final touches (at least for now) on a significant tree removal program, Green re-established Ross's original par-4 hole, then the fifth and now playing as the sixth (pictured here). Reconstruction occurred after the 2019 Senior PGA Championship on the East Course and was completed in May 2020. Oak Hill's East Course will host the 2023 PGA Championship.
Read our full review
J.J. Spaun ($7,700 DraftKings | $8,200 FanDuel)
The trend here is quite simple: The guys who can't move it off the tee are going to need to find lightning in a bottle to have success. He's 141st on tour in clubhead speed, which will also make the thick rough at Oak Hill a massive problem. This will be the sixth major for Spaun, whose best finish (23rd) came at last year's Masters.
Maverick McNealy ($6,900 DraftKings | $8,500 FanDuel)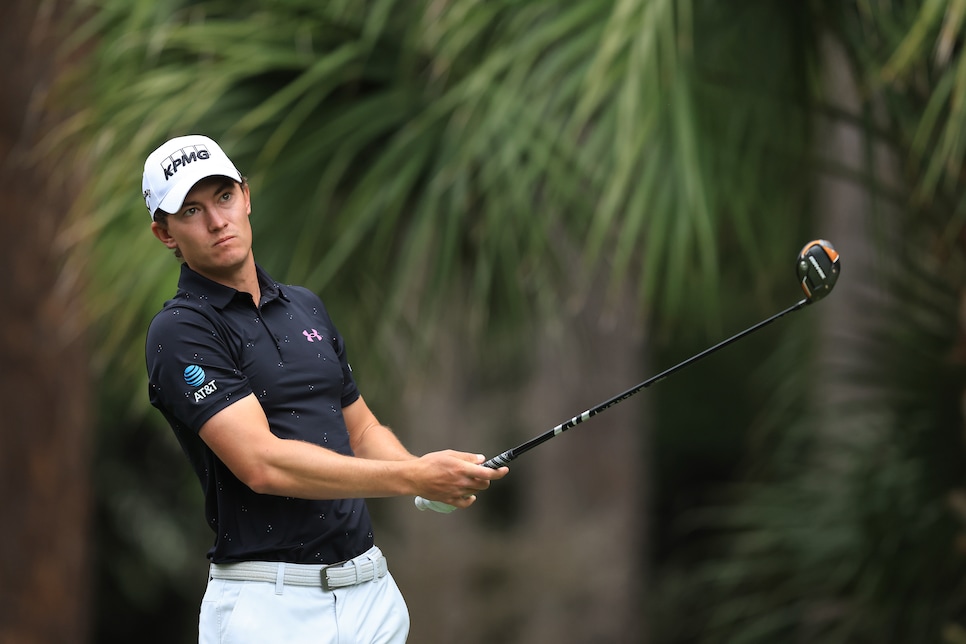 McNealy is often playing from the rough, which will force him into plenty of uncomfortable situations. His 2023 has been hindered by injury and poor play, including the 30.67 strokes he's lost ball-striking in his past seven starts. This will be his third PGA Championship start, finishing 75th last year and missing the cut in 2021.