TULSA — There is an inherent finality to Fridays. Half the field knows it will be dismissed, sent packing with whatever dreams they held about what this week could have been. There is, however, usually a paradox to that finality, as it is ephemeral: The next week brings a new event with new challenges and new aspirations that require whatever happened before to be compartmentalized if not outright forgotten.
But on this Friday, at this PGA Championship, the idea of endings and beginnings had a different immediacy with Rickie Fowler. He's mired in an odd present, made stranger by an unknown tomorrow that has led to this somewhat unbelievable truth: There is a possibility this could be Fowler's final major appearance.
In the literal sense, there will be a tomorrow at Southern Hills for Fowler. Coming out of the tougher side of the late Thursday/early Friday draw (the scoring average was a stroke higher for the afternoon wave Thursday), Fowler needed to hold steady in strong winds to have a chance to see Saturday. He answered, overcoming a shaky putting performance to keep the big numbers at bay—going 3-for-3 on sand saves and 80 percent on scrambling chances—to turn in an even-par 70. His two-day 141 total is 10 shots behind leader Will Zalatoris, yet a score for Fowler that safely has him playing the weekend. That in itself is somewhat notable, considering Fowler had missed five of his past nine cuts.
"Yeah, obviously a lot of good stuff out there, tough conditions yesterday afternoon and then today in the wind, so to be only one over is not a terrible spot," Fowler said afterward.
About that performance. Fowler, 33, is now in Year 3 of a slump. Once as high as fourth in the World Ranking, he is now 146th. The last of Fowler's five PGA Tour wins came in February 2019, he missed the FedEx Cup Playoffs last year and isn't trending much better this season with a lone top-20 finish in 13 starts. At some juncture this no longer qualifies as a struggle, but his new reality. That point remains in the distance, yet it is visible.
Fowler's recent struggles are well-documented. Yet what gives his fate an existential quality this week is what Fowler said at the start of it.
In meeting with the press Monday at Southern Hills, Fowler acknowledged he is considering playing in the LIV Golf series. His remarks caught some by surprise, especially after many of the game's marquee names have publicly distanced themselves from the Saudi-backed group. Just as interesting were comments later in the media session. When asked if he understood the consequences of siding with LIV Golf—the PGA Tour denied conflicting-event releases and commissioner Jay Monahan has promised suspensions or possible ban to those who defect—Fowler said this:
"I don't know, I'm like trying to learn as much as I can," Fowler said. "I have no commitment one way or another. Obviously the statement came out last week that they weren't granting any releases. I think a lot of people thought that the first one being out of the country may not be an issue. Obviously, it would be more so once it came into the U.S. I'm sure there will be some sort of consequences, but I really don't know at this time."
As multiple sources connected to the tour told Golf Digest, the tour's messaging has been consistent to players regarding its stance against LIV Golf. "He knows that," one source told Golf Digest earlier in the week. That Fowler hasn't made his decision at this stage, the source asserted, is revealing (at least to the tour).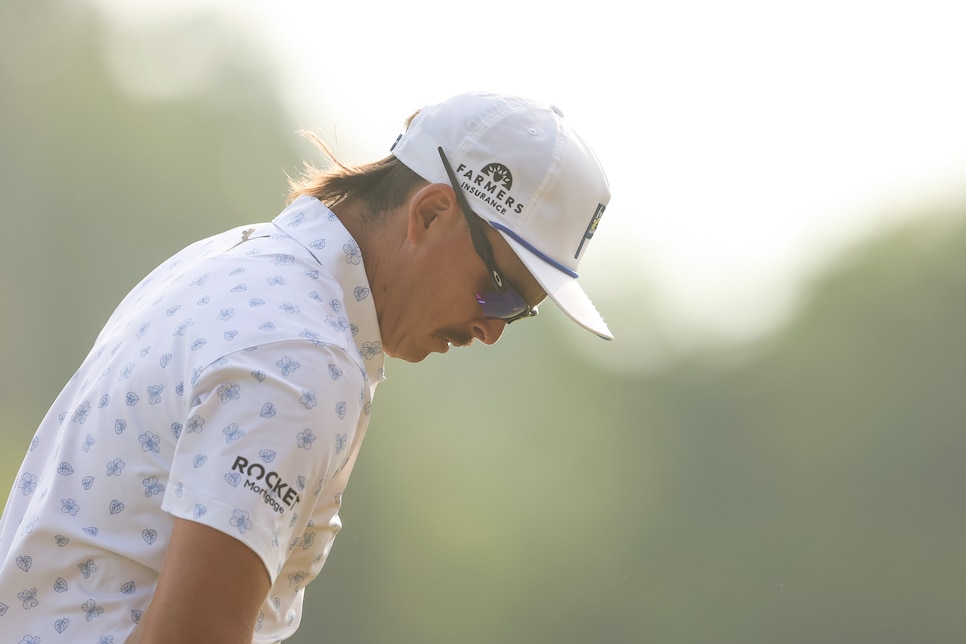 Meaning, should Fowler decide to play in a LIV Golf event, and should the tour follow through on its threat, and should the groups that run the major championships follow the tour's lead (a sentiment registered this week by PGA of America CEO Seth Waugh), there is the chance this is one of the last times Rickie Fowler is seen at a sanctioned event. That is a lot of hypotheticals. That doesn't make the possibility any less true.
This potential was lost on most of those in attendance Friday at Southern Hills. Part of this is the DNA of galleries. The majority of fans who go to tour events and major championships are casual observers. They only have a faint understanding or no idea at all about a fledgling entity attempting to disrupt the sport. These are the fans whose knowledge of Fowler is solely that he digs the color orange and rocks a mullet. That is enough for them.
Of course, from the casual to the zealous observer, Fowler remains one of the sport's most popular figures, performance be damned. That Fowler was placed in a featured group in spite of his struggles speaks to his gravitational pull.
Through two days at this PGA there hasn't been much juice on the property outside the Tiger/Rory/Jordan super pairing. The lone exception has been the atmosphere around Fowler, who played college ball down the road in Stillwater.
It's not a circus. Not particularly big, either. His golf, while good, wasn't particularly exciting, one par and one bogey against 16 pars on Friday. But wherever he has walked Fowler has been greeted by screams of his name. The fans don't care if they're watching Rickie Fowler, Superstar or the Player Formerly Known as Rickie Fowler. They just want to see Fowler, cheer for Fowler, let him know he's still their guy.
"Still." Golf has been so focused on Fowler's stumbles that we forget who he was before. His game, sure; the guy who won the 2015 Players Championship and finished a stroke behind Patrick Reed at the 2018 Masters, the guy who made seven appearances for Team USA in the Ryder and Presidents Cups, the guy who finished T-5/T-2/T-2/T-3 at the 2014 majors, joining Jack Nicklaus and Tiger Woods as the only players to finish in the top five in all the big four in one year. Those displays fed into expectations, expectations we placed on him and expectations that he has not come close to fulfilling.
In sports, one of the greatest sins in the perception of talent unfulfilled. Not helping that perception was an infamous quote by his former teacher Butch Harmon, who asked Fowler if he wanted "to be a Kardashian or are you going to be a golf pro?" His omnipresence in commercials fueled complaints by the golf cognoscenti that Fowler was overrated and overexposed. Unfortunately, that belief overshadows what he accomplished, which is a lot. It also overshadows that Fowler was that rare bird that was more than a player. He was one of the faces of the tour's youth revolution and at a time when the game was in desperate need of an engaging, likable personality he filled the void and then some. He was not phony; acts of Fowler's charity and kindness when the cameras are off are legendary. One could argue the same player that is overexposed is vastly underappreciated.
So, what's next? Tournament officials confirmed to Golf Digest that Fowler will play in next week's Charles Schwab Challenge. He has not been announced as playing at the Memorial; that Fowler listed Florida rather than Ohio as his primary option for U.S. Open final qualifying (he is not currently in the field for The Country Club, either) signifies he's not expecting a Dublin invite. The following week is the LIV Golf series opener. Considering the advanced ages of other players linked to LIV Golf, along with a collective lack of interest with American fans of said players (sans for a certain 51 year old who's not here to defend his PGA title this week), Fowler's theoretical participation would be a coup of sorts for LIV. It also could end his relationship with the tour and hurt his standing among the golf populace. If you want to see Fowler in the future, you might have to do so on YouTube.
But it could also be argued that Fowler is no longer needed. The game is now blessed with likable guys, and the youth revolution he led is now perpetual. Any doubt to that was answered by Friday's proceedings. Working Fowler's featured pairing was Smylie Kaufman, Fowler's friend and one-time PGA Tour winner. Kaufman, now 30, is transitioning from player to broadcaster. Behind Fowler's group were Scottie Scheffler, Jon Rahm and Collin Morikawa, the world's top-three ranked players. The crowds, on Friday at least, didn't roam with Fowler as much as they moved in place to see what was coming through. Yes, they gave Fowler their support, loudly. But he was not the main attraction. All infatuations, eventually, run their course.
MORE PGA CHAMPIONSHIP COVERAGE FROM GOLF DIGEST