PGA Championship
PGA of America CEO says Saudi-back series is 'flawed,' not good for the game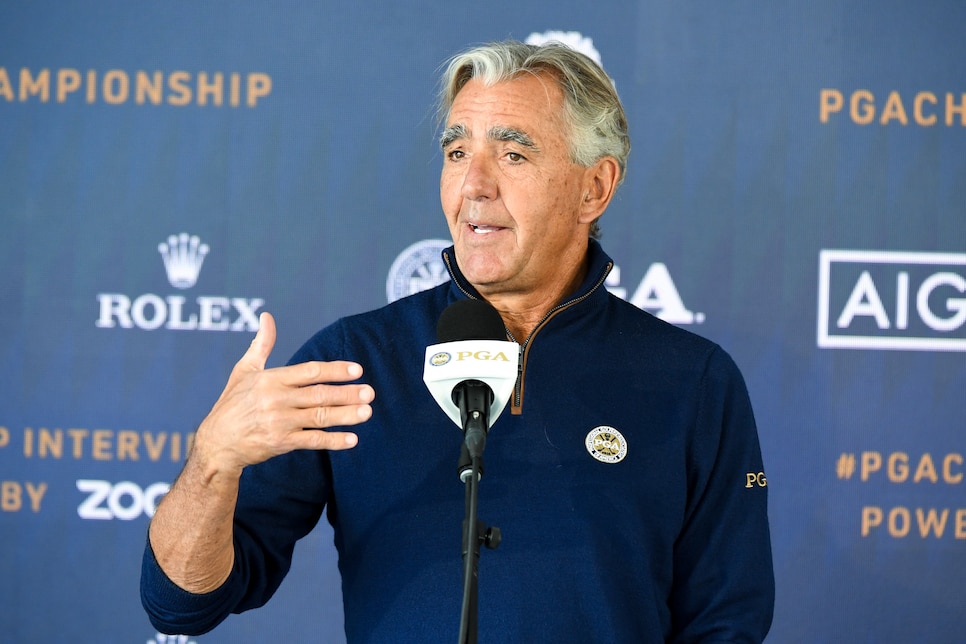 Montana Pritchard/PGA of America
TULSA — The LIV Golf series begins in three weeks, and should the PGA Tour follow through on its threat, players who compete in the Saudi-backed events could see their tour careers jeopardized. And, judging by Tuesday comments from the head of the PGA of America, they could jeopardize their participation in future PGA Championships as well.
Speaking at Southern Hills Tuesday morning, PGA of America CEO Seth Waugh said he's not a fan of the LIV Golf circuit while offering his support to the existing structure in professional golf.
"We're a fan of the current ecosystem and world golf ranking system and everything else that goes into creating the best field in golf," Waugh said, when asked if the PGA of America will embrace those who go to play in the LIV series at next year's PGA at Oak Hill. "Right now we really, I don't know what it'll look like next year. We don't think this is good for the game and we are supportive of that ecosystem. We have our own bylaws that we will follow towards those fields."
Those current bylaws require players to be PGA of America members in order to play in the PGA Championship, a status they gain through their membership on the PGA Tour. Last year at Kiawah Island, Waugh said those who were banned or suspended by the tour would likely lose their PGA of America privileges, keeping them out of the PGA Championship and Ryder Cup.
On Tuesday, Waugh said his Kiawah comments "still stand."
"We think the structure of—I don't know if it's a league—it's not a league at this point, but the league structure is somewhat flawed," Waugh said. "We do think that for a lot of reasons, bringing outside money into the game is going to change it forever, if that, in fact, happens."
Waugh said he thinks competition and disruption can be forces of good, but also said that disruption is already happening internally and that it has led to positive changes, citing the PGA Tour and DP World Tour alliance.
However, Waugh did say things can change by the time the 2023 PGA comes around, and that they will monitor the situation.
"Our bylaws do say that you have to be a recognized member of a recognized tour in order to be a PGA member somewhere, and therefore eligible to play. If that becomes, if something else became one of those, obviously we'd have to recognize it," Waugh said.
MORE PGA CHAMPIONSHIP COVERAGE FROM GOLF DIGEST