TULSA — Scottie Scheffler is No. 1 in the world, with an asterisk. Don't blame us. He's the one who put it there.
Despite four wins in the last four months, including his first major title at the Masters, Scheffler remains unassuming and self-effacing and much the same guy who before February hadn't won a PGA Tour event, though he did admit to being a more recognizable presence. But when he was asked about his mindset coming into this week's 104th PGA Championship, how confident he might be as the world's top-ranked player, whether there might be "a strut" to his step, Scheffler demurred.
"No. Tiger's here so nobody really remembers that I'm here, so it's all good," the 25-year-old Texan said.
True, Tiger Woods is here, and he is still the No. 1 draw in golf. But Scheffler's name is on the marquee, too, and rightly so, not only as World No. 1 player, but also the game's hottest—and there is no one else close in that regard. That's why he is among the favorites at Southern Hills Country Club, where he won a Big 12 Championship title while playing for the University of Texas on a course he once proclaimed one of his favorites.
Well, maybe he did. "I couldn't tell you when I made that statement or where y'all found that or something," he countered.
OK, if you're looking for one certainty in Scheffler, besides his all-around golf talents, it's that these days he is quite a different character inside the ropes. His competitive fire burns as hot as ever. But he knows how to bring the heat when under pressure. When he won the Arnold Palmer Invitational in March after his breakthrough victory at the WM Phoenix Open, he possessed a belief that was missing before, he confirmed.
"I definitely took some confidence from Phoenix," he said. "I think I made four bogeys the first 11 holes [on Sunday at Bay Hill] and still won the tournament, and I think in the past, I believed I had to play perfect golf on Sunday in order to win. So, for me to know that I can make mistakes and bounce back from them and still be able to win tournaments is really important."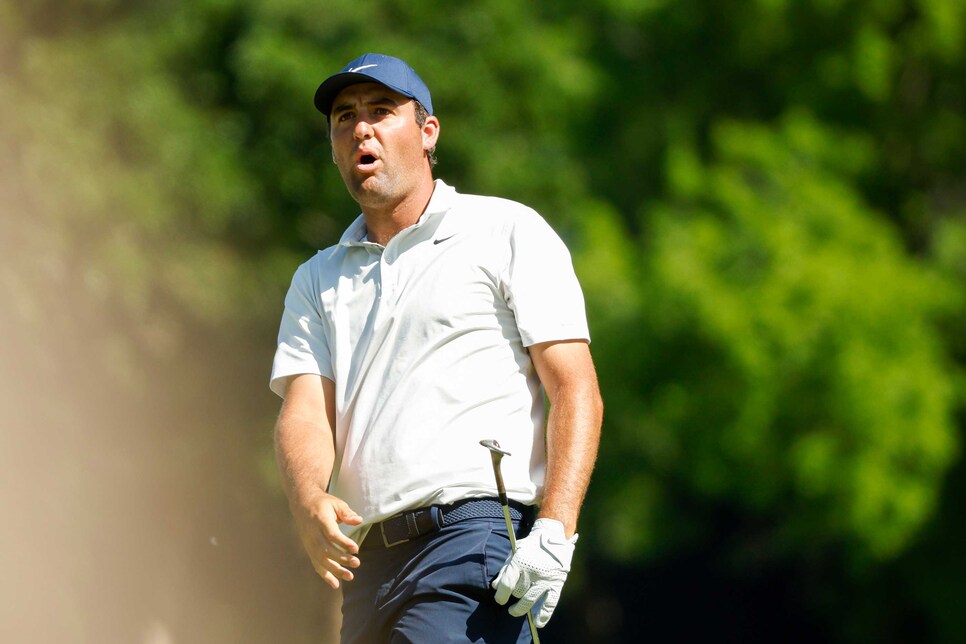 Scheffler says his hot play of late has taught him he doesn't have to be playing perfect golf to win.
Cliff Hawkins
Scheffler will make his third career start in the PGA Championship this week, and recent success and World Ranking aside, you have to think he'll be a factor when he finished T-4 in his PGA debut in 2020 at Harding Park and T-8 a year ago at Kiawah. Of course, this will be his first major start since winning the Masters. He'll begin the championship at 1:36 p.m. CT off the first tee as part of a pairing of the last three major winners with reigning U.S. Open champion Jon Rahm and Open champion Collin Morikawa, winner of that 2020 PGA.
But only Scheffler can win the grand slam this year. He's been talking about it for all of about 30 seconds since he put on the green jacket. The subject hadn't been brought up—and he certainly wasn't going there—until his Tuesday afternoon press conference.
"Yeah, it's all I've been thinking about for the last few months," he said sarcastically. "Like I said, I kind of keep my head down and do my thing. I guess, and I'm a fourth of the way there."
Only three players have won the Masters and PGA Championship in the same year. Sam Snead, Jack Burke and Jack Nicklaus, who did it twice. Tiger Woods is conspicuous by his absence. If Scottie Scheffler wins this week, he still might consider himself second fiddle to Tiger, but he could legitimately allow himself one small strut.
MORE PGA CHAMPIONSHIP COVERAGE FROM GOLF DIGEST