Equipment at the PGA Championship
PGA Championship 2022: Why a putter change has Justin Thomas contending at Southern Hills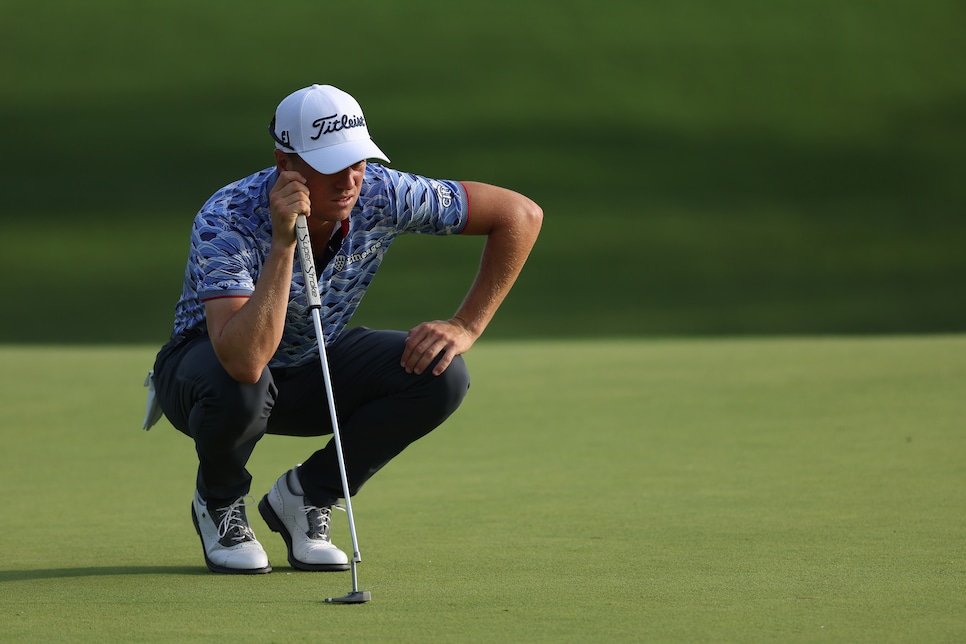 Halfway through the 2022 PGA Championship, Justin Thomas is in excellent position to grab his second Wanamaker Trophy and he's doing it with a new putter.
Thomas switched to a new Scotty Cameron by Titleist Phantom X 5 Knuckle Neck prototype mallet this week at Southern Hills. The first round with the new flat stick in the bag, he hit a single-round season high in strokes gained/putting en route to a three-under 67. He then matched that 67 on Friday to take the clubhouse lead.
Thomas had the putter at his Florida home and practiced with it during his time off. Although it is similar in shape to the putter he put in the bag at last year's Open Championship, it has subtle, but significant, distinctions.
"The two big differences between this one and his previous gamer was the sound and the neck," said Drew Page, Titleist's PGA Tour putter rep. "With the sound, he felt the new one was a bit hollow. In order to make the sound similar to what he was playing we added an aluminum plate across the back cavity. This adjustment made it similar to what he was used to hearing and accomplished what he was seeking."
The neck configuration also is new. "The neck in the new putter helps with his face closure and provides stability," Page said. "He went away from the smaller slant neck and feels like he is seeing his start lines better, which in turn, gives him more confidence."
Thomas is one of the more astute players on tour regarding putters. In an interview with Golf Digest in 2017 he spoke about the value of going to the Scotty Cameron Studio:
"Anytime you go to the Studio and work with Scotty and Paul Vizanko, you learn something new every time," Thomas said. "It's an unbelievable experience. It's really fun. You walk out of there with more knowledge than when you go in there. I feel like I leave having something good to work on with my putting and my mechanics. It's not just looking at different putters. You're looking at what putters are going to give you the best roll and bring out your best stroke. "
The history here is important and perhaps explains why Thomas is willing to make such a significant switch prior to a major championship. In fact, after Thomas made a putter switch in 2016 he went on a run, winning five times in 2016-17, including his first major at the PGA Championship and being named PGA Tour Player of the Year.
Thomas can only hope for similar success from this latest change.
MORE PGA CHAMPIONSHIP COVERAGE FROM GOLF DIGEST