PGA Championship
PGA Championship 2022: Justin Thomas gets tough side of draw and predictably produces great round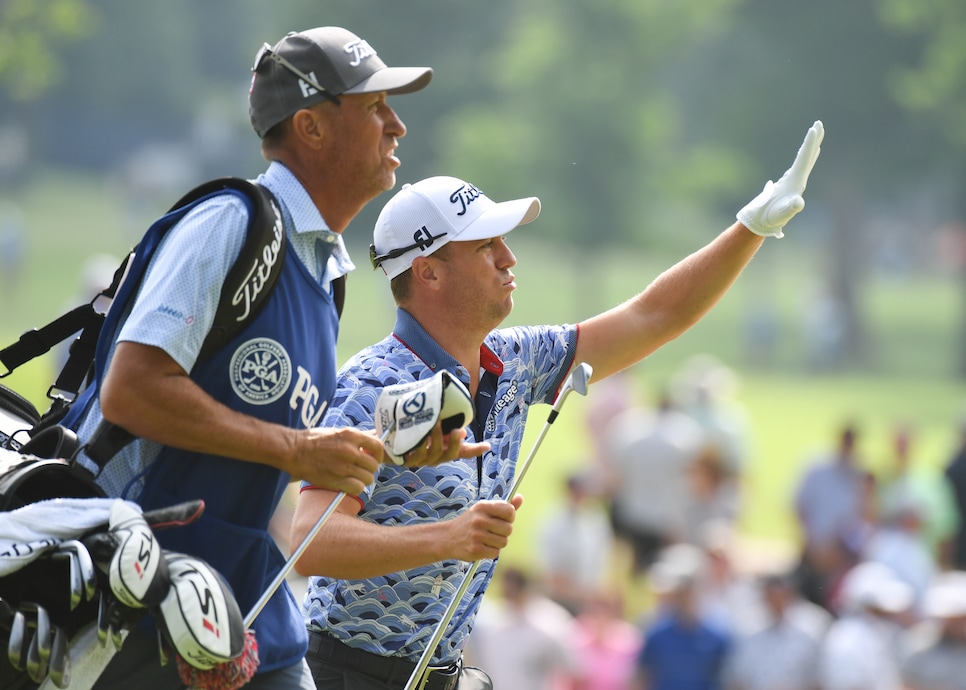 Justin Thomas talks about his second shot on the 18th hole with caddie Jim Mackay during the second round of the PGA.
Montana Pritchard/PGA of America
TULSA — Justin Thomas hasn't won yet this season—hasn't won in more than a year, in fact—but he owns three of the year's best rounds of golf, submitted amid the most difficult conditions. This is more than embracing a challenge; this is taking advantage of it.
With winds whipping and gusting through Southern Hills Country Club Friday morning, Thomas looked like a man operating in a dome. Even he had to admit that his golf was fairly impeccable in the second round of the PGA Championship, and he was rewarded with a second straight three-under 67. His six-under 134 aggregate total leapfrogged him over first-round leader Rory McIlroy, who had yet to embark on his second round when Thomas finished. Nevertheless, at a course that traditionally favors frontrunners, he's looking awful good. And feeling good.
"Yeah, very pleased. Although I played solid yesterday, I played really, really well today," said Thomas, 29, winner of the 2017 PGA Championship. "The conditions were obviously very difficult. I stayed very patient, tried to get in my own little world and get in a zone and just tried to execute each shot the best I could.
"I felt we did a great job of that and am glad to have a good round to show for it."
He's being modest. It was an exceptional round, with most holes buffeted by crosswinds. And it was his second solid round in as many days playing in the tougher end of the draw after the breeze kicked up just in time to welcome afternoon players yesterday. And while his score was the same both days, you had to marvel at Thomas' distance control and ability to manipulate the golf ball to stay out of trouble spots in Round 2.
He gained almost six strokes on the field total in Friday's early wave, primarily because he missed just two greens, one of which led to his only bogey, at the par-3 14th when he found one of the notorious greenside bunkers. That compared to finding just 11 greens in the first round.
He seldom was out of position off the tee, either. But on one occasion when he looked in trouble, he notched one of his four birdies. That was at the par-5 fifth when he was forced to lay up after finding a fairway bunker. All he did on his third shot, from 217 yards, was carve a 6-iron smartly to 23 feet and bury the putt.
"That 6-iron that I hit on 5 today was nice. To be able to hit that thing up on the top shelf pin-high from 213 with a pumping cross wind off the left and then to make that putt, I felt like I stole one there," he said with a wide grin. "That was a sweet shot."
No less notable was his birdie to cap the round at the par-4 ninth when he drilled a nine-footer. "The way I played the last hole, I couldn't have really drawn it up any or much better," Thomas said. "A perfect kind of little slider driver and leaving that gap wedge just under the hole there and making that putt right in the middle. That was a nice way to end it."
Justin Thomas plays his third shot on the 13th hole during the second round of the 2022 PGA.
Christian Petersen
Winner of last year's Players Championship, his most recent victory, Thomas proved his course management chops and ability to "manipulate different shots" in the second round at TPC Sawgrass. He shot three under then, too, a 69 that he described as coming in conditions that were "absurd," with a raw wind that confounded many of the game's best players.
"He's good at just going out and playing shots," said his father Mike, who serves as his swing coach. "He really does embrace tougher conditions because he can just go play. His attitude stays pretty positive."
The son has another word for that. "I have confidence that I can execute still and hit the shots that I want," Justin said. "I would like to hope a little bit of it is skill, that I've worked hard enough that I'm good enough to be able to execute that kind of stuff. But I don't know. It sucks sometimes when you're playing and you're not playing well, but it's fun to be able to challenge and execute some shots when you're trying to."
It largely hasn't been fun for the 156-man field at Southern Hills. It's been a grind. Justin Thomas is an outlier, which is probably why he also is the clubhouse leader.
MORE PGA CHAMPIONSHIP COVERAGE FROM GOLF DIGEST