Course Strategy
PGA Championship 2022: The key to success at Southern Hills? Listen closely and you'll hear the answer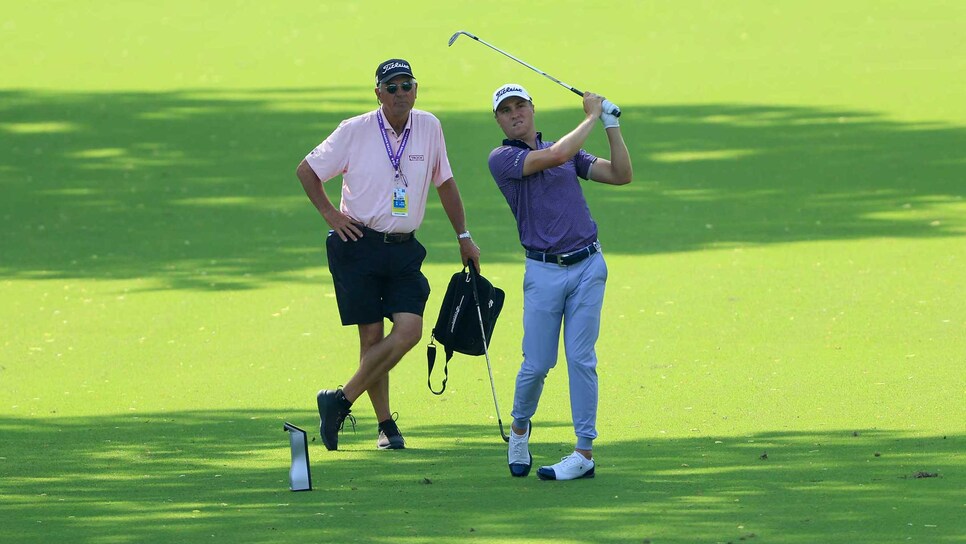 TULSA — A finely tuned short game is crucial to success in major championships—unless you figure out a way to not need it. Basically, it's the Jack Nicklaus approach. Do you really need a great short game if you have command of your golf ball and consistently hit greens in regulation?
There has been extensive chatter early in the week at Southern Hills Country Club about the importance of saving strokes around the greens that architect Gil Hanse reimagined for the 104th PGA Championship. Technique, touch and imagination will be required. But, honestly, having to turn 5 into 4 constantly isn't a recipe for success. Distance control will prove a crucial component to scoring.
Justin Thomas, who won the 2017 PGA at Quail Hollow in Charlotte, a player whose ball-striking tends to carry him more than other parts of his game, gets this.
"It puts a premium on having different techniques and different styles around the greens," Thomas said of Southern Hills, "and it also puts a premium on ball-striking to where you can hit the green where you have to chip less."
Shane Lowry, the 2019 Open champion who finished T-4 a year ago at Kiawah Island, his best performance in the PGA, echoed that sentiment. "Yeah, look, the guy who wins this week is going to hit 13, 14 greens a day, and he's going to miss four greens and he's probably going to get up-and-down a lot of the time. That's what you're going to need to do."
He'll get it up-and-down depending on the miss. Which gets back to the importance of distance control. In most instances, a ball that ventures over the green isn't destined, except in rare instances, for a par save.
"There are a lot of asks, honestly," said Xander Schauffele, who is coming off a phenomenal weekend of fairways-and-greens excellence at the AT&T Byron Nelson. "You just have to play smart. You can do the whole chip up, chip down, chip over, chip back off the front of the green type deal out here, especially with winds blowing 20 to 30 miles an hour which is what's forecasted. It's going to be a mental battle and you really have to stay patient."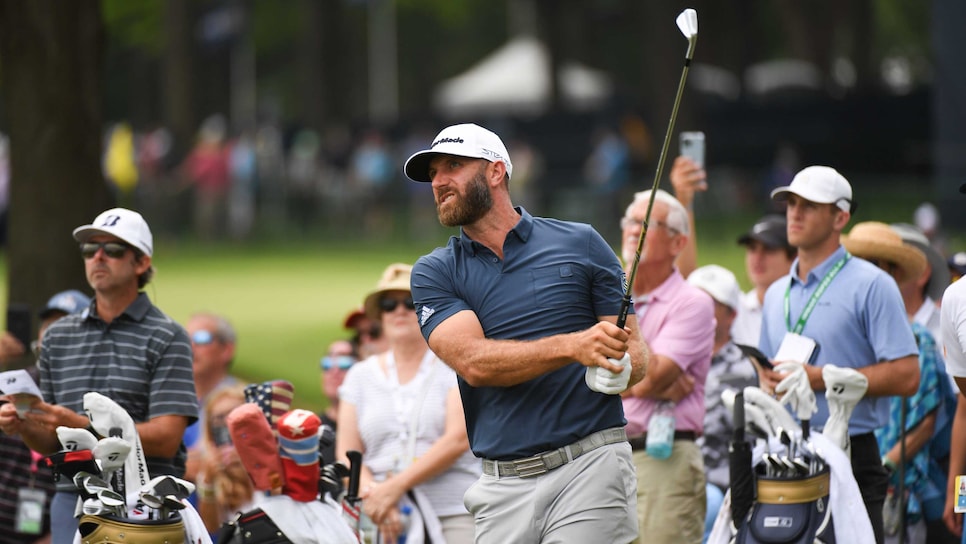 Dustin Johnson hits his shot from the sixth tee during a practice round for the 2022 PGA Championship.
Montana Pritchard/PGA of America
Dustin Johnson, a former U.S. Open and Masters champion who understands the value of hitting greens, added that the process has to start at the tee. "You're definitely going to have to be on your game, especially … fairways are fairly generous, but you need to drive it in the fairways because it's really difficult to control the ball coming out of the rough. And [with] small greens coming in with long irons, you've got to be controlling the golf ball, so you've got to be in the fairway."
"I don't think you can look at a golf course and not think fairways and greens are going to be beneficial," said Canada's Corey Conners. "But I think particularly here, particularly in the major championships, visually I love this golf course, and it's very demanding off the tee and into the greens. Fairways and greens are important, so I certainly like my good ball-striking attribute for this place."
Granted, a player may scramble his way into contention this week. Short game might even make a difference on a tight and crowded leaderboard. Rory McIlroy, one of the best there is tee to green, has put emphasis on shoring up his short game the last few days.
But hitting greens takes a lot of stress out of the challenge. And, well, it is the best avenue to a low score. Tiger Woods didn't win 82 PGA Tour titles, including 15 majors (one of them here at the 2007 PGA) by missing greens. His greens in regulation statistics through the years are a road map to success. Though he was known for his ability to scramble, Arnold Palmer subscribed to the notion that putting was easier than chipping and that he would much rather do more of the former.
"Sometimes," Schauffele said about this week's challenge, "hitting it to 50 feet is a good shot."
This week at Southern Hills, it sure won't be a bad one.
MORE PGA CHAMPIONSHIP COVERAGE FROM GOLF DIGEST