Live Blog
PGA Championship 2021 live updates: Phil Mickelson grabs the 54-hole lead over Brooks Koepka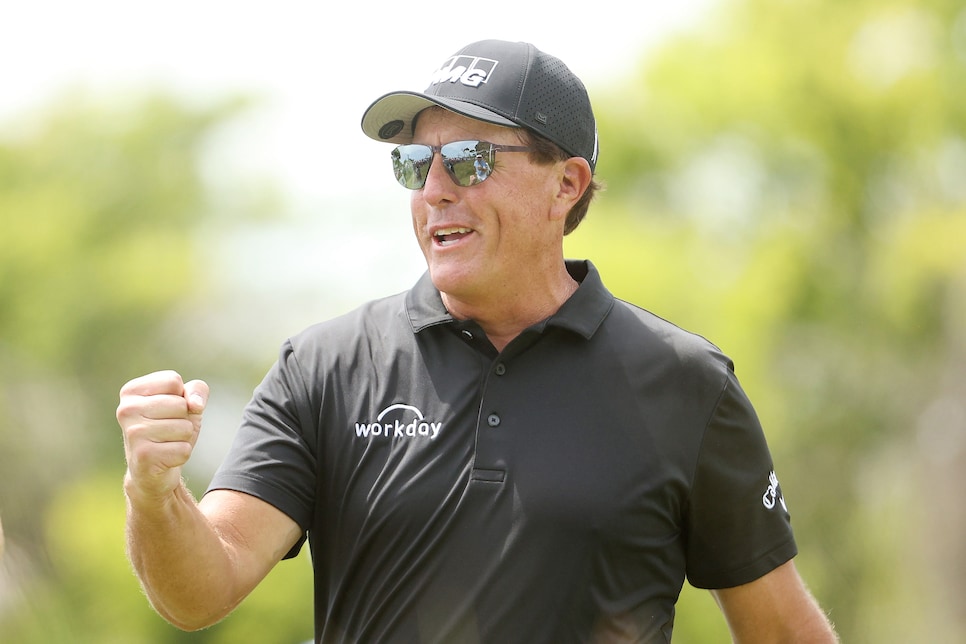 What's in store for Saturday at the PGA Championship? Frankly it's anyone's guess, which is what makes it so fascinating. Phil Mickelson and Louis Oosthuizen enter the weekend tied for the lead at five under, but there's a crowded leader board full of major champions (Brooks Koepka, Hideki Matsuyama, Bryson DeChambeau, Gary Woodland) anxious to see if they can make some noise.
(Scroll down for the latest updates)
The plot thickens thanks to the fact that the stiff winds that players faced Thursday and Friday seemed to have died down. Will a less defensive Ocean Course allow for somebody to get off to a hot early start and sneak into contention?
Here are the latest updates from Saturday at the 2021 PGA Championship:
7:13 p.m.: BANG! Phil Mickelson (barely) drains the five footer for par to grab the 54-hole lead by himself at seven under. A huge boost to salvage something after a very shaky finish. Oosthuizen two-putts for par to remain at five under. In between them is four-time major champ Brooks Koepka, who will play with Phil in Sunday's final group. Phew! We need a nap after that wild back nine. Get your rest as well, because the final round from Kiawah could be epic.
7:10 p.m.: Like Koepka, Mickelson hits a terrible approach on 18. But Phil responds with a fantastic flop shot that nearly hits the hole before settling about five feet away. He'll have that to be the solo leader heading into Sunday.
7:00 p.m.: WOW, what a 30-second sequence as Mickelson hits an absolute BOMB off the 18th tee and Koepka misses a six-footer for par up ahead. Koepka is in the clubhouse at six under. He'll have a terrific shot to win major title No. 5, but that 18th hole—after a perfect drive—is going to hurt.
6:58 p.m.: As expected, Mickelson makes his par at 17. But Louis? Not so much. After coming up about five feet short on his birdie attempt, he misses another short one to fall back to five under. He's now two behind Phil and Brooks.
6:56 p.m.: Mickelson's birdie attempt on 17 never had a chance, but he should make par. Up ahead, Brooks Koepka misfires with an 8-iron after a fantastic drive. He's not in a bad spot behind the green, but he was certainly hoping for better.
6:50 p.m.: Oosthuizen narrowly clears the water on 17, but safely finds the front of the green. Phil follows with a fantastic shot to about 15 feet. Drama!
6:45 p.m.: Absolute craziness on the 16th green. First, Phil smashes a 30-foot birdie putt that pops out of the hole. It could have dropped, but it also would have went about 10 feet by. Then Oosthuizen totally bricks a four-footer for birdie. They both make par as Mickelson remains tied with Koepka with Oosthuizen one back. Koepka had an adventure of his own on the 17th green, coming up a good six feet short with his birdie putt. But he converted his par to remain at seven under.
6:38 p.m.: Brooks Koepka is dry on the treacherous 17th and will have about a 20-footer for birdie. Up ahead, Kevin Streelman bogeys the 18th to shoot 70 and become the clubhouse leader at four under. In solo fourth, he's in great position to pick up his first career top 10 at a major.
6:36 p.m.: Phil is back in business after smoking an iron back to the fairway. He'll have a short approach and a great angle to the pin. Oosthuizen misses the green but is in a great spot just short.
6:31 p.m.: Koepka makes an aggressive run at eagle, but misses. He cleans that up for birdie, though, to pull into a tie with Mickelson. Behind him, Phil catches a huge break by avoiding the high stuff with his ball finding a small, sandy walkway to the beach. Wow. He's not in great position, but he's not out of the par 5 either.
6:28 p.m.: Oh, baby, Brooks Koepka just launched a fairway wood on No. 16, finding the front of the green from 280 yards away. He'll have a look at eagle to take the lead, but at the very least, should pull even with Mickelson. Behind him, Oostuizen finds the fairway, but Mickelson pulls one way right. Uh-oh.
6:23 p.m.: Despite a monstrous drive—and the use of a rangefinder—Phil fails to hit his approach close on 15 and has to settle for a two-putt par. Oosthuizen matches to remain one back.
6:14 p.m.: Brooks Koepka tells CBS' Trevor Immelman he hit his best drive of the week as they approach his ball on No. 15. He doesn't take advantage, though, coming up 20 feet short with his approach and settling for par. Behind him, Phil Mickelson—still steaming from the past three holes—hits an absolute bomb of his own.
6:08 p.m.: "Ay-Yai-Yai!" That was Verne Lundquist's call as Mickelson missed his short birdie attempt on 14. Wow. That hurts. Oostuizen missed his birdie as well so Mickelson remains in front by one over Louie and Brooks.
6:03 p.m.: OMG what a response by Phil! He carves a long iron to about five feet on the par-3 14th. He'll have a fantastic chance to bounceback from his bogey-double bogey run. Oosthuizen also hits a nice shot to the back of the green and will have about a 15-footer for birdie.
6:01 p.m.: Brooks Koepka had a great look at birdie to tie on the difficult 14th, but it slides by. He makes par to remain one back.
5:56 p.m.: Mickelson's bogey effort just slides by the edge, leading to his first 6 on the score card all week. His lead is now one over Koepka and Oosthuizen. My goodness.
5:51 p.m.: Oosthuizen takes his drop and hits a very solid third shot about 15 feet right of the pin, giving him a good look at par. Mickelson goes next, throwing a DART to about eight feet. Man, this will be one of the bogeys of the year if it drops. If not, though, it could be seriously demoralizing.
5:44 p.m.: Oh no ... what most Phil pessimists feared has become a reality at the 13th. A dead duck hook into the water, and he was forced to re-tee. He hit a beauty on the second, but now needs to get up and down from the fairway just for bogey. Sheesh. Oh, by the way, Oosthuizen also rinsed his tee shot, though he'll have a drop next to the hazard. Suddenly, Brooks Koepka is in the driver's seat, putting for birdie up on the 13th green. A wild turn of events, to say the least.
5:37 p.m.: Phil's poor drive at 12 comes back to haunt him. He had to just blast one out of the fairway bunker, then tried to get up and down from the fairway and damn near did it. His long par try needed one more revolution. What a putt. File that under the "good bogey" column. Unfortunately for Phil, though, his partner Louis Oosthuizen took advantage of a great drive, sticking a wedge inside 10 feet and holing the birdie putt. Just like that, he's only two back. We have a ball game ladies and gentlemen.
5:26 p.m.: Bang bang for Brooksy at No. 12. He's now at six under, four back of Mickelson, who is in some bunker trouble off the tee at 12... stay tuned.
5:22 p.m.: Stunningly, Phil finally misses a great birdie look at No. 11. The horror. That's huge for Oosthuizen, who did birdie 11 and is now within four. Koepka, up ahead at the 12th, just put his approach to about 15 feet for birdie, so he'll have a good look to tie Oosthuizen for second. Mickelson's lead is still sizable, but things could get very interesting down the stretch here.
5:04 p.m.: Phil hits one of his hellacious seed drives at the 10th, then stuffs a wedge and BURIES the birdie putt. This is truly incredible stuff right now. He's 10 under, five clear of the pack. What a time to be alive!!
4:53 p.m.: Koepka quickly bounces back at the 10th with a birdie, which seems extremely on brand for him. Guy knows how to will the ball in the hole when he needs it most. Back to five under, four back.
4:44 p.m.: Two elite bunker shots from Oosthuizen and Mickelson at the ninth, two nice par saves. Here we go baby, back nine.
4:39 p.m.: Bogey from Brooks Koepka at the ninth, which drops him five back of Mickelson. This is beginning to become the round that wasn't from the four-time major winner. So many missed chances, and two bad bogeys on the front nine. He'll need some back-nine magic to close the gap.
4:27 p.m.: You know Phil is absolutely sizzling when his worst shot of the day is a green in regulation on a par 3. At the eighth he comes up well short, then comes up short with his birdie putt, too. But he pours in the five footer for par to stay four clear of Koepka, Matsuyama, Grace, and Oosthuizen, who finally made a birdie at No. 8.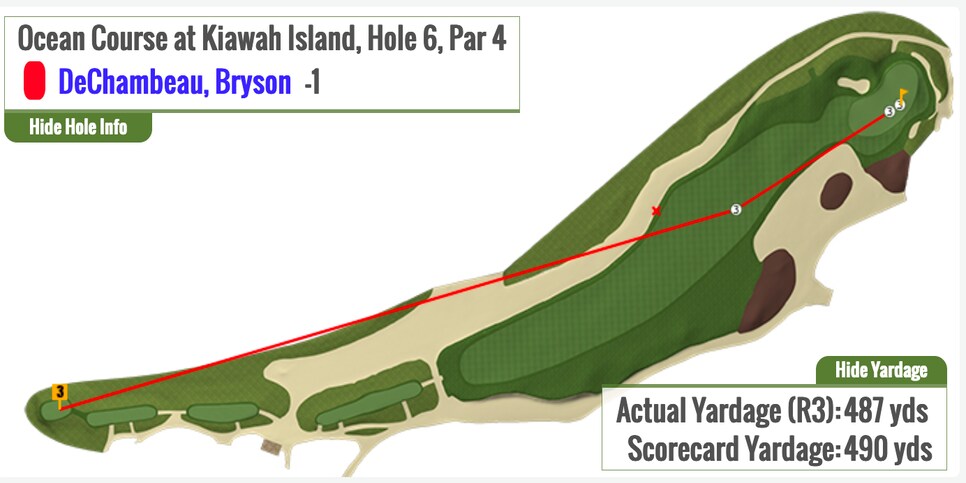 4:12 p.m.: It's Phil's day! The outright leader does it again as he gets to the green with a five-iron from 239 yards out on the par-5 seventh hole. He then follows that up with a birdie, just missing a chance for eagle. At 9-under, he's four strokes ahead of the pack. Mickelson's in the zone right now.
4:00 p.m.: A double bogey for Zalatoris on 13 will drop him back to even for the PGA. That's been a tough one all tournament.
Phil. Again. Mickelson separates himself further from the pack with yet another birdie, this time at the sixth hole. He follows that up with a fist bump as well and gets to 8-under. Lefty is now four strokes better than anyone else and somehow has eight birdies and seven pars over his last 15 holes at Kiawah.
3:50 p.m.: From 33 feet, Will Zalatoris sinks a complicated putt to get to 2-under. He's been getting it done on the greens today and that long-range shot is just the latest example. Willy Z is at T-7 now.
One putt is made, another one misses. Brooks misses a relatively easy one. The putt lipped out after a nice shot from the bunker to get the ball to around four feet from the hole. Koepka is now back at T-2 and is 4-under for the tournament.
3:30 p.m.: Drone in the way! And we thought Friday's alligator was a weird way to slow things down. Eventually, the drone skeddaddled and Mickelson got to hit his shot ... right into the sand. Maybe he should've asked for it to stay.
Let's get to non-Phil stuff for a second. Steve Stricker shoots a 2-under par 70 for the day to get to 1-over for the PGA heading into Sunday. Around the same time, Branden Grace hits an important putt to get to 4-under, tied with a host of people. Then, Brooks hits a birdie of his own to get to 5-under for the tournament and take sole possession of second place behind Lefty. Mickelson and Koepka atop the leader board isn't a bad thing to have.
3:17 p.m.: The man's feeling it. Mickelson hits another wild shot—this time out of sand trouble on the par-4 third hole—and even gives us a bit of a smirk. He then nails the short putt to get to 7-under and take a three-stroke lead. It's all happening right now. And, yes, you're getting another video of Phil getting to the green. Can't stop, won't stop.
3:09 p.m.: "Birdie's not bad." He may not have sunk the eagle, but Phil gets to 6-under and takes a two-shot lead. He's dialed in.
3:01 p.m.: A birdie on the par-5 second hole gets Branden Grace down to 4-under and a T-2 spot almost immediately. Koepka pars the hole and now it's a three-way tie for that second spot behind a solo Mickelson.
Speaking of Phil, Lefty hits a stellar iron shot over a tree on his second shot of the second hole. He has a legit shot at eagle here and a three-shot lead over the field. That was a fun one.
2:54 p.m.: How about Bryson DeChambeau ... driver-8-iron into this 553-yard par-5 seventh hole ... and he hits it 11 feet. Bryson's eagle putt JUST comes up shy, so he'll have to settle for a birdie to get to 2-under, three back of Phil Mickelson's lead.
2:47 p.m.: The final group, Phil Mickelson and Louis Oosthuizen are now on the course. They both tugged their tee shots to the left ... and Oosthuizen's tee shot ended up in a tire track of a golf cart in a sandy area. He does well to get to the green, but he's miles away on the first green. Phil also found the putting surface in regulation—and he nearly holes the birdie effort, but will settle for the par to remain at 5-under.
It's now Phil's lead alone at the top with his playing partner, Oosthuizen, failing to convert the eight-footer for par. Philly Mick, at age 50, remains the man to beat right now as he pursues history and attempting to become the oldest major champ in our sport's history.
2:44 p.m.: How about this MASSIVE drive from Bryson DeChambeau at the sixth hole ... 377!
Bryson leaves the birdie putt in the center of the hole, just a foot shy, so he'll settle for a disappointing par given his position in the fairway. He's still 1-under and four back.
2:39 p.m.: Brooks Koepka has made the rather benign first hole into quite the battle. It's surprising considering Koepka had only 98 yards in from the middle of the fairway ... but Koepka's approach went long, and his third from off the green came about 13 feet short. But Koepka has some GUTS and holes the long par putt to avoid dropping an early shot. The betting favorite entering today remains one back of the leaders, who are set to tee off.
2:31 p.m.: Will Zalatoris found a sandy area off the tee at the ninth hole and couldn't advance it to the green ... leading to a bogey. So Willy Z will turn in 2-under 34, so he's back to 1-under.
2:19 p.m.: Moving in the right direction on Saturday so far is Will Zalatoris. The 24-year-old had a hole-in-one on Thursday at the 2020 U.S. Open ... and nearly just had one today on the par-3 eighth hole. His tee shot settles within a foot and he'll settle for the birdie, which gets him to 2-under overall, and just three back of the lead.
Willy Z is 3-under through his first eight holes ... a big mover just like Keegan Bradley (also 3-under, through 6 holes) and South African Daniel van Tonder (3-under through 8)—they're all 2-under and three back.
2:15 p.m.: Jordan Spieth makes par on the last to post that 4-under 68 ... getting it to even-par for the tourney. We don't expect the wind to really pick up too much later on Saturday—so as we said below, it's probably a little too late for the three-time major champion. Still, one of the best rounds of the day and an impressive improvement with the putter, evidenced by this stat below from stats guru Justin Ray.
2:12 p.m.: Bryson DeChambeau was staring a big number in the face at the fourth hole, as he hit another poor iron shot—getting VERY fortunate to bounce off a TV apparatus, keeping his ball from bounding into the marsh to the right. And if that wasn't enough, Bryson then got to drop out of the really thick grass ... and got to place his ball in the fringe on a nice lie. But ... WOW. Bryson misses the two-footer for par and does end up dropping a shot.
It's always an adventure for Bryson, but that's not exactly what he had in mind. Bryson falls back to 1-under overall and four back, where he started the day.
2 p.m.: Ah, Jordan Spieth follows that birdie at 16 with a bogey at 17. That might be a costly bogey if he were to have any chance come Sunday ... a bad tee shot up on the left side at 17 has led to the bogey at the very difficult 17th.
1:54 p.m.: The lowest round on the course right now? Jordan Spieth ... the man pursuing the career Grand Slam this week. Spieth just poured in a 16-footer at the par-5 16th hole for his fifth birdie of the day—pushing him to 5-under on the day and 1-under for the tournament. That's four back currently ... if he can post that, he'll go in and do a little wind dance and hope he's within striking distance come Sunday.
1:40 p.m.: The second hole was the site of the latest Bryson DeChambeau bomb off the tee. There were fans walking in a crosswalk about 350 yards, and Bryson definitely scared them for a moment.
Bryson didn't hit the best second shot, but he gets up and down to get to 2-under ... three back of Mickelson and Oosthuizen.
1:30 p.m.: Phil Mickelson has arrived at the Ocean Course as he aims to make history this weekend. The 36-hole co-leader tees off at Louis Oosthuizen at 2:40 p.m. Can Phil become the oldest major champion in our game's history? Considering the youth revolution within golf, it would be incredibly impressive if Phil could accomplish this feat.
1:10 p.m.: Will Zalatoris is in red numbers and making his presence known in yet another major. The kid without PGA Tour status still (we know, it's ridiculous) just drilled an eagle putt to get to 1-under and just four back.
12:56 p.m.: OK, there are definitely some low numbers. Joel Dahmen is the lowest so far—he just went out in 31 .... he's 5-under through his first 9 (!) to get to 2-under and three back of the lead. The winner in Punta Cana in March is firmly in the mix here at Kiawah.
12:44 p.m.: There are definitely some low scores out there. Jordan Spieth is one of the lowest so far ... he JUST missed a nice birdie look at the 12th hole that would've given him his fifth birdie of the day, and his third in a row, but it just misses. Spieth is back to even par, which is just five back of the lead. He'll likely need a couple more to be truly a part of the conversation ... but it's been an impressive morning for him.
Here's one of those birdies—a sporty chip that we've come accustomed to seeing from the 27-year-old:
12:26 p.m.: As mentioned, the milder conditions at Kiawah will likely allow for some guys who tee off early on Saturday the opportunity to make a run and put a little heat on the leaders in the afternoon. So who look like the early candidates to do the whole "Moving Day" thing? Billy Horschel is four under through 15 holes and up to one over for the championship; Jordan Spieth is three under through 10. Webb Simpson is three under through 15 (two over for the championship) after just making the cut on the number and extending the longest active cuts-made-in-majors streak to 16.
Frankly, though, these guys are still a little too far back of the leaders to really be a threat. For a more realistic lurker, lets try Joel Dahmen, who is three under through seven holes and now at even par for the championship.
12:10 p.m.: OK, here's a little more table setting for Saturday's third round. Catch up on the surprise rounds of Friday here. This can get you up to speed on Oosthuizen and his pretty heroic second round that almost gave him the outright lead until a final-hole bogey.