Voices
PGA Championship 2021: We are 18 holes away from the matchup golf fans have desperately craved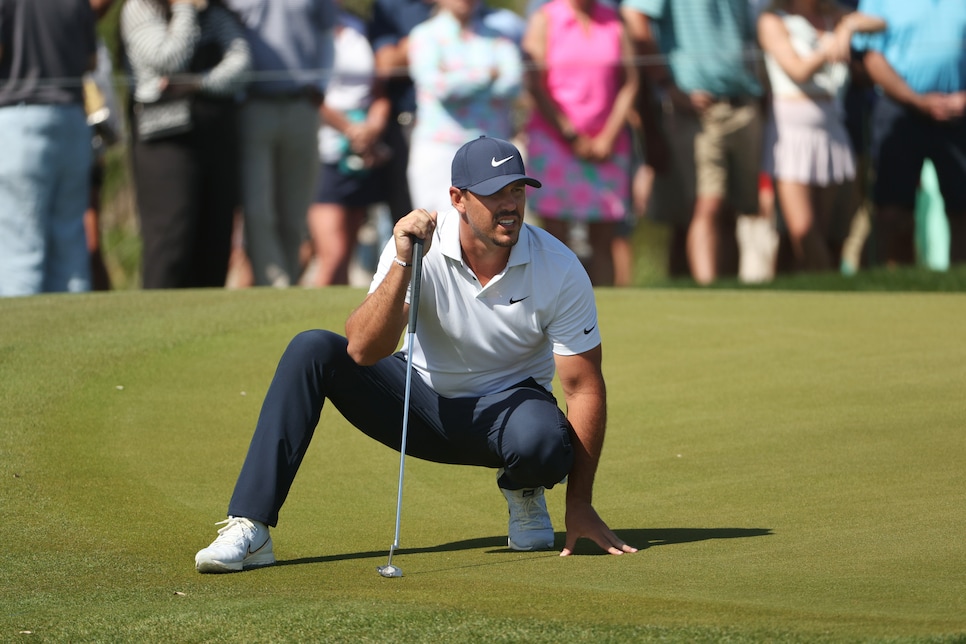 Brooks Koepka waits to putt on the seventh green during the second round of the 2021 PGA Championship.
Patrick Smith
KIAWAH ISLAND, S.C — We have pictured this weekend, prayed for it even, ever since one tried to confront the other only for that moment to hilariously backfire. It is not a rivalry but it's as close to an antagonistic relationship as this sport allows. And it seemed we would finally get to see that hostility play out in Round 3, but the Ocean Course's closing stretch did not share our wishes.
So no, the long-awaited head-to-head bout between Brooks Koepka versus Bryson DeChambeau will not come to pass on Saturday at the PGA Championship, as a pair of 71s left Koepka one back of the lead and DeChambeau four off the pace. Yet a Sunday billing remains very much alive, and let's be honest, Saturdays have a short shelf life; Sundays are forever. We have waited two years, what's another 18 holes?
"It's a major, man. It''s going to be tough, especially with the wind blowing. It doesn't matter, just go out and go play," Koepka said. Added DeChambeau: "I think if I could put a good number up tomorrow, hold strong in the wind and shoot two, three under, I'll be right there for Sunday."
For a not insignificant window Friday afternoon, it appeared the match was coming to fruition. Koepka eagled the seventh (from a bush!) to wipe out two front-nine bogeys, while DeChambeau, playing in the group behind, birdied the seventh and ninth to make the turn in 33 and tie Koepka at three under. Koepka responded in kind, adding another eagle at the par-5 11th and a birdie at the par-4 12th to share the lead with Louis Oosthuizen.
DeChambeau could not match. Fact is, he was struggling to stay on the property. He blew his drive into the junk on the 11th, working the officials to get a generous drop via an immovable obstruction an absurd ways from where he was hitting. He bogeyed the 14th and added two more wild drives at the 15th and 16th. To DeChambeau's credit, he scrambled his behind off for pars on both as Koepka bogeyed the 15th to drop to five under.
Now, Koepka was in front of DeChambeau on the tee sheet, but for most of the afternoon they were in their own worlds. The Bryson/Hideki Matsuyama/Collin Morikawa group was never nipping the Brooks/Justin Thomas/Rory McIlroy trio, and though the fans are many and spirited at Kiawah, their cheers have been drowned out by the incessant winds that have kissed this course through two days. But a traffic jam caused a mighty backup on the 17th tee, allowing DeChambeau a seat to what was unfolding. Ahead, Koepka was unable to get up and down just off the putting surface, dropping him from five to four under, a fact noted by all those spirited—perhaps a bit too spirited—fans that surrounded the tee box.
Remember, it was Koepka who originally called out Bryson for slow play back in the summer of 2019, and when DeChambeau attempted to stand up for himself at The Northern Trust, it didn't turn out the way he hoped. Since that infamous standoff at Liberty National, Koepka has gone out of his way to needle DeChambeau, and needle him needlessly. Frankly, it bordered on bullying. Not the nature of Brooks' barbs; they were light-hearted, most of them at least. But Brooks was punching down. DeChambeau was a nice player, a good player; Koepka was peerless. Yet since that moment DeChambeau has transformed his body, racked up a handful of tour wins and a U.S. Open. The dynamic has switched. It is Bryson who has been the world's best player over the past 18 months, while Brooks fights his body to reclaim what he used to have.
So when Bryson hit one of the better shots of the day at the 17th, a 7-iron that almost shook hands with the flag and finished 20 feet away, he pointed his finger—and held the pose—to the crowd behind … but it certainly felt like he was pointing to someone else.
"Oh, I pushed it just a little bit," DeChambeau said of his 17th tee shot, with just a hint of false modesty. "But I played it left enough so that I knew if I pushed it, it would be OK. I came out with a great spin rate and knew it was going to get there."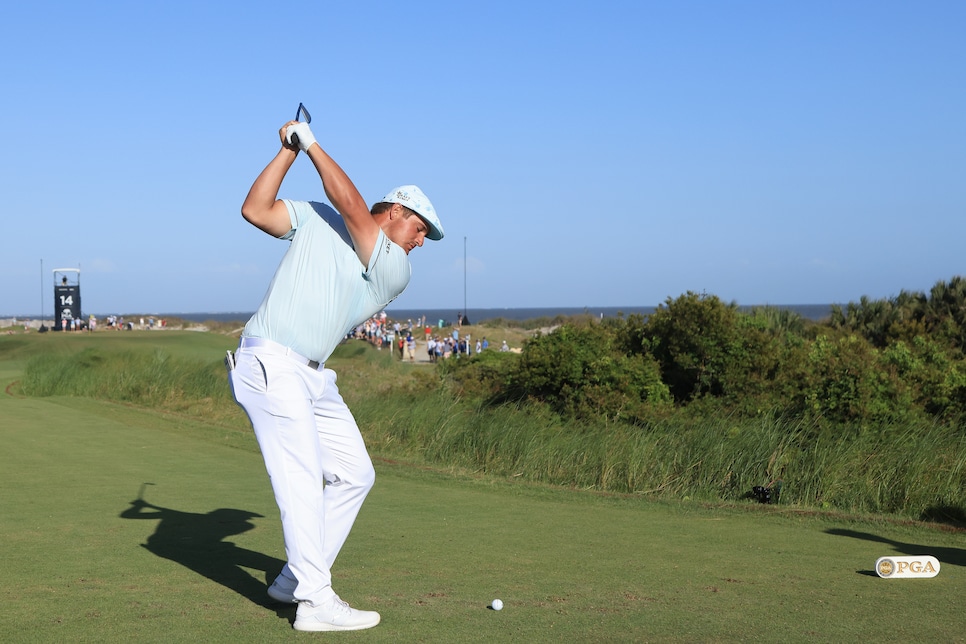 Bryson DeChambeau plays his shot from the 14th tee during the second round of the 2021 PGA Championship.
Sam Greenwood
A bogey at the last by Bryson zapped a bit of the juice from Saturday's hype. Not by much. Oosthuizen and Mickelson share the lead, and by no means are Koepka and DeChambeau the only formidable challengers. Yet with all respect to Phil and Louis, Hideki Matsuyama, Gary Woodland, Sungjae Im and the rest, Brooks and Bryson are the two heavyweights left standing.
So a tale of the tape. Brooks, he of the big frame squeezed into baby-sized shirts, is deemed a basher, not a ball-striker, the type of player this course is supposed to sweep away with the breeze. Though his long drives don't dispute the first notion, it is an incomplete picture. His iron play may not be consistent across a season, but Brooks does not care about the season. He cares about four weeks and four weeks only, and in those weeks he is a second-shot maestro. He led the fields in approach in his two PGA wins and his U.S. Open triumph at Shinnecock, and wasn't shabby during his victory at Erin Hills, either (sixth). This week has produced similar fortune, gaining more than seven strokes in approach. And though his troublesome knee still appears to be giving him angst, Koepka wanted no pity.
"It feels fine," Koepka said about the status of his knee. "I'm four under."
Bryson, well, he's been who we thought he is. He's leading the tournament in distance, his drives piercing through the wind in ways that go against physics and all we hold holy. He, too, is getting it done with his irons, ranking ninth in approach on the week. The short game has thrown him for a loop. Bryson is still unsure how to ride the wind, and he'll need to adapt and adapt in a hurry if he wants to be in the mix on Sunday.
"You get these little gusts, and you're just not going to make it," DeChambeau. "There's so many times out there that Collin and Hideki, we were just influenced by the wind. We couldn't do anything about it. The driving for the most part, you can hit it in the fairway, but yeah, putting is a nightmare sometimes."
But Bryson didn't head to the practice green afterwards. He made his way to the range. As the sun escaped behind the horizon Friday evening, there was another hitting balls on the grounds. We'll give you three guesses but you'll only need one.
Brooks and Bryson did not exchange words Friday night at the range, not even glances. No need, there will be time for that … should the time come.
MORE PGA CHAMPIONSHIP 2021 STORIES FROM GOLF DIGEST: