The Grind
Patrick Cantlay's $15 million "major," Europe's latest "upset" win, and the unluckiest golfer on the planet
Welcome to another edition of The Grind, where we are never touching an opponent's golf ball again. As we learned at the Solheim Cup, if you do it within 10 seconds of a missed putt and the ball is basically within 10 inches of the hole, the miss can count as a make since you didn't give it enough chance to let it go in. Wow. But while golf failed yet another test of common sense over the weekend, it earned another A+ in drama and excitement. Let's get to everything else happening before you have a chance to pick up x out.
Patrick Cantlay: He didn't quite putt like he did at Caves Valley, but it was good enough to get the job done and convert that 144-hole lead into a first FedEx Cup title. And while there's plenty of debate over where that accomplishment stacks up, for someone who doesn't have a major championship yet, we're guessing it feels like one.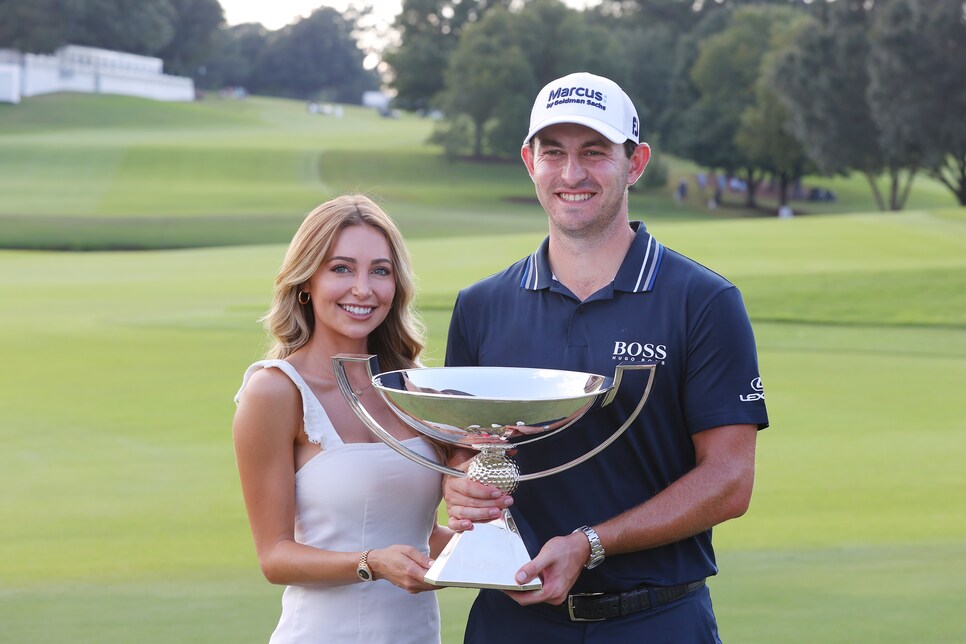 Speaking of majors, how is it possible this guy only has two career top 10s in golf's four biggest events? With that putting? And the ability to hit that drive and 6-iron on the final hole with $15 MILLION on the line?! I honestly don't know how they do it. Well, I guess it helps that guys like Cantlay and Jon Rahm already have that much money in the bank. But still, that was impressive.
Europe in team competitions: What is their special sauce?! And don't tell me it's brown sauce, because I've been to England and that stuff is awful. But seriously, European golfers have been a shining example that the sum is greater than the parts in recent Ryder/Solheim Cups. Then again, maybe the parts are always underrated. I mean, how good was Leona Maguire? What a performance. And Catriona Matthew should be called Captain Giant Slayer after leading a second consecutive "upset," this time on foreign soil.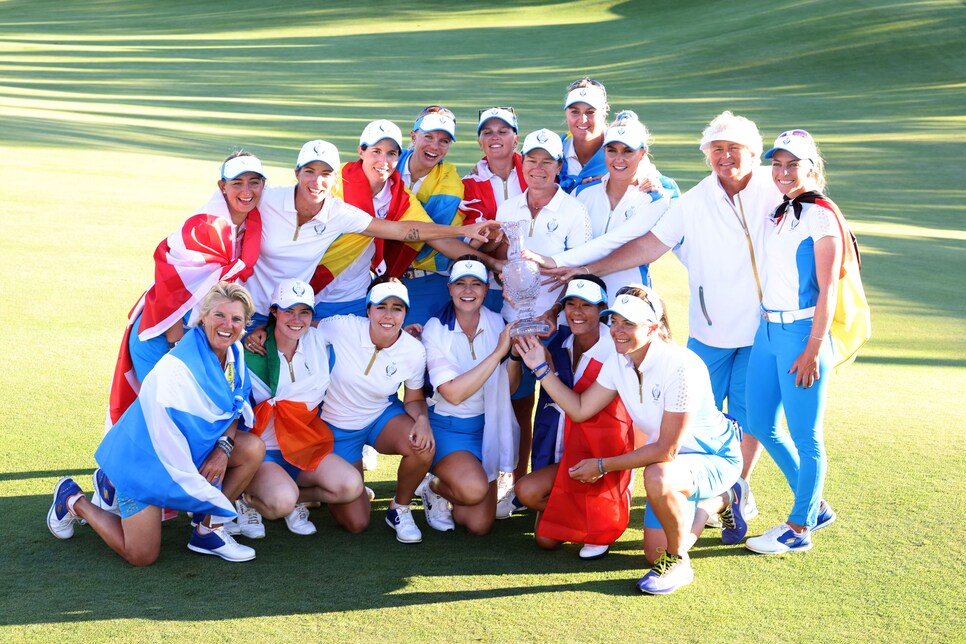 If this is an omen of things to come, Team USA is going to have a tough time at Whistling Straits in a couple weeks. Who are we kidding? Of course they're going to have a tough time. They're playing Europe.
PGA Tour's new docuseries: The PGA Tour and Netflix are collaborating on a docuseries for the 2021-2022 season that will reportedly follow the streaming service's model of "Drive to Survive," a show about Formula 1 racers. The best part about doing one on golf is they don't have to change the title! And as Golf.com's Alan Bastable noted, there's a great opportunity for a "Netflix and Phil" slogan. But really, this is exciting because Netflix has delivered some incredible content the past few years—excluding "Emily in Paris," of course.
Patrick Cantlay as Player of the Year: Sorry, Patty Ice, but we're Team Rahmbo on this one. Cantlay won four PGA Tour events to Rahm's one, but if you give Rahm credit for a win at the Memorial where he led by six before that WD due to a positive COVID test, and you factor in that Rahm actually beat Cantlay at East Lake, that becomes much closer. Plus, Rahm led the tour in scoring average and strokes gained total and his 15 top 10s were as many as Cantlay and Collin Morikawa combined. Given how much good golf Rahm played, it's kind of crazy he only won once. Even if it was a major.
That being said, based on Rory McIlroy's POY over Brooks Koepka in 2019, there's a good chance Cantlay gets the vote from his peers. Not that Cantlay will care much either way after taking home $15 million. And that cool Coca-Cola machine.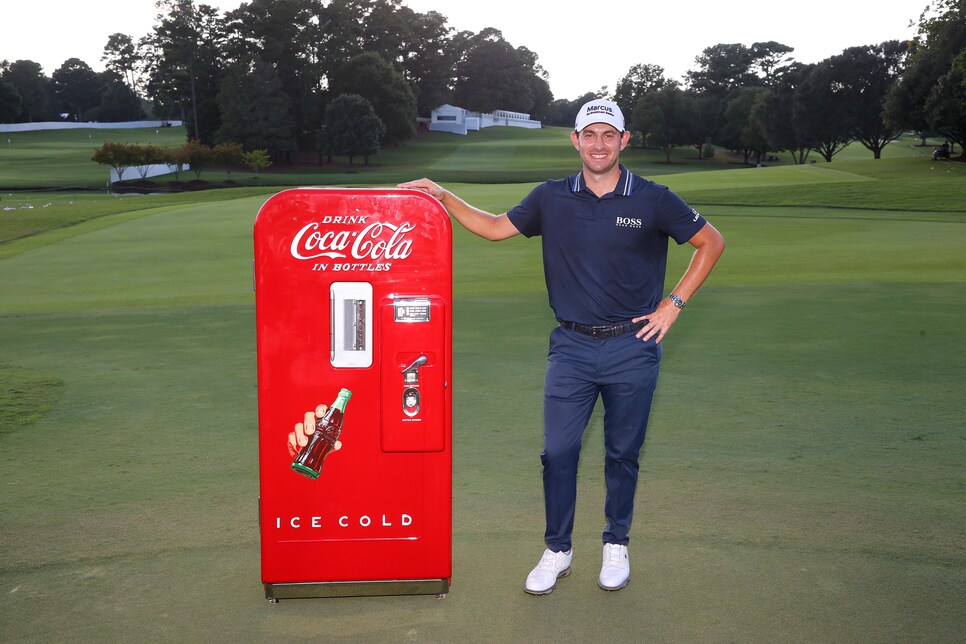 Although, as a finely tuned athlete, Patrick, you probably don't want all that soda in your house. Let me know, because I've got room in mine. Well, I'll make room.
Taylor Montgomery's luck: There were some great stories at the Korn Ferry Tour Championship, most notably Joseph Bramlett winning to get back to the PGA Tour and Justin Lower earning his card for the first time. On the flip side, though, there was Montgomery. For a second time in four weeks, this UNLV grad missed out by one spot, finishing No. 26 on the KFT Finals list after also finishing in that brutal spot at the conclusion of the regular season. I never thought I could feel bad for someone who once won $75K in a putting contest, but yeah, I feel bad.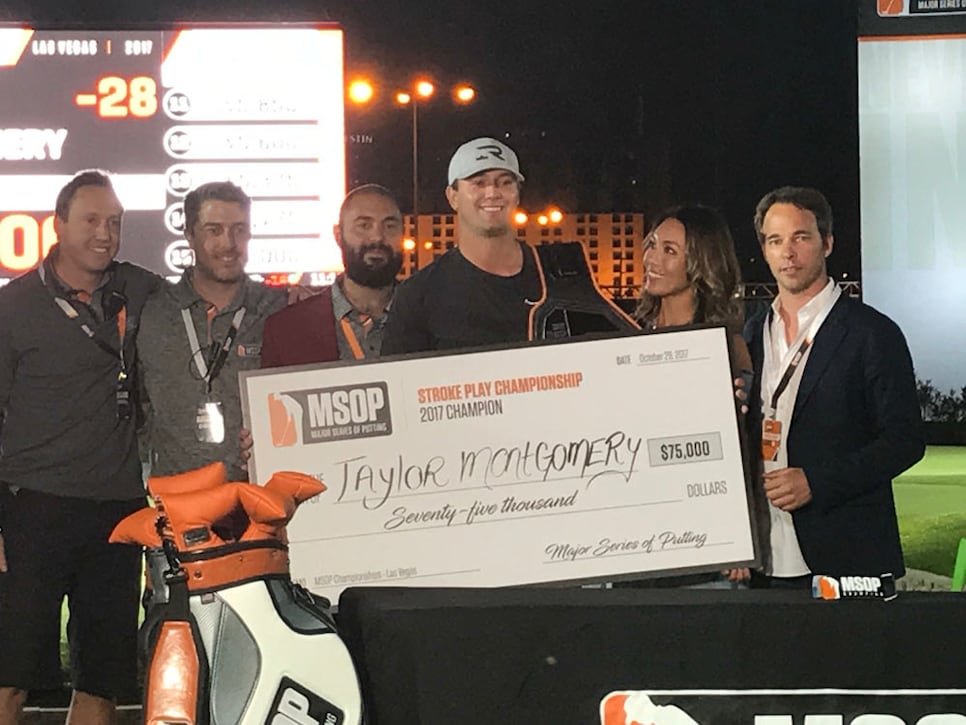 Especially because playing in the U.S. Open—and forfeiting any potential KFT points that week—probably cost him his card. Anyway, to all the PGA Tour events out there, let's show this guy some love next season with some sponsor exemptions.
Charley Hull's pre-shot routine: What in the world is this?
Talk about a course superintendent's nightmare! Then again, maybe this was all part of Europe's plan to play the role of underdog and let the Americans get too comfortable. If so, brilliant.
This is it. This is (basically) the only week the PGA Tour has off. Not sure why the KFT and LPGA are off as well, but, regardless, this is a lazy golf fan's chance to actually get out of the house this weekend. Wait, never mind, the NFL is back. In the meantime, the eyes of the golf world turn to Steve Stricker as he makes his six captain's picks on Wednesday. So to get you ready, one more time, here's a song Jeehae Lee and I (and Kings of Leon) made about what he might be thinking. . .
One thing we do know is Phil Mickelson won't be one of those picks. Instead, he'll serve as one of Stricker's vice captains. Probably for the best considering his PGA Championship win turned out to be his lone top 10 of the season. Crazy.
RANDOM PROP BETS OF THE WEEK
—Phil will win another major: 1,000-to-1 odds
—Phil will play in another Ryder Cup: 10,000-to-1 odds
—Phil will provide the team coffee: LOCK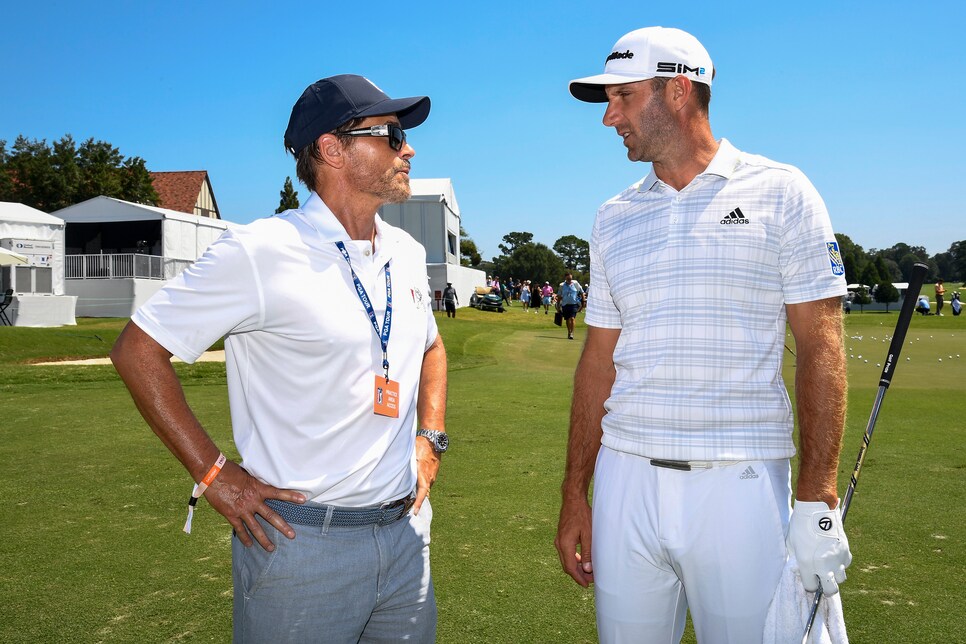 Wonder if Rob was telling DJ to grow his beard back. In any event, two guys in decent shape.
VIRAL VIDEO OF THE WEEK (THESE GUYS ARE GOOD DIVISION)
So the PGA Tour put together a video of drone footage at the Tour Championship to show how coverage of the season finale would have a cool, different look. What wasn't planned was Abe Ancer would hole the bunker shot the cameras captured at the end:
Talk about nailing a first take.
VIRAL VIDEO OF THE WEEK (WILDLIFE DIVISION)
Brooks Koepka's Tour Championship—and season—didn't end like he hoped as he withdrew with a wrist injury. Before he left East Lake, though, he and a helpful butterfly—and Mike Tirico—gave us one of the wildest highlights of the year:
Can Captain Stricker catch a few of these butterflies and bring them to Whistling Straits in a couple weeks?
THIS WEEK IN PUBLIC DISPLAYS OF AFFECTION
Patrick Cantlay and girlfriend Nikki Guidish shared a $15 million kiss: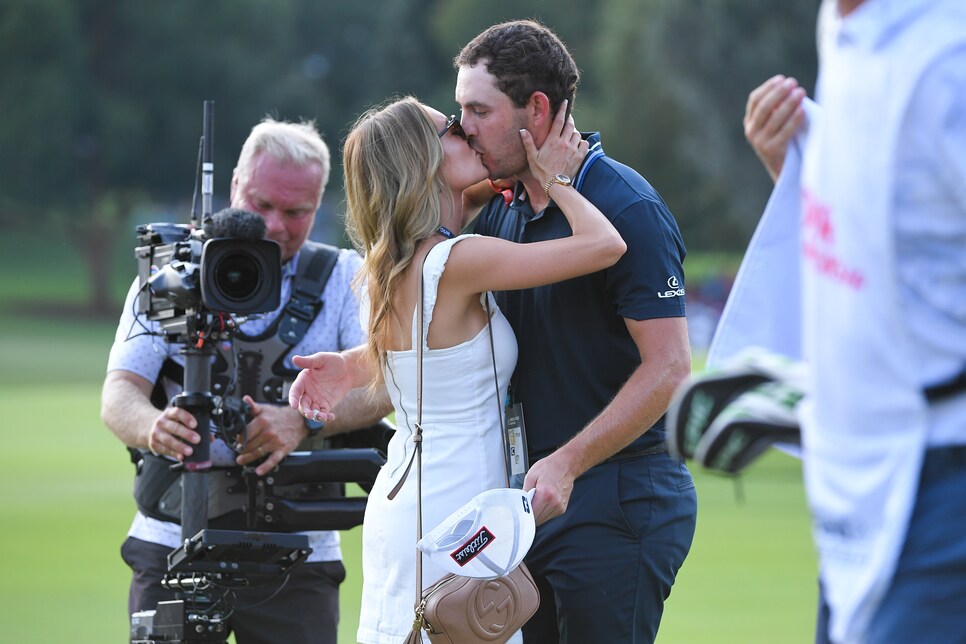 Patty Ice keeps this stuff pretty private, but we know they've been together since at least the Memorial:
So it's been a great few months! Meanwhile, Jordan Spieth revealed his wife, Annie Verret, is pregnant—which is news I actually broke on the work Slack channel after seeing her at Liberty National a couple weeks ago. Congrats to me for keeping that hush-hush. Oh, and yes, congrats to the Spieths! The baby—and some fatherly PERSPECTIVE—is due in November.
THIS WEEK IN PUBLIC DISPLAYS OF AFFECTION ATHLETICISM
After showing off his hops last week in Baltimore, Joaquin Niemann showed off his speed in Atlanta. The 22-year-old broke Kevin Na's Tour Championship record by playing the final round in one hour and 53 minutes—and shooting 72:
That being said, he still didn't touch Wesley Bryan's PGA Tour record of one hour and 28 minutes from the 2017 BMW Championship:
"It's 50 percent ladies, right? So we're trying to grow the game of golf, that means grow the ladies game. So I'm just out here showing support as much as I can." —Bubba Watson, who was a special assistant for Team USA at the Solheim Cup. Bubba certainly has his critics, but what he did this past week—and what he's consistently done at the Drive, Chip & Putt—is awesome.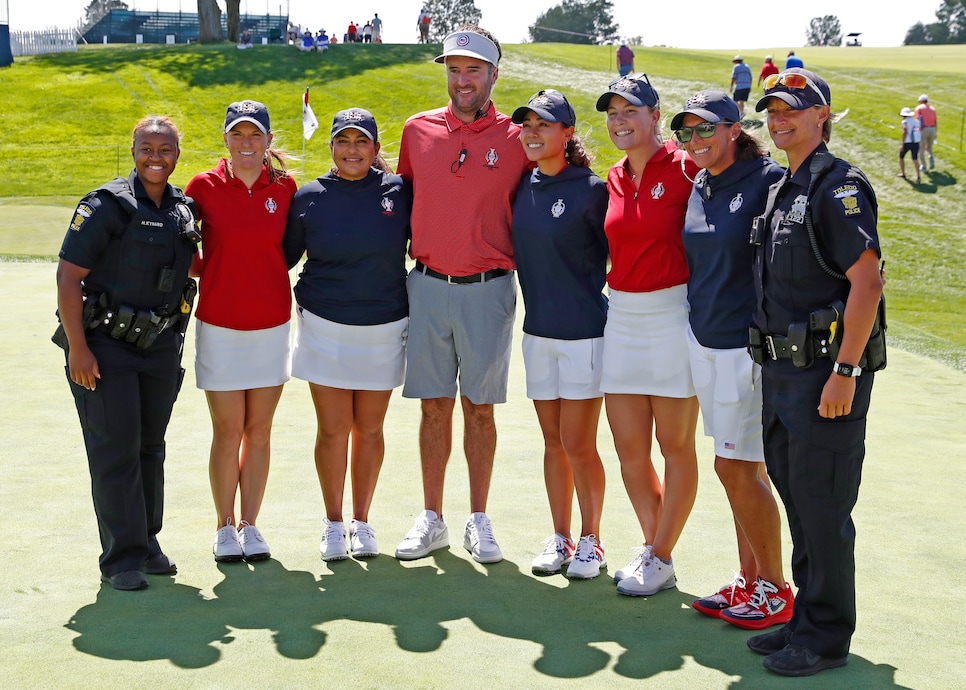 Congrats to Nicolai Hojgaard for winning his first European Tour title one week after twin brother Rasmus won his third. Both are 20. Seriously, the U.S. better win this year's Ryder Cup, because it's not going to get any easier with these dudes. . . . Congrats to Kevin Na and Jon Rahm on sharing the Xander Schauffele Low Gross Award at Eastlake. They also both received a winner's share of Official World Golf Ranking points, while Cantlay only got credit for a T-4. . . . And finally, Showtime's "Billions" finally returned for the first time since abruptly cutting off mid-season in June of 2020. And judging by Paul Giamatti's new look, a LOT can change in 15 months: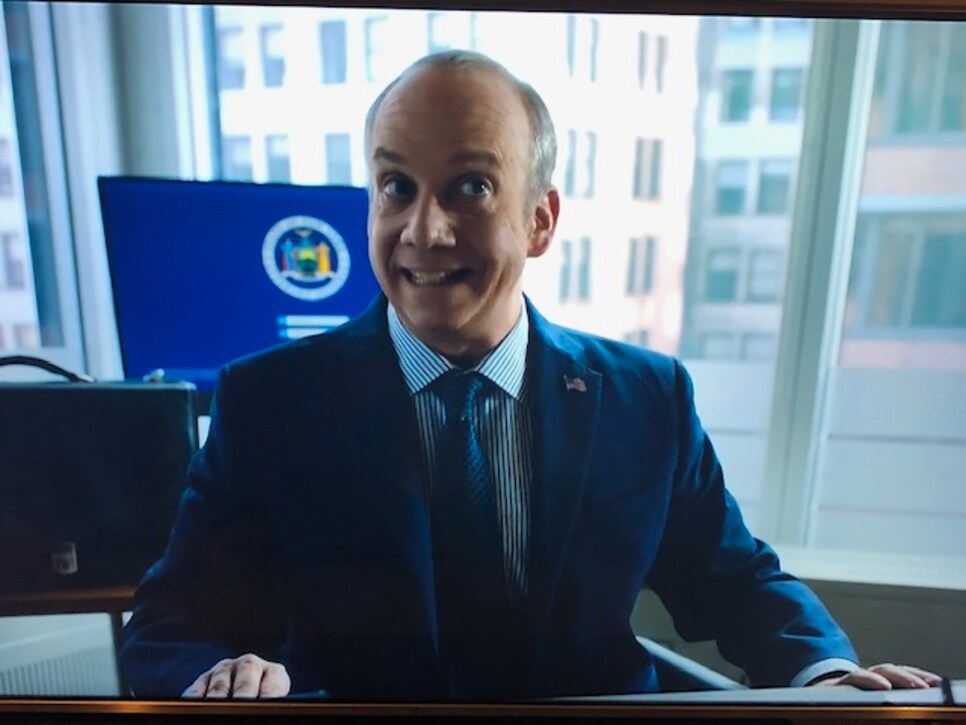 Just ask Collin Morikawa.
RANDOM QUESTIONS TO PONDER
What's the weirdest/dumbest rule in golf?
What's going to happen next on "Billions"?
What's Cantlay going to do with $15 million?