Rules controversy
A strange rules controversy brews at Solheim Cup on Nelly Korda's conceded birdie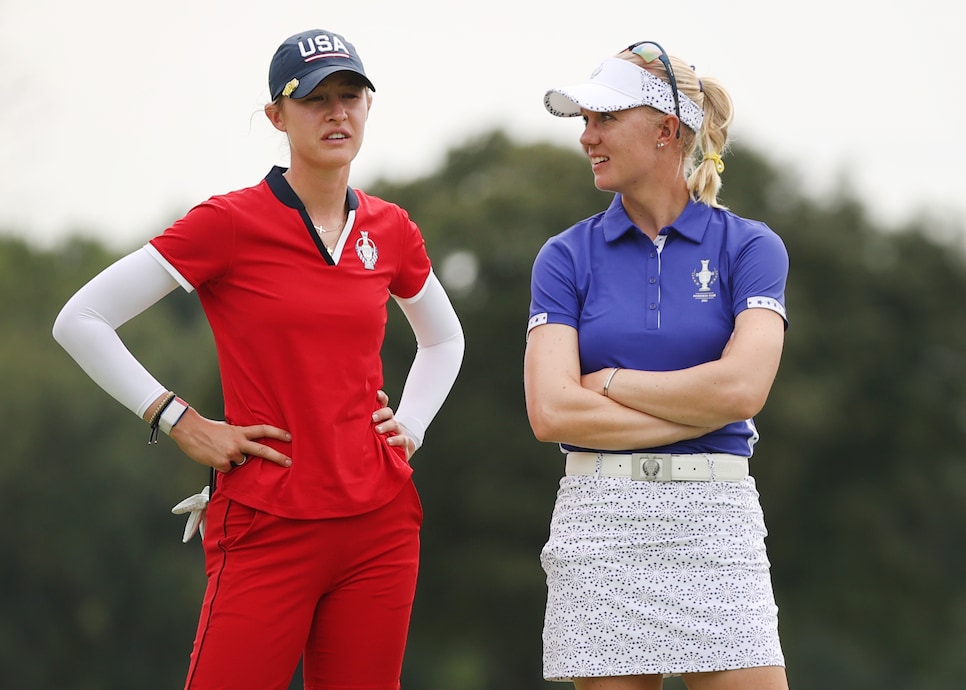 Nelly Korda (left) and Madelene Sagstrom talk during the foursomes match in the Solheim Cup.
Maddie Meyer
TOLEDO, Ohio – When is a ball not in the hole considered to be holed? That question was answered Saturday afternoon at the Solheim Cup when American Nelly Korda "made" an eagle at the par-5 13th hole at Inverness Club.
Korda lagged her curling 20-foot eagle attempt to the right edge of the cup, and in that circumstance, she would have 10 seconds to see if the ball would drop in. The catch is the opposing team also has to wait the stipulated amount of time to see if the ball falls in. But Europe's Madelene Sagstrom, determining that the ball was not going to drop—it clearly was not moving or oscillating—picked up the ball after a few seconds and tossed it back to Korda, who still was on her knees after reacting to watching her putt miss by a sliver. Europe was already in with a 4 on Nanna Koerstz Madsen's birdie.
Match referee Missy Jones immediately pointed out the rules infraction and awarded the hole to Korda and teammate Ally Ewing in the four-ball match. Despite arguments from Sagstrom, Koerstz Madsen and European captain Catriona Matthew, Jones' ruling stood.
The decision gave the U.S. pair a 1-up lead, and Korda and Ewing made it stand for a 1-up victory, its first of the day, after the Euros had taken an early 2-up lead.
"Obviously, I wasn't following the rules about leaving the ball for 10 seconds, but I do believe in integrity and honor of the game of golf, and I would never pick up a putt that had a chance to go in," said Sagstrom, who felt "frustrated, angry and sad," by the ruling. "I personally don't agree with the decision with the ball being on the edge, but I didn't follow the 10-second rule, so it sucks right now because I feel like I let my team down."
Sagstrom violated Rule 13.3b, which states that "if the opponent in match play deliberately lifts or moves the player's ball overhanging the hole before the waiting time has ended, the player's ball is treated as holed with the previous stroke."
An LPGA statement further clarified that in addition to Jones, the chief referee, match observer and TV observer all deemed that Korda's putt was overhanging the hole, if ever so slightly, and that it was picked up by Sagstrom well before 10 seconds expired.
The group waited on the 14th tee until replays were reviewed. Things grew awkward the rest of the way, Sagstrom said, after having words with Korda. "We had a good cozy match before 14. We come in and got in that little argument with Nelly on that tee box, because she obviously knew that it was not going to go in, but the rules are rules, so that's what she wants to follow."
"If they want to win on something like that, that's on them," Madsen added. "I think it's going to fuel a little bit of fire upstairs, so they'd better watch out tomorrow."
"Yeah, it was definitely awkward, and you don't want to win a hole like that," Korda said. "I got off the green, and we kind of were talking, and Missy already came up to us and was like, 'I'm calling it in, I want to check it out.' We didn't even have a say honestly."
Neither Jones nor chief referee Sue Witters were made available for comment.