Italian Open
A déjà vu victory? Nope, this historic European Tour feat just looks that way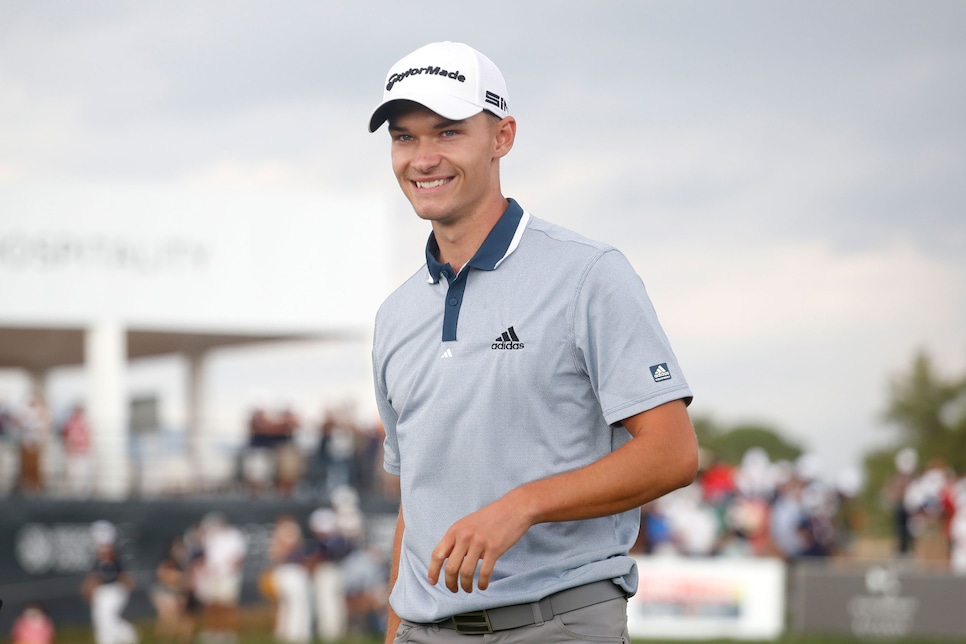 A week after his twin brother, Rasmus, won the European Masters, Nicolai Hojgaard celebrates his first European Tour title at the Italian Open.
Luke Walker
If any of this looks and sounds familiar, that's because it is. Historic, too. One week after Rasmus Hojgaard won the European Masters, the Dane's identical twin brother, Nicolai, is, at age 20, the youngest champion of the Italian Open. Not surprisingly, never before has such an unlikely state of affairs occurred on the European Tour; this is the first time brothers (let alone twins) have won in back-to-back tour events.
It was, apart from anything else, a bit of a struggle for Hojgaard, who was attempting to win for the first time on the Old World circuit (his brother already has three victories). Which is not to say the eventual champion was alone in finding the closing stages a wee bit tough. Tommy Fleetwood, who finished in a tie for second with Adrian Meronk, was also having his problems en route to matching Hojgaard's closing 71 at Marco Simone Golf Club, making its revamped debut ahead of hosting the 2023 Ryder Cup.
In contrast, only Spaniard Pablo Larrazabal's 65 was better than Meronk's closing 66, the lanky giant joining Fleetwood in coming up one-shot shy in his attempt to become the first Polish winner on the European Tour. Home favorite Francesco Laporta was alone in fourth on 11 under after a closing 68 that saw him finish "low Italian," one stroke ahead of Edoardo Molinari.
It all came down to this though: With five holes to play, Fleetwood had reached the 13-under-par mark that would eventually be the winning score. But bogeys on the 14th and 16th were too much of a match for the ultimately forlorn birdie the Englishman made on the 626-yard par-5 18th. Forlorn, that is, because Hojgaard followed suit in remarkably similar fashion. Both drove left into the rough. Both laid-up. And both got down in two from distance, although the champion's wedge to three feet was the superior approach. The winning putt, incidentally, went in, dead center.
"It's crazy," said Hojgaard, whose previous best European Tour finish was runner-up at the 2019 Dutch Open. "It has been such a tough day. I've been through every emotion in my body and my brain. To finish it off with a great up-and-down is perfect. This is what I have always dreamed of. I've been working hard all year and all my life. I'm so pleased."
No wonder. Until that tee shot on 17, Hojgaard (watched by his twin over the last five holes) was showing every sign of buckling under the pressure. What he called "stupid mistakes" led to those dropped shots and, inevitably, the unwelcome appearance of negative thoughts.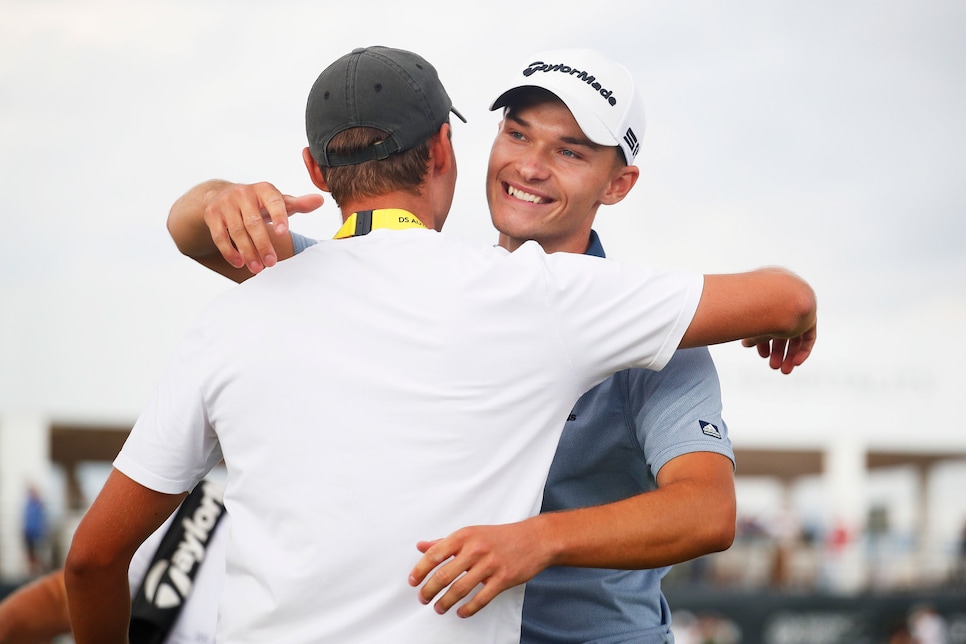 Nicolai Hojgaard gets a hug from brother Rasmus after closing out the win on Sunday.
Luke Walker
"I felt OK most of the way, but I was a bit uncomfortable with my pace on the greens," continued Hojgaard, who received a late invitation into the event on Monday of tournament week. "On 16, I left myself a five-footer for par. I was putting pressure on myself all the time, which was not what I was trying to do. But I got that one in and hit a really good tee shot on 17. I had a good birdie chance but didn't make it.
"Then on 18, I knew I had to make a 4. Knowing that sometimes makes it easier than making 5, if that makes sense. I've been nervous many times before, but nothing like I felt over the putt on 18. I almost couldn't move the putter. But I gave myself that chance to win. To have a three-footer was perfect. And when it did go in, I was getting so emotional. I looked over and saw Rasmus, his girlfriend and my girlfriend. I can't wait to celebrate. It has been a perfect week."
He can say that again. Then again, both Hojgaards can.