Omega European Masters
Rasmus Hojgaard is 20 and now a three-time Euro Tour champ after his most impressive win yet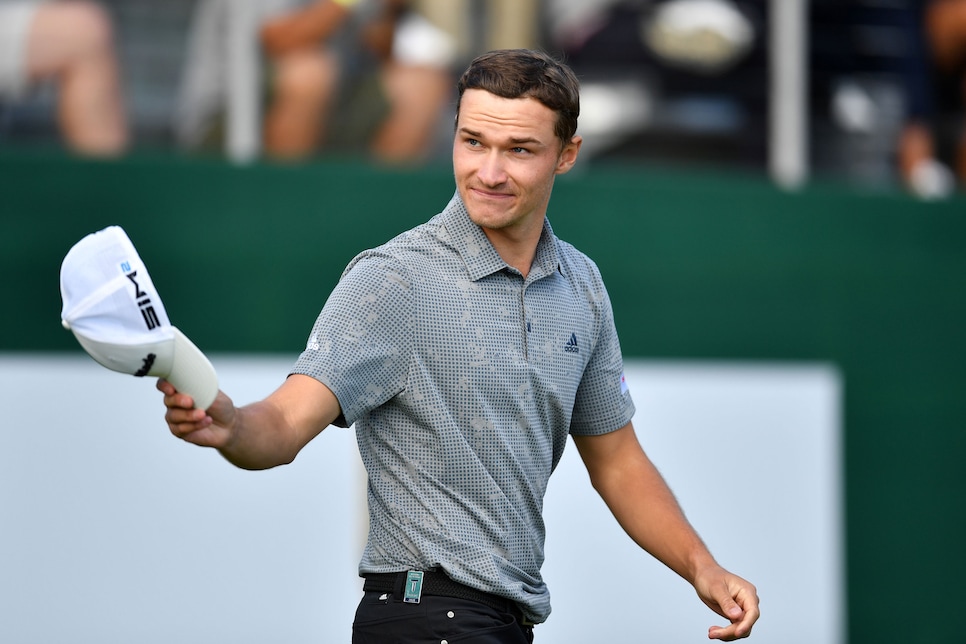 Rasmus Hojgaard reacts as he walks onto the 18th green for the trophy presentation after winning the Omega European Masters, his third career European Tour title.
Valerio Pennicino
It's fair to say that, with six holes remaining in the Omega European Masters, no one was thinking, "gee, Rasmus Hojgaard is going to win this thing." Standing on the 13th tee of the endlessly picturesque Crans-sur-Sierre Golf Club high in the Swiss Alps, the 20-year-old Dane was two under par for the day, eight under for the week, four shots off the pace and barely inside the top 10. So a nice finish was in prospect. But a third European Tour victory? Nah.
Let's all think again, starting with the short version.
Birdie. Eagle. Birdie. Par. Par. Birdie. That little run saw Hojgaard, who started the day four shots off the pace, in the clubhouse on 13-under 267. Good, but it still didn't look good enough. Yes, long-time leader Ross McGowan was faltering over the back nine. But Bernd Wiesberger's eagle 3 on the 14th took the Austrian into a one-shot lead, and with another reachable par 5 to come, he was looking good to claim his ninth victory on the Old World circuit.
Perhaps more importantly for Wiesberger was the fact that a win would take him into one of the nine automatic qualifying spots for next month's Ryder Cup. And maybe that added pressure was just too much to cope with. Still clinging to that one-stroke edge with only the 402-yard 18th to play, Wiesberger found sand up the right off the tee, then water short of the putting surface with his "fatted" approach. And when he failed to get up-and-down after the requisite penalty drop, it all added up to a disastrous double-bogey 6. One shot too many.
All of which left a rather bemused looking Hojgaard with the trophy, the biggest share of the €2 million purse and the gaudy red jacket that goes to the winner of one of the European Tour's most iconic events. Past winners "up the mountain" include a parade of major champions: Seve Ballesteros, Ernie Els, Sergio Garcia, Danny Willett, Nick Price, Ian Woosnam, Nick Faldo, Jose Maria Olazabal, Bob Charles, Bobby Locke, Ken Nagle and Craig Stadler. Throw in a pair of former World No. 1s in Lee Westwood, Luke Donald and eight-time European No. 1 Colin Montgomerie and the list is only more impressive.
"At the moment this all seems a bit surreal," said a suitably stunned Hojgaard, whose identical twin brother, Nicolai, is also on the European Tour. "On the 13th tee, I was way behind and not really thinking I had a chance. All I was really trying to do was stick to my game plan and maybe make a couple of birdies. It wasn't until I made the birdie on 15 that I thought about anything else, especially when I saw the leaders were making bogeys and I was only one off the lead. I thought maybe one more birdie would get me into a playoff."
Still, work remained to be done. Two pars later Hojgaard was on the final hole and still figuring he needed one last birdie. In contrast to what Wiesberger would later perpetrate, the young Dane's tee-shot was ideal, just right of center on the severely sloping fairway. The approach finished maybe nine feet past the flag. And the putt never looked like missing.
"My legs were shaking a little bit over the putt on 18 for sure," admitted the new champion. "That was by far the most nervous I was all day. Even after I made the putt I didn't expect to be in this position. It's amazing. But on the 18th I knew I had to make a birdie. So that was all I was trying to do. And after I did, there was a bit of a strange ending. It's crazy. But it was a great moment. I'm very proud to win this event. Look at some of those who have won here. It's very special."
Not surprisingly, one of the first to register his congratulations to his young compatriot was 15-time tour winner and former Ryder Cup captain, Thomas Bjorn.
"To win three times on tour when you are only 20 years old says a lot about how special Rasmus is," tweeted Denmark's greatest-ever player, a two-time European Masters champion. "He drives himself so hard to become the best he can be."
This week at least that presumably still-improving best was better than anyone else. Eventually anyway. And only just.