The Grind
Pat Perez's revenge, Paulina Gretzky's team spirit and the best golf-themed Halloween costumes you didn't see
Welcome to another edition of The Grind, where we are exhausted after a weekend of raking leaves and a record-setting Halloween of giving away candy—1,600 pieces isn't the most we've ever handed out, but to be wiped out in less than three hours? Crazy.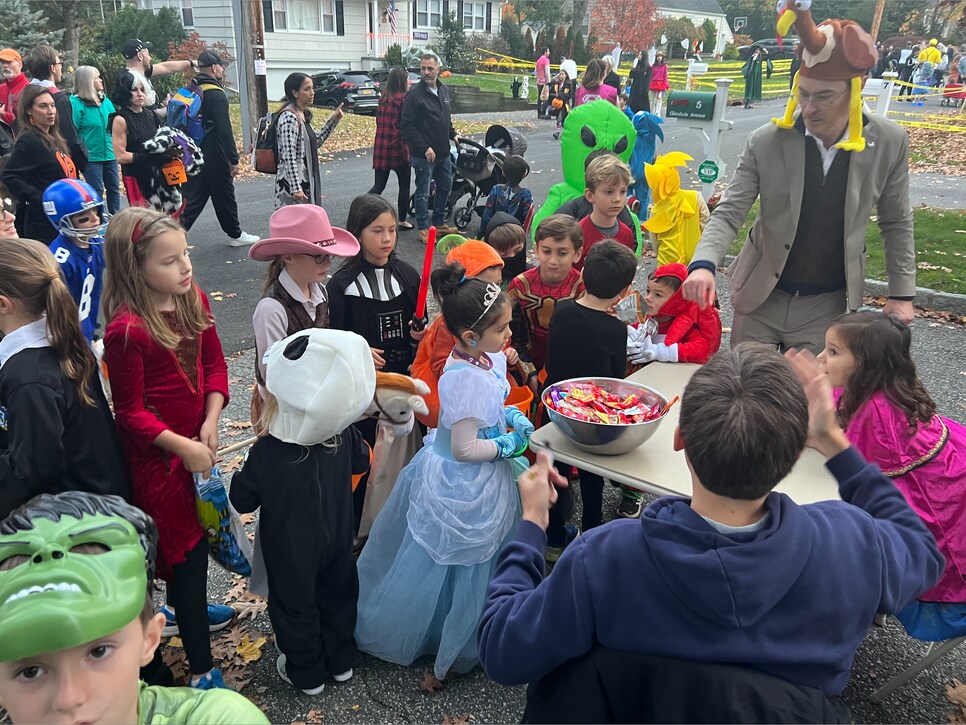 (I see you Turkey-Hat guy!) And if you're thinking How is that possible?!, well, here's another angle of my block: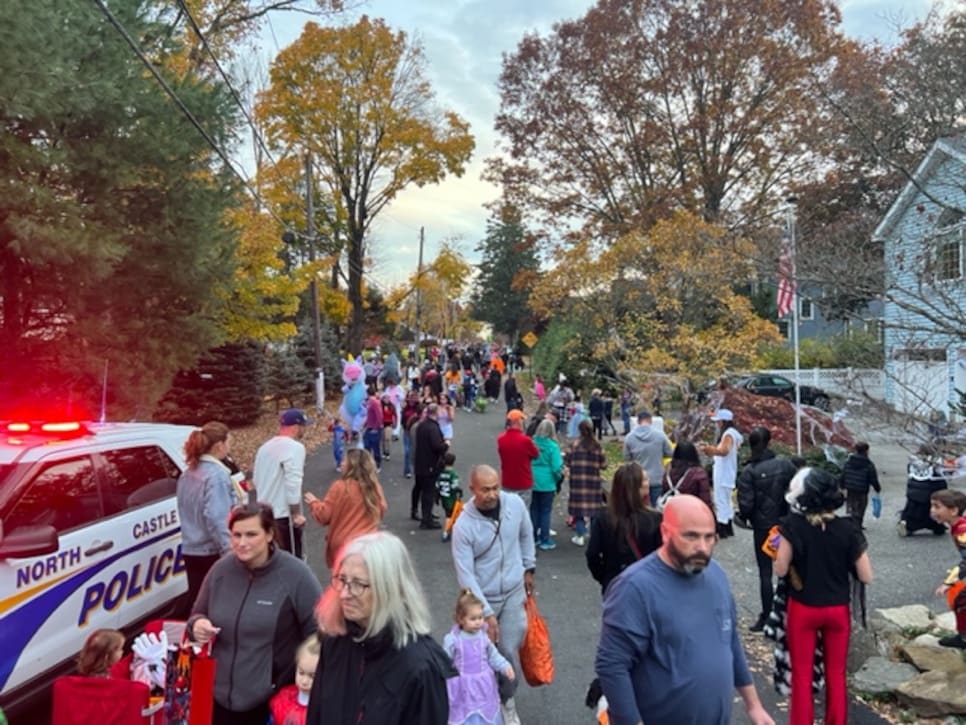 Yeah, it's pretty wild. On the bright side, my 4-year-old emerged as a great helper/enforcer. She also set a record for saying, "TAKE ONE, PLEASE!" which took the onus of being a jerk off of me.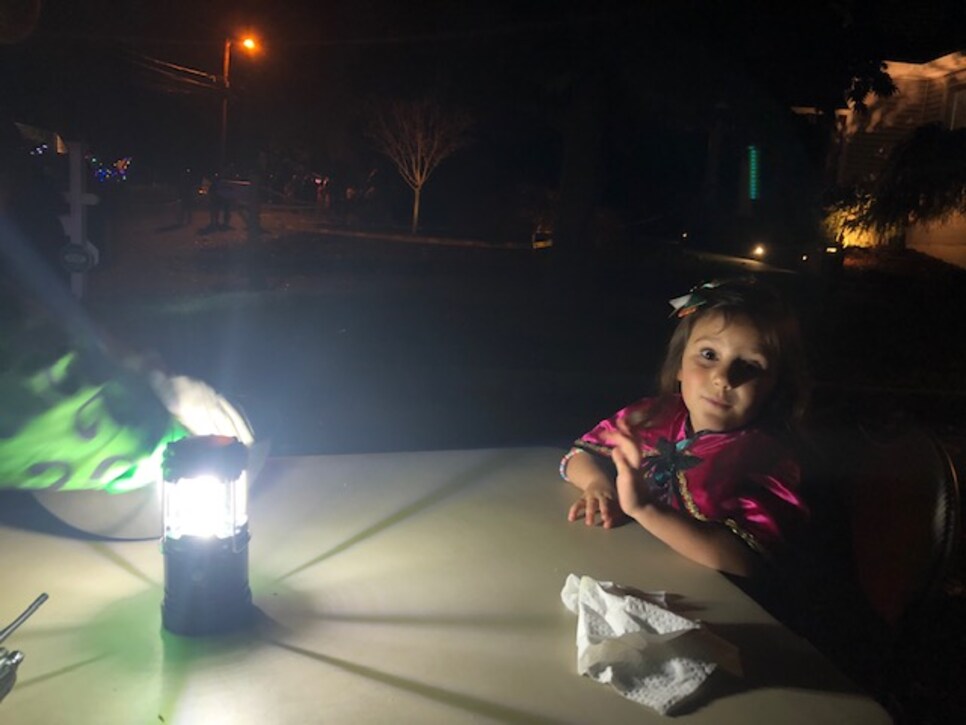 Anyway, if you have any candy left over, ship it my way and I'll start stockpiling for next year. OK, let's talk some golf.
Seamus Power: And just like that Europe may have found a nice piece to replace some of the LIV guys on the Ryder Cup team. This late bloomer could be the Irish Jimmy Walker as he waited until he was 34 to notch his first PGA Tour win, but now has two after a one-shot victory at the Butterfield Bermuda Championship: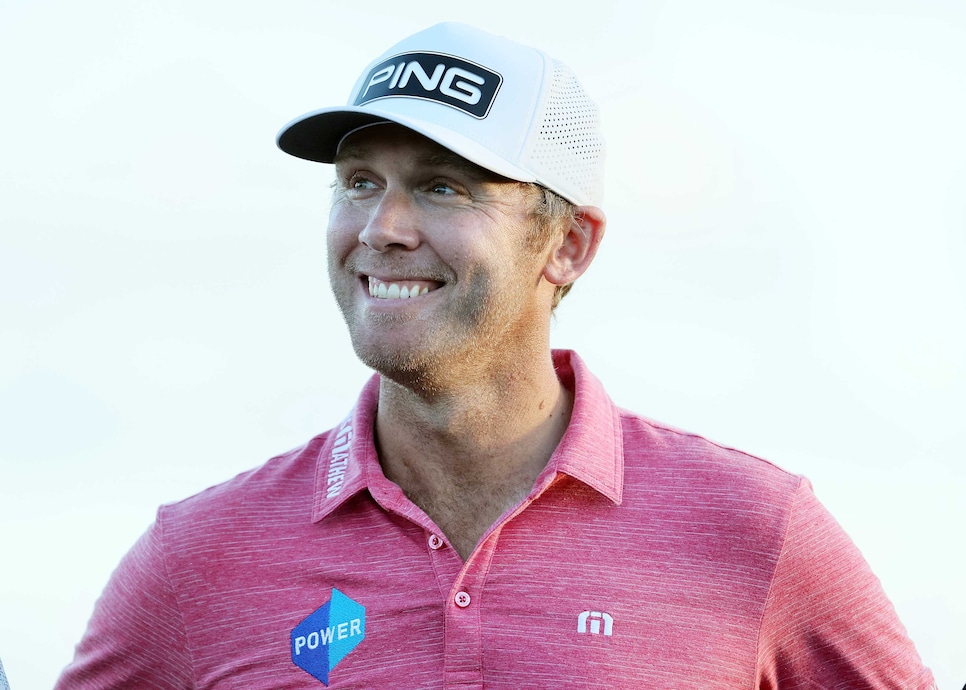 Perhaps most impressive is the fact he birdied the spooky cliff-side 235-yard signature par-3 16th at Port Royal Golf Course THREE times during the tournament. That's the hole where there's a plaque with the following quote from Lucas Glover: "Man, I've never been so nervous on a shot." And he's a major champ and a former Presidents Cupper who has been in some big pressure spots. Anyway, well done, Seamus. You tamed that beast—and more than survived the Bermuda Triangle.
The 4 Aces: Comparisons to other sports dynasties are obviously ridiculous, but we have to give credit where credit is due. And the 4 Aces were the No. 1 seed heading into LIV Golf's season-ending team championship and closed things out on Sunday at Doral, claiming the team title and hauling in a cool $16 million.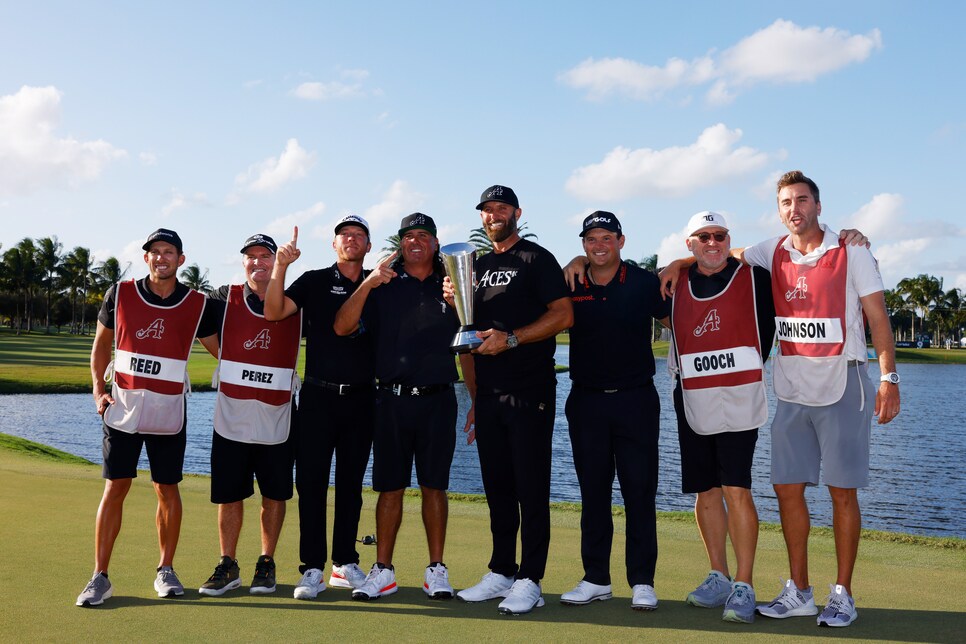 And while doling out that prize money is at captain Dustin Johnson's discretion, we're guessing all four players will get an equal cut. Even Pat Perez, who came through with clutch round! And he let the haterz know about it after. "I get a lot of grief for never [showing] up, I did today so everybody can shut up, which is great." Then he added, "All the push-back, all the negative comments, everything we've gotten, at this point I really don't care. I mean, I don't care. I'm paid. I don't give a damn." And getting PAID he has. Just check this graphic out:
Not bad for someone who averaged finishing 32nd out of 48 players in his eight events. Pat will be popping a lot more bottles in (early) retirement at some point.
Nolan Krentz: A few years ago, I played golf with a man named Barry Gibbons and wrote about him breaking the record for the most rounds of golf played in one year (878). Well, Barry has his work cut out for him again because Wisconsin's Nolan Krentz was recently recognized for playing 17,820 holes or 990(!) rounds in 2021. Even crazier, Nolan is on pace to break that record again this year!
Unlike Barry, Nolan plays almost all those rounds on a 9-hole course and he uses a push cart. So my man Barry still has the record for carrying your bag. But wow, what a golf nut. And in Wisconsin, no less! Speaking of golf nuts …
A mini leaf blower: You'd certainly look like one if you pack one of these in your golf bag:
But it seems like a brilliant idea! Fall golf is beautiful, but there's so much wasted time looking for golf balls. Maybe Nolan Krentz can hit the 20,000 mark if he gets one of these. In related news, I can't believe how sore I am from doing the leaves this weekend. But no leaf blower, no matter the size, would help me. The pain is all from scooping the leaves up because we have to bag them in our town. Brutal.
DJ nearly losing his eye: You'd think a man who spends much of as DJ partying on luxury boats would know his way around a champagne bottle, but the two-time major champ almost became a one-eyed golfer during Sunday's celebration at Doral:
Glad to see he came out of that OK and what a year for the 38-year-old who earned $35 million in prize money, not including his reported $130 million contract for signing with LIV. DJ could by his own champagne distillery with that kind of money.
Ben Griffin's finish: It was tough watching this guy give away the tournament down the stretch, but it still beats selling mortgages. There are plenty of tour pros who say they almost quit, but this dude actually did it and worked a 9-to-5 office job for a bit. Fortunately, he took one more stab at golf and not only does he have his PGA Tour card, but he nearly earned his maiden victory. What a cool story.
Good for Ben and good timing by him. Being a mortgage loan officer now with the current interest rates must suck.
Bubba Watson as a TV announcer:
He'll get there. He'll get there.
The PGA Tour heads to Mexico for the World Wide Technologies Championship, AKA that event at Mayakoba where everyone wonders if that's actually a real sponsor. (It is.) (We think.) Meanwhile, it's TimberTech Championship week on the PGA Tour Champions. Again, we think that's a real sponsor.
Random tournament fact: Viktor Hovland is the two-time defending champ. For some reason, the Norwegian is the King of Resort Golf. (Do they even have Bermuda greens in that part of the world?) In any event, he's listed at 10-to-1 odds to three-peat, only behind Scottie Scheffler at 9-to-1. Here are some more (unofficial) odds:
RANDOM PROP BETS OF THE WEEK
—My mortgage loan officer could make the PGA Tour: 1 MILLION-to-1 odds
—Dustin Johnson rakes his own leaves: 35 MILLION-to-1 odds
—Dustin Johnson won't be popping his own bottles for a while: LOCK
Props to these parents for throwing the coolest kid's birthday party of the year:
Also props to the family I saw on Halloween wearing matching Augusta National caddie jumpsuits. You guys are smooth—and brave, because you never know when ANGC wants to litigate.
Come for Justin Thomas sharing a nightmare he had, stay for a delicious dagger to Colt Knost:
Funny enough, I dreamed about Colt giving me a putting lesson earlier this year. But that nightmare came after I woke up and I couldn't make a putt anymore.
Eddie Pepperell and Matt Wallace took on the DP World Tour's "Unfinishable Golf Hole," a fun challenge that involved them both being able to mess with the other by throwing each other's golf ball or making each other hit a shot while dizzy. The craziest part? Not only did they both finish the hole, they both made par!
These guys are (really) good.
THIS WEEK IN PUBLIC DISPLAYS OF AFFECTION
The 4 Aces and the WAGs of the 4 Aces posed after Sunday's lucrative win: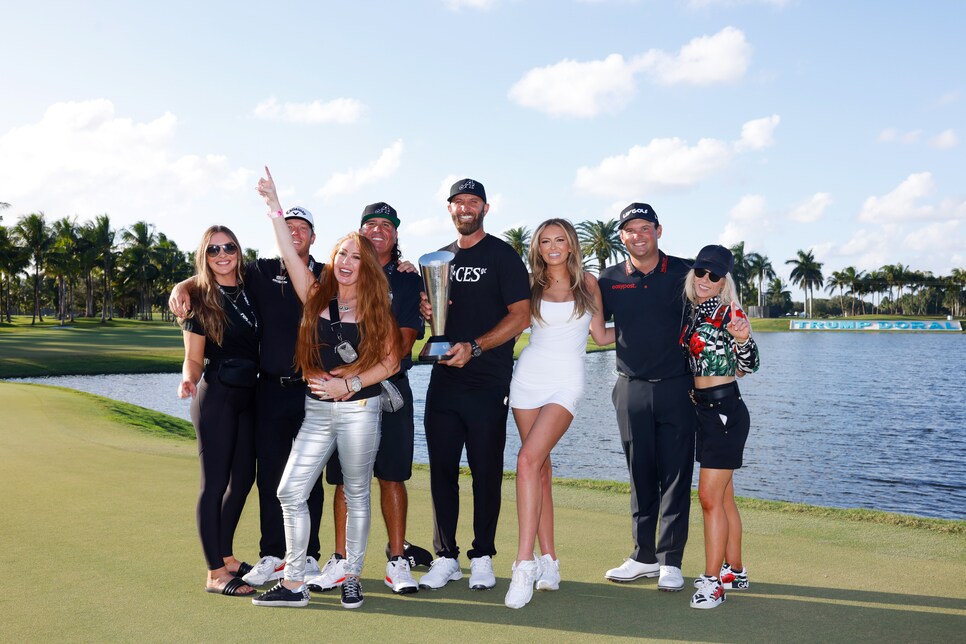 And Paulina Gretzky showed support for Dustin Johnson and the squad at the after party:
Although, I'm pretty sure that's not official team merch.
BEST HALLOWEEN COSTUMES (REAL DIVISION)
As always, The Donalds led the way—and with a Ryder Cup theme (sort of) to boot!
Well done. Shout-out to Golf Digest's Kyle Horn for doing a bang-up job as Club Pro Guy:
He even went the extra mile by hitting numerous punchouts throughout his round. And how about Tiger as … a Tiger:
Good stuff, but let's get him a GOAT costume next time.
BEST HALLOWEEN COSTUMES (FAKE DIVISION)
There were some great fake costumes floating around and several golf-themed ones stood out. Here's a sampling:
"My dad used to tell me an old Korean proverb … if you keep farting, eventually you're going to poop." —Henry Chung, who used that wisdom to advance to the final stage of Q School this week. Yes, he really said this:
Atthaya Thitikul took over the top spot in the Rolex World Ranking, joining Lydia Ko as the only teenager to ever be ranked No. 1. She's young enough to still be trick-or-treating and she's the best in the world at her profession. Amazing. … Speaking of teens, University of Tennessee freshman Caleb Surratt shot 64-85-65 over his final three rounds in Bermuda. Also amazing. … Congrats to Max and Lacey Homa on the birth of their first child:
Wait, another Cam?! … And, finally, admittedly I'm a bit biased, but I thought these two were the prettiest princesses out on Halloween: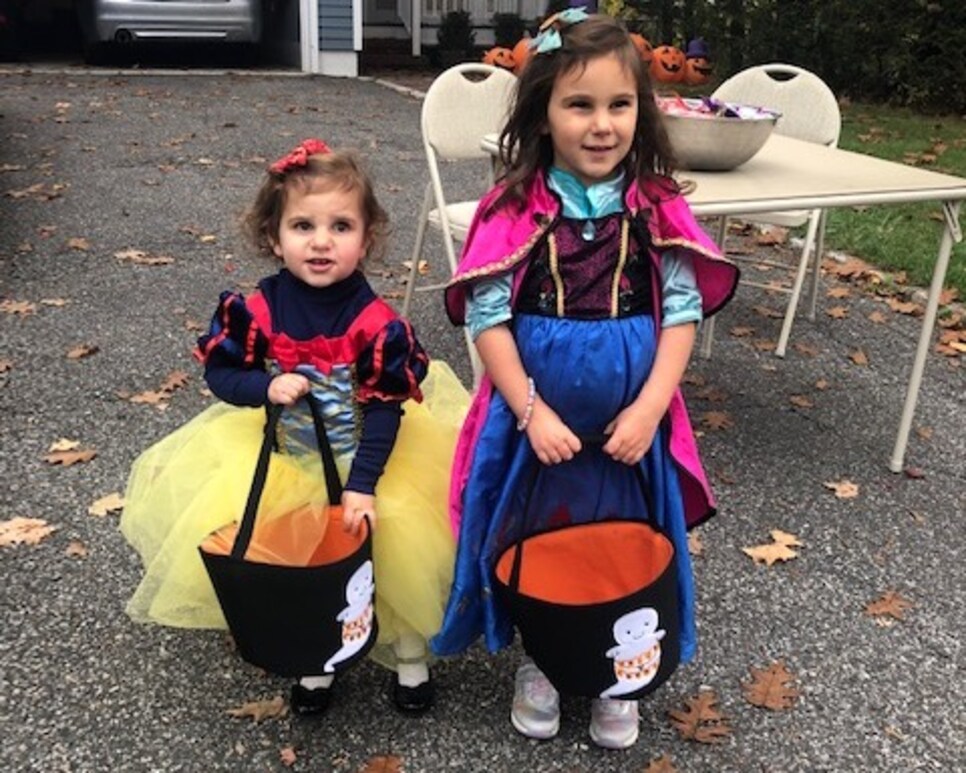 And it appears we have another choco-holic on our hands with the young one. Runs in the family.
RANDOM QUESTIONS TO PONDER
What's the scariest golf nightmare you've ever had?
Should I hire someone to do the leaves next year?
Should I buy more candy next year?