PGA Tour
Seamus Power hangs on for victory in Bermuda, and offers a lesson in winning ugly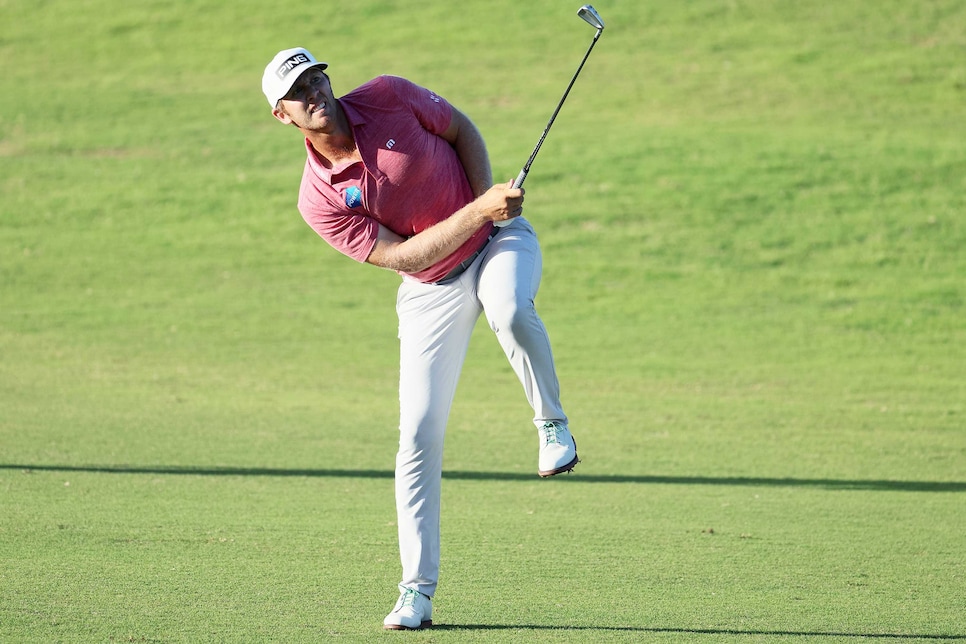 Treading water doesn't really get you anywhere, but that doesn't mean it isn't an important endeavor. Ask Seamus Power, who managed to keep from sinking in the final round of the Butterfield Bermuda Championship just long enough to claim his second victory on the PGA Tour.
Taking advantage of the opening provided by playing partner Ben Griffin, who led with seven holes to play until gurgling to the finish, Power did just enough for a one-under 70 at Port Royal Golf Course to hang on for a one-stroke victory over Thomas Detry of Belgium. The Irishman, who came in as the highest-ranked player in the field at 48th in the Official World Golf Ranking, scraped it home in heavy winds to finish at 19-under 265 and walked off with a check for $1.17 million.
"I knew it was going to be hard coming in and it was. I mean, I made hard work of it in the end, but I'm delighted to get it done," said Power, 35, who now owns victories in consecutive years after winning the 2021 Barbasol Championship.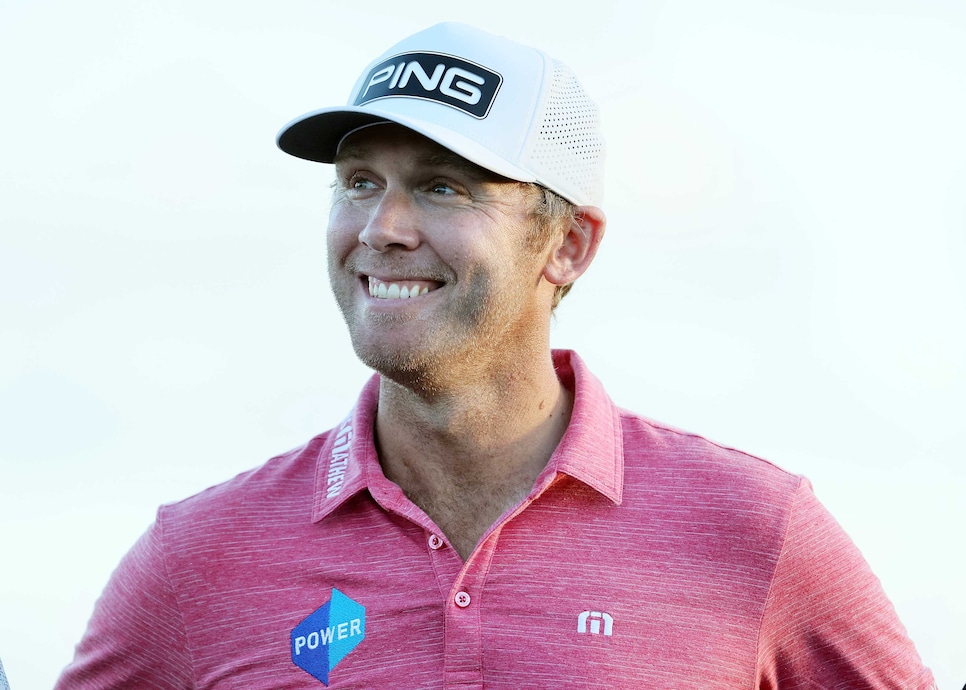 Seamus Power was the highest ranked player (48th) in the field at the Butterfield Bermuda Championship.
Andy Lyons
A win is a beautiful thing, but the manner in which Power got his in Southampton, Bermuda, was of the sausage-making variety—not exactly a process you want to watch even if the end result is tasty. The elements contributed greatly to the equation, mostly in the form of subtraction as the incessant breeze wreaked havoc on the leaders coming in.
Power bogeyed four of his last six holes, including the 18th, but he mixed in two key birdies. He holed a 25-footer at the par-4 14th hole, which gave him the outright lead for the first time all day, and then he got up and down from behind the green at the par-5 17th to put him two strokes ahead of Detry, who holed out from the right greenside bunker at 18 for birdie to shoot 67 and post 266.
For much of the afternoon, the tournament looked to belong to Griffin, the rookie from North Carolina who 18 months ago was working as a loan officer for a mortgage company because the financials of playing professional golf weren't adding up at the time. But he found his way back into the game, graduated from the Korn Ferry Tour in September, and got himself in a tie for the lead with Power after 54 holes (with a record score of 18-under 195) in just his eighth career start.
Griffin, 26, birdied four of his first six holes for an early two-stroke lead, got caught at the turn, and then forged two ahead of Power again with birdies at 10 and 11. But Port Royal picks up in difficulty starting at the 12th with holes more exposed to the wind along the coast.
Short misses for par at the next two holes initiated a brutal slide down the leaderboard for Griffin in which he gave back six shots in five holes. He still managed a one-over 72 and tied for third at 17-under 267 with another rookie Kevin Yu, who had a 70, and Patrick Rodgers, whose 65 was low round of the day.
"Not how I wanted to finish, but it was playing tough out there," Griffin said. "Those are some of the toughest holes coming down the stretch, especially trying to win a PGA Tour event. I tried my best. I had a couple shots get loose in the wind. and you've got to be a little bit better, more precise when it gets windy like that or else you can kind of grind for pars and bogeys quick. That happened to me."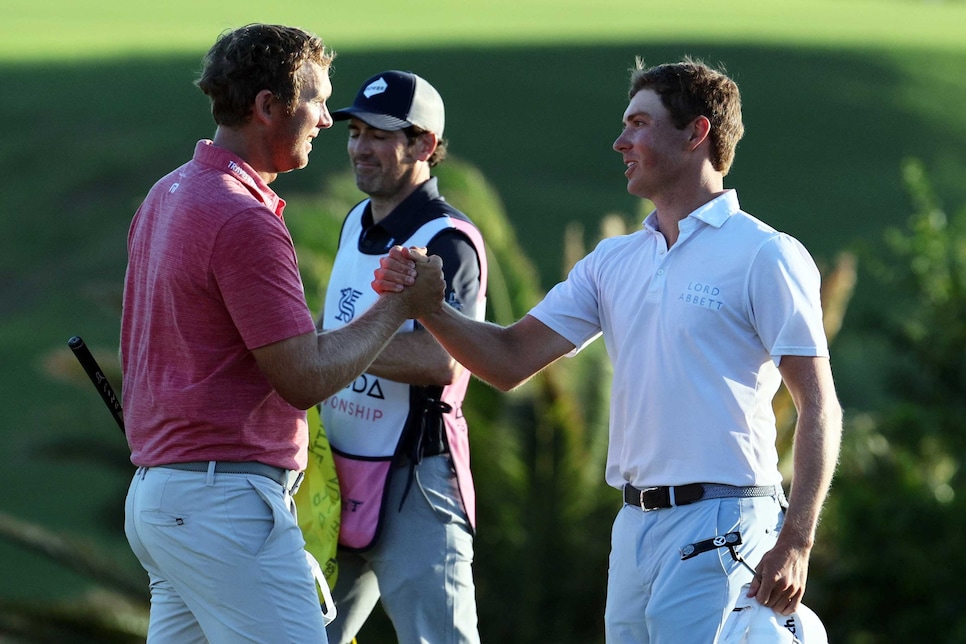 Ben Griffin (right) congratulates Power on the victory. Griffin quit pro golf in 2020 after suffering burnout but jumped back into the game in 2021.
Andy Lyons
Power, one of four players who have made the cut in all four editions of this event, certainly earned the victory, converting a tournament-record 28 birdies thanks to strong approach play and putting, stats in which he ranked in the top-10 in the field. Making his 138th tour start, his experience also came to bear on the proceedings.
"Yeah, I just kept reminding myself I know this course well enough. I wasn't making many mistakes, and I was very confident," Power said. "He [Griffin] birdied 10 and 11 to get two ahead again, and I had a couple chances there that I just missed. But again, I just kept reminding myself if I could just stay in there. I knew that that stretch, there's very few people not going to drop shots there. I knew if I had a chance standing on 12 tee, I thought a little bit more experience having been there before, having played this tournament a few times before, I thought it would stand to me and it just about did in the end."
The victory will move Power to No. 32 in the world and extended his exempt status on tour through 2024. Oddly, Power, who grew up playing competitively against fellow Irish golfers Rory McIlroy and Shane Lowry, claims that if he hadn't made it in professional golf he would have become an accountant. So, in the end, the would-be accountant beat the one-time mortgage lender.
In the final, ahem, accounting, Power was most happy with the job security as a golfer.
"You know, the thing when you don't have the exemption is like every year is year-to-year and it's tough going. So an extra couple years is fantastic. To be able to focus on just practicing and improving and just playing my own game and not really worrying about all that stuff," he said.
"I noticed that last season having the winner's exemption for '21-'22, I was really able to play much more freely like when you're up near the lead, and I think that's a nice thing to be able to do. That's also a goal to be doing anyway, but sometimes it's a little harder than normal. So it's going to be great. It gets a lot of bonuses. It opens doors as you get higher in the World Rankings, all those kind of things are just all positives."