Payday in Bermuda
Here's the prize money payout for each golfer at the 2022 Butterfield Bermuda Championship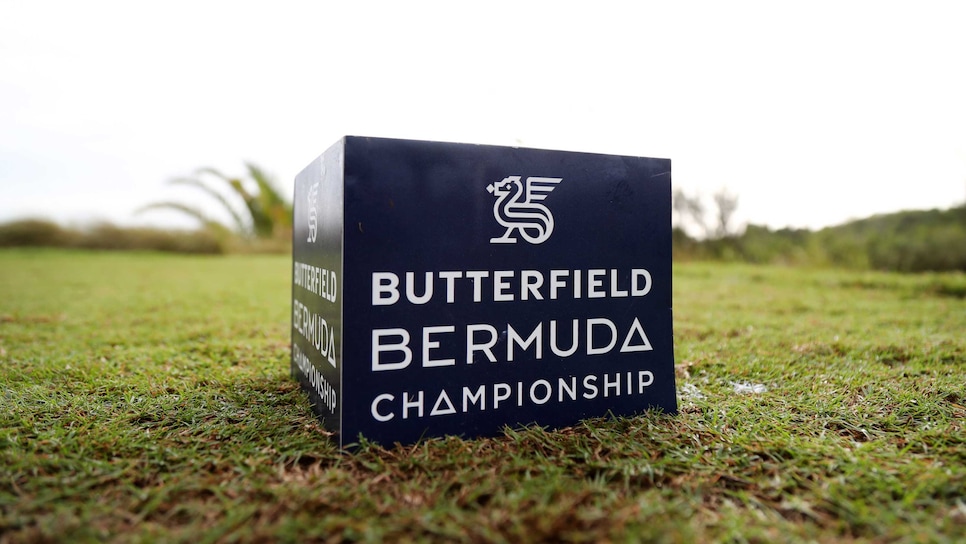 The term "career-changing win" can be overused by golf writers trying to contextualize the importance of a victory—or the potential of one—for any given player. The thing is, all wins, particularly on the PGA Tour, are inherently career changing, just to varying degrees.
Of course, had 54-hole co-leader Ben Griffin hung on and won the Butterfield Bermuda Championship on Sunday, the term would have definitely applied. The 26-year-old rookie from North Carolina was making just his eighth career start in a PGA Tour event after quitting the game for a period of time in 2020. First place prize money at Port Royal Golf Club was $1.17 million, which would be nearly triple the $447,545 Griffin earned on tour previously in his young career.
And that career-changing win looked like it was coming when Griffin led by two shots on the back nine on Sunday. But wicked winds and the pressure of the moment made it difficult for him to hang on; four bogeys and a double on his final seven holes dropped Griffin into an eventual tie for third place.
Enter Seamus Power, who shared the lead with Griffin at the start of the day. The 35-year-old Irishman already had a PGA Tour win to his credit (2021 Barbasol Championship) and the distinction of being the highest ranked player in the field (48th). But while he had made $7 million already in his career, and played in all four majors in 2022 (best finish: T-9 at the U.S. Open), a win would be not just meaningful, but career-changing in a sense, too. And it was after he finished off a one-under 70 to take the title with a 19-under 265 total, one shot clear of runner-up Thomas Detry.
"I knew it was going to be hard coming in, and it was," said Power, who made four bogeys on his final six holes but offset them with two birdies. "I made hard work of it coming in the end. Delighted to get done."
Asked about the difference between win No. 1 and win No. 2, and Power didn't mince words: "Completely different feeling but just as special. It's so hard."
Win: Seamus Power, 265/-19, $1,170,000
2: Thomas Detry, 266/-18, $708,500
T-3: Ben Griffin, 267/-17, $344,500
T-3: Patrick Rodgers, 267/-17, $344,500
T-3: Kevin Yu, 267/-17, $344,500
T-6: Aaron Baddeley, 268/-16, $227,500
T-6: Denny McCarthy, 268/-16, $227,500
T-8: Justin Lower, 269/-15, $196,625
T-8: Max McGreevy, 269/-15, $196,625
10: Harrison Endycott, 270/-14, $177,125
T-11: Brian Gay, 271/-13, $134,875
T-11: David Lingmerth, 271/-13, $134,875
T-11: Sean O'Hair, 271/-13, $134,875
T-11: Greyson Sigg, 271/-13, $134,875
T-11: Alex Smalley, 271/-13, $134,875
T-11: Nick Watney, 271/-13, $134,875
T-17: Byeong Hun An, 272/-12, $89,375
T-17: Akshay Bhatia, 272/-12, $89,375
T-17: Zecheng Dou, 272/-12, $89,375
T-17: Fabián Gómez, 272/-12, $89,375
T-17: Chesson Hadley, 272/-12, $89,375
T-17: Andrew Novak, 272/-12, $89,375
T-23: Nico Echavarria, 273/-11, $56,550
T-23: Nick Hardy, 273/-11, $56,550
T-23: Robby Shelton, 273/-11, $56,550
T-23: Austin Smotherman, 273/-11, $56,550
T-23: Nick Taylor, 273/-11, $56,550
T-23: Richy Werenski, 273/-11, $56,550
T-29: MJ Daffue, 274/-10, $41,654.17
T-29: Garrick Higgo, 274/-10, $41,654.17
T-29: Adam Schenk, 274/-10, $41,654.17
T-29: Robert Streb, 274/-10, $41,654.17
T-29: Scott Harrington, 274/-10, $41,654.16
T-29: Charley Hoffman, 274/-10, $41,654.16
T-35: Jonathan Byrd, 275/-9, $29,683.34
T-35: Nate Lashley, 275/-9, $29,683.34
T-35: Seung-Yul Noh, 275/-9, $29,683.34
T-35: Will Gordon, 275/-9, $29,683.33
T-35: Brent Grant, 275/-9, $29,683.33
T-35: Cameron Percy, 275/-9, $29,683.33
T-35: Erik van Rooyen, 275/-9, $29,683.33
T-35: John VanDerLaan, 275/-9, $29,683.33
T-35: Brandon Wu, 275/-9, $29,683.33
T-44: Tyson Alexander, 276/-8, $20,527
T-44: Austin Cook, 276/-8, $20,527
T-44: Tano Goya, 276/-8, $20,527
T-44: Adam Long, 276/-8, $20,527
T-44: C.T. Pan, 276/-8, $20,527
T-49: Arjun Atwal, 277/-7, $16,367
T-49: Ben Crane, 277/-7, $16,367
T-49: Russell Knox, 277/-7, $16,367
T-49: Ben Martin, 277/-7, $16,367
T-49: Dylan Wu, 277/-7, $16,367
T-54: Aaron Rai, 278/-6, $15,275
T-54: Brian Stuard, 278/-6, $15,275
T-54: Camilo Villegas, 278/-6, $15,275
T-57: Philip Knowles, 279/-5, $14,950
T-57: Ben Taylor, 279/-5, $14,950
T-59: Scott Gutschewski, 280/-4, $14,690
T-59: Trevor Werbylo, 280/-4, $14,690
61: Matti Schmid, 281/-3, $14,495
62: Scott Brown, 282/-2, $14,365
T-63: Lucas Glover, 283/-1, $14,170
T-63: Harry Hall, 283/-1, $14,170
T-65: Greg Chalmers, 285/+1, $13,975
T-65: Caleb Surratt, 285/+1 Amateur
67: Augusto Núñez, 286/+2, $13,845