Tour Life
This PGA Tour pro is in the hunt after overcoming the dumbest travel mistake a golfer could ever make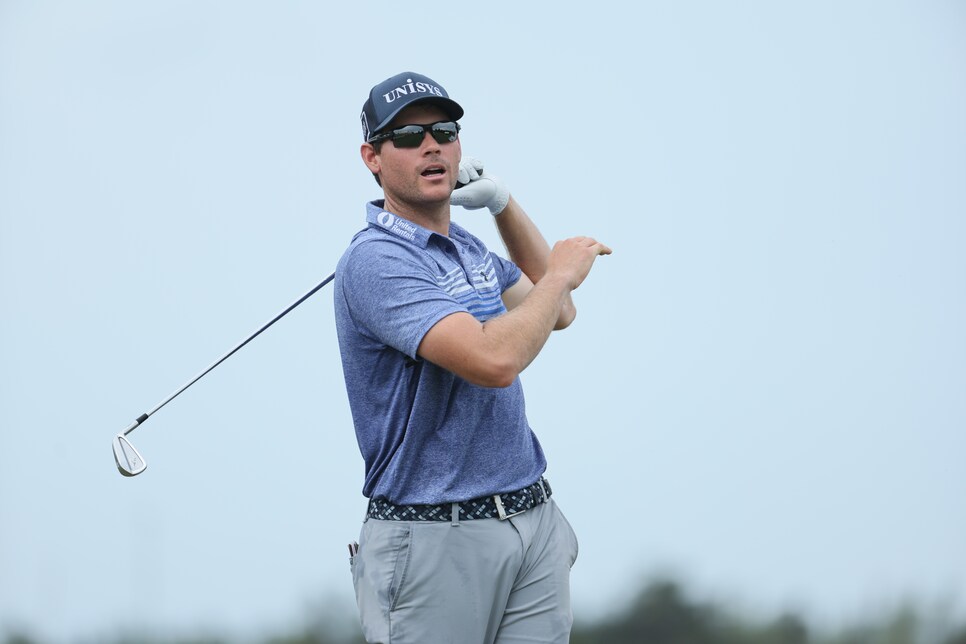 We've heard plenty of tour pro travel horror stories through the years with the airlines usually being the culprit. In this case, however, it was the golfer himself to blame. And we have his wife to thank for blowing up his spot.
Adam Schenk is near the top of the leaderboard after rounds of 63 and 66 to start the 2022 Butterfield Bermuda Championship, where he's currently one behind Ben Crane. But the 30-year-old is already the runaway winner for the dumbest mistake of the year on tour. Take it away, Kourtney Schenk!
"We packed our car 5:00 a.m. or so and we went inside to say goodbye to our dog, Bunker," Schenk said.
Wait, they have a dog named Bunker? That's too perfect for a golfer, let alone one with the last name Schenk. Sorry, Adam, go on . . .
"Walked right past the clubs that were packed in the garage. Showed up at the airport and opened the trunk and they weren't there. My wife and I looked at each other and like, well, I guess we've got to go back. And then we were looking for flights, which was a nightmare. Obviously it's tough to get here, not many flights in and out, but found a Jet Blue flight that got me here Wednesday and then one opened up, a direct flight from Boston on Tuesday, so we ended up booking that one."
Wow. Adam seems to want to share the blame with Kourtney there, but c'mon, man. They're YOUR clubs! For YOUR job! To Adam's credit, though, he gave a fantastic answer when asked a follow-up question about whether he'd ever done that before:
"No, nobody's ever done that before," he said. "I mean, it was bad. I guess maybe it happens to everybody, I don't think so, but it happened to me."
Yeah, Adam, that's bad. But on the bright side, it didn't ruin the trip and now he's in position to pick up his first PGA Tour title. If Adam does happen to win, we just hope he won't forget to bring the trophy home.
Wait, who are we kidding? We'd love to see that—and we'd love to hear about it from Kourtney.