Champions Tour
Padraig Harrington shot 62 in Phoenix, but the best thing he did all day was buy beers for the gallery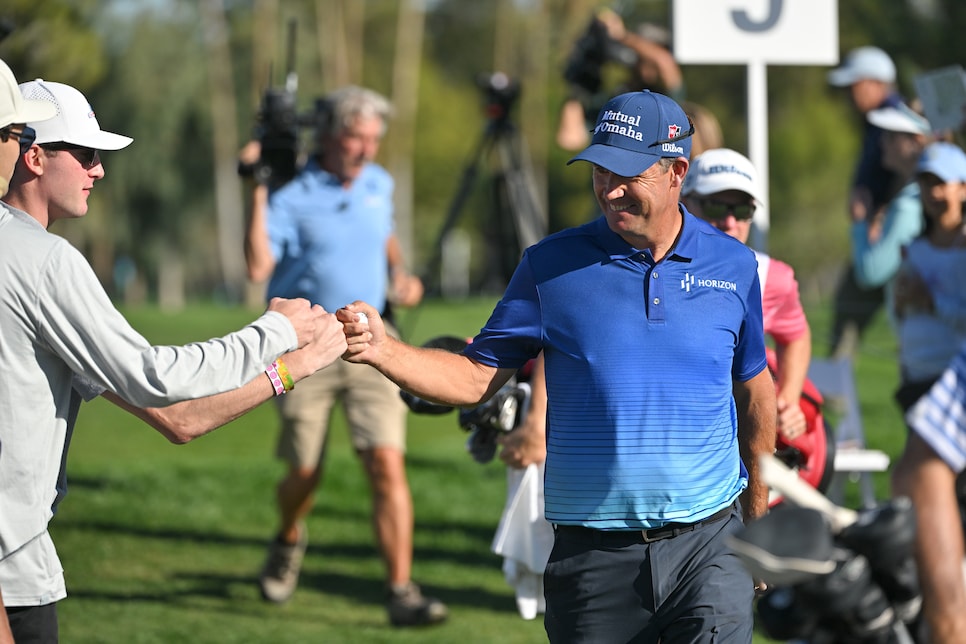 Padraig Harrington trades fist bumps with fans while walking to the 10th tee box during the third round of the PGA Tour Champions Charles Schwab Cup Championship.
Ben Jared
Anybody who has spent time around pro golf for the last 20 years knows Padraig Harrington is one of the best blokes out there. He's affable, thoughtful and always a little bit goofy—which makes for a combination that most people usually adore.
He's also had a very fine playing career, what with three major championship wins and 21 victories combined between the PGA Tour and European Tour. The 51-year-old Irishman has transitioned nicely to the PGA Tour Champions, where he already has three wins, and both Harrington's good nature and his fine skills were on display Saturday during the third round of the season-ending Charles Schwab Cup Championship.
Harrington shot a senior career best of nine-under-par 62 at Phoenix Country Club to take a five-shot lead over Steven Alker heading into the final round on Sunday, and, guaranteed, he made more friends along the way.
At the 16th hole, Harrington had a shot near a hospitality area, and as he set up to make the play, there were shadows from the fans above his ball. "They were moving," Harrington said. "They wouldn't know, so I needed them to move … which they'd been sitting there I assume all day waiting for this. I hope they were waiting for me all day."
Harrington politely asked if they could move and the fans obliged.
Then he did something you're not going to see very often in any sport, but a move you'd fully expect from a well-loved Irishman. As a thanks, Harrington walked over and handed one of the men what he says was $50 to buy beer.
"I gave it to one guy, but it was for everybody in the area," Harrington said. "I actually went in with 50, and I kind of says you can only get a few beers for 50, I better go back with more."
Harrington was in a very, very good mood at that point. He'd made four straight birdies from holes 11 through 14 and then finished with a birdie on 18 to shoot 30 on the back nine. He'd opened the round by making an eagle at No. 1.
"So, yeah, game has been good and if your game is good, good things like that come to you," Harrington said. "But I will say you've got to be very careful for what you want, because I did say at the start of the week I wanted a 72-hole tournament. I would be better off with a 54, wouldn't I?"
On the tour that normally plays Friday through Sunday, a season champion will be crowned at the end of play on Sunday, and though Harrington has a chance to lift the Charles Schwab Cup with a victory, he would need Alker to finish out of the top five. That isn't like to happen because the New Zealander who's had a magnificent year on tour would have to drop four shots to those who are most closely trailing him. Alker, who shot 68 on Saturday, stands at 16 under, followed by Brian Gay (15 under), Alex Cjeka (14 under) and Retief Goosen (13 under).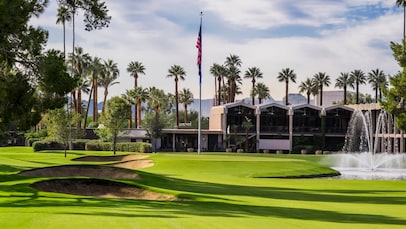 Phoenix Country Club is one of the best private courses in the Scottsdale area. Read our experts' course reviews here.
View Course
Harrington has three wins this season, including the U.S. Senior Open, while Alker has notched four wins and 17 top-10 finishes.
"Padraig kicked my ass today, that's basically what happened," Alker said.
Listen to our recent podcast with Padraig Harrington below: