'somebody hit somebody'
'We're not buddies': NHL star daggers Brooks Koepka after golfer's heckling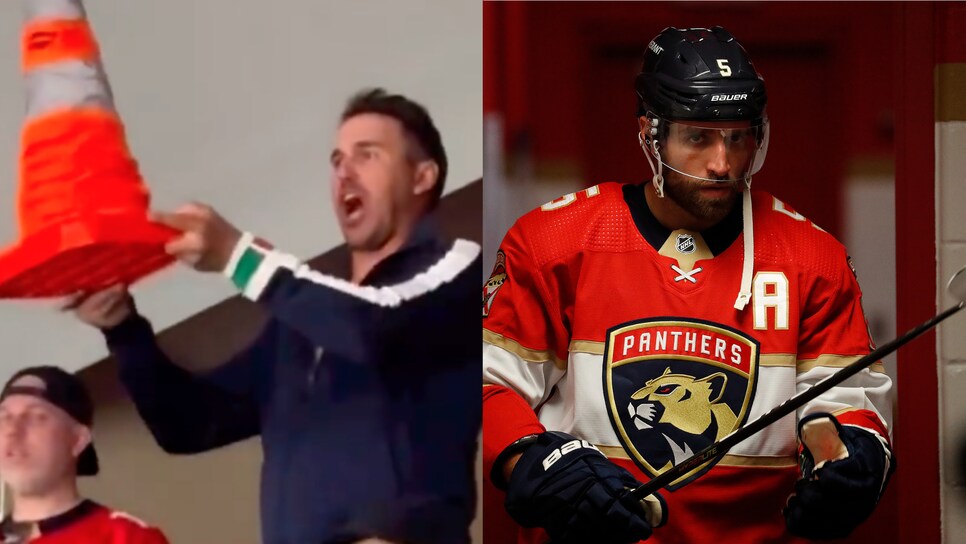 Maybe the harshest back-and-forth ever recorded is a sequence in Mad Men between Don Draper and Michael Ginsberg. Ginsberg says something to the extent of "I feel bad for you" and then Draper brutally retorts "I don't think about you at all."
The thing is that this is a fictional interaction, but now we have a real-life version thanks to LIV golfer Brooks Koepka and NHL defenseman Aaron Ekblad.
Perhaps you saw Koepka's taunting, jeers and prop-work—how could you miss it?—at a Florida Panthers game last weekend. Now the target of his expletive-laden rant has counterpunched in Draper-esque fashion.
There's nothing more brutal than indifference and apathy. Anger means you've won, or at least drawn out the opposition, but disinterest cuts deeper. Great reply from Ekblad. Bryson could learn a thing or two from him.
Of course, Koepka had some more to say after being questioned by a reporter as part of a press conference for LIV Golf Orlando, along with Patrick Reed and Bubba Watson. Here's the very entertaining Q&A.
Q: Brooks, sort of a viral clip from last week at the Panther game, I was just curious what's your beef with Aaron Ekblad, and did you bring the cone from home?
Brooks: I did not bring the cone. He gave up a bad goal. It was a bad pass in the third. I'm a die-hard P's fan, and he gave up a bad goal.
Bubba: What sport is this?
Bubba: What is that cone he's talking about?
Brooks: There was a cone. There was a cone that was just outside, so I —
Bubba: Were you hydrated that night?
Bubba: Now we're getting to it.
Brooks: Absolutely. Listen, I'm a die-hard fan.
Bubba: Is your shirt on or off?
Bubba: I ain't gonna look at it then.
Brooks: But I'm a die-hard fan, man. When they do something good, I'm the first one to cheer them, I'll text these guys.
Bubba: Did you not text him?
Brooks: I didn't text him, no. I did not.
Finally, some compelling LIV content. Not everybody knows the Aces but everybody knows to pay attention when there's some inter-sport drama.