News
Masters 2020: Cameron Smith makes Augusta history and still doesn't get a green jacket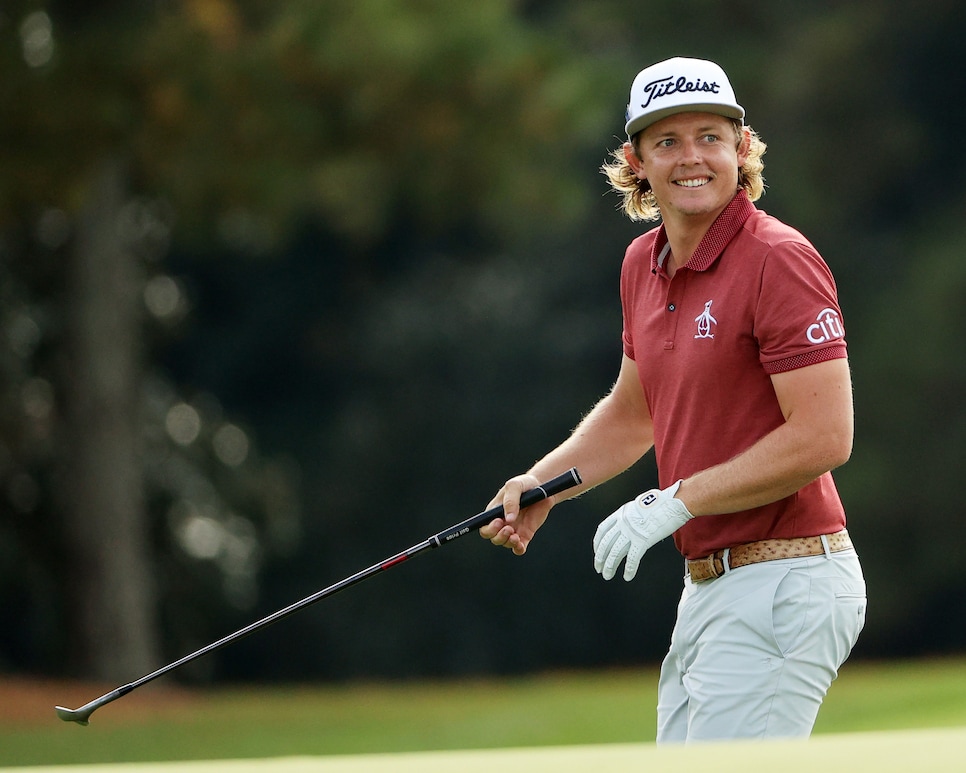 Cameron Smith reacts to his shot on the 18th hole during the final round of the Masters.
Patrick Smith
Cameron Smith made history on Sunday at the Masters, becoming the first player in the 84 editions of the tournament to shoot four rounds in the 60s at Augusta National.
"That's pretty cool," he said, a smile coming across his face when he was told that no one—from Ben Hogan to Sam Snead to Jack Nicklaus to Tiger Woods—had accomplished the feat.
Unlike that foursome of past Masters champions, though, it wasn't enough to capture the green jacket. Not even close.
Dustin Johnson put on an historic performance of his own, shooting a final-round four-under 68 to finish the week at 268, breaking the Masters' 72-hole scoring record by two strokes. His four bogeys over four rounds were also the fewest by a champion in the event's history and his 20-under score matched the lowest total relative to par in major championship history, tying Jason Day at the 2015 PGA Championship and Henrik Stenson at the 2016 Open Championship
Smith's total, meanwhile, would have won all but seven Masters tournaments. Instead, he tied for second and finished five strokes back.
"I honestly can't believe it," said Smith, who shot 67-68-69-69 and had no idea he'd put his name into the record book until being told after the round. "Just got to put it down to just scrambling and digging deep. There were a few times throughout week where I could have let it slip away, and it didn't."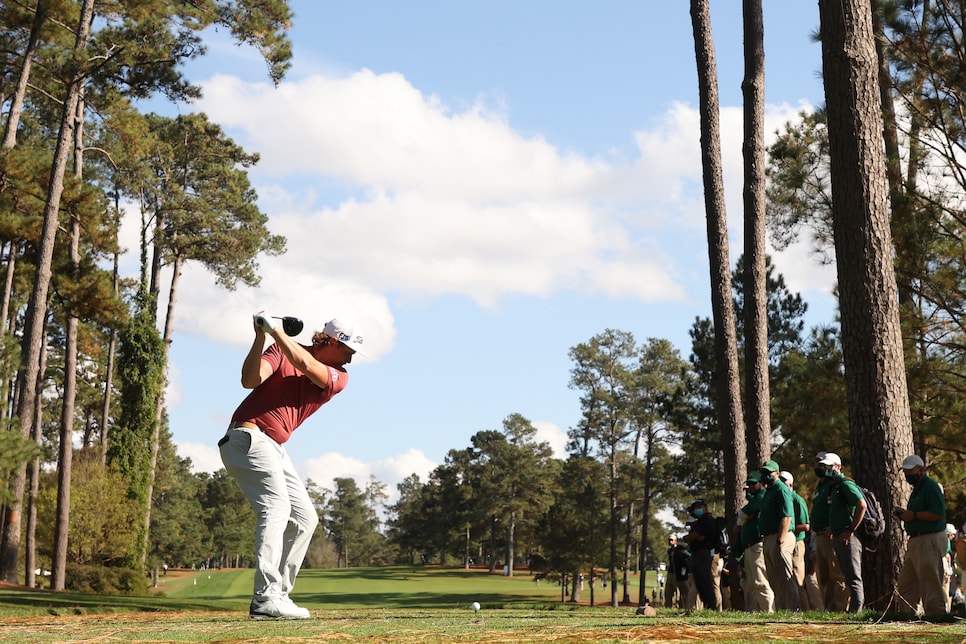 Cameron Smith hits his tee shot on the 17th tee in the final round of the Masters.
Jamie Squire
While the outcome was all but decided coming down the stretch, early on Smith did his part to at least provide some drama, knocking a wedge to six feet to set up a birdie on the par-5 second and then sticking his approach on the par-4 third for another birdie to cut Johnson's lead to just two.
Then on the par-4 seventh, the Aussie shoved his tee shot right and into the trees. But he made a spectacular recovery, launching his next shot over the trees, the ball settling 10 feet from the flag.
Two holes later, another teriffic recovery shot. Standing on the slippery pine straw right of the ninth fairway, Smith smacked his approach onto the bank just left of the green, squatted down and watched as the ball curled back onto the putting surface and next to the hole.
"I knew I had to keep the pressure on Dustin and wasn't here to finish second, basically," he said. "There was a small gap up [on 7]. The club was pretty good. Just had to hit it really hard and good, and it turned out well."
On the 15th, with Johnson well on his way to victory, it looked like Smith might lose a shot at history, too, after overcooking his second on the par 5 and landing left of the pond, a spot that at any other modern day Masters would have clanged off a grandstand. But Smith's short game saved him again and he got up and down for one last birdie.
With a final scrambling par on the 18th, Smith had done what so many before him hadn't.
Since the first Masters in 1934, more than 6,600 players have pegged it up in the tournament, with more than 4,200 playing all four rounds. Forty-one times, a player has recorded three rounds in the 60s. Among them: three-time Masters champion Phil Mickelson, who did it on four occasions, as well as 2018 winner Patrick Reed, who shot 69-66-67 before closing with a 71.
Comparatively, a player shooting all four rounds in the 60s in golf's three other majors has happened 50 times, and there's not another event on the PGA Tour schedule where it hasn't happened.
As for Smith, the week still couldn't help but feel a little bittersweet.
"It would have been cool to do that and win," said the Aussie, who tied for fifth at Augusta in 2018. "I'd take 15 under around here the rest of my career and I might win a couple.
"It's a massive confidence boost. Shame I'm not going to play a tournament for a couple months.

Not to worry, the next Masters is just five months away.