The Loop
Masters 2023: Overheard in the gallery at Augusta National on Thursday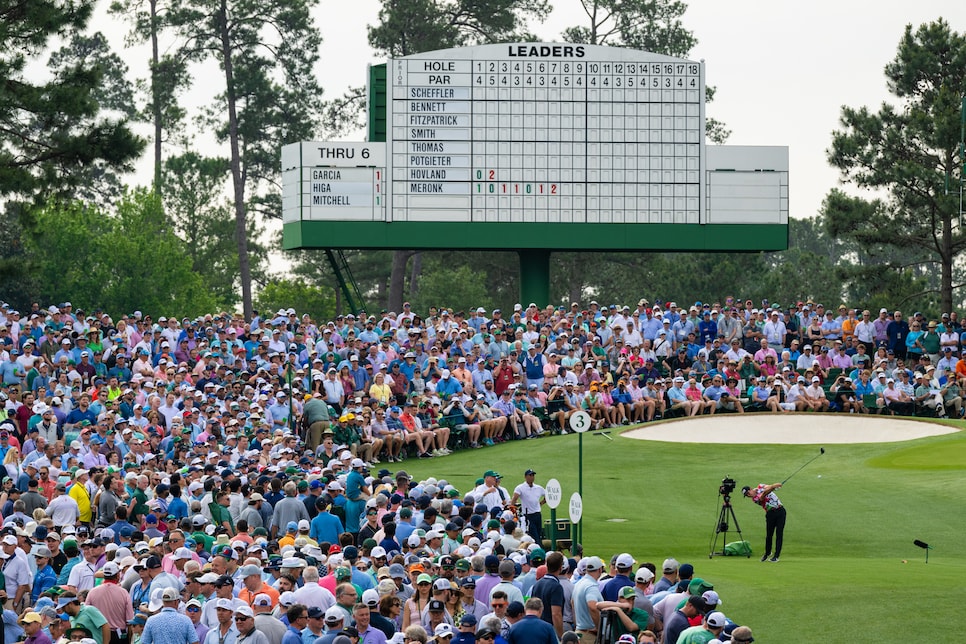 AUGUSTA, Ga. -- For those lucky enough to walk the grounds at Augusta National, you are treated to many things. First, of course, it's the golf, and the course is such a treat to experience. But right behind that might be the opportunity to walk around and mingle with some of the most knowledgeable and colorful patrons in sports.
If you care to listen, you will hear so many intriguing things as you walk through the pines of this former Georgia nursery. A convergence of cultures with folks traveling from around the world delivers eavesdropping opportunities like no other—which we've been documenting for more than 10 years down at Augusta.
This hot and sticky Thursday afternoon at this Masters did not disappoint.
Patron to his friend: "She saw my bank statement already. That damn $500-some charge ain't sitting well back home."
Friend: "Mmmm. What did you say?"
Patron: "Thankfully it was multiple charges, so I said, 'Oh it might just be fraud.' … Dude you gotta have my back."
Friend: "I'm not sure I really have a choice."
*Watching Bubba Watson's caddie studying the break of his putt on 14.*
"That's Ted Scott, right?"
A patron in front of them overhead and turned around: "Ted Scott's on Scottie Scheffler's bag now."
Friend: "Ah, that's right. Well, Bob was in a coma last year."
The patron in front: "Oh my gosh, really?"

"Nope, we're just messing."
"I like your shoes. What are they G-Force?"
"Nah, FootJoy. They're pretty popular."
Female patron picks up a pine cone: "How cool?"

Her partner scurries to the other side of the tree and picks up another: "But this one's cuter."

The female: "But mine's bigger. We're taking mine."
Patron: "Yeah, his dad was in the interior ministry for Kuwait, like the country."
"Is it really nerdy that I practiced my golf clap before we got here?"
Friend: "There's no way you actually did that."
Other friend: "No, he did. [His wife] sent me the video."
First friend: "What's wrong with you?"
A patron seeing Phil Mickelson's name on the board: "Ohhh Mickelson's playing? I thought he wasn't allowed."
A man walking alone to a group of people, pointing to the 12th hole: "Hey, is that a par 3?"
Patron points to Keegan: "There's Max Homa."
Man walking into the entrance gate: "Oh my gosh, that's the line to get merchandise? Do we have to wait on that? Well, I guess we have no choice, I'm not leaving empty-handed."
A couple walking past, hushed under their breath: "Oh bless their hearts. Did they not read a thing about this place before they came?"
Older gentleman holding at least a half dozen plastic beer cups, seemingly looking up for the first time in hours: "My god, there are a lot of people here. Jeeeezus."
Patron on 16 waiting for Tiger to tee off: "We came all this way to watch a sliver of Tiger through a bunch of tree branches."
Tiger then hits his tee shot to 6 feet and buries the putt.
His friend, shaking his other friend: "Wasn't that worth it!!!"
The patron: "I take back everything I just said."