WHAT ARE THOSE?!
Masters 2023: Former Masters champ tees off at Augusta National in ... sneakers (!)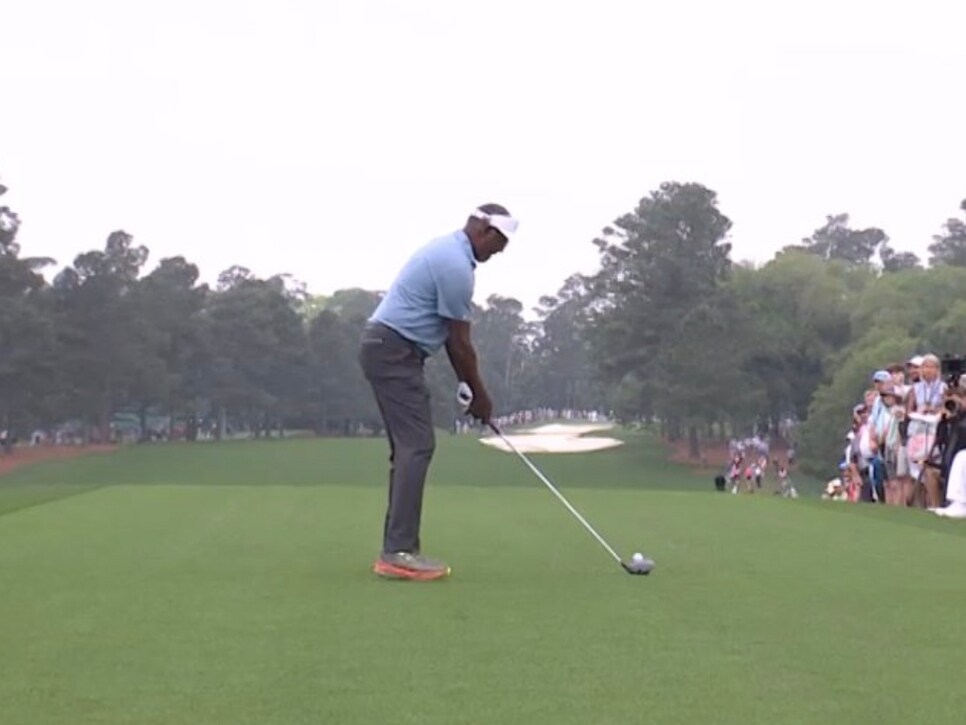 Times are a-changin' at the Masters. AI commentary. A video-game tournament in the media center. Dude Perfect raiding Amen Corner. It's clear the folks at Augusta National are set on keeping up with the times, and Vijay Singh is doing his part to help them out.
Teeing off in the second group of the day on Thursday, the 2000 Masters champion was wearing … sneakers. No, not golf shoes designed to look casual and sporty. Full on, without a doubt, sneakers.
Still skeptical? Last December at the PNC Championship, Singh was asked by a reporter about his interesting shoe choice.
Q. I had the pleasure of playing with you in the Pro-Am, a great time but I was blown away by your shoe choice. Can you run us through what you're wearing? Is it a golf shoe?
Singh: "This is HOKA trail shoes. I have a problem with had I foot and I cannot really play with anything else that hurts."
Singh: "Running shoes, yeah."
Singh: "No slippage, and it feels good. It hurts but it feels better than if I wore golf shoes."
We have to hand it to the three-time major champ for being honest. And hey, we can't argue with the performance—Vijay and son Qass took the title that week at the parent-child championship. That, however, was at a resort course in Orlando. A Ritz-Carlton, we concede, but this is Augusta National, where business casual might just be a little too casual.
Forget about style, Singh claims "no slippage" in the running shoes, but what about at Augusta, where, yes, the slopes and elevation changes are bigger in person than on TV? Throw in some rain expected in the forecast, and the former World No. 1 is really testing those … spikes? Those sneaks have their work cut out for them this week. This could very well be a developing story.
For what it's worth, Singh found the center of the fairway off the first, knocked it to 20 feet and three-putted for bogey. Consolation: No slippage.