Tech News
How the Masters app is getting even better for 2023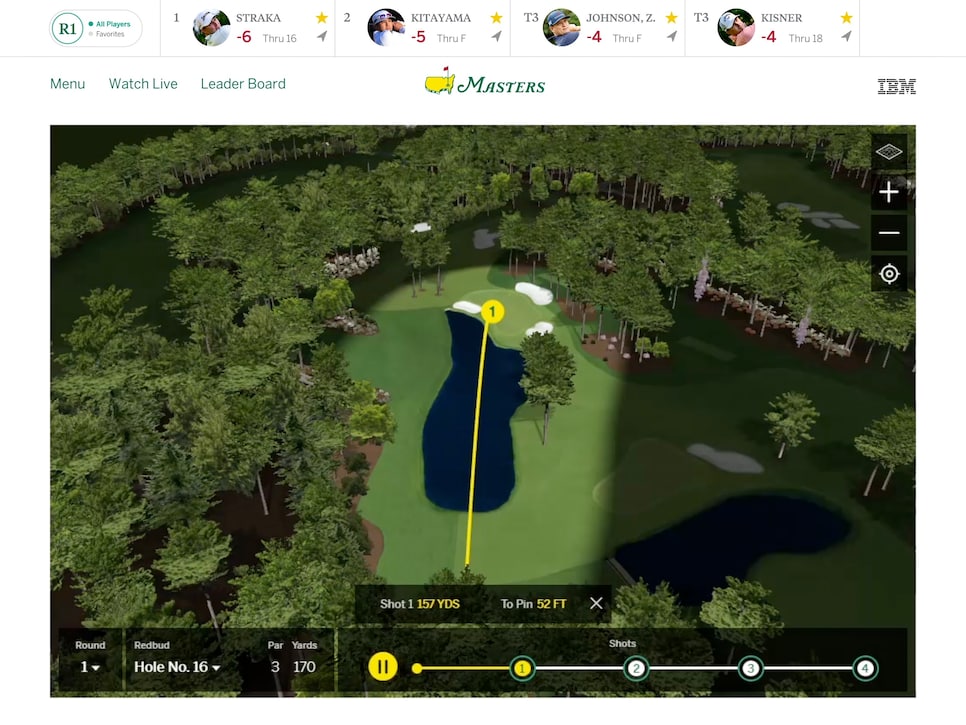 AUGUSTA, Ga. — The Masters app was already hands-down the best app in golf—perhaps in all of professional sports. Yet, somehow, IBM and Augusta National have improved it for 2023, having gotten a first-hand tour of the new technology on Tuesday.
The biggest enhancement this year is the addition of AI commentary to accompany the various Masters video feeds. To do this, the IBM and the Masters is incorporating a language model (similar to ChatGBT), which has been taught to know golf—using terms like "greenside bunker" instead of "sand trap" and "patrons" over "fans," and it will deliver an announcer-quality broadcast for any video feed you choose to watch through the app—including the "Every shot, Every hole" customizable experience that launched in 2019). For those who wish to just listen to the ambient noises and crowd reactions, you can mute the commentary.
The American Henry accent was the one chosen to be used as part of the "My Group" feature in the Masters app, and the IBM Watson-powered language model will curate your broadcast—even varying up sentence structure and factoids based upon what they've already said in past sentences—to try to entertain and bring viewers into the action just like a human announcer would.
"It's an AI engine that understands golf, but understands golf at the Masters and delivers a curated broadcast for you," said Shannon Miller, Partner, IBM Consulting, Sports and Entertainment Lead.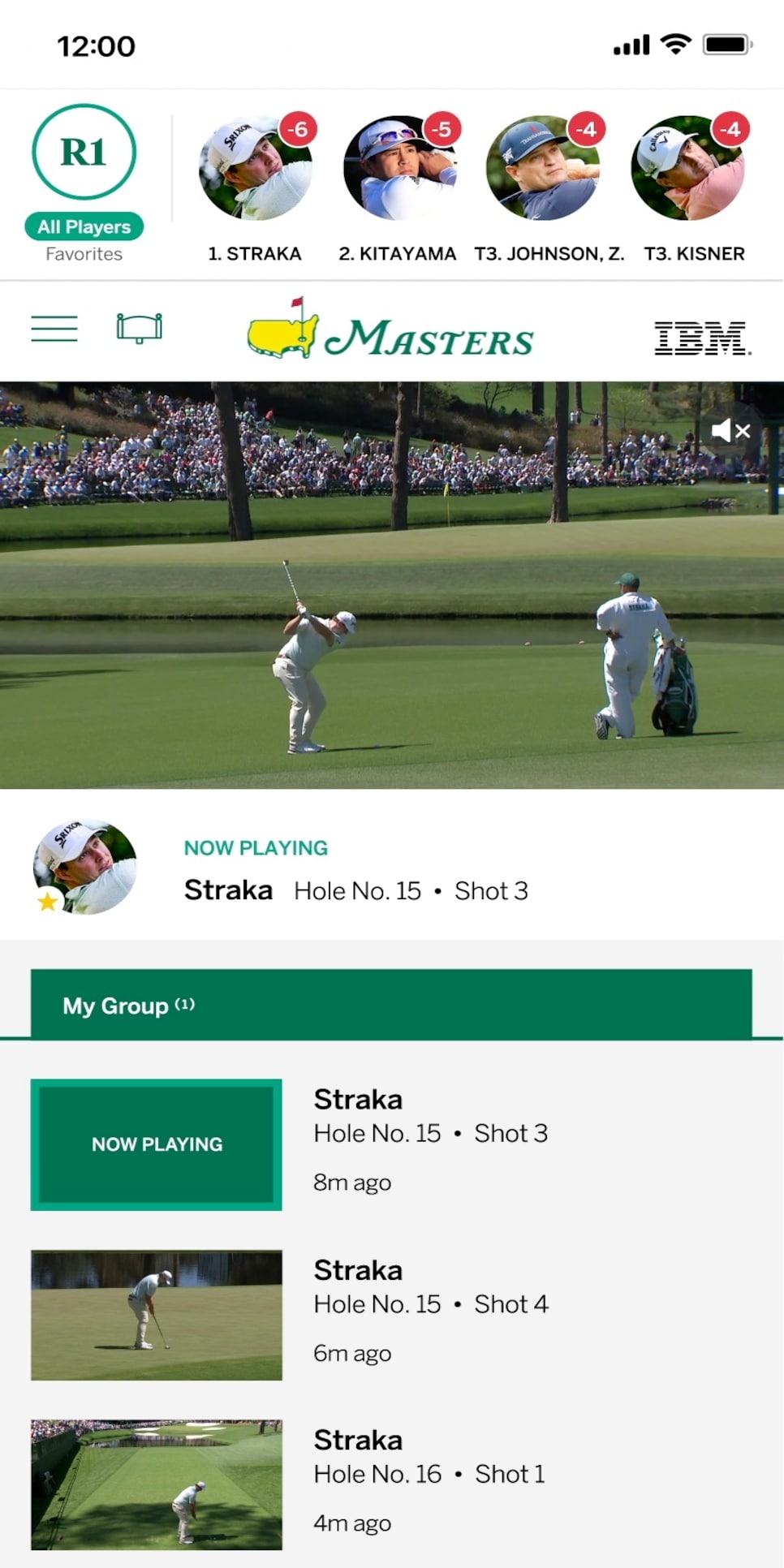 The automated highlight-reel worthy video edits in real time also are impressive given the depth of shots happening on the course at one time. Using data points such as "Player Gestures" or "Crowd Roars," aka if a player fist-pumps or waves to the crowd, and also leveraging partner microphones to assign a rating to the level of patrons' applause and response, the IBM Watson allows AI highlights to be auto-published after 30 seconds of the video coming into the Masters content hub.
Perhaps most exciting for those playing in Masters pools and dipping into fantasy or betting are enhancements to the Masters app's predictive insights tools delivered under its Fantasy section—where IBM's consulting team trained its AI modeling to project the hole-by-hole results for every player based on predictive intelligence and historical statistics. For instance, IBM's team predicts a higher than normal first-round scoring average of over 75, and it says eight players have the best chance of sharing the first-round lead (shooting a 70)—Rory McIlroy, Cameron Smith, Xander Schauffele, Justin Thomas, Kurt Kitayama, Hideki Matsuyama, Jordan Spieth and Sepp Straka. How could it possibly do that? When asked whether it's based on weather, historical results and swing data or other factors, Miller simply answered: yes. The only thing missing is first-round pin positions ahead of when the public finds out, which IBM is in the dark about like us.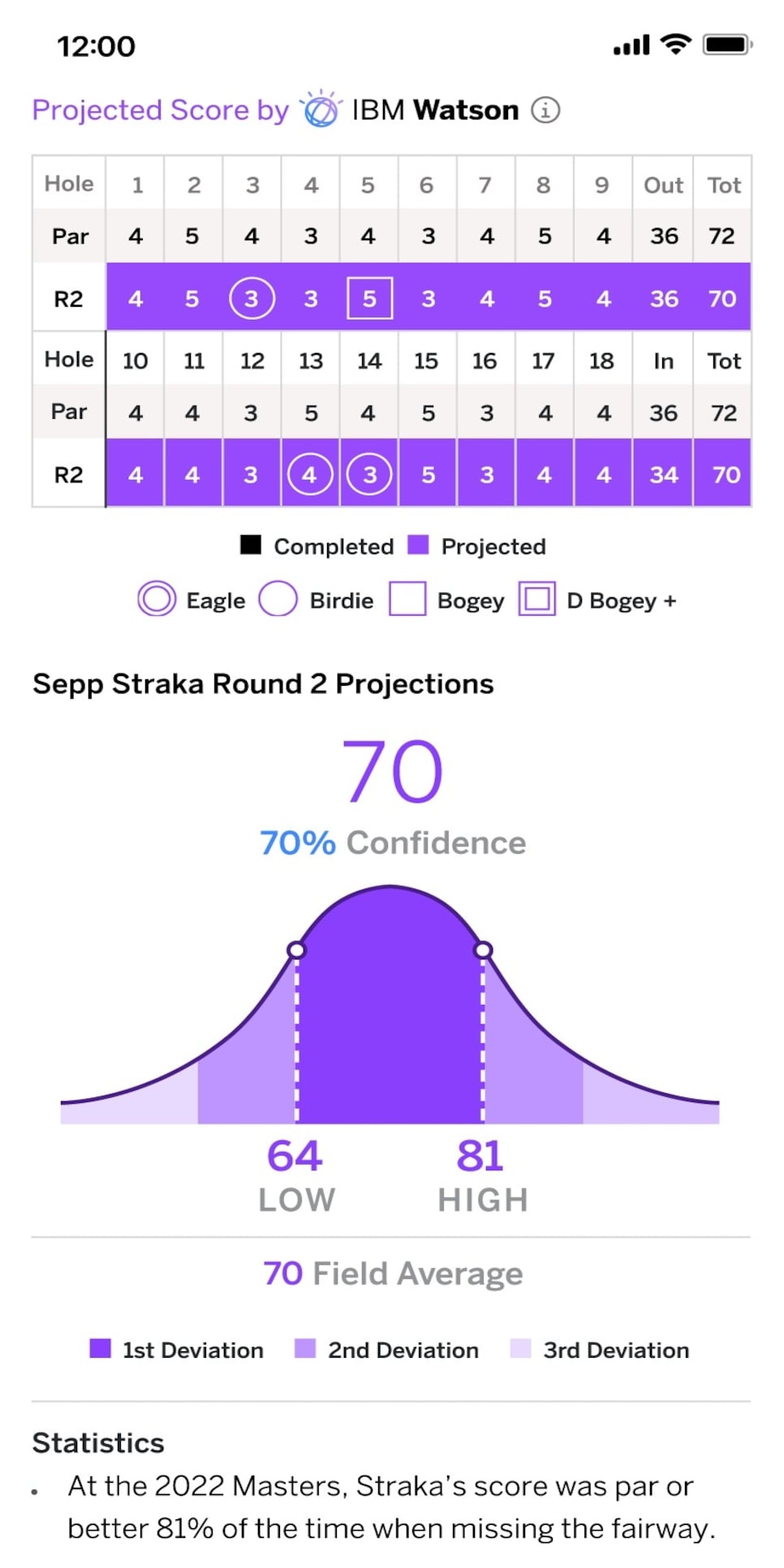 But IBM has been collecting more than 30 data points on every shot thanks to its partners over the past six years, which is nearly 20,000 shots per year, and has leveraged this to start offering predictive analytics on every hole—while also adjusting in the middle of a round based on things like momentum.
Last year, IBM Watson correctly predicted within two or three shots of a player's round score about 70 percent of the time, Miller said. It should be more accurate this year.
"We've been able to innovate at an incredible rate over the past six years," Miller said. "It's all just a massive data management tool at a really big scale."