Betting Advice
Masters 2023 picks: Our experts love this Jon Rahm bet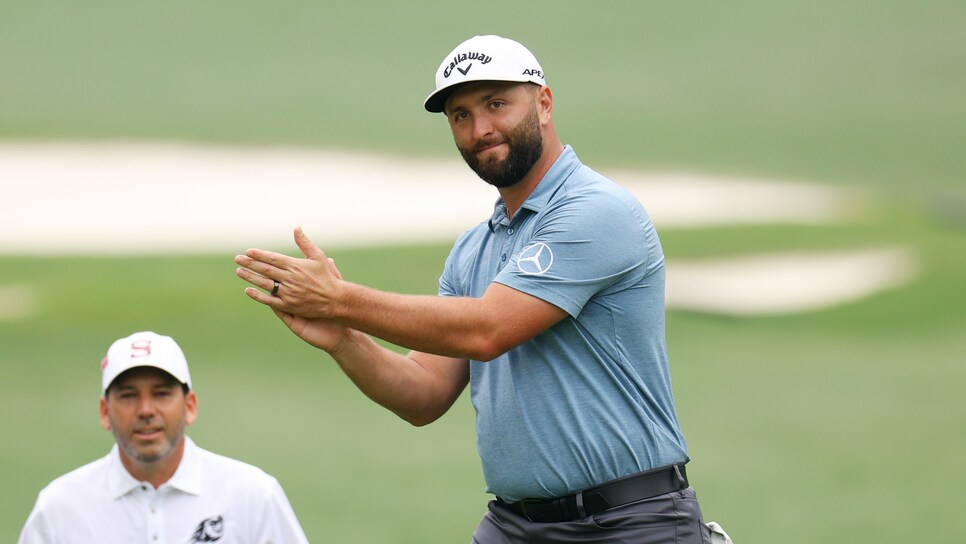 Photo By: Andrew Redington
Let us take you back to a month ago. Jon Rahm entered Bay Hill gaining more than 3.25 strokes per round … an absolutely staggering number, far and away the best in recent memory. Then he opened with a 65, and fans wanted to crown him Masters champ as his odds were 6-1.
Fast-forward a month, after Rahm's WD from The Players (with what we think was a stomach bug), now Rahm is the third favorite and seemingly being forgotten in the casual fans' love affairs with Rory McIlroy and Scottie Scheffler. Not so fast, two of our experts are saying. You're nearly getting double digits on who was the undisputed best golfer in the world just a few tournaments ago.
That's how our experts assess value in betting the field at this week's Masters. To help your best bets, we've assembled the best collection of experts in the industry—which consists of a caddie reporting from Augusta; Pat Mayo of DraftKings and FantasyNational.com; Brandon Gdula of numberFire/FanDuel; Rick Gehman of RickRunGood.com; Andy Lack of RRG and his Inside Golf Podcast; and your two authors. Scroll down to read our best bets for the 2023 Masters.
Scroll down to see who we like this week at the 2023 Masters.
The Masters picks 2023: Our Experts' Outright Predictions
Anonymous Caddie Picker of the week: Rory McIlroy (+750, DraftKings) — If there ever was a chance … many people really believe it could be the year. He's in top form and is prepping hard, plus a weather draw he could benefit from, and he was second last year. Dr. Bob Rotella and Brad Faxon are his new cornermen, plus the sharpest Harry Diamond on the bag. Plus a new driver and a new/old putter that was rumored to assist a 19-putt practice round. Rory has handled the "weight of expectations" well regarding LIV, and no doubt he learned from his St. Andrews defeat to Cam Smith. Could the win over Patrick Reed earlier this year factor in? It'll be the ultimate pressure cooker this week, but he has proven he can handle it.
Pat Mayo, DraftKings/Fantasy National, Mayo Media Network analyst: Viktor Hovland (40-1, DraftKings) — There are certain recent form barometers Masters winners meet every year (unless you're Hideki, the outlier). Be it, two top-15 finishes in three starts coming in, past Masters success, or cumulative strokes gained tee-to-green entering the event; Viktor qualifies for every trend. His issue hasn't been his play, it's been the play of Scheffler and Rahm drowning out performance. Is the chipping still bad? Yes. But the driving, irons, and putting have been so good, so consistently this year, that an outlier week chipping bringing him to field average may be enough.
Brandon Gdula, FanDuel/numberFire managing editor: Jon Rahm (+950, FanDuel) — The realistic list of winners for an event like this is pretty thin, and among the top three, it's Rahm who is listed with the longest odds of any of them. Rahm felt unfadeable just a few weeks ago and is now being treated as the clear-cut No. 3 behind Scheffler and Rory. I'll gladly take the extra bit of value on Rahm, who has four top 10s over the past five years at Augusta.
Rick Gehman, data scientist and RickRunGood.com founder: Scottie Scheffler (7-1, BetMGM) — Augusta National will require elite tee-to-green play en route to victory this week. There are two golfers who are head and shoulders above the field in that category. Over the past 100 rounds, Scottie Scheffler and Rory McIlroy are the only two golfers gaining 1.5 strokes per round from tee-to-tee, per the RickRunGood.com golf database. They are gaining 2.08 and 2.03 respectively putting a massive gap between them and the rest of the field. Scheffler hasn't finished outside the top 15 since October, and he possesses all the skills (both physical and mental) to win the Masters.
Stephen Hennessey, Golf Digest dep. managing editor: Cameron Smith (35-1, DraftKings) — I love Spieth and Finau this week, but I simply cannot pass up this number. This has drafted big-time—from 22-1 to start the week, and even 10- or 12-1 after his Open win (stayed that way until he went to LIV). The Aussie's creativity and shotmaking shine at Augusta—playing in the final group last year with Scheffler and finishing runner-up in 2020. I saw Cam playing his practice round today with Adam Scott and amateur Harrison Crowe, so I can confirm he's at least upright, which is reason enough to take this gamble.
Christopher Powers, Golf Digest staff writer: Xander Schauffele (25-1, DraftKings) — Outside of a flukey top-three finish at the AMEX, Xander Schauffele's year has just been … fine. But fine is good leading into the Masters! You don't want to peak in February. Schauffele's numbers are very solid and we know he has excellent history here. It's time.
Andy Lack, RickRunGood.com and Inside Golf podcast: Jon Rahm (+950, FanDuel) — Jon Rahm has been my pick to win this tournament since before the season started, and I see no reason to change my mind, as the fiery Spaniard has won five times since. Rahm rates out as the number one player in the field by numbers this week, inching out Scottie Scheffler and Rory McIlroy despite falling behind them on the odds board. The former U.S. Open winner remains the most well-rounded player in this field, and enters this tournament as the only player to rank top 30 in all four major strokes gained categories this year. Rahm is primed to pick up his second major this week at a golf course that feels as if it was built for him.
Past results: Since Christopher Powers hit on Chris Kirk at 30-1 to win the Honda Classic, the panel has yet to strike gold again. But with four outright hits on the season so far (Brandon Gdula on Scottie Scheffler at 13-1 to win the WMPO; Rick Gehman on Jon Rahm at +750 to win the Genesis; Stephen Hennessey and Gdula on Tony Finau at 16-1 to win the Houston Open) we're confident a fifth is coming soon. Let's make it this week at the Masters.
Masters picks 2023: Sleepers/Dark Horses Who Could Win
Caddie: Justin Rose (66-1, BetMGM) — There are striking similarities to Sergio Garcia's profile before his win in '17, per datagolf.com. Rosie got the monkey off his back at Pebble Beach and flashed form again at the Players (sixth). This is his first Masters featuring a great new partnership with experienced caddie Josh Cassell, who matches Rose's serious approach.
Mayo: Min Woo Lee (65-1, DraftKings) — Although he wilted in the final group with Scottie Scheffler and ended up T-6, it felt like a necessary step to true contention at a major. He's now been in the pressure cooker, failed, and can now build from that experience. Ditto with his Augusta play. The Aussie was low debutant (tied with Harry Higgs) a year ago, and while it's been a rollercoaster for Min WOOOOOOOO since heading over to the United States, the driver has been just as good stateside as it has been world wide. He's gained over four strokes on the field off the tee in two of three weighted U.S. starts, and sits top 10 on the season in per round driving distance gained. And if the weather doesn't want to play nice; Min Woo is one of the few who can thrive in those conditions.
Gdula: Viktor Hovland (37-1, FanDuel) — No, 37-1 isn't as long as a typical long shot, but this is historically a chalky week for winners. Hovland is one of the best ball-strikers in the field, and he's always a threat to finish as the field leader in SG/tee-to-green. Plus, he's putted well on these greens in his career.
Gehman: Danny Willett (210-1, FanDuel) — The 2016 champion is flying under the radar and playing tidy golf. He's made five consecutive cuts and is boasting a well-rounded game in the process. The highlights include a T-18 at Riviera and T-27 at The Players Championship. He'll look to improve on a 12th-place finish at the Masters from last year, and his game looks the best it has in quite some time.
Hennessey, Golf Digest: Patrick Reed (90-1, DraftKings) — I'm really buying into the chaos angle with Cam Smith and Patrick Reed. But these odds are giving me no choice. Reed is playing well—finishing fourth last week at LIV Orlando and now he enters a place he loves. The real reason I love this: Reed plays his best when he feels like he's the villain. With all the eyes on how LIV players will perform, it wouldn't surprise me if he's in the mix.
Powers, Golf Digest: Patrick Reed (90-1, DraftKings) — Steve's bang on above. You guys can all have Brooks. I'll take the guy who finished a few shots back of him in Orlando, has a green jacket, and didn't get his odds slashed in half after one good performance in a 54-hole tournament.
Lack: Justin Rose (66-1, BetMGM) — In terms of pure value, my numbers suggest that Justin Rose is one of the best wagers on the board. The recent AT&T Pebble Beach Pro-Am winner has one of the best records at Augusta out of any player in the field, with 11 top-25 finishes, five top-10s, and two runner-ups in 13 appearances at the Masters. Entering this week in strong ball-striking form, I would not be the least bit surprised if the Englishman found himself in the mix come Sunday afternoon at the Masters.
Masters picks 2023: Players We're Fading
Caddie: Cameron Young (28-1, Bet365) — Still love Young this year, and I like him to contend at Oak Hill, but a weather forecast that may call for him to chip and putt around the National even more, is less than desirable. While new caddie Paul Tesori will keep him in the game, a win, with so much quality at the top, seems longer than his odds.
Mayo: Patrick Cantlay (20-1, DraftKings) — The price is simply too steep. The stats point to a Cantlay breakthrough, but until he actually contends in a major, it's just too difficult to back him at these short odds.
Gdula: Dustin Johnson (25-1, FanDuel) — I may be off base here, but I'm okay bumping down the LIV Tour golfers in terms of outright expectations. A few of them like Niemann and Mito are nice for top-10 and top-20 markets, but DJ is overvalued at 25-1.
Gehman: Patrick Cantlay (20-1, DraftKings) — Cantlay has certainly been playing great golf in 2023, but Augusta National has some of the most consistent course history, which doesn't bode well for Cantlay. He's gained just 0.30 strokes per round in his six trips to the Masters, per the RickRunGood.com golf database. Those are easily the worst results of any top player in this field. Going even deeper, Cantlay's major results in general have lagged behind his peers, earning just three top-10s in 23 starts.
Hennessey, Golf Digest: Xander Schauffele (22-1, PointsBet) — People will see the run to the Elite Eight at the Match Play and say that he's rounding into form. I'll contend that his draw was very favorable. Outside of that, he hasn't had a finish better than T-19 since his T-10 in Phoenix. He'll get a green jacket eventually, but I think it's asking a lot for him to win this year.
Powers, Golf Digest: Scottie Scheffler (+650, DraftKings) — This feels extremely foolish, because Scottie seems like the stoic type to join the rare crew of Nicklaus, Woods and Faldo to go back-to-back at Augusta. I just can't bet on that type of history at +650.
Lack: Scottie Scheffler (+650, DraftKings) — I know I'm stepping in front of a freight train with this one but there's a reason why only three players (Jack Nicklaus, Nick Faldo, Tiger Woods) have gone back-to-back at the Masters. Scheffler already has far more on his plate this year than ever before, including more media commitments and hosting the Champions Dinner. Add in the fact that my numbers are still a bit higher on McIlroy and Rahm, and Scheffler finds himself on the outside looking in for me this week.
Masters picks 2023: Matchups
Caddie: Sungjae Im (-110) over Viktor Hovland (Barstool) — Though Hovland's record at the Masters isn't terrible, on paper it clearly wouldn't be the major where you'd expect to see him play to his potential. Early week reports of a newfound bump-and-run technique from Augusta's surrounds could get washed away on Saturday.
Mayo: Abraham Ancer (+100) over Talor Gooch (DraftKings) — I understand it's difficult to gauge form on the LIV players, but I'll take the over form of Ancer over the recent performance of Gooch. Ancer was limited a year at Augusta having missed the week previous with illness, but notched T-26 and T-13 results in his first two appearances. And in the only real, 72-hole event he's played in 2023, he beat a field of PGA, LIV, DP World, and Asian tour players at the Saudi International at the beginning of February.
Gdula: Keegan Bradley (-102) over Sahith Theegala (FanDuel) — Bradley holds a strokes-gained edge over the past year and the past six months, particularly with ball-striking. Though Bradley's history at Augusta isn't elite, Theegala is a debutant.
Gehman: Dustin Johnson (-125) over Brooks Koepka (Bet365) — Koepka will receive a boost from his victory at LIV last week, but let's be clear—Dustin Johnson is the better player, and he's been better at Augusta National. Over the past 50 rounds, Johnson is gaining 1.48 strokes per round to Koepka's +0.33. Since the start of 2016, with a minimum of 10 rounds, no one in this field has been better than Johnson at the Masters. There's certainly excitement around Koepka, but don't be blinded by the larger picture.
Hennessey, Golf Digest: Joaquin Niemann (-130) over Tom Kim (DraftKings) — If it gets blustery and wet, that'll hurt Tom Kim's chances given his lack of distance. Joaquin Niemann is significantly longer than him and won at Riviera—the biggest comp course to Augusta—just last year. I think it's worth laying the juice here.
Powers, Golf Digest: Tommy Fleetwood (+115) over Matt Fitzpatrick (DraftKings) — Far too much uncertainty with Fitzy right now for him to be a -140 favorite here. I'll take his fellow countryman Fleetwood, who has been cooking of late.
Lack: Shane Lowry (-120) over Min Woo Lee (DraftKings) — I actually think that Shane Lowry is an undervalued commodity this week and possesses a legitimate chance to contend, as he did last year at this event. He remains one of the best long-iron players in this field and has far more experience around the grounds at Augusta than Min Woo Lee. Especially when it comes to major championship form, I simply believe the 2019 Open Championship winner is in a different class than Lee, and this price is simply too cheap.
Matchup Results from the Valero Texas Open: Gehman: 1 for 1 (Ryder (-110) over Putnam); Lack: 1 for 1 (Kirk (-110) over Montgomery); Caddie: 1 for 1 (Hojgaard (-115) over Smalley); Mayo: 0 for 1; Gdula: 0 for 1; Hennessey: 0 for 1; Powers: 0 for 1
Matchup Results from this season (Wins-Losses-Pushes): Gehman: 14-6-2 (up 6.54 units); Hennessey: 13-9-0 (up 3.11 units); Lack: 7-5-0 (up 1.54 units); Caddie: 11-10-1 (up 0.66 units); Powers: 11-10-1 (up 0.37 units); Mayo: 8-13-0 (down 5.51 units); Gdula: 8-13-1 (down 6.06 units)
Masters picks 2023: Top 10s
Caddie: Sungjae Im (+330, Barstool Sportsbook) — Steady start to the year with great stats at various points and three top 10s so far. With top 10s in two of his first three Masters and possibly the most experienced caddie he's ever had on his bag at Augusta, Lance Bennett, there's a tremendous upside, especially since he's one of the best in the field in poor conditions. Maybe even parlay it with a Tony Finau top 5 (+450) and cash a nice return.
Mayo: Shane Lowry (+400, DraftKings) — Yes, the putter may be in shambles, but this is nothing new for the Irishman. If the weather truly gets as bad as it appears at the moment, he'll be in his glory in the soggy and cold conditions. He's improved his Masters finish each of the past three years and while he's putted himself out of some tournaments this year, he enters having gained more than 7.3 strokes on the field tee-to-green in three of his past four starts. All elevated events.
Gdula: Tony Finau (+200, FanDuel) — Top-10 Tony hasn't been inside the top 10 in five straight starts – but he's been top 25 in 10 straight on Tour. He's claimed three top 10s at Augusta in five starts. The iron play is phenomenal right now, and Finau's putter has trended up without a negative impact on the ball-striking.
Gehman: Justin Rose (+500, BetRivers) — The trendline for Rose is impressive, making tangible gains in 2023. He used to be reliant on his putter and short game, but that's not the case any longer. He's gained strokes on approach in six straight starts, which includes a win at Pebble Beach and a T-6 at The Players. Combine that with his elite tournament history—11 top-25 finishes in his 13 trips—and you've got someone who can make plenty of noise this week.
Hennessey, Golf Digest: Max Homa (+260, PointsBet) — Homa rates out so well for Augusta National with wins at Riviera and Quail Hollow in the past few years. He just lacks the great results at the Masters to count on him to win. That being said, I think he can definitely finish in the top 10 despite the Masters resume—he's a totally different golfer than even last year.
Powers, Golf Digest: Tony Finau (+200, FanDuel) — I was wavering on my outrights, X or Finau. Ultimately I'm betting both, but for this column I feel more confident about Xander to win and top-10 Tony to top 10. Like Schauffele, he's just been plugging along this season. Nothing fancy. Hopefully saving his best stuff for this week.
Lack: Tony Finau (+200, FanDuel) — While I'm more dubious on his chances to actually win the green jacket, I believe that Tony Finau is one of the safest bets to contend this week. Finau already boasts three top 10s in five appearances at Augusta, and while he has not been able to sustain his winning rate from last season, the World No. 13 has still yet to finish outside of the top 25 in eight starts this season. Expect Finau to continue his strong play at Augusta and find himself on the first page of the leaderboard by week's end.
Top-10 results from the Valero Texas Open: Caddie: 1 for 1 (Corey Conners +260); Everybody else: 0 for 1
Top-10 results from this season: Gdula: 8 for 22 (up 15.1 units); Gehman: 7 for 22 (up 11 units); Mayo: 6 for 21 (up 7.1 units); Hennessey: 5 for 22 (up 5.35 units); Lack: 4 for 12 (up 3.5 units); Caddie: 6 for 22 (up 1.5 units); Powers: 2 for 22 (down 13.9 units)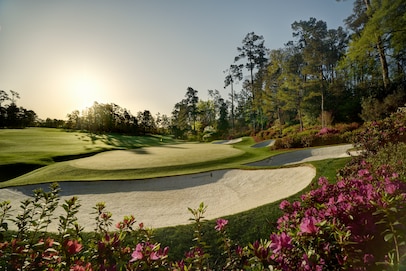 No club has tinkered with its golf course as often or as effectively over the decades as has Augusta National Golf Club, mainly to keep it competitive for the annual Masters Tournament, an event it has conducted since 1934, with time off during WWII. All that tinkering has resulted in an amalgamation of design ideas, with a routing by Alister Mackenzie and Bobby Jones, some Perry Maxwell greens, some Trent Jones water hazards, some Jack Nicklaus mounds and swales and, most recently, extensive rebunkering and tree planting by Tom Fazio. The tinkering continues, including the lengthening of the par-4 fifth in the summer of 2018, the lengthening of the 11th and 15th holes in 2022, and the addition of 35 yards to the famed par-5 13th in 2023.
View Course
Masters picks 2023: One and Done
Gehman: Jordan Spieth — Jordan Spieth's game is built for Augusta National. Despite some turbulence along the way, Spieth has gained 2.25 strokes per round over 34 rounds at this golf course. That's the best rate of any golfer in this field with at least 13 rounds played at Augusta National. His ball-striking is impressive, gaining strokes on approach in six straight events. Recent form meets great course history for Spieth in Georgia this week.
Previous weeks: Fortinet Championship: Emiliano Grillo. Sanderson Farms Championship: Sam Burns. Shriners: Taylor Montgomery. Zozo: Sungjae Im. CJ Cup: Matt Fitzpatrick. Bermuda: Denny McCarthy. Mayakoba: Viktor Hovland. Houston Open: Aaron Wise. RSM Classic: Brian Harman. Sentry TOC: Cameron Young. Sony Open: Hideki Matsuyama. American Express: Brian Harman. Farmers: Jason Day. AT&T Pebble Beach: Maverick McNealy. WMPO: Scottie Scheffler. Genesis: Justin Thomas. Honda: Sungjae Im. API: Rory McIlroy. Players: Jon Rahm. Valspar: Justin Rose. WGC-Match Play: Cameron Young. Valero: Rickie Fowler.

Hennessey: Scottie Scheffler — If you've used Scottie or one of the top guys, or you want to differentiate yourself from one of the top guys (who will be the most popular), I'm all about using Cam Smith or DJ here, which I'll do in some contests.
Previous weeks: Fortinet Championship: Cam Davis. Sanderson Farms Championship: Denny McCarthy. Shriners: Emiliano Grillo. Zozo: Hideki Matsuyama. CJ Cup: Sungjae Im. Bermuda: Mark Hubbard. Mayakoba: Viktor Hovland. Houston Open: Jason Day. RSM Classic: Brendon Todd. Sentry TOC: Patrick Cantlay. Sony Open: Matt Kuchar. American Express: Brian Harman. Farmers: Will Zalatoris. AT&T Pebble Beach: Seamus Power. WMPO: Collin Morikawa. Genesis: Justin Thomas. Honda: Chris Kirk. API: Keith Mitchell. Players: Rory McIlroy. Valspar: Adam Hadwin. WGC-Match Play: Tyrrell Hatton. Valero: Nick Taylor.

Powers: Tony Finau — Tony proved last summer he's a bonafide winner. Now it's time to prove he can win a big one.
Previous weeks: Fortinet Championship: Sahith Theegala. Sanderson Farms Championship: J.T. Poston. Shriners: Sungjae Im. Zozo: Hideki Matsuyama. CJ Cup: Tyrrell Hatton. Bermuda: Russell Knox. Mayakoba: Thomas Detry. Houston Open: Sepp Straka. RSM Classic: Davis Riley. Sentry TOC: Xander Schauffele. Sony Open: Gary Woodland. American Express: Cameron Young. Farmers: Taylor Montgomery. AT&T Pebble Beach: Maverick McNealy. WMPO: Sungjae Im. Genesis: Collin Morikawa. Honda: Chris Kirk. API: Will Zalatoris. Players: Patrick Cantlay. Valspar: Justin Suh. WGC-Match Play: Tom Kim. Valero: Matt Kuchar.
Pat Mayo is an award-winning video host and producer of long and short-form content, and the host of The Pat Mayo Experience daily talk show. Mayo helped create the golf stats and research website Fantasy National along with the Race for the Mayo Cup One and Done contest. Mayo won the 2022 Fantasy Sports Writing Association Daily Fantasy Writer of the Year and is a finalist for three FSWA Awards in 2023 (Best Podcast, Daily Fantasy Writer of the Year, Golf Writer of the Year). His 27 FSWA nominations lead all writers this decade and are second-most all-time. Follow him on Twitter: @ThePME.
Brandon Gdula, managing editor and analyst for NumberFire, a FanDuel daily-fantasy analysis company, recently won the 2018 FSWA Golf Writer of the Year. Gdula also co-hosts the DFS Heat Check podcast. Follow him on Twitter: @gdula13.
Rick Gehman is the founder of RickRunGood.com and the RickRunGood YouTube Channel, is one of the industry's leading experts on golf DFS and gambling. Gehman is co-host of the First Cut Podcast and appears regularly on the Pat Mayo Experience golf podcasts. Follow him on Twitter: @RickRunGood.
Andy Lack is a PGA Tour writer and podcaster from New York City who now resides in Los Angeles. He hosts Inside Golf, a twice weekly podcast focused on the PGA Tour, betting, daily fantasy, golf course architecture, and interviews, as part of the BlueWire podcast network. As well as contributing to Golf Digest, Andy is also a data analyst and writer for RickRunGood.com, where he covers PGA Tour betting and daily fantasy. He came to Golf Digest's betting panel after previously writing for Golf.com, the Score and GolfWRX. In his free time, Andy can likely be found on a golf course. Follow him on Twitter: @adplacksports