Kick Game: Strong
Masters 2023: Jon Rahm didn't realize things were 'different' this week until he saw Dustin Johnson's shoes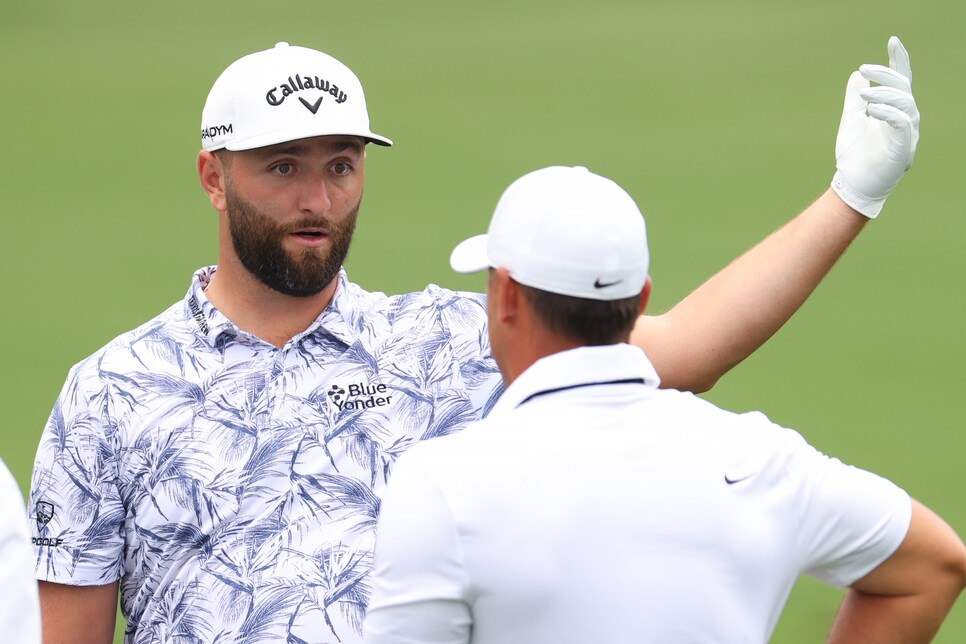 AUGUSTA, Ga. — Among the most famous lines in The Shawshank Redemption comes when Andy Dufresne is walking back to his jail cell in the warden's shoes before breaking out of prison. "How often do you look at a man's shoes?" asks narrator Red, AKA Morgan Freeman. No matter how many rewatches you do, the question makes you think about it every single time.
Jon Rahm, evidently, looks at them quite often.
We know this because Rahm, when asked if it feels "different" with the LIV players on property at the Masters this week, said he hadn't really noticed a difference in vibe until he looked down at Dustin Johnson's kicks.
"To be honest, I saw Dustin first yesterday and Sergio, I kind of forgot, honestly," Rahm said. "It didn't even dawn on me until I looked out and I saw Dustin wearing FootJoys, I was like, oh, yeah, things are different."
Johnson, who was a head-to-toe Adidas guy for his entire career, has an entirely new wardrobe this week, complete with a logo of his LIV Golf team name, the 4 Aces. The only thing that looks familiar on the 2020 Masters champion this week is his signature TaylorMade flat brim.
"I kind of forgot, right?" said Rahm. "I had not seen [Johnson] since The Open Championship. But it didn't really register in my mind."
It did once he saw DJ's shoes. Maybe if the Shawshank warden had the same observational skills as Rahmbo, Andy Dufresne would have never made it to Zihuatanejo.