Random Daggers
Masters 2023: Justin Thomas reveals which Team USA golfer was 'too nervous' to play in front of Tiger Woods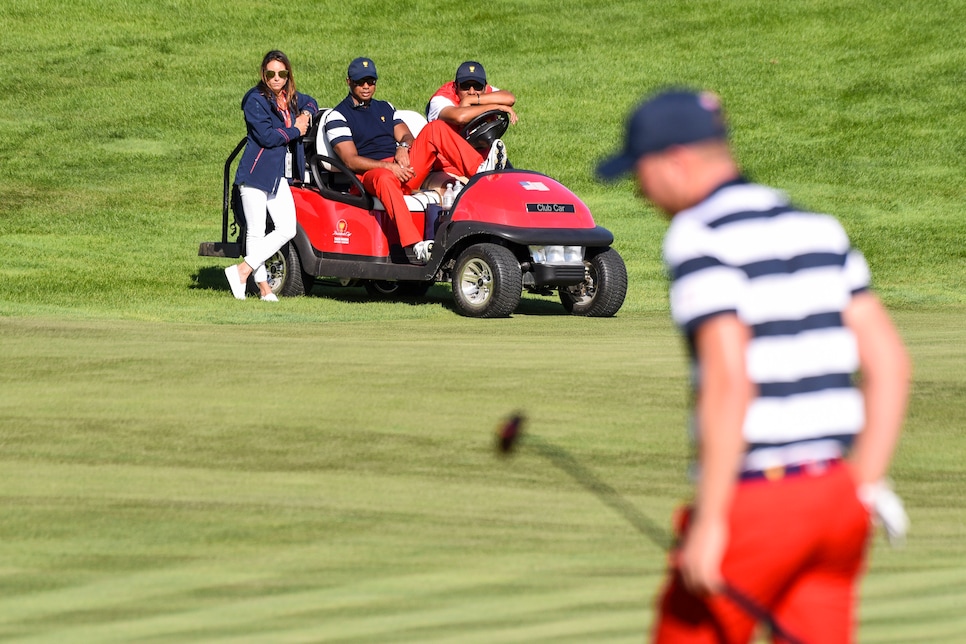 Captain's Assistant Tiger Woods and Notah Begay watch Daniel Berger during the 2017 Presidents Cup.
Keyur Khamar
AUGUSTA, Ga. -- You'd think that having Tiger Woods as an assistant captain would be a huge benefit to Team USA for two main reasons. For one, obviously, his ability to impart an incredible wealth of knowledge. And for another, he provides an intimidating presence to the opposing team. Turns out, though, it was an American golfer who was possibly the most nervous to play in front of him.
Justin Thomas told a funny tale during his Tuesday press conference at Augusta National. And it had nothing to do with the Masters. Here's the (pretty random) question about the 2017 Presidents Cup in which Woods served as an assistant to Steve Stricker with JT's entire response:
Q. Can you go back to the 2017 Presidents Cup when Tiger was vice captain, what was his enthusiasm and energy like? Do you have any funny stories about that week about Vice Captain Woods?
JUSTIN THOMAS: I would say when we started to get a little bit closer, I think we've been, call it, friends for a couple years, but that was probably when I started spending more time with him on the golf course and whatever.
I just remember I couldn't wait to ask him just go make me a sandwich, like: You're my vice captain this week; you have to do whatever I say, and all of us. I never in my life thought I would be bossing Tiger Woods around and he had to listen to me because he's a vice captain.
But my only funny story, and I hate to do this to him, poor guy's been hurt, but I have to do it.
Daniel Berger on the team, I remember Tiger was in Berg's, like, pod. He was like their team captain pod or whatever. I don't know if he was paired with Brooks or someone, but Berg went to, I don't know if it was Freddie or someone, and said, "Tiger can't come with our group."
"I'm too nervous playing in front of him."
He's like, "Dude, he's on our team. Like he's our captain."
He's like, "I can't do it, you have to send somebody else with our group."
So when we thought we had him to use to our advantage, to make the other team nervous, that actually made some of our own team members nervous. So there's that.
Amazing. Hey, we get it. We're talking about Tiger Woods here. We've seen countless golfers wilt under pressure playing with him. But c'mon, man. By that point Berger had already won a couple times on the PGA Tour. He was literally one of the best players in the world and a member of the U.S. Presidents Cup team and he was scared to just tee it up in front of Big Cat. Not even to tee it up against him.
Anyway, poor Daniel Berger. The guy hasn't played since missing the cut at last year's U.S. Open and withdrawing from the British Open with a back injury. So he's still trying to get healthy and he should be completely under the radar this week, and BOOM, he gets hit with a stray from his friend and teammate. That's rough. Et tu, Brute JT?