Live Blog
Masters 2022 live updates: Tiger Woods surges late, Scottie Scheffler takes solo lead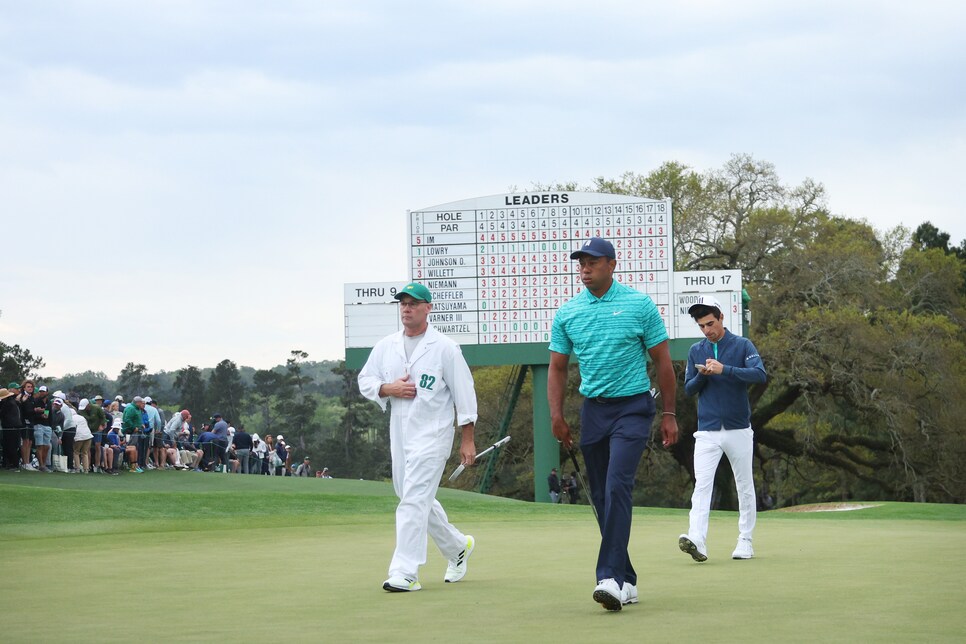 Tiger Woods (L) and Joaquin Niemann walk off the 18th green.
Andrew Redington
Friday at Augusta National will be a particularly important Friday this year.
(Scroll down for the latest updates)
Among the top players in the world Tiger edged on Thursday: Collin Morikawa, Justin Thomas, Brooks Koepka, Rory McIlroy, Viktor Hovland and defending champion Hideki Matsuyama, to name a few. That was just one round, of course … and we heard the Masters doesn't start until the back nine on Sunday anyways. That's why Friday is so essential—make the cut (top 50 and ties) and you'll very well have a chance with this possible weather.
Masters 2022 live updates:
7:15 p.m.: And that'll do it for Scottie Scheffler on Friday. A dominating performance ended with a par for the World No. 1. With the low round of the day at 67 (along with JT), Scheffler has seized control of this year's Masters at 8-under, five-strokes better than anyone else. No one's playing golf than him right now. To finish his group, Tony Finau will par to get to 2-over to make the cut and Adam Scott will sneak into the weekend as well, nailing his final shot to finish at 4-over.
7:02 p.m.: That'll do it for Justin Thomas and Hideki Matusyama, both with strong Fridays. The defending champ is one a of a few players at 3-under, and JT's 67 today will get him down to 1-under at the end of Day 2.
6:56 p.m.: With just a few pairings left to finish—including Scheffler in the front and defending champ Hideki Matsuyama at T-2—let's look at the day that was. Scheffler and JT have had the lowest scores of Friday to this point, both at 5-under. Shane Lowry at 4-under today jumped into contention. Tiger Woods (you might have heard of him) will make his 22nd straight Masters cut. Quite the leader board featuring phenoms, tour mainstays and defending champs.
6:53 p.m.: Umm, Scheffler's at 8-under now after another birdie at 16. That's four birdies in his last five holes and a five-stroke lead over anyone behind him. What a showing on this confounding day.
6:49 p.m.: Wrapping up the Woods and Niemann pairing for Thursday and Friday. Niemann's bogey will put him at 2-over for the day and 1-under for the event thus far. Tiger will sink his par putt and end his two-day run at +1. We'll be seeing more of him at Augusta.
6:42: Well, that's a shame. Joaquin Niemann gets the ball out of the bunker to the green and it picks up some momentum and rolls all the way back. It just keeps going and going and going. That's a nightmare roll right there. He does follow it up with a nice pitch that nearly finds the bottom of the hole. He'll double bogey.
Scottie Scheffler's at 7-under by the way. The World No. 1 has birdies on 12, 13 and 14 and is four strokes ahead of the coterie of golfers at T-2.
6:39 p.m.: Looks like the wind threw Tiger off on his approach to the green on 18. Put too much on it, expecting the wind to pull the ball back a bit more. Still on the green in two with a solid chance to end the day with a par. He's immediately followed by 3-under playing partner Joaquin Niemann who hits the ball "heavy" and finds the sand immediately. Some work to be done.
6:33 p.m.: After struggling with the tee shot on No. 18 yesterday, Tiger hits it right down the middle about 283 yards to start off his final hole of the day. At 1-over, Woods is in a good spot to make the cut and is in an impressive T-19 spot after a brutal first five holes. He's certainly looking better on the back nine and has even missed a few chances for birdie that could have him in even better position heading into the weekend.
6:25 p.m.: Well look who it is... Justin Thomas! After an ugly four-over 76 on Thursday, he's fought all the way back to even par, and he almost aced the 16th hole just now. Once he cleans that up, he'll be in red figures, firmly in contention. What a turnaround.
6:19 p.m.: Classy par from the leader, Scheffler, at the 14th. Just ahead of him, defending champion Hideki Matsuyama secures a birdie at the 15th green to reach three under for the championship. Kevin Na, all the way at the 18th green, makes birdie to post a second straight 71. He's in a tie for seventh at two under, which feels surprising, but it shouldn't. Na has four finishes of T-13 or better in his career at Augusta National, including his last two trips. Yes, it would be shocking to see him put on the green jacket, but his record here is sneaky strong.
6:10 p.m.: Tiger expertly plays the 16th tee shot like he so often has, getting it to take the ridge and roll down to about 10 feet. His birdie putt, unfortunately, just slips past the left edge. Man, he really could have been cooking on this back nine. Niemann missed way right but still found the green, then had to play a creative putt off the ridge and left himself with a meaty par putt, which he made. Clutch stuff from the young Chilean to stay at three under. Remember that save.
6:04 p.m.: Welp, guaranteeing a birdie for Tiger was a bit foolish. A poor chip rolled out a little too far and he missed the birdie putt coming back. Still in a great spot, but that hurts. Niemann also makes par, which must feel like a bogey as well given how good his drive was.
5:56 p.m.: Tiger Woods is officially DIALED. After smoking a fade at 15, he launches a 5-wood a mile in the air that lands softly on the green and just trickles over the back edge. He'll have a look at eagle, but birdie will do. Niemann, who mashed a drive, blocks his approach right of the green but is safe and dry.
Back at No. 13, Scheffler recovers from a poor second shot and chips his third to inside of five feet. Another birdie for the World No. 1, which gets him to six under, three clear. Vince Carter . gif? No... not yet.
5:48 p.m.: No jinx here. Bang, bang for Woods and Niemann. Tiger is now at one over, not just safely inside the cut line, but actually in this freaking tournament. It is insane to type that sentence. Niemann is obviously in it, too, much more so at three under thanks to that birdie.
5:45 p.m.: A masterclass at the 14th from Tiger and Niemann. Woods goes first and hits a high cut that spins back inside of 10 feet. Niemann follows with a wedge that rolls out to three feet. SHOULD be two birdies coming up, but we won't jinx them.
5:33 p.m.: Might not find a better par-birdie combo than what we just saw out of Scheffler at the 11th and the 12th. He's now at five under, two clear of Schwartzel, Im and Lowry. Niemann just bogeyed his way out of the three under group at the 13th. He's now three back. Woods gets up and down for a massive birdie to get back to two over.
5:26 p.m.: That sound you just heard was the golf world letting out a massive sigh of relief after Tiger's approach stayed dry at 13. He blocked a 5-wood that was dangerously heading toward Rae's Creek, but it stayed right and stayed short. "Nice layup, juust like you called it," Woods says to caddie Joe LaCava. Phew.
Niemann, meanwhile, hits a low hook in the back bunker, which has been an impossible spot to get up and down from on Friday. Birdie will be tough to come by, but pars are just fine this afternoon. Up at 15, Shane Lowry, who double-bogeyed the par 5 on Thursday, almost spins a wedge into the hole for eagle. He'll clean up the bird and jump into a tie for second at three under. What a round from the Irishman.
5:24 p.m.: Gutsy, gutsy par save from Scheffler at No. 11. He keeps his solo lead at four under, and now makes his way to the tricky 12th.
5:20 p.m.: Despite a long, long wait caused by Bryson DeChambeau and Cameron Smith in the group ahead, Tiger still manages to hit the fairway at No. 13, as does Joaquin Niemann. They should both be able to have a go at the green, once DeChambeau and Smith clear it, that is. Speaking of Smith, all his great work from Thursday has been undone, as the Aussie is four over through 12 holes and found Rae's Creek on the 13th. As for Bryson, he's 10 over, tied for 76th. Woof.
5:06 p.m.: The good news? The cut keeps going up. The bad news? Tiger Woods is getting closer to it. Another bogey at No. 12 will drop him to three over. That's safe right now, but he can't afford many more mistakes. Luckily, the par-5 13th awaits. As for Woods' partner, Niemann, he hits the shot of the day at the treacherous par 3 and cashes in with a birdie to get to three under, which brings him within one of Scheffler's lead.
5:02 p.m.: Sneaky round of the day, and possibly the week, is being played by former Open champion Shane Lowry right now. Since bogeying the first, he's played his next 12 holes in four under, bogey-free, to reach two under. Big-game hunter, that Lowry.
4:49 p.m.: Tiger misses the fairway at the 11th, then plays a bold cut shot to the green, aiming over the pond on the left at address. It works, with Woods leaving it just short of the green and setting up an up-and-down chance at par. His chip rolls about eight feet past and he misses the par putt, dropping him back to two over. Niemann, whose drive was way farther right than Woods, somehow Houdini's his way to a par to stay at two under, two off the lead.
While all that was going on, there was a massive roar through the pines, a roar of the hole-in-one variety:
You usually have to wait until at least Sunday for that kind of action at the 16th hole. But Christmas came early in 2022.
4:43 p.m.: Danny Willett has taken a trip on the struggle bus over at Amen Corner. After grabbing a share of the lead back at the ninth, the Englishman has gone bogey-bogey-bogey-par, dropping him back to one under.
4:39 p.m.: Woah. Scheffler misses the short birdie putt, settling for par to stay at four under. To the back nine we go.
4:36 p.m.: Tiger converts and he's back to one over. Niemann gets up and down for a clutch par to stay at two over. Impressive hole from this twosome.
4:30 p.m.: We're not at the 16th hole yet, but it's already time to break out the patented Verne Lundqvist "OH MY GOODNESS" for Tiger's approach at the 10th. Somehow, to a back right pin, he stuffs it, setting up a five-footer for birdie. Unbelievable shot, and unbelievabl grit from Woods, who looked in big trouble early. Now he's got a legitimate chance to get back to one over.
Back in the ninth fairway, Scottie Scheffler, the new solo leader at four under, puts his approach to a few feet and has a great look to reach five under.
4:20 p.m.: What looked like a round that could go completely off the rails, Tiger has reeled it in a bit. It was a scary look when he dropped his club after his wayward approach on 9. We looked for a grimace in the replay. But Woods looked OK, and then he made a fantasti up-and-down that looked more like the saves he made on Thursday. So, the totals for the front: score of 39; stands at three over for the round and two over for the tournament, with the cut currently at four over.
4:10 p.m.: Bye bye Jordy. A year after finishing T-3, Jordan Spieth won't be around for the weekend after he finished with a double bogey and is six over. To add to the pain, Spieth tripled the par-3 12th, site of his collapse in 2016.
4:03 p.m.: Tiger Woods is showing some life. With his first birdie of the eighth, he got one back, and even better, he's looking looser and more comfortable. Smoked his ensuing drive at the ninth.
3:50 p.m.: You knew something "different" happened when ESPN cut to Hudson Swafford (two over at the time) about to hit his approach to 13. Double eagle maybe?! Nope. Swafford hit his shot and immediately recoiled as the iron head from the club and went flying. This is the crazy part: The ball traveled over 200 yards and reached the green before rolling into the back bunker. Under the circumstances, Swafford salvaged a memorable par.
3:38 p.m.: A second straight two-putt par for Tiger at 7, though this one was a legitimate birdie try from 15 feet. Three over total. T-40.
3:35 p.m.: We can't say we saw this coming. Defending champ Hideki Matsuyama's stock for this week plummeted with his recent injury struggles, but he's been anything but lame. With birdies at 2, 3 and 6, Matsyuma moved into a share of the lead at three under, just ahead of Willett making birdie at 9 to be alone at the top at minus-four.
3:28 p.m.: DJ is in the house at two under total. This felt like a day that was ripe for an early charge, but, incredibly, Johnson didn't make a birdie after the fourth hole. It was all pars on the. back nine for a 73. The killer: He didn't birdie any of the par-5s. Not good for a guy who was 81 under on the par-5s here heading into the week's play. Still, DJ will absolutely be a factor on the weekend.
3:20 p.m.: Breaking! Tiger Woods makes par! Tiger hit the par-3 sixth in regulation into a safe spot, 36 feet below the hole. The roll came up a couple feet short for an easy tap-in. Three over total. T39.
3:15 p.m.: Nice stat delivered by Ian Baker-Finch just now. On Thursday, the entire field was 165 over par. Today, halfway through the round, the field is 165 over par. No telling what that number if going to be at the end.
3:08 p.m.: Bogey No. 4. At the fifth, Woods badly missed the fairway to the right in the pine straw and between two trees. Half-swing punch out. Approach to 14 feet below the hole. Missed put on the right. Five holes, one fairway, one GIR. Three over total. T-40.
2:57 p.m.: Im was one good driver swing away from being a comfortable clubhouse leader. It didn't happen. Im sliced his drive deep into the right trees at the 18th and had to punch out. He still gave himself a chance for a great save, but missed an 8-foot putt and made bogey. Im, the solo first-round leader, shot two-over 74 and sits tied in the clubhouse with Charl Schwartzel (69). Harold Varner III finished with a par to shoot 71, so he's the first one to be in at two under.
2:50 p.m.: Well, this is alarming for any fan of Woods. He bogeyed the par-3 fourth for his third bogey in four holes when he went for the tucked left pin and left himself a really tough pitch. That shot scooted around the flagstick to well below the hole, and Tiger came up just inches short on the par putt. Is it too early for a Cut Watch? The top 50 and ties reach the weekend. Right now, with a lot of golf left, those inside the bubble are three over. Woods is at two over, tied for 37th. Check back after nine for our next Cut Watch.
2:44 p.m.: Harold Varner is hanging tough. He's playing 17 at three under total after a brilliant shot into the slope trickled down and ran just inches past the cup for a near-ace.
2:40 p.m.: World No. 1 Scottie Scheffler has opened bogey-birdie. He was short and right on his approach on 1 and couldn't get up and down and chipped to a a couple of feet on 2 for birdie. He's one back of Im and Willett.
2:35 p.m.: Another bogey for Tiger, who might blame the gusting wind for this one. His approach from 127 drifted well right and ended up 16 yards from the pin. As with Thursday, he's pitching with lower lofted clubs, and he put his third shot 7 feet past the hole. And again, he missed on the left side of the hole. He's two over through three, one over overall and T26.
2:23 p.m.: Sungjae Im's birdie putt at 16 to tie for the lead at four under was no tap-in. Made it from 27 feet below the hole. He made a 24-footer for birdie at No. 3.
2:14 p.m.: After driving into right bunker, Woods had to lay up to 101 yards. Shot was at the flag, but stopped well short, and he just missed on the 26-foot birdie putt. Not the best result on the hole that's playing the easiest of the second round at 4.627. The next hole, No. 3, is playing eighth easiest.
1:55 p.m.: Tiger's scrambling was the highlight of his round on Thursday, but it didn't save him at No. 1 today, where he missed a nine-foot putt for par. So, to summarize, pushed tee shot, pushed second shot, decent chip, missed makeable putt. An opening hiccup or preview of struggles to come?
1:50 p.m.: Danny Willett gets the birdie you absolutely have today at No. 2 and the 2016 Masters champ is tied with Im and four under through three.
1:47 p.m.: First swing, first missed fairway for Tiger, who pushed his drive into the middle of the right fairway bunker. 145 yards left. Second misses right, and now Woods has missed 9 of 19 greens so far.
1:40 p.m.: Here we go. Tiger Woods has arrived on the first tee for the second round. He's wearing blue pants and a blue sweater with an aqua shirt, and we're guessing the pullover isn't coming off today. No limp is visible yet. At one under as he tees off, he's tied for 12th. It's only a twosome today with Joaquin Niemann because Louis Oosthuizen withdrew before the round.
1:28 p.m.: Two fist-pumps for a bogey from Collin Morikawa after a ridiculous (in a good way) putt from just off the green on 11. That'll keep him at even for the tournament.
1:18 p.m.: At 3-under for the day, Charl Schwartzel jumps into T-2 with Sungjae Im and Corey Conners. Another bogey from Im, this time on the 12th, is the reason for the relinquishing of his T-1 spot. Cam Smith still sits atop the leader board. He will tee off at 1:30 along with Bryson DeChambeau.
1:06 p.m.: Rory McIlroy will miss a birdie putt at the eighth but will gladly take such an easy par putt to stay at 1-over for the week. On the next shot, Matt Fitzpatrick will botch a birdie attempt that would've gotten him to 2-under par. Not the end of the world but certainly a missed opportunity.
Like Fitz, Brooks Koepka will also miss a potential birdie attempt. Koepka's still even for the day but 3-over in total.
12:58 p.m.: As the commentators have mentioned, the cut for the 2022 Masters is projected at 3-over but could get up to 4- or 5-over by the end of Friday. Even those in the 5- or 6-over range certainly have a chance to make it to the weekend. Going to be a packed leader board.
12:49 p.m.: Back-to-back birdies on the eighth and ninth holes will have Collin Morikawa climbing the leader board as the major winner is now in the red. After a disappointing Thursday, Morikawa is certainly right where he wants to be at the turn on Moving Day. He's knotted up with Will Zalatoris and Matt Fitzpatrick now.
12:43 p.m.: One of the few players having a nice day so far despite the elements is Matthew Fitzpatrick. Even for the day and 1-under yesterday, Fitz is tied for 12th place and trying to finish his day with a clean sheet before the weather turns for the worse.
Rory McIlroy has done a solid job so far with par saves even with his hit-or-miss play thus far this tournament. Nothing spectacular but holding strong. Also, this particular writer likes the pink Nike shirt with the symbols on it. Not sure if that's a hot take but felt like it needed to be said.
12:36 p.m.: You may have read, heard or seen this on TV already, but the wind is really picking up now. few low scores on the leader board so far today. Sungjae Im will drop to T-1 along with Cameron Smith after a bogey on the tenth. It's his second bogey of the day, including the first hole, and he's now 1-over for the day.
12:30 p.m.: So far, Charl Schwartzel has the low score of the day with a 2-under 13. On the other side of things is Billy Horschel who has had better days. He's currently 4-over and missed another opportunity to creep back up the leader board at the eighth.
12:24 p.m.: Some news from Augusta that Louis Oosthuizen will be withdrawing from the 2022 Masters due to injury. He had a 1:41 p.m. start time for Day 2 and was 4-over after yesterday's round. He was paired with Joaquin Niemann and Tiger Woods.
12:18 p.m.: Sungjae Im makes the turn in even-par 36, enough to remain alone at the top. Only Cameron Smith is within one, and he tees off later in what are expected to be extremely windy conditions. Dustin Johnson, the next closest competitor that's on the course, just fell back to three under after a bogey at No. 7.
Charl Schwartzel, who bogeyed the 11th, gets that shot back with a birdie at the par-5 13th. He's at two under for the round and for the tournament. If he can finish there, we might be talking about Schwartzel shooting the round of the day by day's end. Wild scene at Augusta National, folks. Not sure we'll see a round in the 60s today.
12 p.m.: The strong wind gusts are beginning to arrive as promised. Here's an update from our own Joel Beall, who is on the grounds:
As Joel points out, it isn't even that bad yet! Still, the best round on the course is two under (J.J. Spaun, Bubba Watson). Later this afternoon, even par might feel like a five-under 67. Strap in, folks.
11:44 a.m.: We mentioned a few past champs earlier - Schwartzel and Garcia. One of them, Schwartzel, has remained at one under, having made birdie at 10 and bogey at 11. Garcia is tumbling down the board, with back-to-back bogeys at No.'s 5 and 6 dropping him back to one over. Another former champ, Bubba Watson, is surging. He's two onder through seven on the day, one under overall.
11:22 a.m.: After a perfect tee shot, Dustin Johnson makes the first birdie of the day at the par-3 fourth to pull within one of the lead of Sungjae Im, who is plugging along with pars.
11:05 a.m.: A couple of former Masters winners, Sergio Garcia and Charl Schwartzel, are lurking at one under, which is a score that could look really, really good at day's end. Of course, both will be looking to keep moving forward, as Schwartzel has the back nine left and Garcia still has 14 holes remaining, but they are positioned nicely at the moment. Experience still matters at Augusta National.
Speaking of lurking, Jon Rahm is two under through two, which gets him back to level par for the week. Yesterday, he claimed he played great, it was just a few unlucky "mud balls" that caused him to shoot 74. So far, he may be proving himself correct.
10:46 a.m.: We have ourselves an eagle at the par-5 second, coming off the putter of England's Tyrrell Hatton. And to think, he bogeyed the first, otherwise he'd be two under. Still, he's in red figures at one under, just four off the lead.
The early round of the day belongs to Masters rookie Tom Hoge, who is two under through four holes and one under for the tournament. Hoge and Varner III are each having very strong debuts at Augusta National, which makes sense considering everybody was talking up guys like Sam Burns, Cameron Young and Talor Gooch. It's always the guys nobody thought would play well that end up doing so, isn't it?
10:35 a.m.: At the third, Sungjae Im regains the lead with a 24-foot birdie conversion. Back at No. 1, Dustin Johnson gets his second round underway with a par. Just ahead of him at the par-5 second, Harold Varner III makes birdie to get to two under.
9:49 a.m.: Our Day 1 leader has dropped a shot early on Friday. Sungjae Im moves back to 4-under with an unforced error at the opening hole. He tugged his second shot and failed to get up and down—resulting in the opening bogey.
Corey Conners is within one of the lead with a birdie at the par-5 second hole—bringing his total for the week at par 5s up to 3-under for the week. That's how you score well at Augusta National, and the Canadian—with two top 10s the past few years—is keeping up his great play so far.
8:56 a.m.: OK, the first birdie has been posted. Christiaan Bezuidenhout bogeyed No. 1 but then birdied the second hole to put a red number on the board ... about an hour into the morning tee times. Now Charl Schwartzel has joined the party ... the 2011 Masters champion actually has it to 1-under, which is good for T-10 at the moment.
8:47 a.m.: We are now almost an hour into play, and we're still waiting for a birdie in the second round. The cool weather is making Augusta National a little stingy at the moment with low numbers. We usually reserve this space for birdies, impressive feats or extreme lowlights. Well, so far—there have been just been some impressive par saves, though even those appear to be rare.
7:40 a.m.: It is a chilly morning in Augusta. Two-time U.S. Mid-Amateur champion Stewart Hagestad and 1988 Masters champion Sandy Lyle start things up at 8 a.m., and it was frigid for their warm-ups on the range. Things will warm up to a high of 66 degrees, but like we said, the wind will really pick up in the afternoon.
Here are the pin positions for Friday's second round. We'd say these might be slightly less severe than Thursday's pins. The tournament committee undoubtedly knows the wind could really blow in the afternoon. And the scoring average was 73.83 on Day 1, plenty tough for Thursday.
More Masters 2022 stories from Golf Digest: