"It's such a great honor to tee it up with Jack and Gary," Watson told Golf Channel in January. "They are icons in the game of golf."
Although the honorary starters are at Augusta National in a ceremonial capacity, they are indisputably a hefty part of the tournament's lore. It is why patrons, media and even numerous tour pros make sure to arrive plenty early Thursday morning and head to the first tee as soon as allowed to grab a spot. It is watching history in person.
The tradition began in 1963 with Jock Hutchison and Fred McLeod tabbed to do the honors. For nearly a decade leading up to that year, the pair often played nine or 18 holes together before withdrawing. The move to honorary starters merely formalized the arrangement.
Although neither won the Masters, both were major championship winners and had a connection to Augusta National. Hutchison won the 1937 PGA Seniors' Championship and McLeod won the same event a year later—the only two times the tournament was held at Augusta National. Hutchison held the role through 1973 when he was 88 years old. McLeod continued alone until 1976 when he was 93.
After a brief hiatus, Chairman Hord Hardin revived the tradition in 1981 with Byron Nelson and Gene Sarazen taking on the role. Both among the game's all-time greats, Nelson was a two-time Masters champion and Sarazen the owner of the greatest shot in tournament history, the double eagle on No. 15 in 1935 that allowed him to tie Craig Wood and win in a playoff. In the early years of their tenure as starters they would not only strike the ceremonial swat, but like McLeod and Hutchison, play nine holes before retiring.
A little-known honorary starter fact is that Ken Venturi, who twice nearly won the Masters as an amateur, pinch-hit for Nelson in 1983 as Nelson was tending to his wife, who was ill. Other than that blip, Nelson, Sarazen and Sam Snead, who joined the pair in 1984, proved a fixture in opening the tournament, providing incredible cachet to the ceremony and making it a can't-miss event.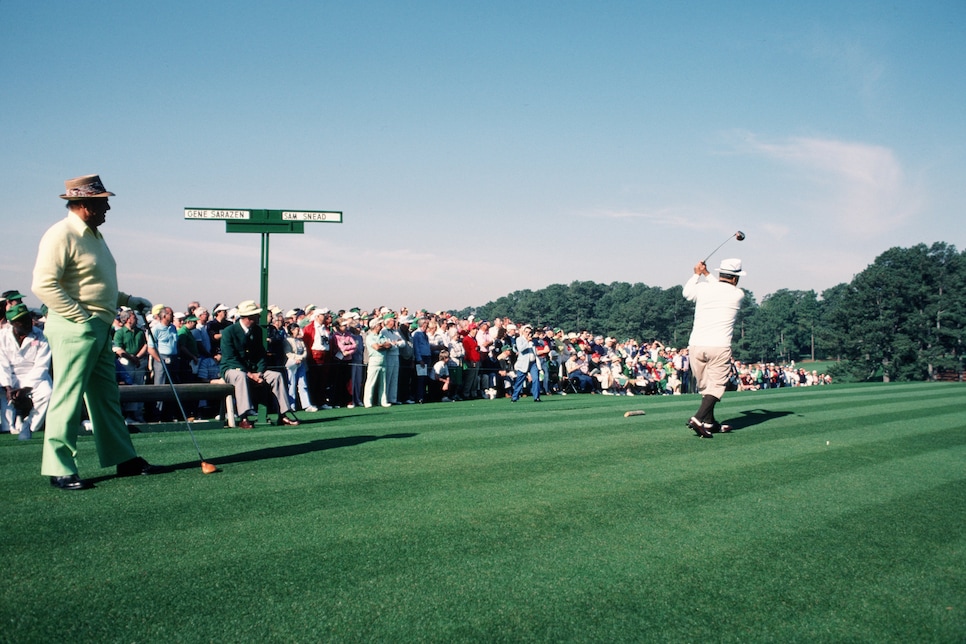 AUGUSTA, GA - APRIL 1984: Honorary starters Sam Snead (L) watches as Gene Sarazen tees off on the first hole during the 1984 Masters Tournament at Augusta National Golf Club on April 11th, 1984 in Augusta, Georgia. (Photo by Augusta National/Getty Images)
Augusta National
The trio got the Masters off and running through 1999 before Sarazen passed shortly after that year's Masters at 97 year's old. Nelson stopped after 2001, saying, "OK ball, one more time" before striking a reasonably solid final shot for an 89-year-old. Snead kept up the tradition one more year, with unfortunately an ugly flare to the right that struck a patron as his final swing at Augusta National. He passed the following month at 89.
The tradition lay dormant for a few years until Chairman Billy Payne asked Arnold Palmer—who played his first round in the Masters with Sarazen—to take on responsibilities. Although Palmer stopped competing in 2004, it took the four-time Masters champion a few years to come to grips with coming to Augusta National in a non-competing role.
"When I quit, I just wanted to think about not playing in the Masters, and get over that, and then I would be ready," he said in 2007. "I'm ready." Palmer also was asked at the time if he would twist Chairman Payne's arm to have Nicklaus and Player join him. "To let them join me or to tell them to stay the hell away?" he joked.
Palmer went solo for a few years but in the lead-up to the 2010 Masters, Palmer asked Payne to have Nicklaus join him and the six-time Masters champion, who once said he did not want to be a ceremonial golfer, readily accepted the invitation.
"Billy called me and said that Arnold would like to have me do it with him," said Nicklaus. "I'm old enough now, I can do that."
In 2012, Gary Player completed "The Big Three" by being asked to join the pair, a significance Player fully understood.
"Teeing off with Arnold and Jack is going to be very special," said Player, a three-time Masters winner and the tournament's first international champion. "I go back to Jock Hutchison. I always loved the history of golf. I stood there and watched Jock Hutchison hit off the first tee and watched that incredible swing of Sam Snead hit off the first tee. It's got a lot of wonderful memories for me."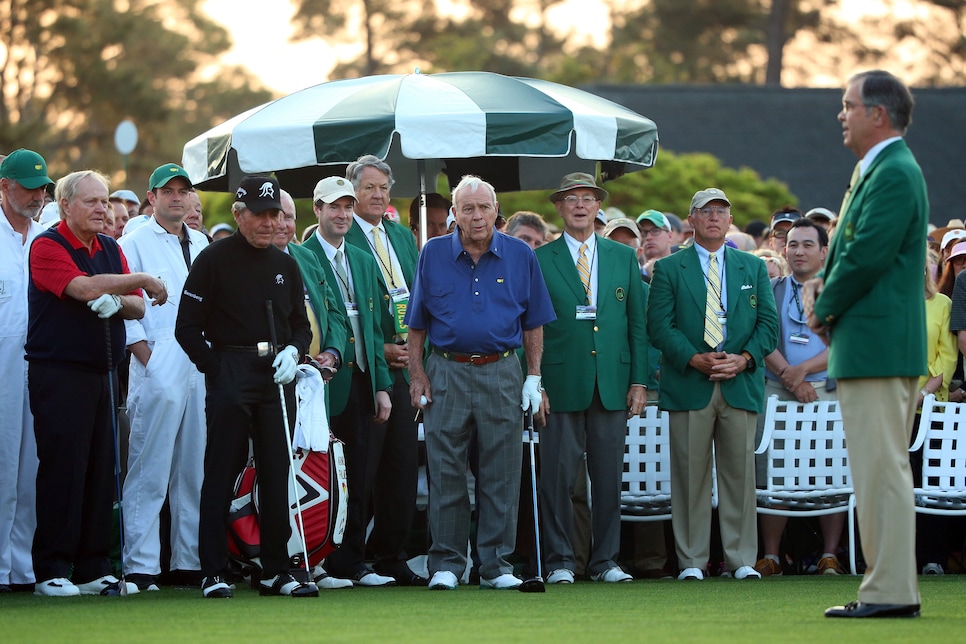 Andrew Redington/Getty Images
The threesome started the tournament each year until 2016, when Palmer informed the club he could no longer continue in the role. That didn't stop Palmer from being part of the proceedings, however.
"I plan to go out to the first tee with the chairman on Thursday morning and watch Jack and Gary sweat it out and hit the shots," he said. And indeed, Palmer was there in his green jacket to join them. Palmer passed later that year and Nicklaus saluted Palmer during the 2017 ceremony by lifting his hat and raising it in the air as he looked toward the sky in perhaps the ceremony's most emotional moment.
In 2021, Lee Elder joined Nicklaus and Player, and although he did not strike a shot due to physical limitations, his presence served as a poignant reminder of his legacy as the first Black man to play in the Masters in 1975.
Now it's Watson's turn, and it is certain to hold nearly as much meaning as his two Masters titles. Watson, who regularly plays with Nicklaus and Player in the Par 3 Contest, put the green jacket on Player in 1978. He also made sure to get a photo with Snead and Nelson in 2001 during Nelson's swan song.
Now Watson joins the club and gains a new appreciation for the significance of being an honorary starter. Play away, please.