Ranking
Where does Tiger's 71 rank among his most impressive Masters rounds? Hint: It's up there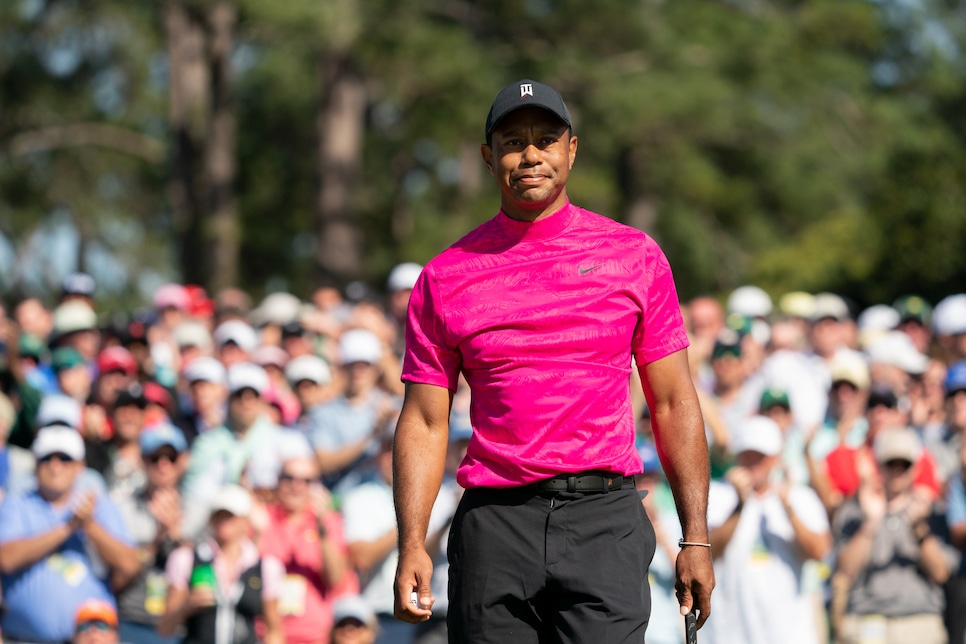 AUGUSTA, Ga. — There was a moment on Thursday when I was really disappointed in Tiger Woods for playing Augusta National's par 5s in even par during his first round. Then I remembered that about a year ago, the 15-time major champ could have died in a car crash and nearly had his right leg amputated. So, yeah, there was nothing to be disappointed about with Woods' opening 71. It was remarkable, if not miraculous.
But it got us thinking about where this round ranks among Tiger's best at Augusta National. As a five-time green jacket winner, the guy has put forth a lengthy list of amazing performances. But shooting in red numbers in his first competitive round in 17(!) months? While visibly hobbling around that right leg? When most people believed his playing career was over a year ago? Again, remarkable.
Of course, such a list is completely subjective. But it's still fun to attempt one. Let's get to it.
This one is actually the most comparable to Thursday's first round. Woods was coming back from a long layoff—albeit for much different reasons—and he shocked everyone with a front-nine 32 on his way to an opening 68. But as impressive as it was—and the fact he finished T-4 that week—it falls short of Thursday's performance because Woods wasn't recovering from, you know, almost losing his leg.
Officially, Tiger "only" shot 70 that day, but what a 70 it was. Woods, making his Masters debut as a pro and playing with defending champ Nick Faldo, looked like a rookie on his way to a front-nine 40. But he got things rolling on the back nine, beginning with a chip-in birdie on No. 12. "He went out in 40 and back in 30 and then we didn't see him for the next 14 years," Faldo said in 2017. "He left us in the dust." Woods would go on to set the tournament scoring record by shooting 18 under during his landmark 12-shot victory.
Through two rounds, it was Woods who was being left in the dust by Chris DiMarco, who built a six-shot lead over him through 36 holes. But Woods grabbed a three-shot advantage thanks to a 65 that included a record-tying seven birdies on holes 7-13. Even more impressive was the fact the round was split over two days with play being suspended to darkness after bad weather early in the week.
OK, the time has come. Yes, this was "only" a 71, but considering the context, it's one of the most impressive rounds of his career. Just ask the man. "If you would have seen how my leg looked to where it's at now … to get from there to here," said Woods, who also admitted just playing felt like a victory, "it was no easy task." What a battler. After not playing competitive golf for more than 500 days, he came back and beat eight of the top 12 players in the world. That's absolutely incredible. And you better believe he'll be chirping about that to some of them.
It's possible no one has ever been under more pressure to win a golf tournament than Tiger Woods was that Sunday as he tried to become the first player win four consecutive professional majors. Add to that he had to overcome a final-round pairing with rival Phil Mickelson and a hard-charging David Duval. But Tiger overcame his opponents and the pressure to complete the Tiger Slam. History!
Another 70 that was much, much more impressive than Tiger's score indicates. After returning from back injuries that threatened to end his career the previous year, Woods showed his guts and guile down the stretch in difficult scoring conditions to emerge from a star-studded leaderboard and win his first major since 2008 and his first Masters in 14 years. It was also the first time that Woods came from behind to win a major.
There was no coming from behind this year. After Woods' amazing Day 1 turnaround, he absolutely blitzed the field at Augusta National. But the most impressive display of golf was a Saturday 65. "It was the easiest 65 I've ever seen," Woods' deflated playing partner that day, Colin Montgomerie said. "This is a game that I had not seen before and none of us had." Ain't that the truth.