Tiger Watch
Masters 2022: Tiger Woods wearing a curious set of shoes at Augusta National has a sort-of precedent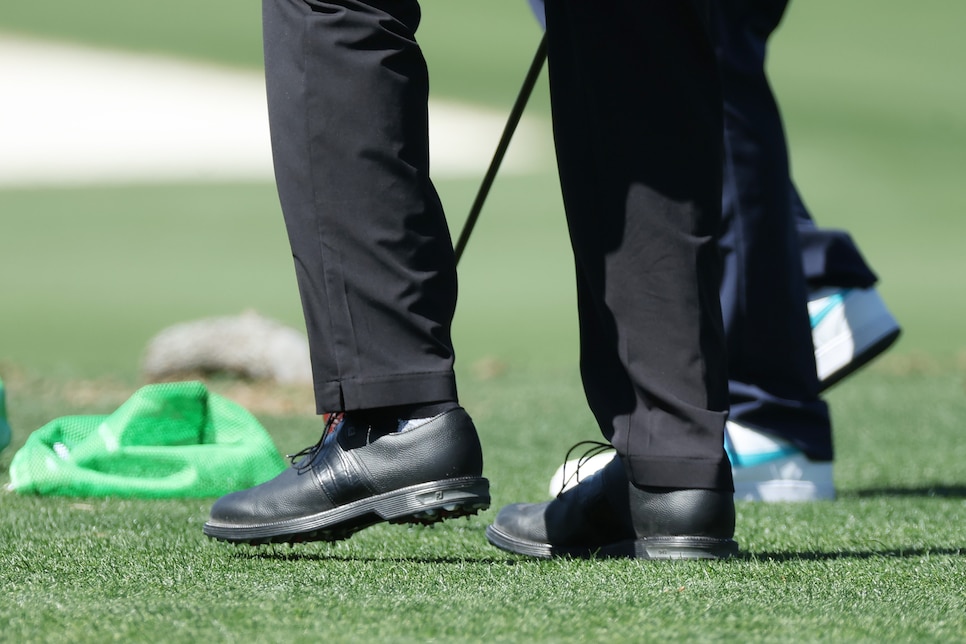 It might not seem like a big deal, but Tiger Woods apparently wearing FootJoy golf shoes while tuning up at Augusta National the Sunday before Masters week has set tongues wagging once again.
It is a departure worth noting. Ever since Woods said, "Hello world" during his first press conference as a professional, he has been exclusively in Nike footwear. Speculation is certain to run rampant about the why of such a move, much of it likely surrounding whether the move was prompted by a specific need due to the injuries Woods sustained from his car accident last February.
ESPN's Michael Collins tweeted a response he received from Nike on the matter that read, "Like golf fans around the world, we are delighted to see Tiger back on the course. He is an incredible athlete, and it is phenomenal to see him returning to the game at this level. His story continues to transcend sport and inspire us all. As he continues his return, we will work with him to meet his new needs."
Whether that is an admission that the FootJoy shoes are meeting a need his Nike pods weren't is debatable. But what is not up for discussion is this isn't the first time Woods has gone outside the equipment norm.
Let's start with Woods' iconic Scotty Cameron putter that he's used for 14 of his 15 major championships. The grip is not a Cameron grip but rather for years Woods favored Ping's rubber grip but habitually blacked out the Ping logo.
Then there were a couple of well-documented driver changes in 2003. Woods had been in the Nike driver since 2001 and even filmed a commercial for the company in 2002 where he said, "I want to win more majors. Think they're feeling the pressure at Nike?"
However, about a year after Tiger Woods playfully delivered that punchline those words had a new meaning.
Playing in the 2003 Deutsche Bank SAP Open in Germany, Woods switched to a 7.5-degree TaylorMade R510 driver—a move that sent gearheads in the U.S. into overdrive. Woods made the move just for the final round (he was out of contention and a final-round 68 only brought him a T-29 finish), but photos quickly circulated, and the Nike haters were out, fueled by the fact that earlier in the year Phil Mickelson made his famous assertion that Woods was playing with "inferior equipment." By the time Woods teed it up again in the U.S. at the Memorial Tournament, he was back with a Nike driver.
In late July, however, Woods made another change—back to his old Titleist 975D driver at the Buick Open, a move that left Nike execs answering questions about their driver business and created an even greater sense of urgency among Nike's design team to find a way to satisfy the needs of the world's best player. After all, if Woods was choosing essentially old technology over their best, that was a problem.
The issues eventually settled down and Woods remained a loyal Nike staffer. However, the presence of a non-swooshed shoe on the most famous pair of feet in golf is bringing similar questions as Masters week is about to begin. Stay tuned.