Masters
Masters 2021: Bryson DeChambeau admits there's one thing he still can't figure out about Augusta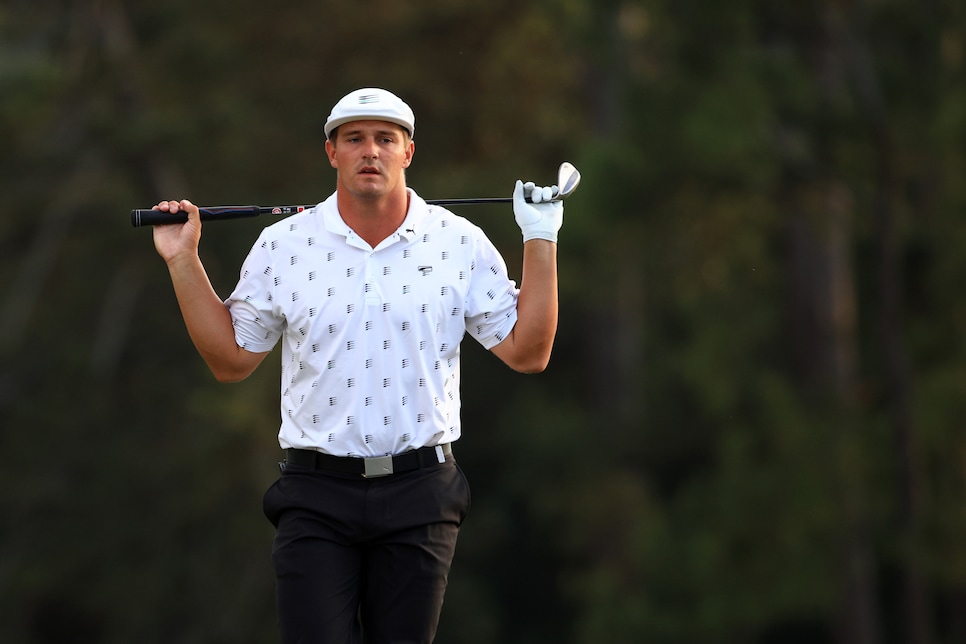 AUGUSTA, Ga. — He had five months to figure it out. Nearly half a year to chew on the egg he laid last November, fine-tune his plan of attack and solve the Augusta National riddle.
Bryson DeChambeau knows he should play this course well, whatever that means. He said so himself on Tuesday. Length is a massive advantage here. Granted, he did himself no favors by declaring the course a par 67 for him, but we see no falsehoods. If he executes, there's no reason he shouldn't be in with a chance come Sunday afternoon. Plus, the course is much firmer this time around, and he feasts on firm and fast tracks. Got a W on one just a month ago, in fact.
There's a longer than long way to go in this golf tournament. But through one round in April, it's advantage Augusta. Again.
DeChambeau struggled mightily with his distance control, frequently missing long on a day where you simply couldn't miss long. Not with the greens running as fast as they are. DeChambeau paid the price, posting a four-over 76 that leaves him serious work to do if he's to stick around for the weekend.
"I personally didn't swing it that bad," DeChambeau said. "It's golf, man. I don't know what else to say."
And so the sport's most iconic venue continues to hold its own against its greatest disruptor. When DeChambeau arrived at the Masters last November, still basking in the afterglow of his Winged Foot romp, there was legitimate concern he'd bludgeon the course into oblivion. That he'd hit wedge into the par 5s and drive the third green and do who knows what else. Instead, he never looked comfortable with his swing or his body, making the cut on the number and never factoring in finishing T-34.
But that was then, and he's only improved since. DeChambeau figured out what was wrong with his health that week. (It was something to do with his breathing rate and oxygen levels). He even figured out how to plot his way around venues that make him uncomfortable, finishing T-3 at the Players on a course that seems tailor-made to hamstring his power. The week before that, he won on a major-type golf course at Bay Hill. And this week he debuted a driver that's been "a few years in the making." Surely, this week would be different.
But Augusta hasn't gotten any easier—much harder, in fact, both literally and figuratively—and there's one aspect of Jones and MacKenzie's masterpiece that continues to perplex the man who calculates everything: uneven lies into elevated greens.
"We need to understand how the ball flies off of downhill slopes onto uphill greens. And, conversely, uphill slopes into downhill greens, and all the above," DeChambeau said. "We just can't calculate and adjust the numbers very well. And the wind is pretty tricky out here. And the greens are bouncing pretty hard. And, you know."
The good news is the miss seems to be consistent. He missed long on 4 and made double. Long again on 5, for a bogey. Long on 6, and 8, and 9, and 10, and way long on 12, and long on 17 and 18, to boot.
"It's just at Augusta," DeChambeau of the distance-control issues. "That's why we don't have a problem anywhere else."
After the round, he headed to the practice tee, as he tends to do. Unfortunately, the practice tee is perfectly flat.