Ready, aim, fire
Masters 2021: Bryson DeChambeau still intends to take down Augusta. But here's how he's changing his plan of attack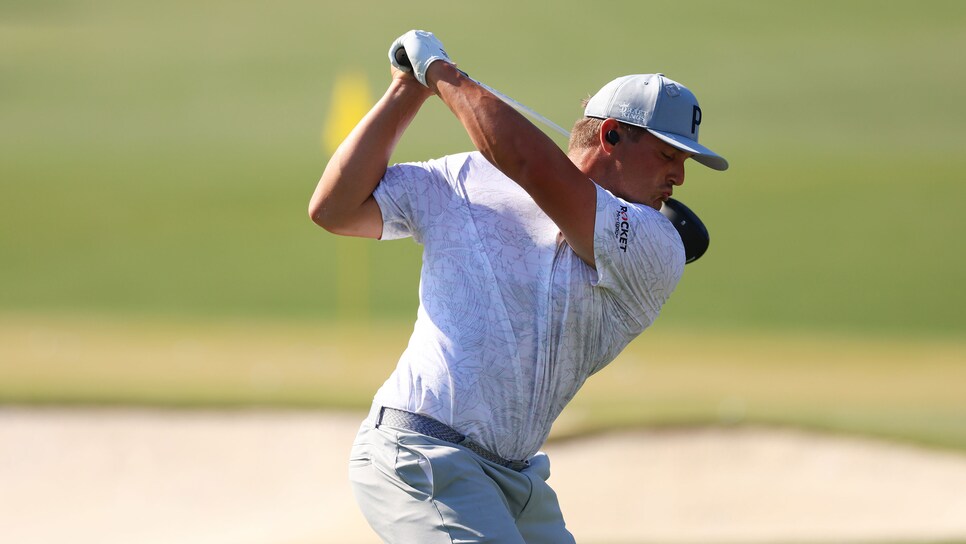 Bryson DeChambeau practices on the Augusta National driving range on Monday.
Mike Ehrmann
AUGUSTA, Ga. — The stage was set for a reckoning. Two months after his magnum opus at the U.S. Open at Winged Foot, golf's disruptor was bringing his traveling show to the game's most hallowed venue. Bryson DeChambeau would bludgeon Augusta National into oblivion one 48-inch driver at a time.
Nope. DeChambeau was never a factor in last November's Masters, making the cut on the number and eventually posting a forgettable T-34. During the final round, in a development that delighted his detractors, he was paired with 63-year-old Bernhard Langer and shot the second-best score in the twosome. DeChambeau complained of dizziness and stomach issues that week and, at times, looked legitimately unwell.
In the six months since then, DeChambeau has been doing what DeChambeau does: analyzing every aspect of his golf life with forensic precision. There were CT scans, and X-rays, and cardioid measurements, and blood vessel counts to figure out what the hell was going on with his body that week. (The answer: Something to do with how his breathing affected his oxygen levels, apparently, but it's fixed now.) There's been further equipment testing. (No 48-inch driver this week or anytime soon, but he's debuting another one that's been "a few years in the making"). And there was a post-mortem assessment of his failures to conquer a course that should, on paper, play right into his hands.
"I'm going to be focusing mainly on accomplishing how do I hit iron shots into greens to give myself the best chance to give myself the ability to make birdie. There was a lot of times last year where I hit decent enough drives, but I just didn't feel like I was hitting shots in the correct quadrants of the greens or giving myself opportunities on par 5s like I should have.
"But mainly, you look at numerous holes out there for myself, and I just didn't give myself opportunities on par 4s. No. 3 was a great example. I just didn't put it in the right place. And then when I did, I three-putted one day."
Long story short: He didn't execute. Simply couldn't hit the right shot at the right time. This, then, wasn't a strategy issue or a body issue, though the dizziness surely didn't make things any easier. At the end of the day, no matter how well you've mapped out a course, your game plan goes out the window if you hit one 30 yards offline.
The good news for DeChambeau is this Augusta National is essentially an altogether different golf course than the Augusta National he played in November. It's firmandfast. (Those words are always said together, so why not just save two clicks of the spacebar?). The forecast is clear and warm all week, which should only bake this place out more and more. Dustin Johnson's 20-under 72-hole scoring record is Fort Knox-level safe. You will not see 4-irons stop dead on the 15th green. DeChambeau should be able to roll his tee shot all the way down the hill on No. 2, and he has a better chance of driving the third green. Hell, he might even try to drive it greenside on No. 1 if he gets the right wind.
DeChambeau was all smiles Monday as he began his Masters prep at Augusta National.
Mike Ehrmann
There's always been debate as to whether a firm setup enhances a bomber's advantage or neutralizes it. If the course is bouncy, conventional wisdom goes, then some of the shorter guys can poke their tee shots out past 300 yards and having scoring clubs in. When it's spongy, as it was in November, then only the longest guys will have wedges into some greens.
The answer, of course, is that length is always a massive advantage. Granted, the faster fairways will make everyone in the field longer this week. But the greens are firmer too, and DeChambeau will still be hitting higher-lofted clubs into them than basically everyone else.
"From what I've experienced in the past, making it firmer and faster has for some reason helped me play a little bit better," he said. "I just feel like wet conditions and the landing and stopping and the golf ball being wet has played a little bit to me not knowing fully what the golf ball is going to do.
"So whenever it's firmer, faster conditions, whether it be Shriners, whether be Bay Hill or the U.S. Open or different golf courses I've won on, they have usually always been firm. So I think that plays into my hands nicely for what I'm comfortable with."
Once again, it all aligns on paper. The best driver of the ball in the world, on a course where bombers have excelled, with conditions he likes. But even DeChambeau wants to be careful about managing expectations.
"But that doesn't mean that I'll be able to control the golf ball as well as somebody else. Somebody could go out and hit a golf ball more consistently with more control than me, and they will beat me."
No matter how hard you look—and rest assured, no one has looked harder than Bryson—there is no secret password to unlock Augusta National. You simply have to hit the shots. The long ones, and the short ones too.