News
Masters 2020: With triumph weeks after COVID battle, Dustin Johnson makes another challenge look easier than it is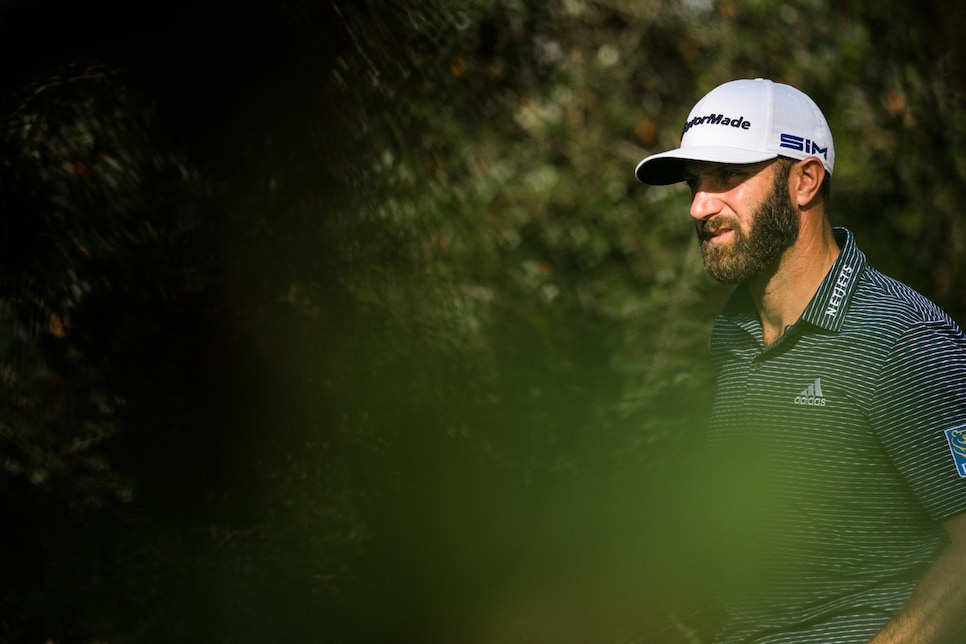 It was a sentence all but buried in the nonchalant manner in which Dustin Johnson speaks. Less than two weeks ago, before the Vivant Houston Open, he recounted for reporters his experience with COVID-19. The world's No. 1-ranked golfer tested positive on Oct. 11 before the PGA Tour event in Las Vegas and spent the next 11 days holed up alone in a hotel room.
"It was one of those things I was, like, waiting to get sick because you know you have it and you're sitting there," Johnson said.
More than 11 million people in the United States who have contracted the virus can likely relate. What Johnson didn't expand on, because it's really not his nature, was whether he was fearful of more than missing a few golf tournaments. Did he worry, in his most reflective moments, if he'd become seriously ill?
Tragically, more than 245,000 Americans and 1.3 million people worldwide have been swallowed up in that darkness, their lives lost.
Fortunately, as it turned out, Johnson was among the majority of those who contract the coronavirus, experience mild symptoms and carry on with their lives.
In Johnson's case, he did more than that. Way more. On Sunday, 35 days after his COVID-19 diagnosis, the 36-year-old pulled on his first green jacket as the Masters champion. He won his second major title in record-setting fashion, looking strong and fit and confident in overpowering Augusta National Golf Club and the rest of the field.
With the possible exception of Atlanta Braves first baseman Freddie Freeman, who won the National League MVP award after his own battle with COVID, one could suggest Johnson can claim the greatest achievement thus far by an athlete who has fended off the coronavirus.
Johnson's triumph, however, could create some uncomfortable conversations at the family dinner table at a time when COVID-19 cases are surging at frightning rates across the country. Those who doubt the seriousness of the pandemic could point to Johnson as the prime example of how mildly most are affected, and how quickly the illness can be overcome. Others will contend that Johnson is exactly the last person to cite when considering the ravages of the disease.
"You have to look at the context," Dr. Amesh Adalja, a senior scholar at the Johns Hopkins Center for Health Security who specializes in infectious disease, said on the phone Sunday. "You have a 36-year-old professional athlete who had a case and has recovered. That doesn't mean that if you're a 63-year-old obese man with diabetes that you're going to have the same experience."
Adalja said one of the marked characteristics of the disease is how differently if affects every person who gets it.
"In general, if you're talking about a professional athlete, they are going to be in prime physical shape, without any comorbid conditions," he said. "Athletes tend to be younger, and their cases for the most part are going to be uncomplicated. But that's not the full picture. It clearly depends on who you are, the course of the illness, on your genetics and immune system, that indicates what your course will be."
Even within the high-level athletic world, we have seen vastly different experiences. Freeman, 30, recounted for reporters how his temperature continued to rise for several days, and he suffered severe chills and body aches. Though he wasn't hospitalized, he said there was a night when he feared the worst.
"I said a little prayer that night. I've never been that hot before," Freeman said. "My body was really, really hot. So I said, 'Please don't take me.' I wasn't ready."
On the PGA Tour, 16 players have tested positive for COVID-19 since competition resumed in mid-June. Johnson was the 12th, while Joaquin Niemann and Sergio Garcia are the latest, both having to withdraw before the Masters.
Most players have reported mild or no symptoms, but not all players have been spared. Tony Finau recounted at the Zozo Championship last month how he struggled with the illness in early October, when, like Johnson, he had to withdraw from the Las Vegas event. He said he experienced "massive headaches, body aches, and I didn't feel like doing anything."
"It was not the experience I thought I was going to have," said Finau, 31. "Most guys are asymptomatic. They're saying if you're young and healthy, it's not a big deal. I think I gained a little bit of respect for the virus, and the precautionary measures our country has taken.
"I could see that you could definitely die from it. Not that I ever felt I was going to die. But it can take your immune system to a place where I could totally see you being hospitalized from it, and it affecting your life. So I think in a way, I just gained respect for the actual virus."
Adalja observes what is occurring in college and professional sports and sees reason for concern. He said he was in Pittsburgh on Sunday and noted that Steelers quarterback Ben Roethlisberger was activated to play against the Cincinnati Bengals despite being placed on the reserve/COVID-19 list for being in close contact with tight end Vance McDonald, who tested positive for the coronavirus. Roethlisberger has not tested positive.
"The NFL's protocols are a bit opaque to me," Adalja said.
Outside of sports, the doctor observed that there are far more dire circumstances in the country, such as nurses who have tested positive but are asymptomatic continuing to work in North Dakota hospitals that have been overrun with patients.
That puts Dustin Johnson's Masters win in solemn perspective. On one hand, it's compelling evidence that a virus still spreading rapidly across the globe does not overrun everything in its path. But unfortunately it's still only one type of experience. Similar to how he plays golf, Johnson made it look easier than it often is.
MORE FROM THE 2020 MASTERS