The Grind
Lexi Thompson's unfortunate Arnie moment, Jon Rahm's terrible timing and the Brooks-Bryson feud reaches another level
Welcome to another edition of The Grind, where we don't even know where to begin after what may have been the wildest weekend in golf history. The golf gods were wreaking havoc everywhere you looked! An all-time collapse. The all-time worst WD. The return of an all-time villain. And a potential all-time rivalry reached the point of hecklers being paid off in beer. You literally can't make it up. But we sure can talk about it. Let's get cracking before something else crazy happens.
Patrick Cantlay: Thanks to Jon Rahm's stunning WD, Cantlay quickly went from battling for the B-flight title to winning the big trophy at the Memorial Tournament. But even the final round got crazy with that five-minute rain delay on the penultimate hole of regulation. Cantlay's clutch up and down for par on the first playoff hole was enough to beat Collin Morikawa as he picked up his fourth career PGA Tour title and second of the season.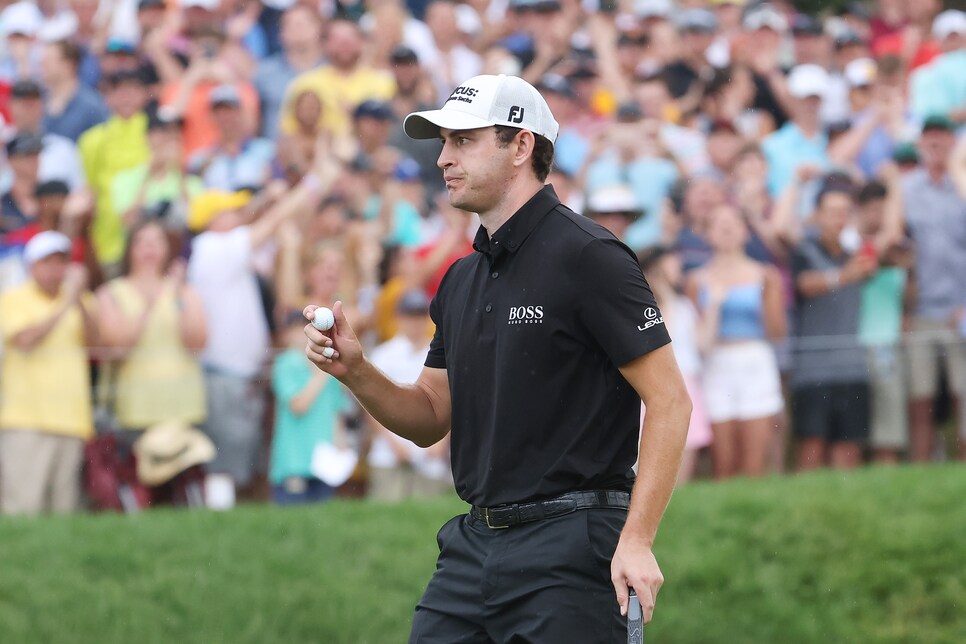 Well played, Patrick, but hopefully you sent Rahm a nice bottle of wine.
Yuka Saso: Golf fans were shocked and saddened by Lexi Thompson's collapse, but it may have helped identify the sport's next big star.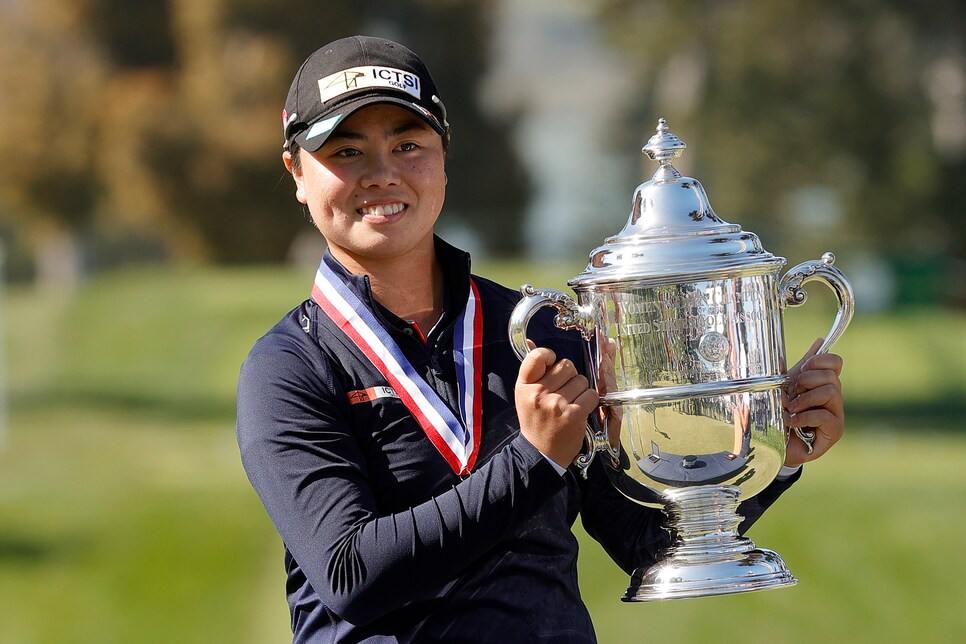 Saso is only 19 and her swing is a carbon copy of Rory McIlroy. And after winning her first major at the U.S. Women's Open, the four-time men's major champ gave Saso a shout-out:
Even more impressive? Saso overcame double bogeys on her second and third holes of the final round to get into a playoff with Nasa Hataoka and become the first Filipino to win a major championship. And she matched Inbee Park to the day to become the youngest champ in U.S. Women's Open history. So, kids, copy the golf swing of Rory—or Yuka—and you could go far in this game.
Marcus Armitage: As the Brits would say, Armitage is a top bloke. And we've enjoyed getting to write about his antics from naked hotel-room putting to setting a Guinness record for longest tee shot caught in a moving car (Yes, that's a thing). But now, the man nicknamed "The Bullet" can be called something else: a European Tour winner. And following his victory at the Porsche European Open, he gave us one of the best post-round interviews ever:
Well done, Marcus. Keep up the good golf—and everything else.
Jon Rahm's timing: There's never a good time to test positive for COVID-19, but doing so when you have a seemingly insurmountable six-shot lead with one round to go in a golf tournament has to be one of the worst. Also, the timing of telling him in public view right after he'd shot arguably the round of his life wasn't great.
That potential first-place check for $1.67 million was gone in an instant. Ouch. At least some gamblers were still able to cash some winnings. In any event, we're guessing Rahm and other tour pros are going to be even more careful going forward.
Lexi Thompson's back nine: It was tough watching Rahm buckle to his knees after learning he would have to WD, but less than 24 hours later, Lexi had a hold-my-beer moment. After an all-time third round, in which she shot a bogey-free 66, Thompson took a five-shot lead to the back nine at The Olympic Club, and, well, welp. A 41, including back-to-back bogeys to finish, left her one shot out of the playoff and, still, with just one career major title.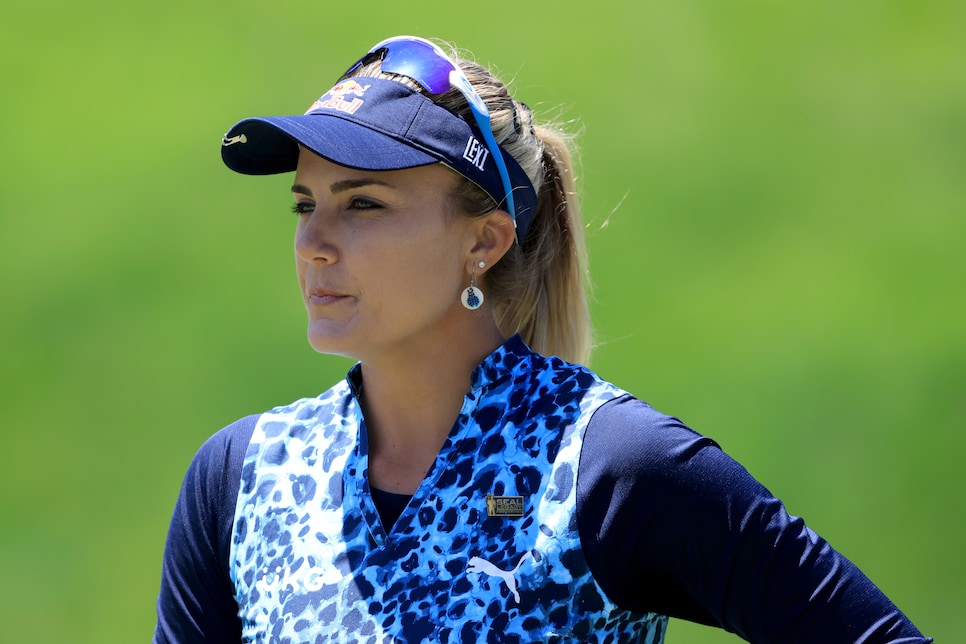 On the bright side, Lexi is in good company considering Arnold Palmer blew a seven-shot lead on Olympic's back nine at the 1966 U.S. Open. OK, so that's not much of a bright side. Although, at least her slowly bleeding away the game's biggest tournament didn't involve any actual bleeding. We'll leave that to our next subject …
Danny Willett's year: It's been a rough go for the 2016 Masters champ, but thankfully, Willett is doing fine after having his appendix removed:
Appendicitis, wisdom teeth, AND COVID-19?! I know they say bad things come in threes, but wow. Feel better, Danny! And as someone who bet on you to win that 2016 Masters, I really mean that. Seriously, man, let me know if you need anything.
The PGA Tour heads back to the Hilton Head area for the inaugural Palmetto Championship, AKA that one that, well, there's really not much this event is known for since it's new and being played at a new course, Congaree Golf Club. I can tell you that this Tom Fazio design just debuted at No. 39 in Golf Digest's ranking of America's 100 Greatest Courses. Impressive.
Random tournament fact: Luke List holds the course record at Congaree, and he's in the field this week. I learned that from our Stephen Hennessey, who wrote about the course in this week's gambling preview. Of course, Stevie, who oversees our course-rating panelists, has already played there.
RANDOM PROP BETS OF THE WEEK
—Patrick Cantlay feels bad about winning: 1.67 MILLION-to-1 odds
—Luke List will win at Congaree this week: 80-to-1 odds (actual odds)
—Stephen Hennessey has played a LOT more golf courses than you: LOCK
Jungle Bird! BACK! At Olympic Club!
Amazing the USGA let this dude back on the grounds after what he did at the 2012 U.S. Open: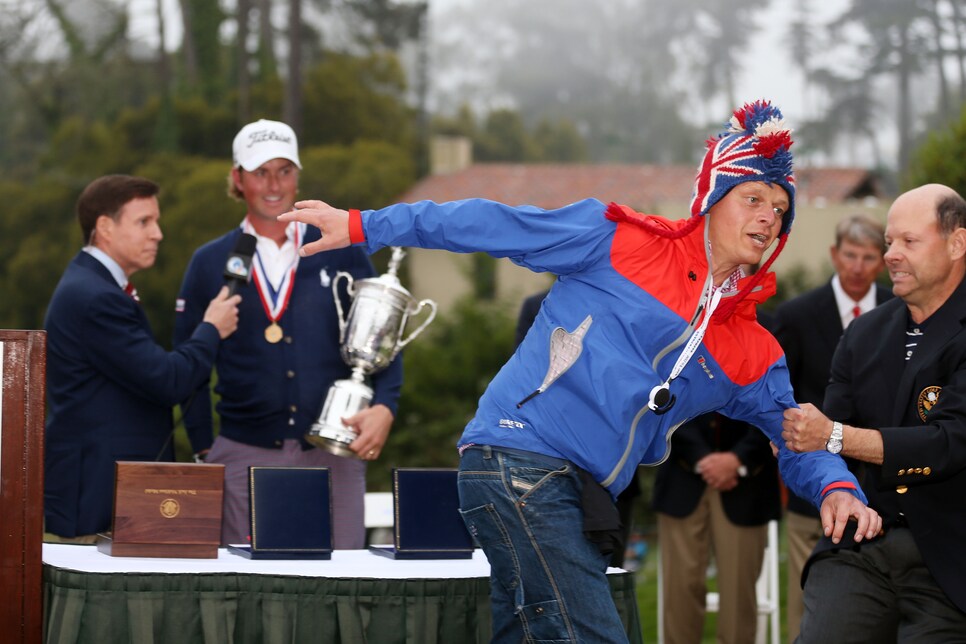 But this time, the trophy ceremony at Olympic Club went off without a hitch. You know Mike Davis was ready to rumble, though.
VIRAL VIDEO OF THE WEEK (FAIL DIVISION)
Rod Pampling and his caddie had quite the mishap at this week's Principal Charity Classic:
It seems those golf carts on the PGA Tour Champions can be a blessing, but also a curse.
THIS WEEK IN CELEBRITIES PLAYING GOLF
Hideki Matsuyama sure seemed impressed with Steph Curry's swing:
And Eli Manning showed off some skills of his own and then daggered older brother Peyton:
THIS WEEK IN PUBLIC DISPLAYS OF "AFFECTION"
This Brooks-Bryson rivalry is the gift that keeps on giving. Literally, if you were a fan who got escorted off the grounds at the Memorial for heckling Bryson DeChambeau. Turns out, golf's mad scientist actually gets quite mad if you call him "Brooksy."
And Koepka responded by giving away beer to those who had their tournament viewing cut short.
And now Bryson has complained to the PGA Tour, and, honestly, I don't blame him. This is getting a bit out of hand. Not that we're complaining over here in the #Content business. In any event, actual Brooksy doesn't look too bent out of shape about it.
THIS WEEK IN PUBLIC DISPLAYS OF AFFECTION PREPARATION
Love this hilarious, but important text exchange between J.T. Poston and caddie Aaron Flener over what kind of snacks would be in the bag for Monday's U.S. Open qualifier:
Hey, it is golf's LONGEST day so you need to stay nourished out there. And the food prep paid off as Poston punched his ticket to Torrey Pines next week. After, the two got their calories another way:
Speaking of celebratory beverages …
THIS WEEK IN PHIL BEING PHIL
Phil Mickelson has been surprisingly quiet since winning the PGA Championship. Kidding! Here he is drinking wine from the Wanamaker Trophy at his wife's birthday party:
And here he is just driving it around in a golf cart to remind people that he won the PGA Championship:
I have a feeling this will be a recurring theme for the next year.
We'll just let Rick Lamb, who qualified for his first U.S. Open, take it from here:
Ah, that's the good stuff.
Cameron Young (MET area represent!) continued an incredible heater by winning his U.S. Open final qualifier by four shots. The Wake Forest product just won back-to-back events on the Korn Ferry Tour and is a name you better start familiarizing yourself with. … One name you are very familiar with who didn't have the same success at his qualifier is Rickie Fowler. Say what you will about him, but the dude knows how to draw a crowd:
Again, that's at a U.S. Open qualifier. The branding is strong with that one. … Hall-of-Famer Grant Fuhr confirmed he played 54 holes of golf the day before stopping 19 of 20 shots in Game 7 of the 1987 Stanley Cup Finals. I know goalies don't have to move much, but still, that's legendary. … And finally, I happened onto coverage of some sort of Cornhole national championship on CBS before the third round of the Memorial came on and it was spectacular. First off, the pros are unbelievable. One guy made 14 straight shots—and his team still lost! But the announcers may have been the best part, including a use of the telestrator that would have made Mike Fratello proud: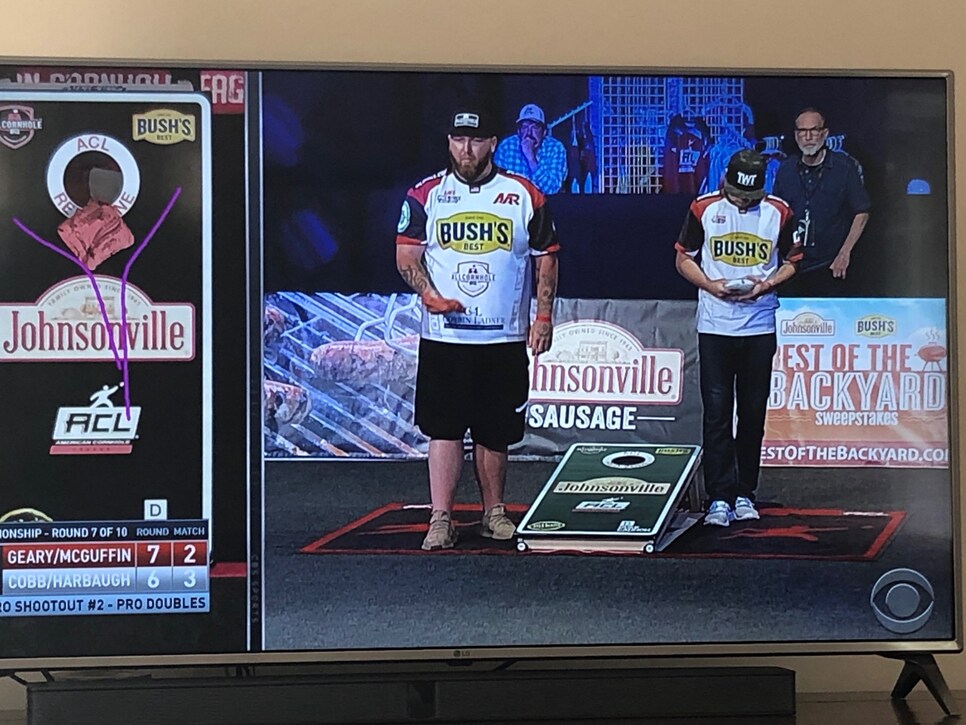 This is so much better than watching the end of a Big Ten basketball game. I will be tuning into the golf earlier from now on.
RANDOM QUESTIONS TO PONDER
What's the best snack to keep in your golf bag?
Is it too late to try to copy Rory McIlroy's swing?
Is it too late to try to make a career out of cornhole?